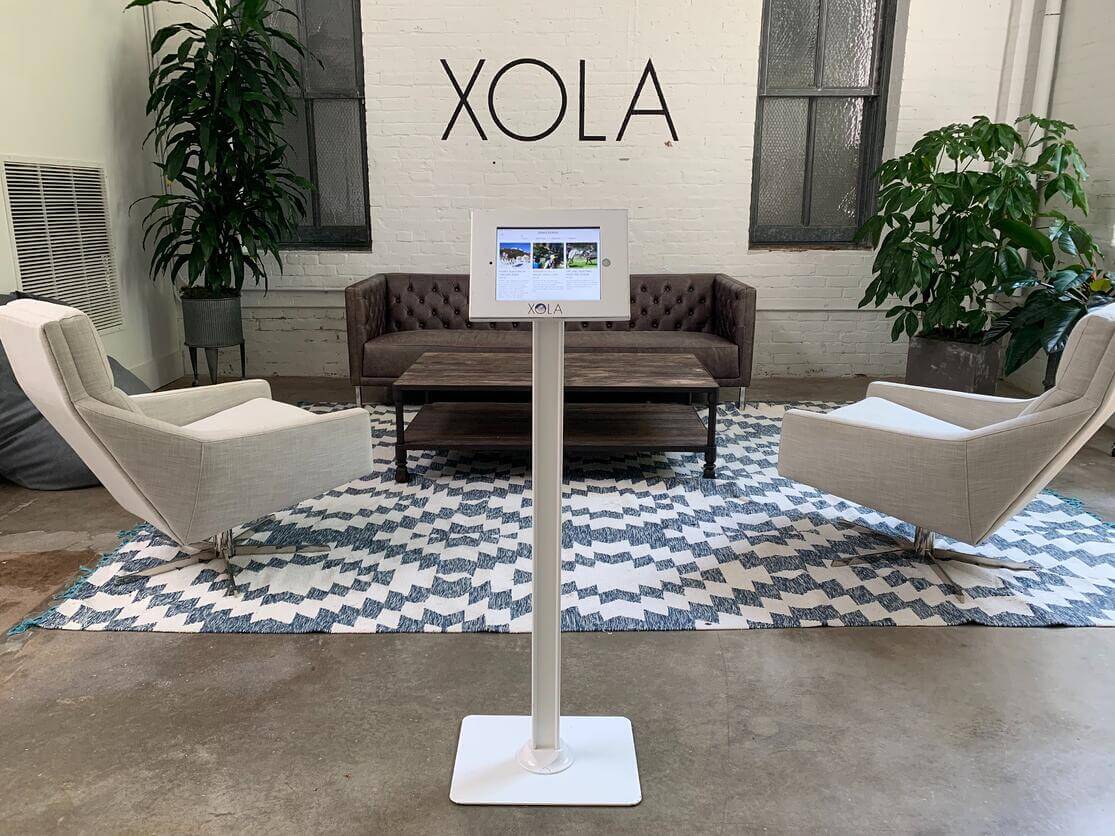 Learn how Kiosk and guest check-in apps can help you improve guest experience and streamline operations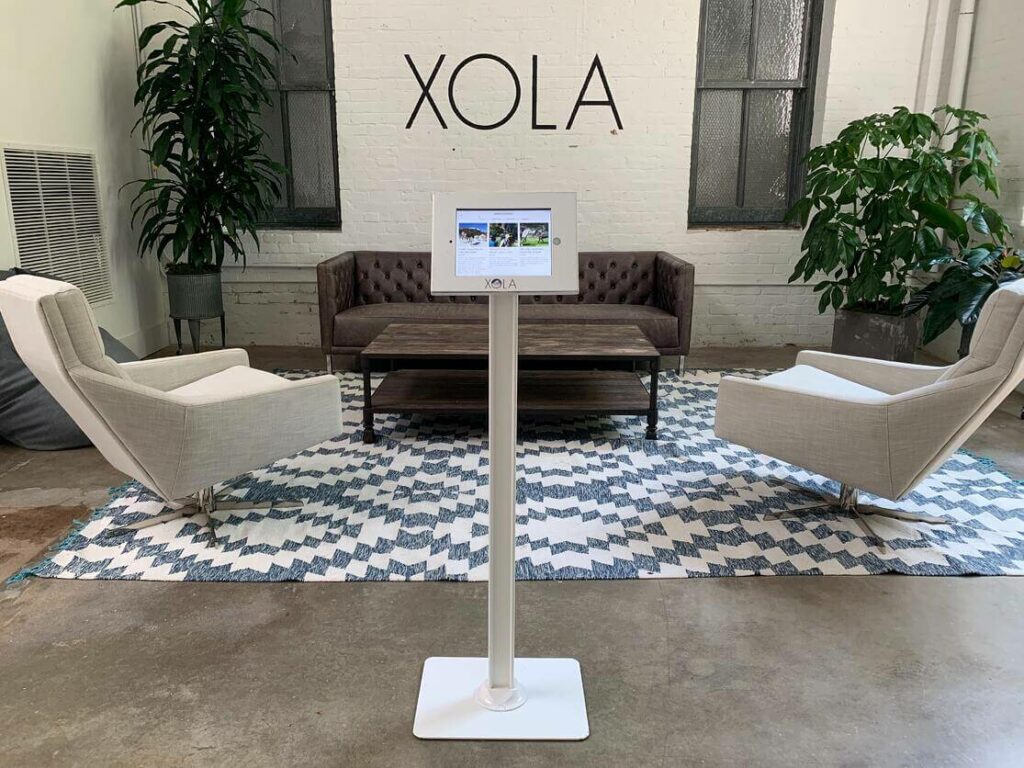 Did you know that self-service kiosks generated more than $218 million in revenue in 2016, according to pymnts.com?
Whether it is a fast food establishment, an airport restaurant, or even tour businesses, self-service kiosks have quickly gained popularity.
It is easy to see why.
For tours and activities businesses, kiosks allow you to streamline guest check-ins, process walk-up sales, sign waivers, and collect guest feedback efficiently.
In this post, we're going to explore how you can introduce self-service options to your guests using Xola Kiosks, including:
What's a kiosk?
The last time you had to print your boarding pass or check a bag at the airport, I bet instead of going to the counter, you used a kiosk. You type in your confirmation number, answer a few questions, and then you are done. You have more control and don't have to wait in a long line.

Whether it is a free-standing kiosk or an iPad at a table, guest check-in apps create a better experience for guests at airports, hotels, restaurants, and yes, even tours and attractions.
How do kiosks and guest check-in apps work?
Let's use an example – Xola's own Kiosk app. 

With Kiosk, guests can check-in, sign Xola Waivers, and even allow walk-in guests to make their own bookings – assuming you have a BBPOS chipper – for credit card processing.

This allows your employees to focus on other tasks and puts your guest in control by allowing them access to your availability and their bookings on a tablet or computer in your lobby.

Pro Tip: Looking for help setting up Xola Kiosk? Check out our how-to article here.
5 advantages to using Kiosks
By now, you might be wondering what the benefits of using guest check-in apps and kiosks are? Here are five top advantages.
1. Process guest check-ins faster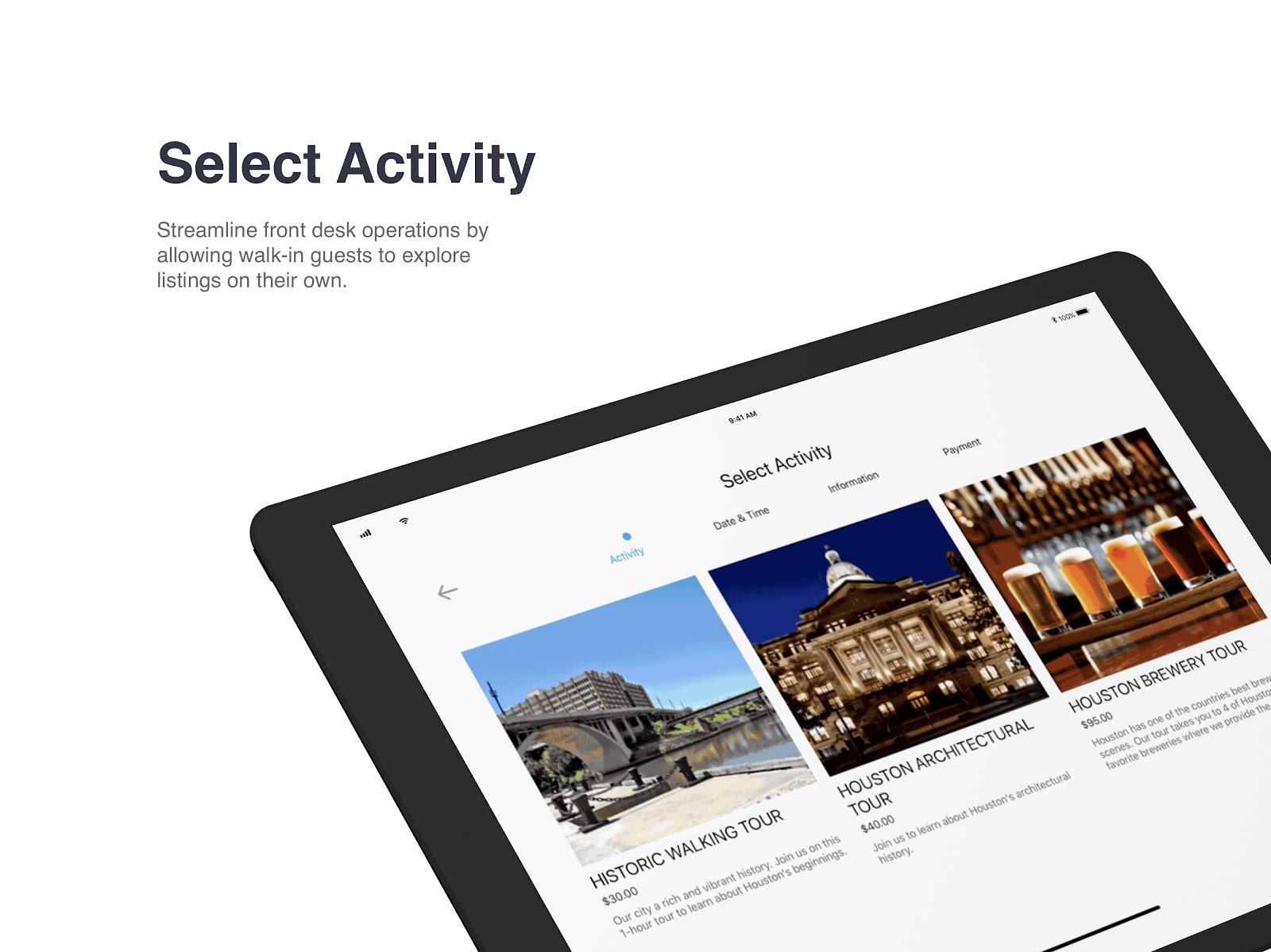 No one likes to wait in a long line – especially during a global pandemic.

After all, guests booked your tour or experience to have a fun time not spend 30 minutes waiting outside in line, giving the side-eye to the guest in the corner who sounds like they are about to cough up a lung.

By having a Xola Kiosk in your venue, this gives guests the control to check themselves in on an iPad instead of having to talk to a team member. You can also create a questionnaire and use the Kiosk to collect valuable feedback from guests when they arrive and once they leave.

Pro Tip: You can give out finger coverings to keep the Kiosks cleaner and avoid spreading viruses and other germs.
2. Sign waivers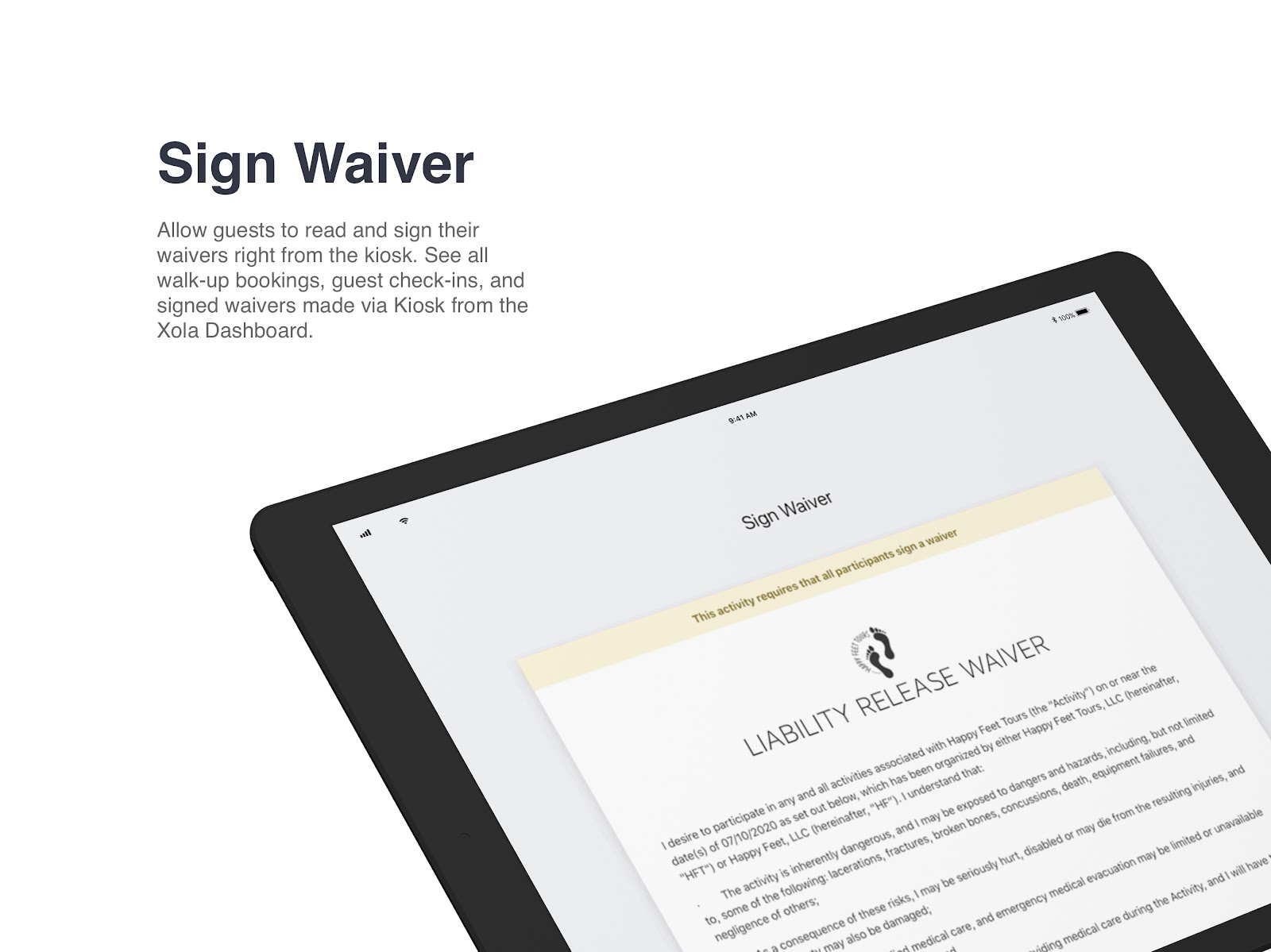 The best time to have guests read and sign their waivers is right after they book an experience. But we all know this doesn't always happen, especially for the rest of the party that wasn't part of booking your experience.

The next best way is to allow guests to read and sign their waiver on the Kiosk when they check-in.
3. Accept contactless walk-in bookings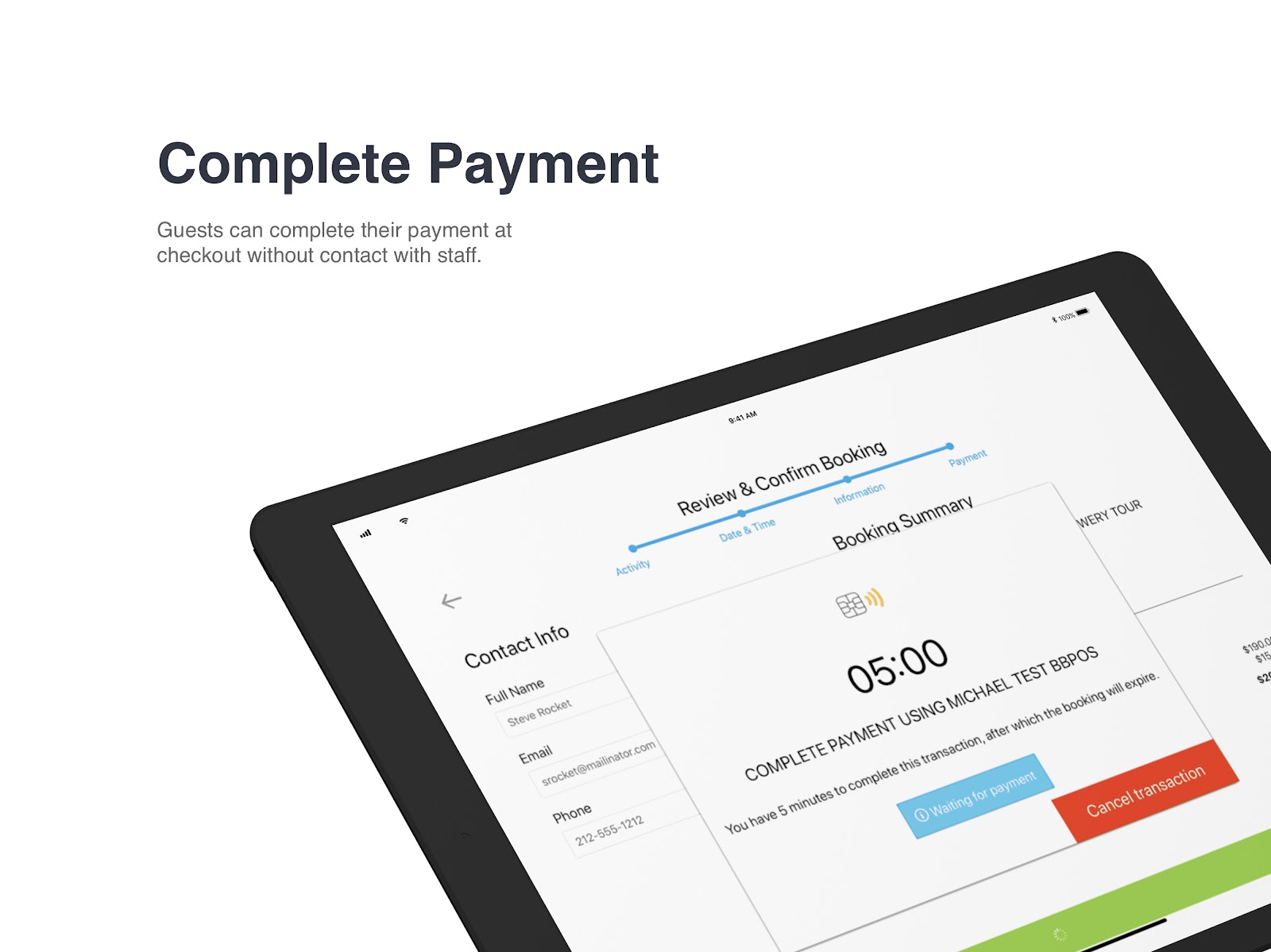 Have you noticed how many fast food restaurants and airport restaurants now have kiosks?

This isn't just a convenience for customers.
It allows the business to process a lot more orders faster, improve accuracy, and increase average order value with upsells (i.e., Would you like fries with that?) They can do all of this with fewer staff members.
This same approach works extremely well for tour businesses that process a lot of walk-up sales.
Now, instead of having to hire and pay a bunch of staff to simply process walk-up sales and hang out at the front desk. Guests can book and check-in themselves.
4. Do more with less
As we shared in the previous example, Kiosks enable you to do more with less.

For example, whereas you used to need multiple reservationists available to check-in guests. Now, one staff member can manage and maintain multiple kiosks and be available to answer any questions guests have while making walk-up bookings.

This is more efficient, saves your business, and provides more flexibility and control for your guests.
5. Manage Kiosk bookings
An added benefit is that the Kiosk is tied directly to your Xola booking system. For example, if you use Xola, you can see all guest check-ins and walk-up bookings right within your dashboard.
You can quickly adjust scheduling, pricing, equipment, and inventory in Xola. Your changes instantly appear on the web and kiosk at the same time with the press of one button.
In sum, these are just a few ways that you can use Kiosks to simplify your tour business.
Want to get started with Xola Waivers and Kiosks? Check out this guide.

Not a customer but interested in checking out Xola? Click here to watch a demo from one of our product specialists.