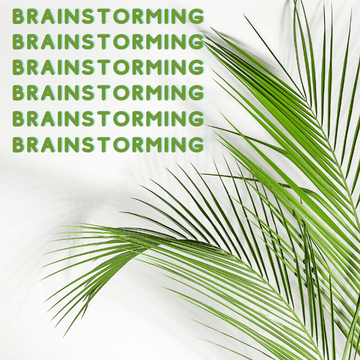 You may have your entire tour company mapped out, from the tours you'll offer to how to price them.
Yet without a business name, you can't start a website, create an email, or even make a logo.
One of the very first steps in starting a tour business is choosing the right name. While this sounds like a simple task, a lot goes into choosing your company name. You want the name to reflect the experiences you're offering and catch your customers' attention at the same time.
You need to consider your competitors — is there anyone with the same name? — and whether the name is available on social media. In this post, you'll learn six tips for coming up with a tour company name that'll bring you more bookings.
Should you use a business name generator to come up with tour company names?
What to consider when choosing a tour company name?
6 strategies for brainstorming tour company names
What to do after you choose a name
Should you use a business name generator to come up with tour company names?
A business name generator can certainly help you come up with different name ideas. It's an AI-powered website that'll give you a list of business name ideas based on the keywords you provide.
Let's say your name is Gary and you run a walking tour in Savannah, Georgia. After providing a few keywords like your name, type of tour, and location, here's what a business name generator comes up with:

As you can see from the results above, you likely won't find the perfect tour name on an auto-generated list. But the business name generator can help you in your brainstorming process. For instance, the name "Perfect Tours" is too broad to describe a walking tour company. However, "Gary's Perfect Walking Tours" might just work.
What to consider when choosing a tour company name?
Choosing a business name isn't as simple as finding a phrase that sounds or looks good on paper. There are many important factors to consider before settling on a tour name, and most of them have to do with your competition.
If you're operating in a city with a busy tourism sector, you're likely sharing the space with other tour companies. Your business name can help you stand out from similar operators in your region — as long as you consider URL availability, trademarks, and social media handles beforehand.
Is the URL available?
Your URL, also known as your domain, is your website's web address. Xola's URL, for instance, is https://www.xola.com.
The URL of your website will most likely be the same as your business name, which is why you need to make sure it's available.
As soon as you come up with your business name, check to make sure that a website with the same name doesn't already exist. You can do this by searching the business name on Google or by typing your desired URL into the search bar.
If your URL is available, make sure to register it right away. Once you register your domain, no other company can start a website with the same URL address.
Has anyone trademarked the name?
If someone has previously trademarked your business name, then there's already a business operating under the same name.
At that point, it's best to choose a different name entirely. Not only do you risk trademark infringement, but you'll also confuse your customers if you're operating under a name that's too similar to another company.
You can search for trademarked names here.
While a trademark protects names, short slogans, and logos, a patent protects new inventions and processes. Both trademarks and patents are considered intellectual property and can be protected under law. A tour operator can, for instance, trademark its name and logo and patent the unique process it uses for a specific tour.
Are the social media handles available?
The final step is to do a quick search on social media to ensure your business name is available. Consider the most important social media platforms for your business. This may include Instagram, Facebook, Twitter, Linkedin, and TikTok.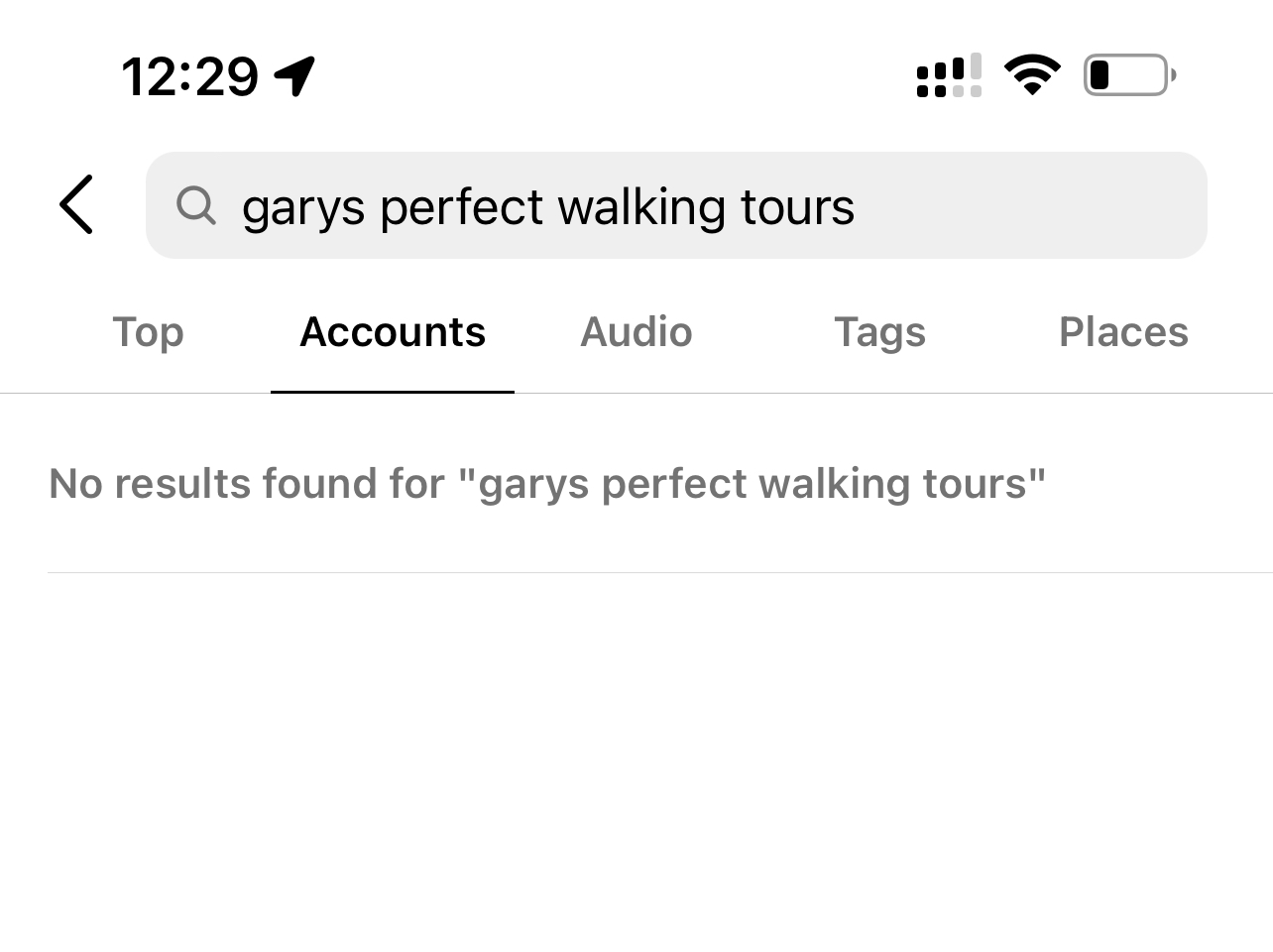 Search for your company name on each platform, and note down what comes up. If you find similarly named competitors, you may want to brainstorm ways to make your name stand out. In the best-case scenario, you won't find anyone with the same business name.
6 strategies for brainstorming tour company names
Here are a few questions to consider as you're brainstorming tour names:
Where is your company located?
What kind of tours will you offer?
What makes your tours unique?
Who is your target customer?
What keywords do you want to rank for on Google?
What's the competition like?
1. Focus on your location
Location is a key detail for a tour company. It tells both local and out-of-town customers where you're operating. Many times, tour companies will offer tours focused on or inspired by a destination, in which case mentioning the location in the business name makes sense.
Gary's Perfect Savannah Walking Tours, for instance, would easily attract anyone looking for sightseeing activities in the city of Savannah. Rather than using the name of the city, you can also play around with nicknames or characteristics that define it.
2. Use your tour type
Your business name can hint at the kind of tours you're offering. A helicopter tour provider, for instance, can benefit from including the word "helicopter" in the business name. That way, customers will immediately know that the company offers helicopter tours just by reading the company name.
3. Make it SEO-friendly
SEO, or Search Engine Optimization, is the process of optimizing your website to improve its visibility on Google.
Google ranks your website based on keywords, or the words and phrases used to describe your tour company. Your tour company name is a string of keywords that notifies Google what your business is about.
Using the same example from above, Gary from Gary's Perfect Walking Tours would want to rank high in the search results for "walking tours in Savannah." In that case, he may want to consider adding the keyword "Savannah" in his title.
Ranking on the first page of Google highly increases the chances that users will visit your website. As you're brainstorming a name for your tour company, consider the keywords you want your company to rank for when you're naming your tours.
4. Use words that evoke emotion
Consider how your customers feel when they book your tours. They're excited to participate in your experience and likely curious about the destination. They're looking forward to a fun time on your tour.
As you're brainstorming company names, think about how you can convey these emotions in your company title. For example, an adrenaline-focused tour company may focus on words like "adventure," "the great outdoors," or "epic."
5. Think of what sets your company apart
What sets you apart from your competitors? Try to highlight what's unique about your company in your business name. This may require you to get creative, but honing in on your most attractive feature can attract the right kind of customers. Not only will this give you more ideas to play with, but it's also a great way to create a name that stands out from your competitors.
6. Get creative, but deliver a clear message
You can get as creative as you want with your business name, but at the end of the day, it should relay a clear message to your customers. Your tour company name should spell out what you're offering and where you're offering it. If it's kayaking tours, the word "kayaking" or other related words ("river" "paddle" "boat") should be included in the title. The goal is to deliver the main message in the shortest amount of words possible. Additional details like the duration of your tours, what to bring, and meet-up times can be further explained in your tour description.
What to do after you choose a name
Congratulations! Your tour company now has a name. You can now claim your domain and social media handles, start building your website and make your business official. Here's a look at the next steps:
Claim your domain. You can now purchase a URL with your company name so that no other tour operator can take it. This will be your tour company website, where guests will be able to book directly with you.
Build your website. As soon as you claim your domain, you can start building your website. Create a homepage, write your tour descriptions, and invest in booking software to provide guests with a seamless booking experience.
Create your social media pages. It's time to claim your social media handles, too. Create a profile on the platforms that your guests use the most. Once you've chosen your handle on Instagram and TikTok, no other business can create the same one.

Pro Tip: Once you decide on your company name, make sure to reserve and claim your company's name on every social media site. Even if you don't plan on being active on a platform, having the name locked down prevents social media squatting.
Create a company email. Use your company name in your email address so that guests always recognize who it's coming from.
Design your logo. You can now create a logo with your company name. You can create a few different versions for your social media profiles, website, and email.
Make it official. If you haven't opened an official business yet, you can now do so. Whether you're creating an LLC or a corporation, you now have a company name to back it up.
***
We know that choosing a tour company name is a big step. Your website domain, social media handles, company email, and logo will all depend on your business name.
As you brainstorm ideas, consider your location, the types of tours offered, and what sets your company apart. Put yourself in the shoes of your target customer, and imagine the type of tour name that will catch their attention.
If you get stuck, refer back to this guide for strategies that may help you.