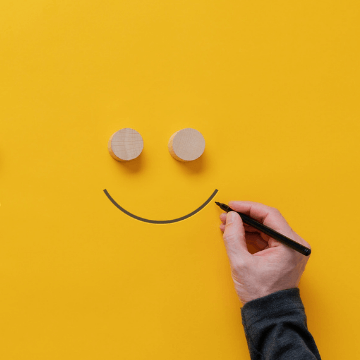 Do you want to know how satisfied your guests are with your attraction?
A customer satisfaction survey is the most common method to gain customer feedback. And the most common way to survey your customers is via email.
In this post, you'll learn how to write a survey email that your guests actually want to open. Read on for real-life email examples — including customer satisfaction survey email that you can use to start creating your own feedback campaign today.
What is a customer satisfaction survey email?
8 customer survey email examples
5 additional tips for writing customer satisfaction survey emails
What is a customer satisfaction survey email?
The purpose of a customer satisfaction survey email is to introduce the survey to your guest and convince them to complete it.
Your email should explain why the guest is receiving this survey, what the survey is about, and how long it'll take to complete it. The survey itself can be embedded or linked within the email body.
Guests can then share their feedback by filling out the embedded survey, or clicking a link that'll take them to the survey in a new window.
8 customer survey email examples
Let's take a look at an email template example we've put together.
Then, we'll share additional real examples from different companies across several industries — and go over what they're doing right.
Email template example
Hi [First Name]!
We hope you enjoyed your recent visit to [Attraction]. Your opinion matters to us, and we'd love to hear more about your experience.
Would you mind taking a quick 5-minute survey to help us improve our guest experience? We will use your feedback to provide you and future guests with an even better visit.
Click here to complete the survey 🙂
Thank you in advance for your time. We look forward to welcoming you back soon!
For any questions, please contact [Customer support email].
Thank you,
[Someone from your organization]
Expedia customer survey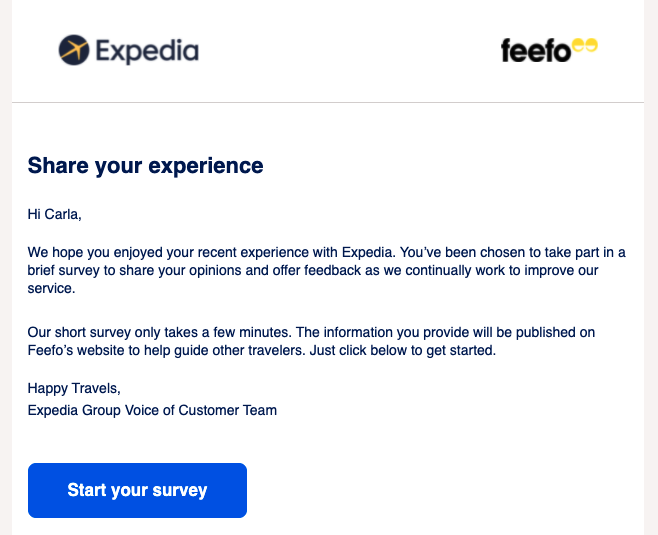 There are a couple of good pointers we can take away from this Expedia email. First, the company does a great job informing the customer that the feedback will be used to help guide other travelers. Expedia is transparent about the fact that the reviews will be published on Feefo, a review website.
This email also addresses the customer by name, which makes the message feel less formal and more personalized. Finally, the call to action is clear and visible in a big, bright blue button. The survey link is hard to miss.
Airbnb's feedback survey

Source: HubSpot
Let's take a look at an example from Airbnb. This survey email does a great job explaining the purpose behind the questionnaire. It explains that it wants to have a positive presence in cities around the world and that feedback will make customers like the recipient feel more welcome in its properties.
The email also has a very clear call to action: The bright pink button that says "Take a survey" pops out from the page.
Klook post-experience survey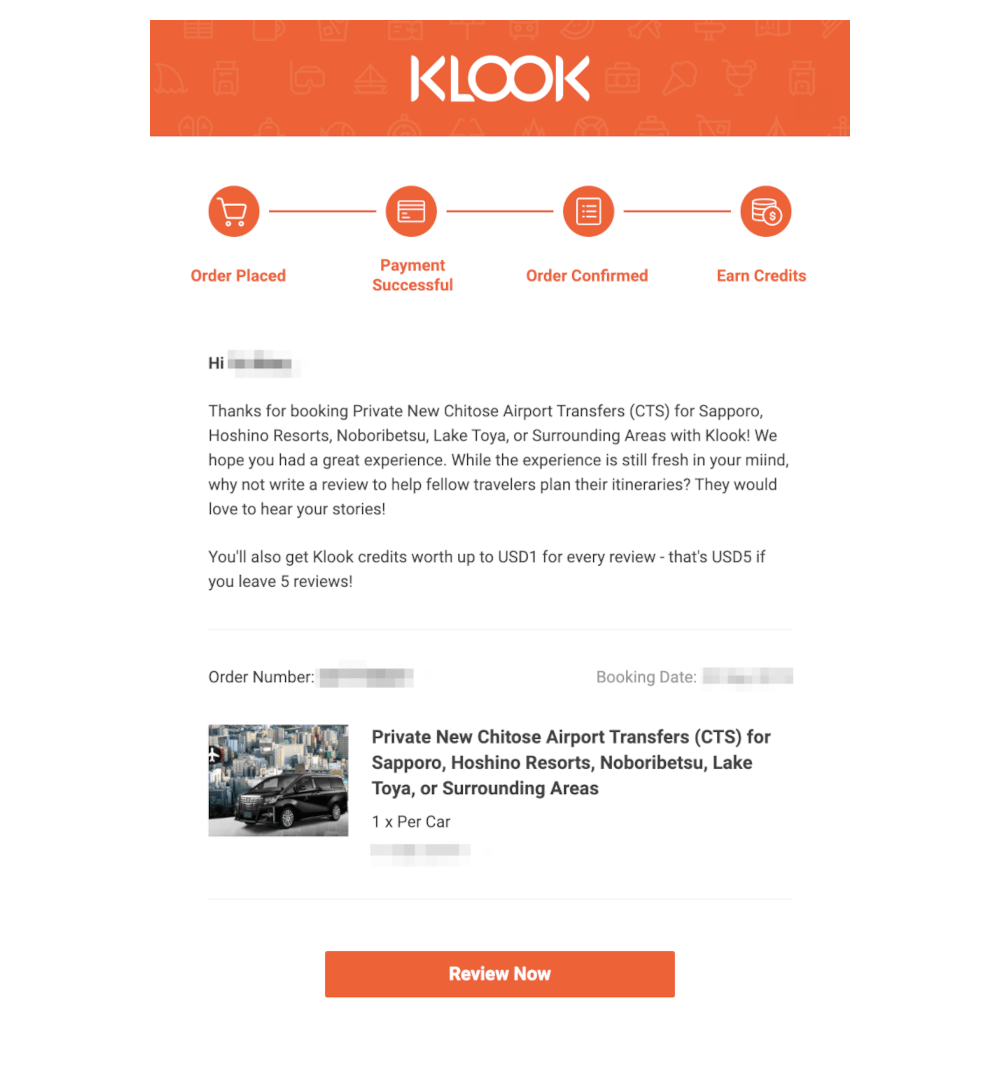 Source: MailerSend
Klook, a travel activities booking platform, clearly reminds its customers of the experience they booked before asking for their feedback. Consider how the company portrays the survey as a way to benefit future travelers, rather than the company itself. Klook tries to appeal to the travel culture of sharing reviews with others when it says, "They would love to hear your stories."
Klook also offers a small incentive — $1 in Klook credits per review — to further persuade people to respond. While incentives typically help boost response rates, they should be used with caution.
Ritual feedback survey email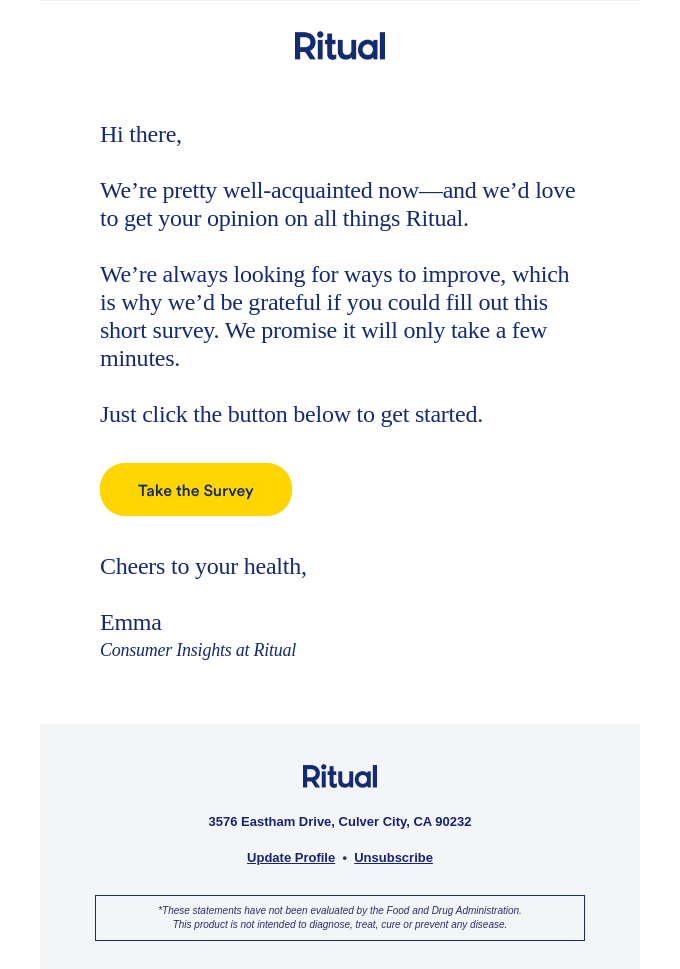 Source: Really Good Emails
Ritual's survey email is quick and to the point. The company explains why the recipient is receiving the survey and then tells them it shouldn't take more than a few minutes — although it would be even better if it specified how many minutes. The best part of Ritual's email is that the message is signed by a real person, Emma from Consumer Insights. This makes the email feel more personable than a message that's sent by "The Team at Ritual."
Aero market research survey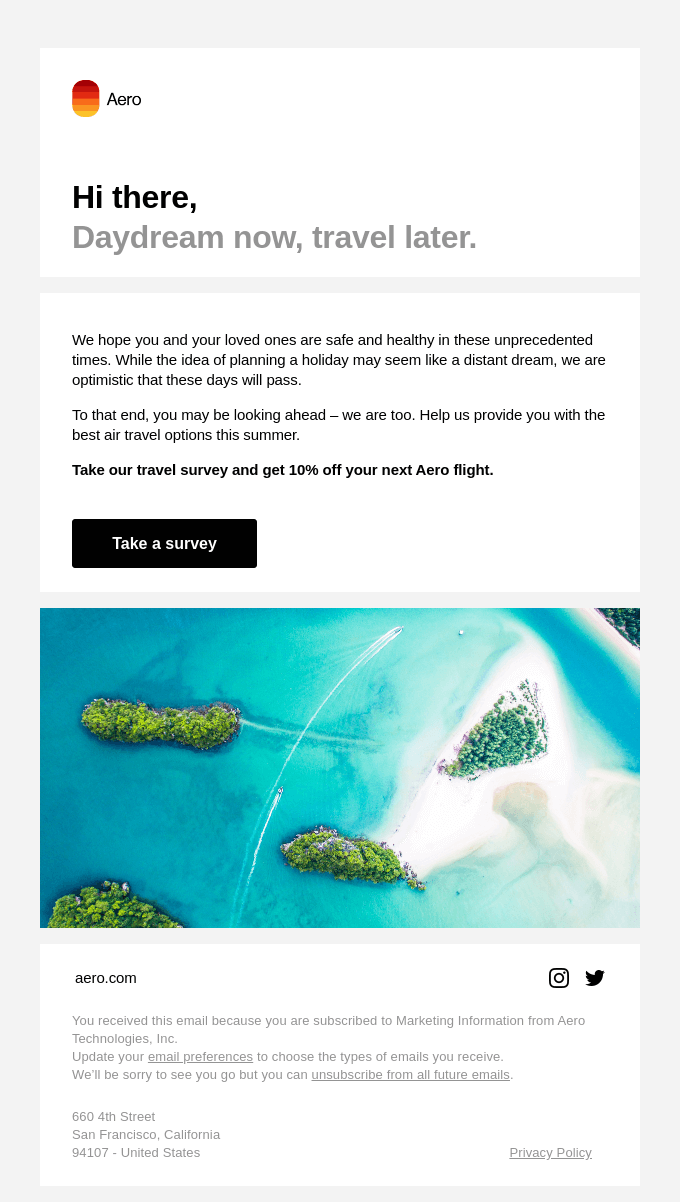 Source: Really Good Emails
Aero uses customer surveys to stay in touch with its customers. In this particular case, the luxury jet company is conducting market research to get a feel for their customers' future travel plans. The email clearly explains that when it says, "Help us provide you with the best air travel options this summer."
Aero also includes an incentive — 10% off your next flight —to better persuade its customers to take the survey. Incentives typically help boost your response rates. But you should use them with caution as they can result in biased feedback.
Withings product review survey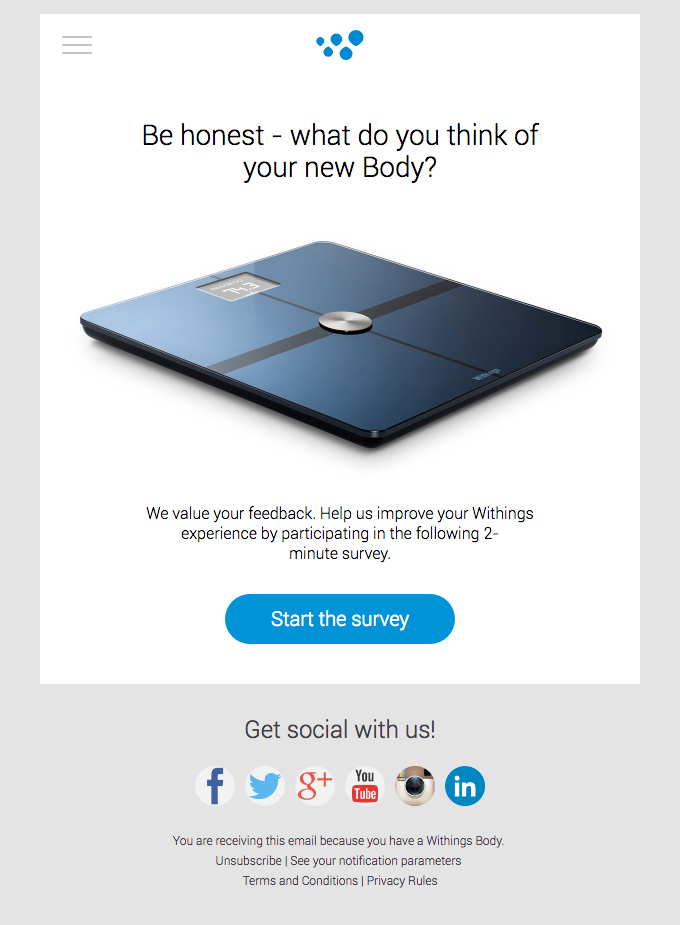 Source: Really Good Emails
Withings includes a photo of the purchased product to quickly remind customers why they're receiving this feedback email. The company states that the survey will take a mere two minutes, followed by a clear call to action button that leads to the survey.
Uber customer satisfaction survey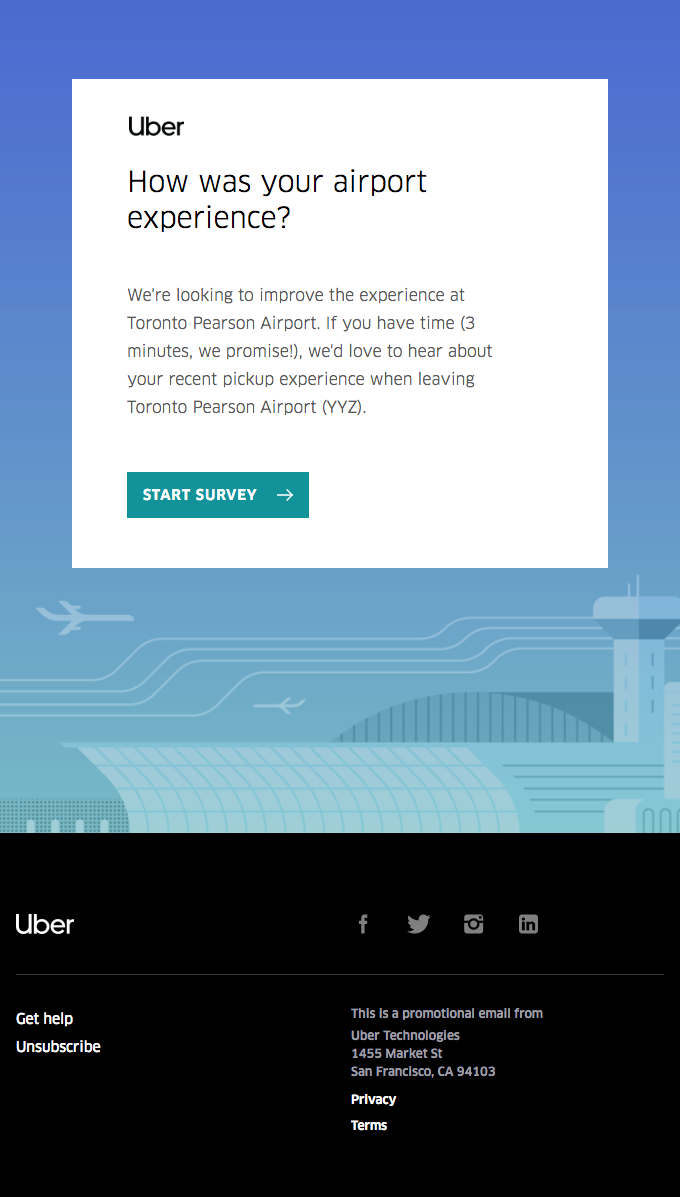 Source: Really Good Emails
Uber sends a survey to its customers to ask about a recent airport pickup experience. Notice how the company makes it clear that the survey will only take 3 minutes. The survey button pops out at the reader, making it easy to click for the full survey.
5 additional tips for writing customer satisfaction survey emails
Your survey email can determine the success of your customer satisfaction campaign. A poorly written survey email will likely be ignored and lead to low response rates. To ensure your guests open your email and provide you with quality feedback, you'll want to keep these five tips in mind.
Write an enticing subject line: A compelling subject line will help your email stand out from the rest of the messages in an inbox. Personalize it by including the guest's first name. Then, mention your company name and a note that reminds them why they're receiving this email.
Explain why they're receiving the survey: Perhaps you want to find out if you should increase staff numbers in your water park, so you survey guests who have recently visited on busy days. In your email, you'll explain to them that they're receiving the survey because they recently visited your attraction and you want to know if they were able to find help or a representative every time they needed to.
Be clear about the survey duration: Always include the estimated time it'll take to complete the survey. Be as specific as possible "10 minutes or less" — so guests know what to expect going into the questionnaire.
Make your call to action clear: If you're linking your survey from the email body, make sure the call to action is clear and stands out from the page. Avoid any other links that may distract the reader from the survey link.
Personalize your email: If you want to capture your customer's attention right away, go beyond just name personalization. Dig into customer data and see if there's anything about their past interactions with your brand that can help you further tailor the email to them.
***
Now that you've seen what a customer satisfaction emails survey should look like, it's time to start crafting your own.
Remember the five tips we shared to help boost your response rates:
Write a compelling subject line
Explain why you're sending this survey
Be clear about the survey duration
Make your call to action stand out from the rest of the email
Personalize your message
It may take some trial and error, but soon you'll find the survey template that works for your audience. Then, you can start checking in with your guests more often and continuously improve your visitor experience.