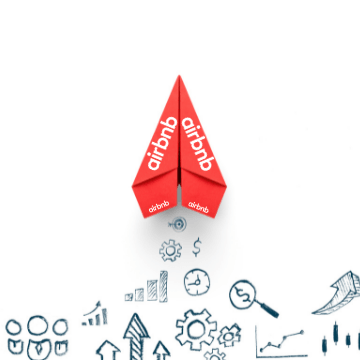 If there's one thing your guests are looking for in 2022, it's unique travel experiences. After two years of travel restrictions and nationwide lockdowns, travelers are seeking ways to reconnect with their favorite destinations, hobbies, and passions.
Airbnb offers both in-person and online tours that allow travelers to do just that. As guests seek tours and activities through familiar online travel agencies like Airbnb, tour operators and attractions can reach this audience by listing their own tours on the platform.
In this post, you'll learn how to host Airbnb experiences and eight strategies to make them stand out from the rest.
Can you make money selling experiences – live or online – on Airbnb?
5 tips for hosting great Airbnb experiences
6 tips for hosting great Airbnb online experiences
What are Airbnb Experiences?
While Airbnb is mostly known as a short-term rental platform, in 2016, the company launched a program that allowed guests to book activities, events, and tours in addition to their stays.
Airbnb created experiences as a way to reach a wider audience: Anyone, regardless if they're staying in an Airbnb or not, could now book an activity through the platform. Similarly, anyone can be a host.
Most experiences are led by locals and can range from food tours to yoga classes. Each activity is meant to be unique to the place and people hosting them.
Airbnb's experience platform created an alternative to other tour booking agencies like Viator and GetYourGuide.
Can you make money selling experiences – live or online – on Airbnb?
Airbnb experiences launched in 2016 with just 500 listings. By the end of 2019, there were more than 40,000 active listings.
In 2019, the average host earned $2,500 per experience listed in 2018. Meanwhile, some of the top hosts on the platform earned more than $300,000 in a year from their experiences, according to Airbnb.
The experience landscape changed in 2020 when in-person events were paused and replaced by virtual sessions. Arival predicts that travel experiences will recover more slowly than Airbnb's rental segment, but that the company has given every indication that it remains committed to its experiences.
5 tips for hosting great Airbnb experiences
The three pillars of a quality Airbnb experience are expertise, insider access, and connection. Let's take a look at how you can put that into practice.
1. Bring your unique perspective
People come to Airbnb for unique local experiences that they wouldn't normally find elsewhere. They know the platform prioritizes local interactions and personal connections, and they're likely expecting the same from its experiences.
You can envelop this ethos into your experience by sharing your unique perspective with your guests. Whether you're conducting a virtual walking tour through your hometown or teaching how to make cocktails, Airbnb wants you to make the experience uniquely yours.
The walking tour, for instance, could highlight a lesser-known cafe that you love. The cocktail class could feature your favorite drinks from your home country, or teach traditional drinks with a personal twist.
Think beyond your expertise in the subject matter and consider the unique perspective you can bring to the topic or activity.
2. Host an experience about something you're passionate about
When you're passionate about a certain topic or activity, that passion will shine through your experience. If you're not sure what experience to host, think about your favorite hobbies. There might be an opportunity to teach others about it.
This will also make it easier for you to bring your unique perspective to the experience.
3. Show your expertise
When you tell your guests about the expertise or credentials, your experience becomes more legitimate. Every Airbnb experience will have a section where hosts can tell its guests a little bit about themselves. This is the ideal place to describe your expertise in the subject matter.
Airbnb asks guests to avoid simply writing "I love calligraphy!" in their bio. Instead, the host should explain their expertise by writing something like "I teach calligraphy at the SF Asian Arts Center."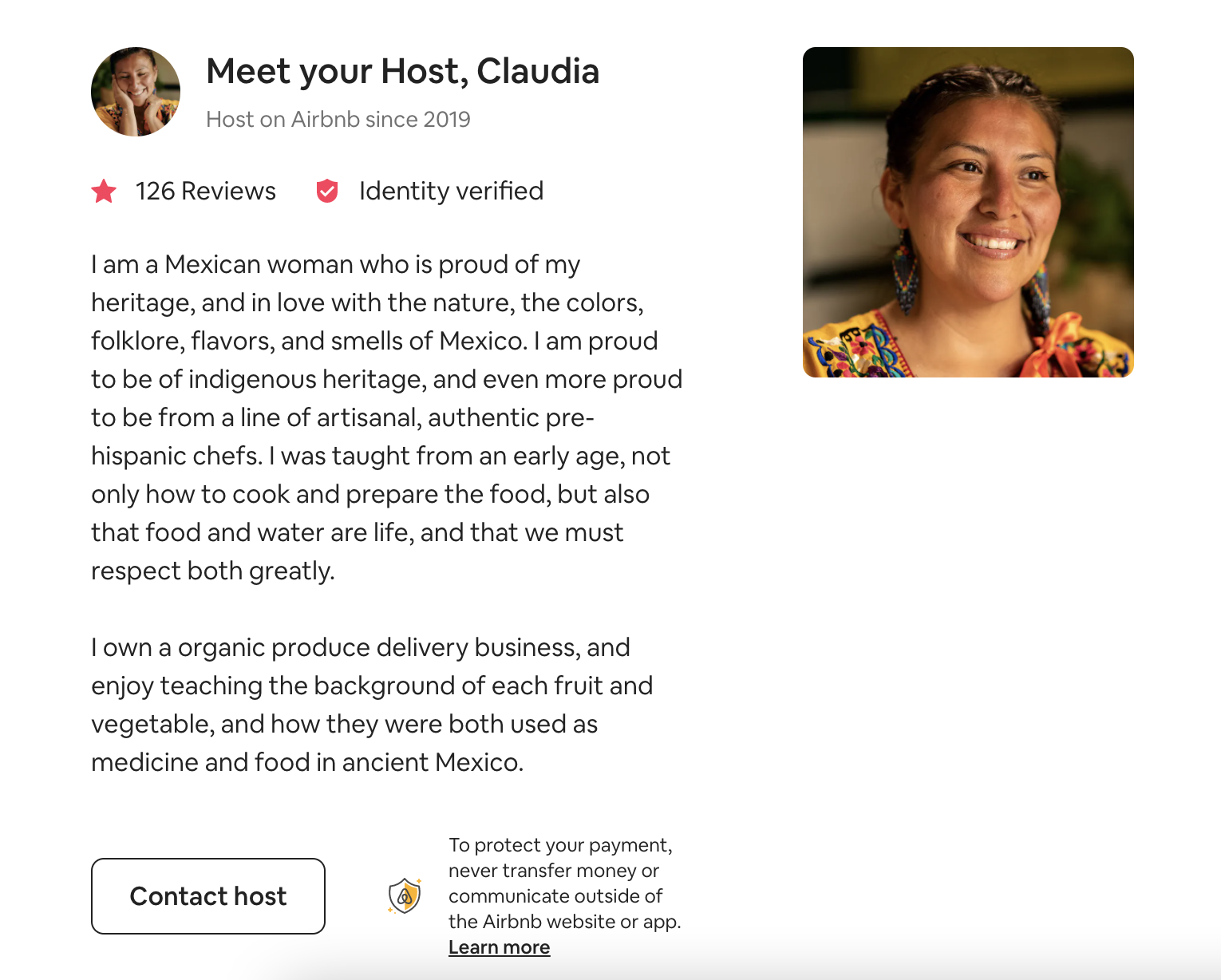 For example, the host behind an experience called Ancient México Cooking Experience explains her expertise by talking about her indigenous heritage and her produce business.
"I am proud to be of indigenous heritage, and even more proud to be from a line of artisanal, authentic pre-hispanic chefs. ," she writes. "I own an organic produce delivery business, and enjoy teaching the background of each fruit and vegetable, and how they were both used as medicine and food in ancient Mexico."
Airbnb experiences — especially virtual ones — are still a new concept for many travelers. Before they book your experience, guests want to have a very clear idea of what they're signing up for. A clear explanation of your Airbnb experience will give guests the confidence to book it.
Your experience description should include:
What guests will be doing
Meeting address and instructions for meeting up with the host
What's included in the price, and what, if anything, the host is providing for guests
What guests need to bring with them
The time and date of the experience
5. Make guests feel welcome and safe
A smiling, enthusiastic host can make guests feel warm and welcome during an experience. You could try a couple of icebreaker activities so that guests start getting to know one another.
Another way to build a personal connection with your guests is to share a bit about yourself and your passion.
Also, make sure to keep guests informed throughout the duration of the activity. When they're fully aware of the itinerary and know what to expect next, they'll feel more comfortable and safe while participating.
6 tips for hosting great Airbnb online experiences
Airbnb launched online experiences in 2020 in response to the pandemic. While the above tips also apply to online experiences, there are additional factors that can make your virtual event stand out.
1. Choose an eye-catching title
Your experience title is one of the very first things your guests will see about your experience. Make a great first impression by crafting an eye-catching title that entices them to click through to your tour listing.
Here are a few examples of online experience titles that work:
Each of these examples focuses on giving guests a sense of place, as well as a general overview of the activity.
2. Think outside of the box
Hosts have complete creative liberty with their online experiences. Think about what would make a guest pay for a fully virtual experience, where they'll be sitting in front of a computer.
Is there something you can teach them that they can't learn anywhere else? Can you show them something about your city that they would never be able to find on their own?
It helps to look at the typical tourist activities offered in your area and brainstorm ways to make yours uniquely different.
3. Make it interactive
The best Airbnb experiences keep guests engaged the whole way through. It can be a physical activity like cooking or an interactive event like a game show. Both types of experiences keep the guests involved so that they don't get bored and zone out of your event.
In a cooking class, guests should be prompted to cook with you. As you cut an onion, for instance, make sure they're cutting one as well. At the end, ask everyone to show how their dish came out. Then have everyone try the dish together.
A game show can also be a very interactive experience if you're consistently involving guests in the game. You can, for instance, group the guests into different teams competing against one another.
Whatever the experience, you can always encourage guests to communicate with you and each other to ensure they remain engaged in the activity.
4. Ensure guests are prepared for the online experience
It's a good idea to reach out to guests before the experience to ensure they're prepared. You can send them an email with clear instructions on how and when to join the experience through Zoom. This same message can include a list of supplies that the guest should have on hand before logging on.
If you're hosting cooking class, for example, you can advise guests to separate the necessary pans and ingredients ahead of time.
5. Set the stage
You'll be running your online experience from a virtual location, such as your home or office. Remember that guests will be able to see whatever is shown to the camera, including the wall behind you or your surrounding environment.
Airbnb recommends that online experience hosts "set the stage" before going live. This involves choosing the right setting, such as the kitchen for a cooking class. Guests likely won't want to see a messy home, either, so tidying up is a good idea. Having all your materials or ingredients on hand is another key tactic of staging your environment for your virtual experience.
6. Do a test run
One of the best ways to improve your virtual experience is to test it. You can ask a friend or colleague if they mind participating in a test run. Ask them to provide you with feedback at the end, which you can incorporate into the final version of your experience.
***
In conclusion, you can use these strategies to reach a wider audience with Airbnb experiences.
As you're brainstorming experience ideas, remember to think outside the box and make it an engaging activity that guests will love.