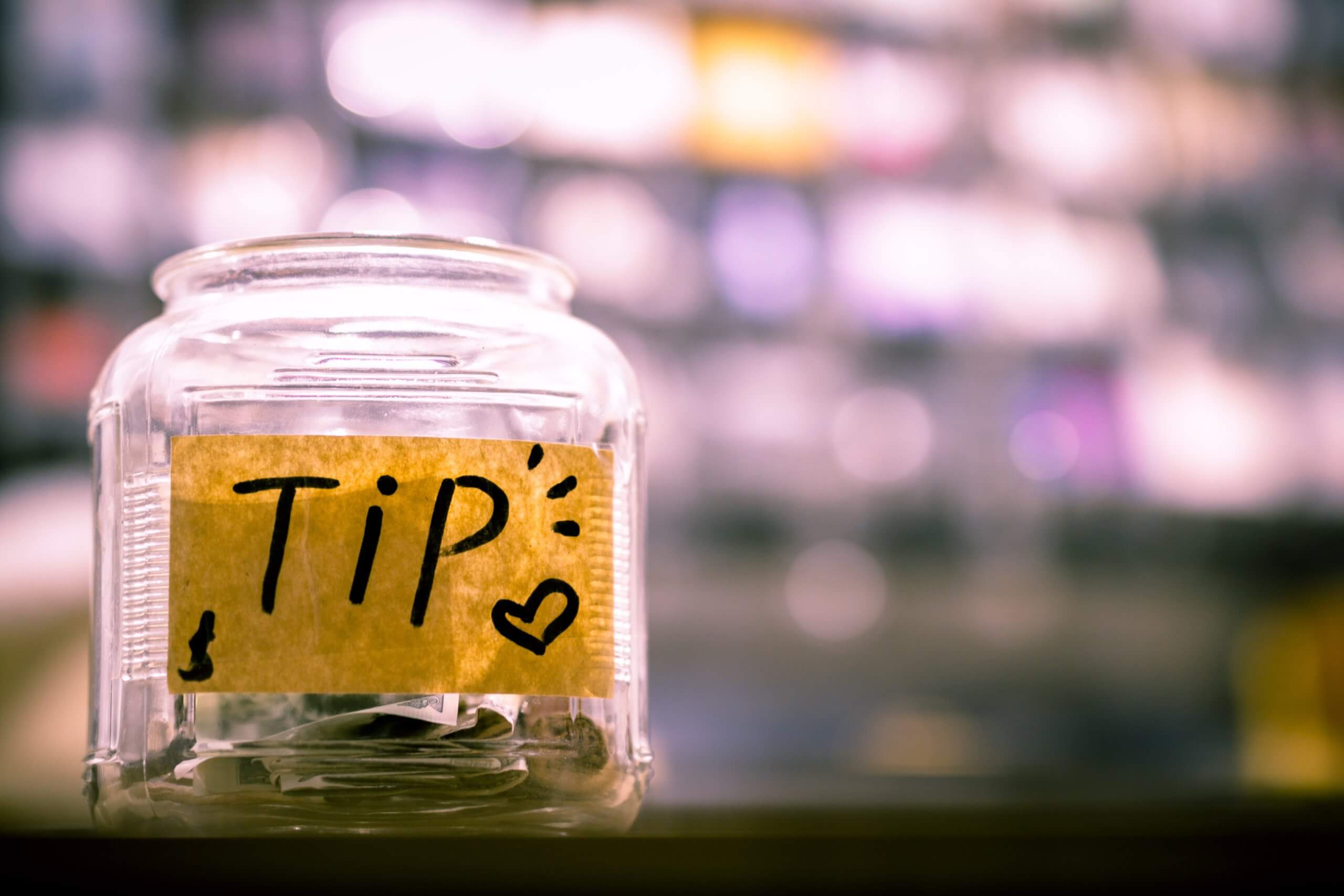 9 Best Practices for Collecting More Tips
Whether you offer food tours, axe-throwing, or zipline and challenger courses, encouraging happy guests to tip is standard practice, especially for U.S. businesses.

It is also a great way to add to your bottom line, increase average order value, and reward your guides for delivering an exceptional experience.
However, between the technical software implications and cultural nuances, creating an effective tipping strategy for your business is fraught with challenges.
In this post, we're going  to share some tipping best practices designed for tours and attractions, including:
What are the benefits of setting up gratuities?
If you google "Tipping," the first thing you'll see is dozens of questions around who to tip, how much, when to tip, etc.
Showing appreciation via a tip is a nuanced topic, especially if you serve international guests.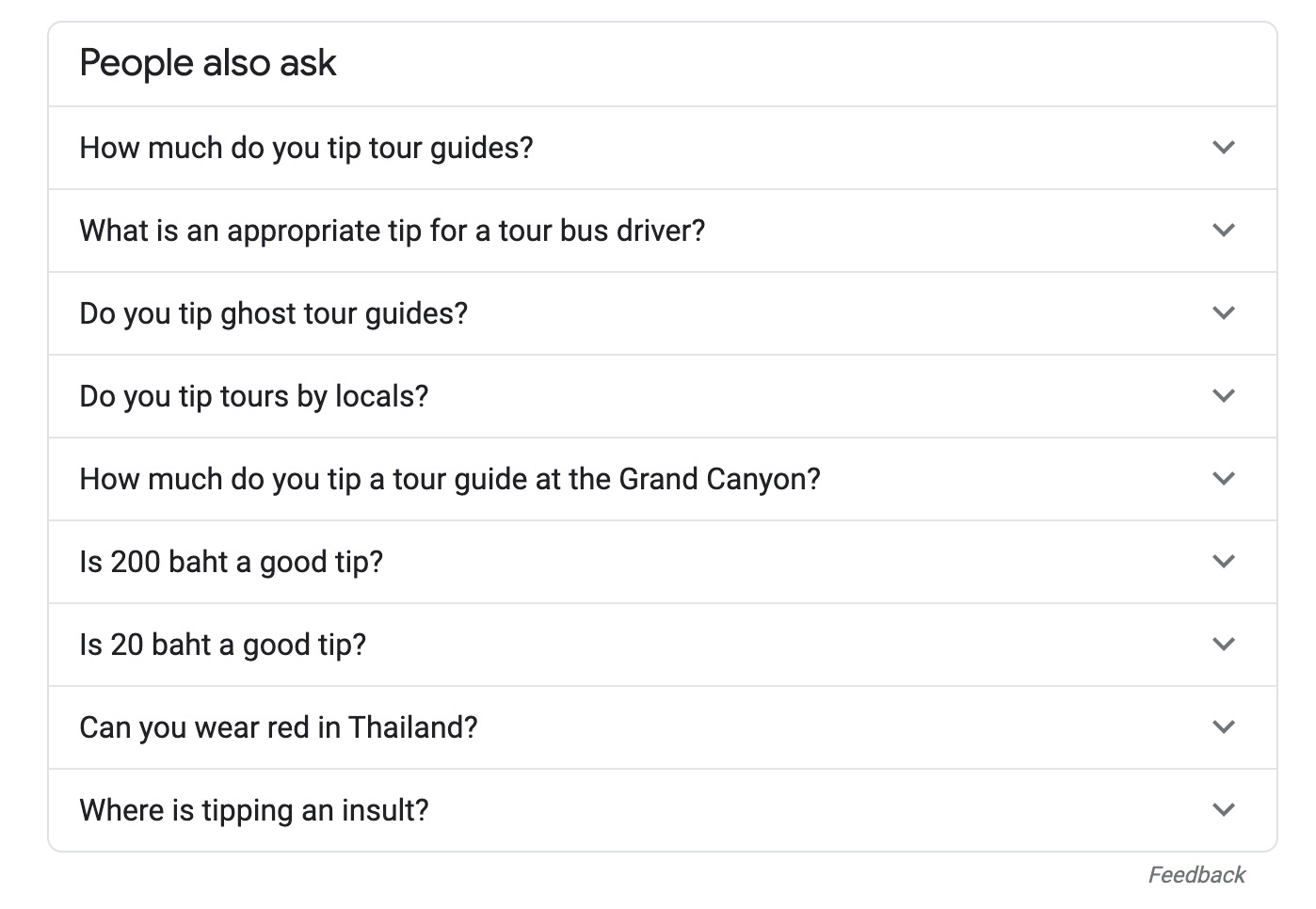 And, in some countries, like South Korea, service providers can actually be insulted if you try to tip them. Whereas in countries, like the U.S. not tipping 15-20% is considered rude.
Unless you operate in a country that actively discourages tipping, the benefits of setting up gratuities usually outweigh the downsides.

In fact, tipping can encourage your guides to provide an exceptional guest experience consistently.

This benefits everyone involved. Guides can make more money. And, your guests leave their tour and experience with great memories and a more positive experience with your brand.
In fact, according to our data, the average tip amount is $20.23 per booking.
9 best practices for collecting more tips
The two biggest reasons why tipping can be problematic is because guests don't know if they should leave a tip at all. And if they leave a tip, how much should they leave. Anything you can do to help answer these questions will go a long way.
1. Eliminate the guesswork
Anything you can do to make the process easier and eliminate uncertainty around whether or not to tip can go a long way.
This starts with creating and communicating a clear tipping policy with guests.
One thing you should definitely communicate is whether you pool tips or a guide gets to keep 100% of their tips.
Many businesses put this information on a FAQ page.
2. Make it easy for guests to tip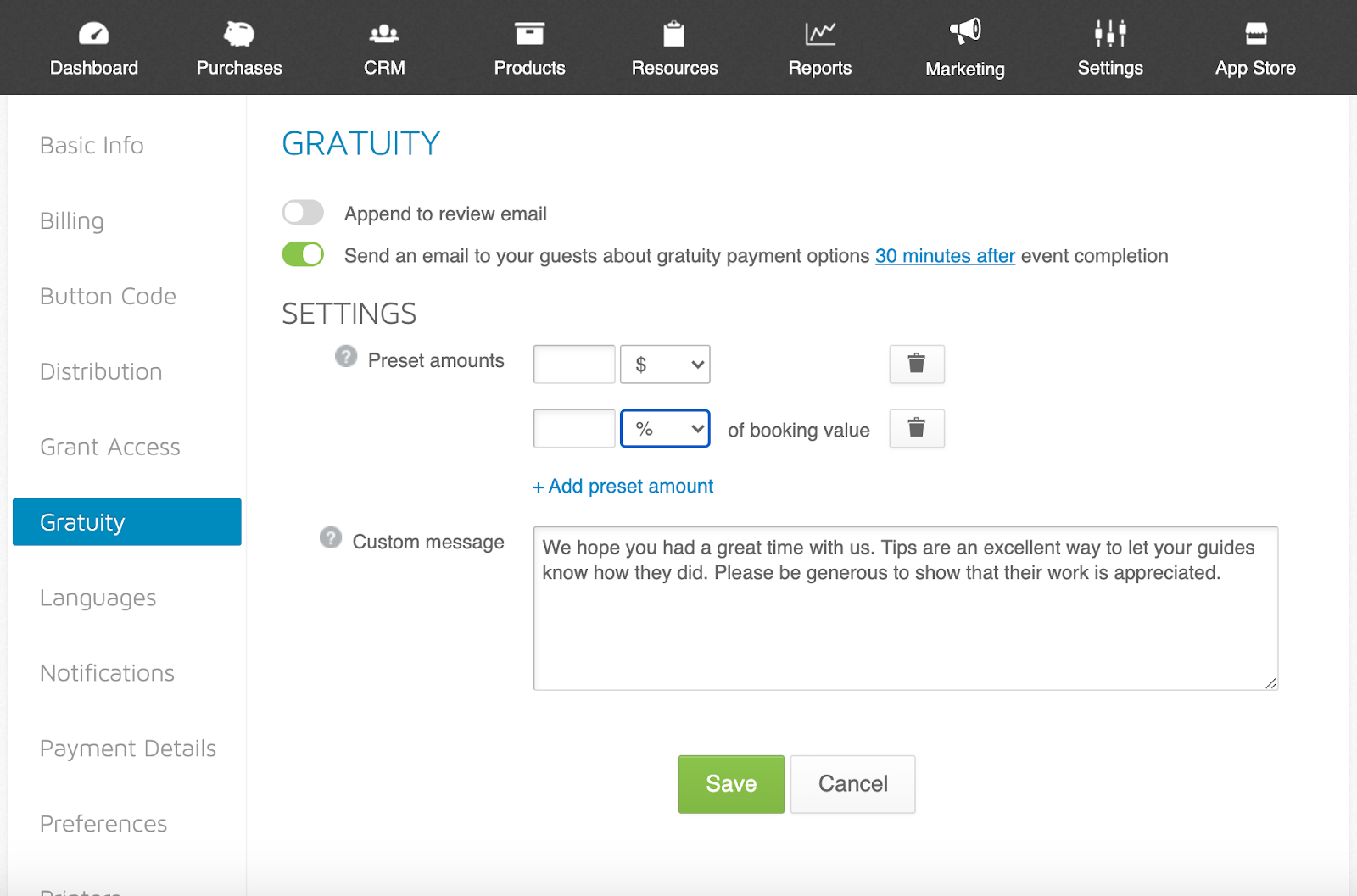 This goes without saying, but the easier you make it to collect tips, the more likely guests will tip.
For example, with Xola's gratuity feature, you can preconfigure a handful of suggested amounts on the payment link you send guests. So, guests can preselect 15%, 20%, or 25%, and not have to do any math. Alternatively, you can also preconfigure set dollar amounts like $5, $10, or $15.
3. Send a follow-up email or text reminding guests about their experience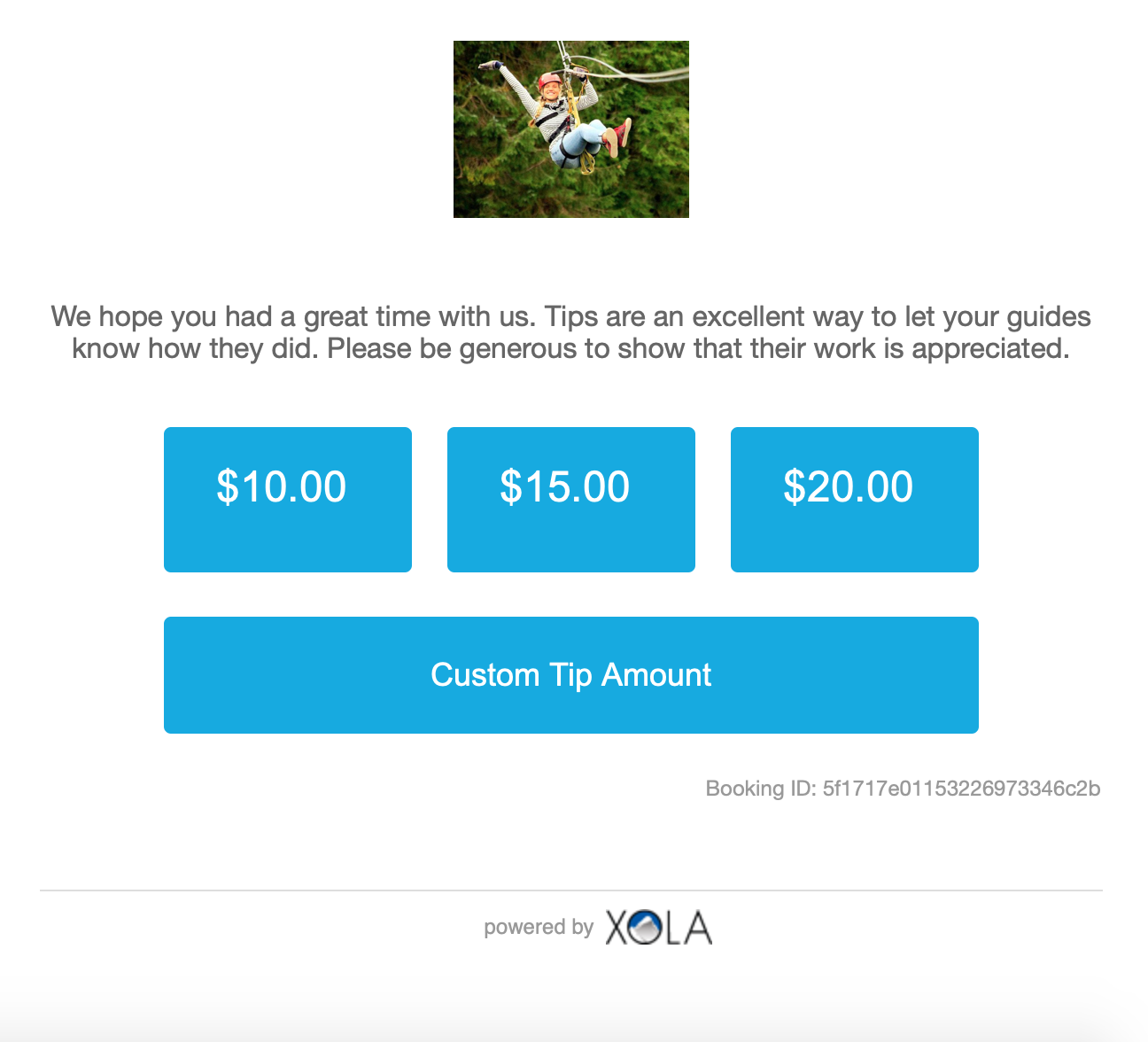 For starters, sending a follow-up email post-experience is a great tactic for getting more customer reviews on sites like TripAdvisor.
However, you can take this a step further by sending a follow-up message – via email or even a text message- from their guide. This is a best practice that delivery apps – like Instacart- have been doing for awhile.
Pro Tip: With Xola's built-in gratuity feature, it is simple to create gratuity emails and text messages that automatically go out to guests at set intervals post-experience.
For a text message, you want to keep it short and snappy.
Thanks for coming on the XYZ Tour earlier! If you had fun, please consider leaving a tip for your guide and leaving us a review on TripAdvisor.
However, if you choose to send an email, you can word it so that it reads like a personal message from their guide, reference a highlight from the experience, and even include a photo or video of them. Then, you can drop a payment link encouraging a small tip if they had a fun time.
Pro Tip: We recommend sending out this email between one hour and 24 hours after a guest completes their tour or experience.
4. Build rapport with guests
This is particularly relevant for walking tours, food tours, rafting, and any experience where guests are going to be spending a considerable amount of time with their guides.
Some tips for establishing rapport are:
Use their first name. 
Be empathic  
Ask them a quick question to get to know them. Obviously, don't go too far, but anything you can do to create a quick bond. 
Mirror their body language and tone
5. Raise your prices
This might seem counterintuitive. Studies show that people place a higher value on items and experiences that cost more. If your tour is regarded as a premium or luxury experience, they will be more likely to tip. And, tip well.
Plus, the added bonus is that it increases the average order value, which can influence profitability. This allows you to invest more in your guests' experience (which in turn leads to better tips!), pay yourself and your team more, and ensure your business remains profitable.
6. Encourage your guides to deliver a "tour speech" during the experience
While this shouldn't be a 30-minute speech begging for tips (because that comes across as unprofessional and desperate), baking in a 1-minute ask towards the end of the experience encouraging a tip and a customer review is an effective practice.
7. Make sure your guides are experts
Whether you hire people who already have subject matter expertise or invest in detailed onboarding and training programs, your guides should be "experts" in the tours or experiences they are leading.
This will not only make your guides look more professional (and help them secure higher tips), but it will also improve your guests' experiences. After all, no one wants to be on a tour where they know more about the subject matter than the guide.

For example, if you run a company that offers kayaking tours, you might choose to only hire guides who are avid kayakers that spend their weekends actively looking for new places around the area to kayak.
8. Underpromise and overdeliver
Of course, all of these best practices are meaningless if guides are consistently rude, or the experience leaves a lot to be desired.
This is why creating a great guest experience is so important. This starts when a guest first hears about you and lands on your website, and makes a booking.
9. Keep track of your tips
One of the best ways to improve your guest experience is to monitor how much guests are tipping their guides.

Pro Tip: If you use Xola's gratuities features, you can actually run reports to see tips per guide.

Tips collected can be used as a proxy for the guest experience. For example, guides that are consistently collecting the most tips are likely offering a better guest experience on a more consistent basis. You can take insights into what these guides are doing to help all of your guides provide a better guest experience across the board.
How to set up gratuities in Xola 
Looking to add Gratuities to your Xola account? Just log into your account, go to the App Store, where you can search and add the Gratuities app.

In addition, here is a step by step guide for setting up Gratuities within your account.  
Pro Tip: Not a customer but interested in checking out Xola? Click here to watch a demo from one of our product specialists.