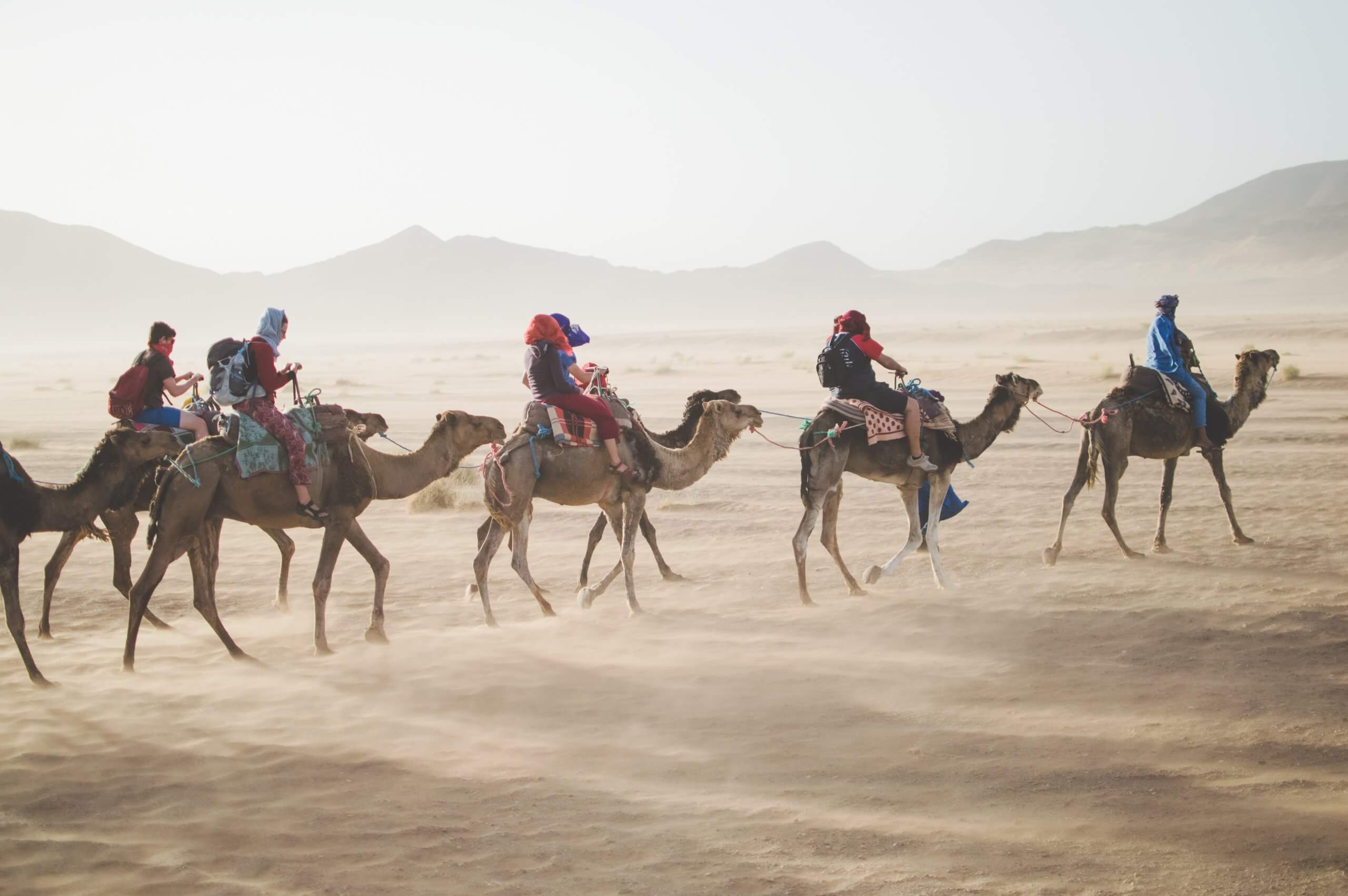 When you don't have a large advertising budget, investing in driving more traffic and bookings from travel and tour affiliate programs can be a cost-effective strategy.
Most automatically jump to websites and forget about a potentially more lucrative channel – influencer marketing, especially on social media channels such as Instagram and TikTok.
You can structure both as performance-based, so you only have to pay for results.
In this post, we'll share what tour affiliates are, the most popular affiliate programs, and how tour operators can benefit from them.
What's a tour affiliate?
A tour affiliate connects websites and influencers with specific tour offers.
Since travel is an evergreen industry with lots of demand – when there isn't a global pandemic – it attracts a lot of affiliate programs.
How affiliate marketing can work for tour and activity operators
When most people think about affiliate programs, they think about the affiliate marketers creating random niche-based microsites that were monetized through Google AdSense, affiliate links, and banner ads.
Truth be told – affiliate marketing has come a long way since its seedy past.
In fact, some of the best affiliate marketers today are actually Instagram, Youtube, and TikTok influencers.
They've spent the time cultivating a loyal and engaged audience, and their fans trust what they promote.
Tour operators can benefit from affiliate marketing since it is performance-based. If you have a compelling tour offer and attractive commission rates for affiliates while still keeping decent profit margins, you can drive a ton of bookings with a minimal budget.
Top Tour or Travel Affiliate Programs
With hundreds of affiliate programs in the industry, we decided to take a closer look at some of the most popular ones.
1 Expedia
Expedia is the number one online travel agency (a.k.a. OTA) has an affiliate program that allows members to add and promote links on their site and social channels to Expedia sales, inventory, and promos.
With 60+ million unique visitors per month, no shortage of inventory, and support in the form of data feeds, tools, and storefronts, it is no wonder that many rely on them for their affiliate income.
To sign up, users must apply through the CJ Affiliate Publisher link here. Commission rates are not publicly available without an accepted application. However, various lists claim you can make up to 11%.
2. Priceline
Priceline Partner Network includes robust support tools and services for members, including real-time sales reporting, customized reports, dedicated account support, and 24/7 customer support.
The program's API connection connects your app or website to their travel supply options. You can use their ready-to-launch, responsive eCommerce template to quickly get up and running.
To sign up with Priceline, simply fill out the application linked above. Commissions aren't published on their site, but various lists claim they're about 3% per sale.
3. GetYourGuide
GetYourGuide Partner Program is aimed at travel bloggers and writers and helps them add tours and activities links and widgets that fit within their content. The program offers full support with tips and tricks for link placements, support to increase conversion rates, a dedicated partner support team, and bookings/earnings analytics.
Sign up is free with no complicated applications. Commission rates aren't publicly published on the site or terms, but some bloggers/lists claim it's a flat 8%.
4. Musement
Musement Affiliate Program operates through the Travel Payouts Affiliate Networks. People can earn commissions on tickets, tours, and activities. The service focuses on offering unique, hidden gem experiences with 24/7 customer support. The affiliate program provides customers with a selection of over 40,000 local tours and attractions across 80 countries.
Sign up is simple without the need for a complicated application. Commissions are straightforward on the website, stating 50% of the advertiser's margin from each order is passed on to the affiliate.
5. Tiqets
Tiqets Affiliate Program is geared toward travel bloggers, travel site owners, culture and leisure promoters. The program offers easy integration, high margins, easy-to-use products, widgets, banners, various tools (API), and dedicated account manager support. Users earn commissions on activities like museums, city passes, guided tours, and concerts around the world.
Sign up is free. Commission rates aren't listed on the site, but other sites claim it's 50% of Tiqet's gross transaction margin.
6. Viator
As a TripAdvisor company, Viator Partnership has multiple affiliate partnerships to choose from, including Travel Content Sites, Affiliate Networks, Travel Agents, and Travel Commerce. Each partnership opportunity offers a competitive commission with frequent payouts via PayPal, Payoneer, or bank transfer. The program also includes 24/7 support.
Sign up on their website to get started with your chosen program. Commission rates start at 8% for both the Travel Content Sites option and Travel Agents option.
7. TourScanner
With more than 500,000 tours and activities, TourScanner Affiliate Program boasts the world's largest search engine for tours and activities. The site gives real-time statistics and high conversion rates. TourScanner offers an API for partners with a significant amount of traffic but does not give specific numbers for qualifying.
Signup is free by email. Commission rates aren't published on the site, but some blogs claim it's a flat rate of 10% booking value.
8. Klook
Klook Affiliate Partner Program includes over 300+ destinations and 100k+ activities to choose from for travelers, which skews heavily towards Asian countries. Free promotional tools, real time analytics, reports, and easy integration are all available for users. The program even includes a dedicated account manager.
Sign up is free via email through their site. Affiliates earn up to 5% of Klook sales plus an additional bonus commission level when you're able to convert traffic into higher earnings.
9. Tripadvisor
As the world's largest travel site, Tripadvisor Affiliate Program includes 1.4 million places and many more options for things to do in said locations. Unlike many other programs, it is pay-per-click instead of by booking. The multi-touch attribution model includes a 14-day referral window, so you get credit if someone doesn't book right away or comes back on a different device to complete a booking.
To sign up for free, you choose a network partner, either AWIN or CJ Affiliate by Conversant. Once you've signed up, find Tripadvisor on the network platform and apply to join the affiliate program. Earn a minimum 50% commission.
10. Agoda
Affiliate partners with Agoda have access to promo tools to get up and running quickly. Bookings are available in 38 languages. A support team is available for affiliates throughout the entire process. You can also track performance, earnings, and reporting through a user dashboard.
Sign up is free via email on the site. Commission rates increase by tier. Less than 50 bookings earn a 4% commission at the lowest tier. The highest tier lets you earn 7% commission on more than 999 bookings.
11. Lonely Planet
Lonely Planet Affiliate Program lets you earn commission well above the industry standard. Simply link your website through your method of choice and earn a commission every time a user buys a print travel guide, ebook, or clicks through to a travel service partner site.
To sign up, complete an application for your chosen location: Awin (Europe, Middle East & Africa), Awin (Americas), or Commission Junction (Asia Pacific). Earn 15% of the transaction fee for print books and ebooks. Travel service commissions are available once accepted to the program.
---
In sum, affiliate marketing is an underrated marketing channel. With a well-executed strategy, it can increase the number of bookings in a given month as well as boost your social media and word of mouth marketing efforts.