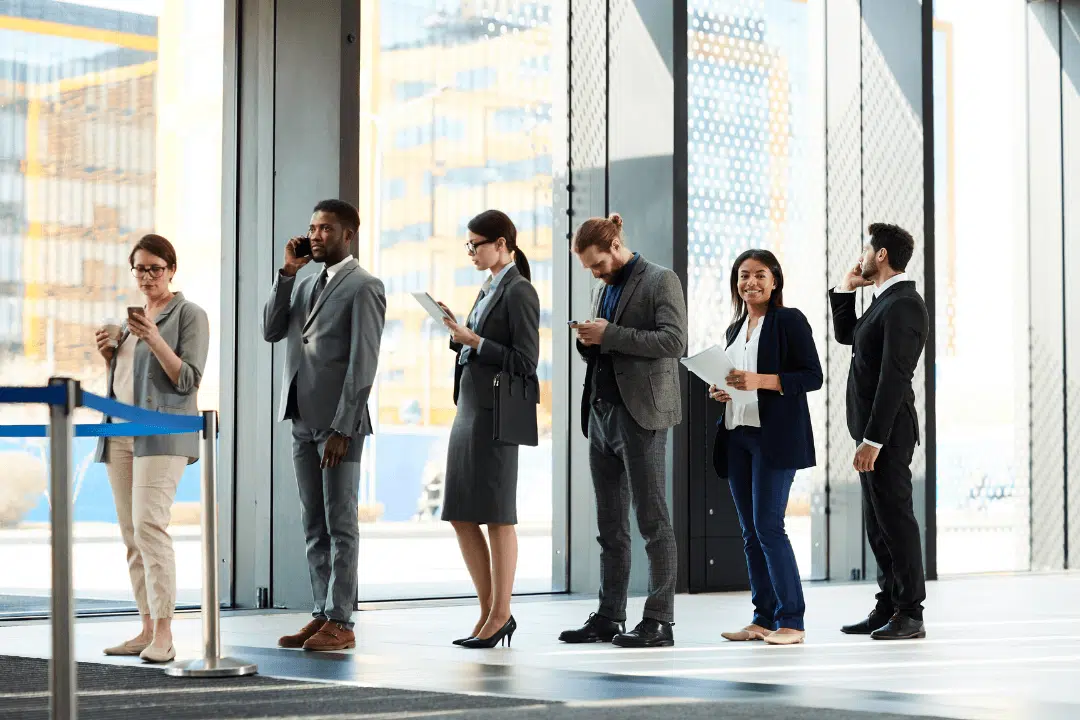 Imagine this: A group of five guests shows up to your attraction or park on the absolute busiest day of the season — yet they don't need to wait in line.
How is that possible?
The answer is a virtual queue. That image of hundreds of irritated people baking in the sun as they stand in line for a ride at Walt Disney World might soon become a thing of the past.
Disney World itself is paving the way for the future of queuing at tourism attractions. The leading theme park operator is adopting technology that does away with standby queues, where guests once stood in line for hours. It is using virtual queue solutions to disperse crowds and improves the guest experience.
With post-pandemic travel returning, it's becoming apparent that every attraction, no matter how big or small, can benefit from virtual queues.
If you're new to the topic, let's dig into what it means to adopt virtual queuing in your attraction — and how it can actually boost your revenue.
5 advantages of adopting a virtual queuing system
How does virtual queuing work?
Virtual queues vs. hybrid queues
How can you implement your own virtual queue system?
How do Disney virtual queues work?
What is a virtual queue?
A virtual queue is an innovative way for guests to wait in line without having to physically be there.
For example, a virtual queue system allows a guest to "check in" using an app on their phone. The app would hold their virtual spot in line and notify them when they're up next.
The guest can then enjoy themselves elsewhere at your attractions instead of standing in line. Virtual queuing helps eliminate the need for guests to physically line up for an attraction, and therefore minimizes crowding caused by physical queues.
5 advantages of adopting a virtual queuing system
The advantages of virtual queueing extend beyond dispersing crowds and providing a better guest experience — it can actually help your business boost its revenue.
1. Improve guest experience
Virtual queues improve the overall guest experience in many ways. No one enjoys waiting in line, and a virtual queue solves that problem.
The technology can also give guests an accurate estimate of waiting time, which makes the guest feel more in control of their time. Plus, guests can often monitor their profession in line.
Finally, less time standing in line means guests will be in good spirits and spend more time enjoying your experience.
Overall, virtual queues provide guests with the frictionless experience they've always hoped for while traveling.
2. Increase secondary spend
Did you know that a major chunk of a tourism attraction's revenue comes from secondary spending?
Less time standing in line means guests will have more time to browse the gift shop and splurge on food and drinks. The overall experience will be more enjoyable, which can also translate into more spending. If you are like most attractions we see, you make your money in the add-ons (i.e. food, drink, merchandise, upgrades, etc.)
3. Opportunities for upsells
Virtual queues can help you unlock new secondary spend options with "skip the line" upgrades.
You can offer cashless, in-app payments – perhaps integrated with Google Pay and Apple Pay – for guests to be able to advance the line with a tap of their finger. While options like fast passes and Disney World's Lightning Lanes are common in select attractions, a "skip the line" feature could similarly provide a smaller operator another revenue stream.
4. Avoid unnecessary crowding
Everyone knows how frustrating it can be to wait in physical queues at popular attractions like Disney World's theme parks. You're bumping elbows with strangers, and there's little to no entertainment while waiting.
Virtual queues can eliminate the crowds caused by physical queues. Guests can disperse and go about their visit while they virtually wait in line.
This is especially important during the pandemic for attractions complying with social distancing measures. Now, guests can easily keep a safe distance from one another.
5. Access to more customer insights
This is particularly relevant for free attractions where you can set up a timed entry through your booking software, like Xola. You can track what period of time is the busiest for your attraction, for instance. This allows you to learn more about your customers and can help you identify any capacity and/or scheduling issues at your attraction.
How does virtual queuing work?
Most virtual queues function by having guests book in advance on their computer or through your mobile app.
For example, a visitor will download a mobile app before arriving. They'll walk up to a park entrance or ride and scan a QR code to enter the virtual line.
The visitor can then go about his or her day until the time is up. A notification will be sent to his or her smartphone when they're up next. They'll be given a return window
An alternative to the mobile app is to offer a wearable device that similarly notifies the guest when they're up next in line.
Virtual queues vs. hybrid queues
Virtual queuing solutions allow the whole waiting-in-line experience to be done virtually. The guest will check in, wait, and enter through his or her mobile phone — without ever having to come face-to-face with a staff member.
A hybrid queue, on the other hand, could still involve some human interaction.
An example of a hybrid queue would be if your guests use an app to check in to the line but then meet a staff member to receive tickets or specific safety instructions before entering.
Or perhaps the guest needs to meet with a host carrying a tablet to join the queue. Then the rest of the waiting journey is done through a smartphone.
How can you implement your own virtual queue system?
You can implement your virtual queue system by finding the best software for your business.
Whatever software you invest in, your guests will check in to the virtual queue through a staff member with a tablet, a kiosk, or on their own mobile phones. Guests will then have access to their ride wait time and queue position through SMS notifications, a live smartphone countdown, or TV displays.
You should keep an eye out for the following features when searching for a virtual queue platform:
Guest self-service: They can add and remove themselves to the queue, typically through their phones or a tablet at the location.
Predicted ride wait times: Guests should be given accurate ride wait times and be able to track their progress.
Mobile notifications: SMS or app notifications should notify guests when they're up next.
Booking integrations: Make sure the software integrates with your current booking and operations systems. Or, better yet, use your booking software to do this.
Non-mobile solutions: An alternative needs to be available for non-mobile users, although they'll be a minority.
Customer data: You should have access to customer insights to be able to improve the queuing system.
How do Disney virtual queues work?
Walt Disney World has led the industry in applying innovative technology to improve the guest experience, including virtual queue systems. There's quite a bit that we can learn from Disney's efforts.
The company first adopted virtual queues in 2020 in hopes of limiting crowds and making the park experience more enjoyable overall.
The theme park operator is experimenting with the virtual queue in three locations, including Hollywood Studios, Disneyland Park, and Disney California Adventure.
Walt Disney World and Disneyland are using virtual lines to allow guests to enjoy other areas of the park instead of standing in line all day for a specific ride.
The virtual queue works through smartphones. Disney uses "Boarding Groups" and "Boarding Passes" to organize its virtual queuing system.
Each guest with a valid park reservation can request access to the virtual queue and receive a Boarding Pass through the My Disney Experience app. Then, they can track their position in the line according to the Boarding Group they were assigned.
Guests can check in to different queues, although some have specific distribution time slots throughout the day. The most popular rides only allow guests to join a Boarding Group once per day, per ride, to allow everyone a chance to ride.
The Rise of the Resistance ride, for example, has two virtual queue distribution time slots at 7 a.m. and 1 p.m. If you make it into the queue, you'll receive a Boarding Pass, which means you have a place in line.
Only a certain amount of people will be able to join the queue and receive what Disney calls a Boarding Pass.
Yet you don't have to be a theme park as large as Disney to benefit from virtual queues.
A small attraction can similarly use the same technology to avoid lines and crowding inside. A museum, for example, can adopt Disney's distribution system to manage guest flow by only opening the line at specific times throughout the day.
Attraction operators can also invest in a hybrid virtual queue model in which the virtual queue only kicks in when your attraction is at its busiest.
On slower days, such as a Monday, when you can accommodate walk-ups, the virtual queue won't be in place.
If you're busier on the weekends, then you can set up a kiosk at the entrance for people to enter the virtual queue and avoid having to wait in a long line.
***
Disney began implementing virtual queuing before the pandemic, a move that showed that technology can be used to improve customer experience.
Now, virtual lines can offer solutions for the many issues surrounding post-pandemic travel, namely unsafe crowds and social distancing.
As the tourism industry continues to digitize guest processes to better the guest experience, virtual queuing is likely here to stay.
Perhaps it's time to ask yourself: How can your attraction benefit from virtual queuing?