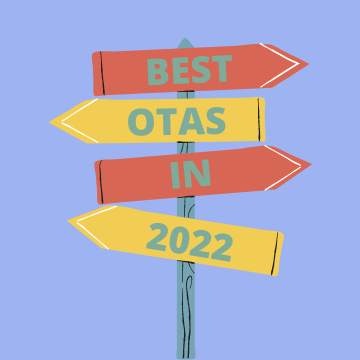 For many travelers, booking experiences through an Online Travel Agency (OTA) has become a part of their trip planning routine.
Because of this, many tour and attraction operators count OTAs as part of their distribution strategy. Yet there are dozens of OTAs on the market, so which one is the best fit for your company?
In this post, you'll be introduced to the top 10 best online travel agencies in 2022.
What are the top 10 biggest OTAs in 2022?
The drawbacks of relying on OTAs
What is an OTA?
An OTA is an online travel agency where travelers can book hotels, flights, tours, and other travel-related activities.
Many OTAs offer a variety of travel-related activities under a single platform, from accommodation to car rentals to in-destination experiences. This makes it easy for travelers to compare prices between different travel companies and search for the best deals.
The main benefit of working with an OTA is that it can make your tours, activities, and attraction tickets available to a global audience. The biggest OTAs are present in several countries all over the world, and millions of travelers use them to book their trips.
Any tour operator or attraction can partner with an OTA, although you'll be charged a commission fee for every booking completed through the platform.
What are the top 10 biggest OTAs in 2022?
Let's take a look at the major players on the market right now. These 10 OTAs are making waves in the online booking space.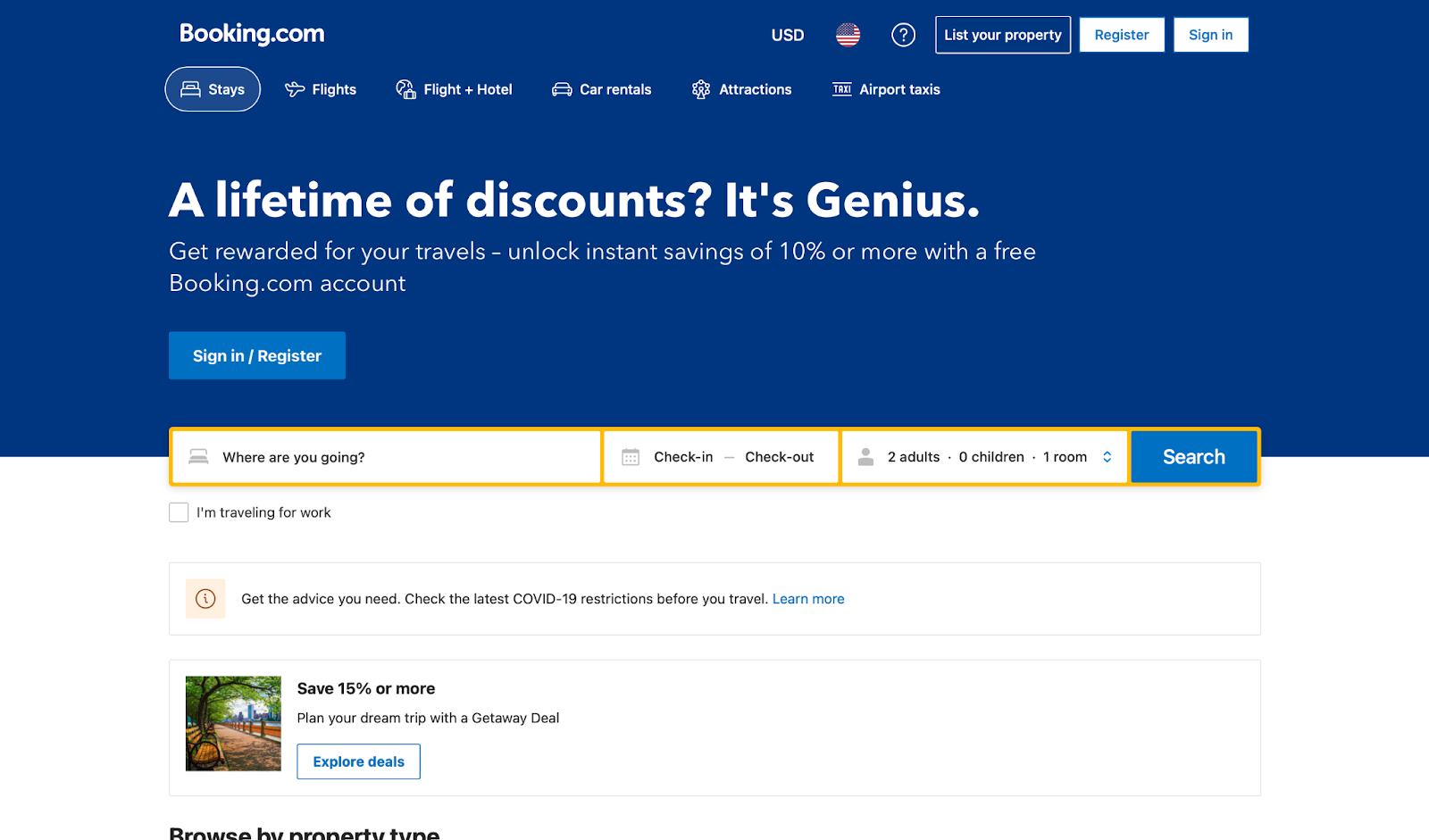 1. Booking.com
Booking.com is the leading OTA in the hospitality industry. The company is present in 220 countries through six primary brands, including Booking.com, Priceline, Agoda, Rentalcars.com, KAYAK, and OpenTable (as well as a network of smaller OTAs like Rocketmiles, HotelsCombined, Cheapflights, and Momondo). Last year, 590 million room nights were booked across its many websites, with gross travel bookings totaling $76.6 billion. With nearly 458 million online visits in March 2022, Booking.com was the most visited travel and tourism website in the world.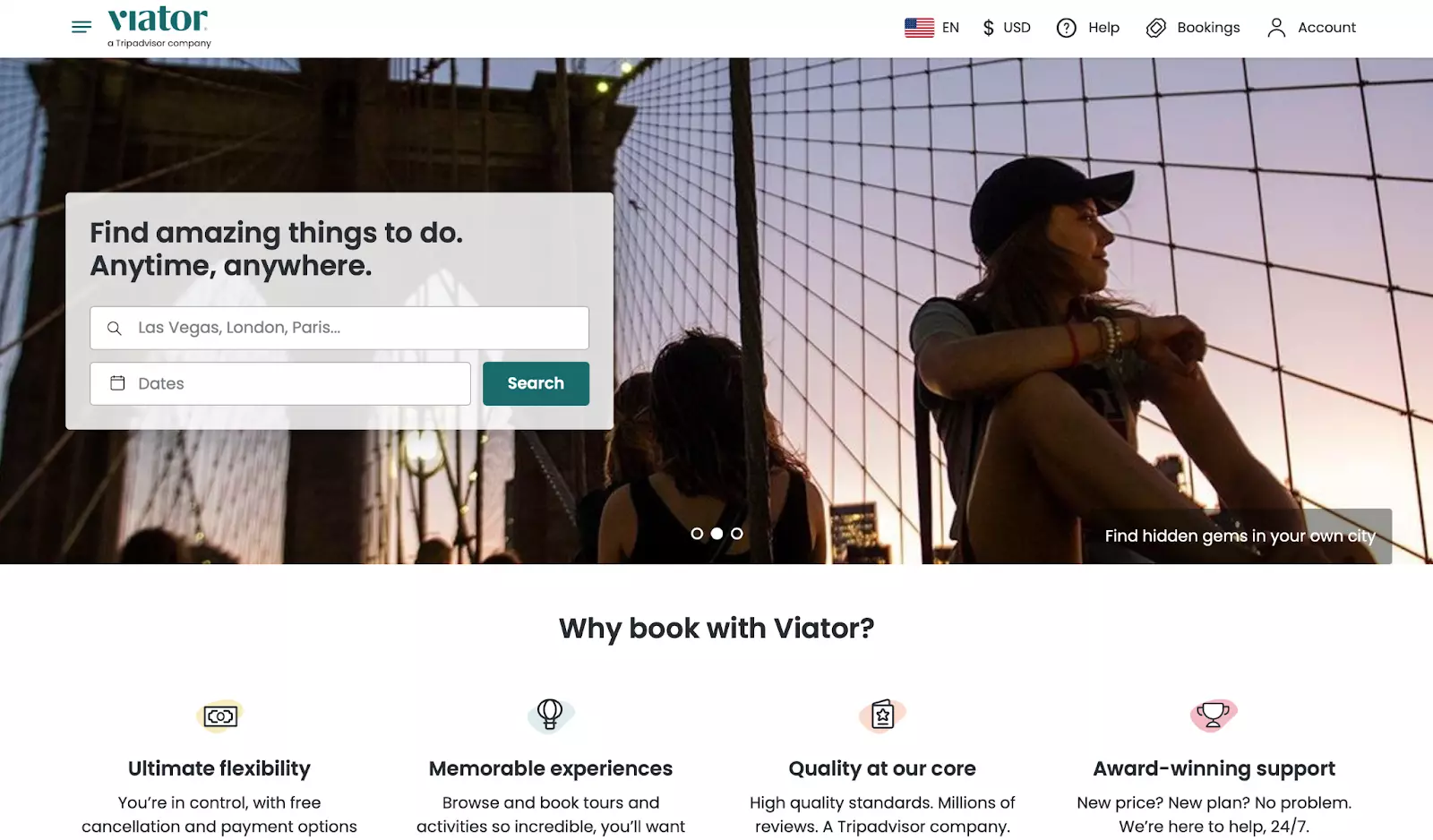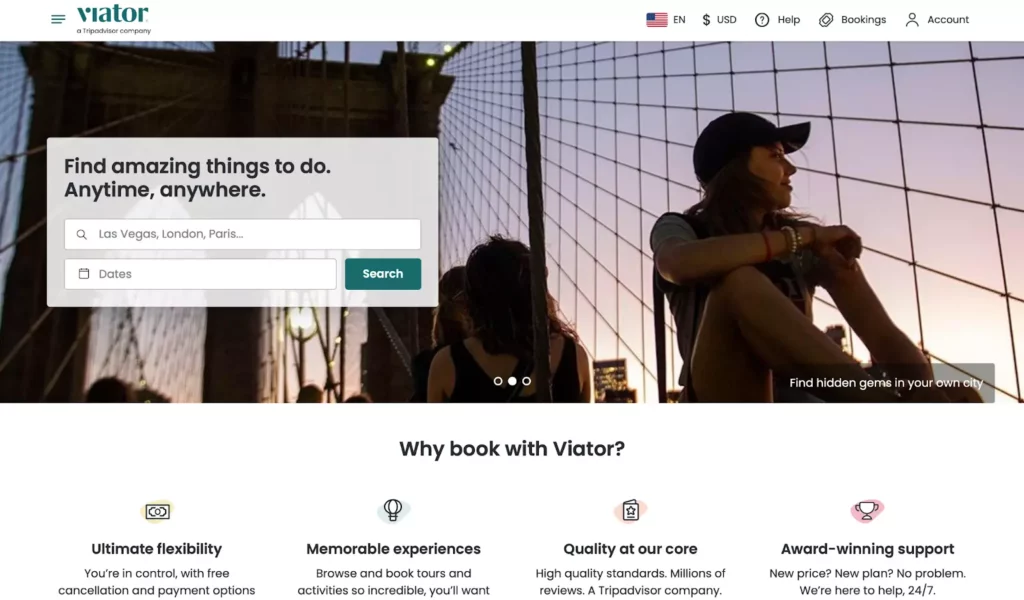 2. Viator/Tripadvisor
Viator is one of the leading online marketplaces for tours, activities, and attractions. Viator receives over 450 million unique monthly visitors through Tripadvisor's massive distribution network. Tripadvisor, one of the largest OTAs in the U.S., purchased the Viator platform in 2014. Viator has over 140,000 tours, activities, and attractions available in thousands of destinations around the world.

3. Expedia
While Expedia is mostly known as a booking engine for hotels and flights, it also sells tours and activities through Expedia Local Expert. When you sign up, your company's products can be marketed across Expedia's portfolio of over 60 travel booking sites like Travelocity and Trivago. Expedia reportedly receives 112 million unique monthly visitors and has 68 million email subscribers across all of its brands.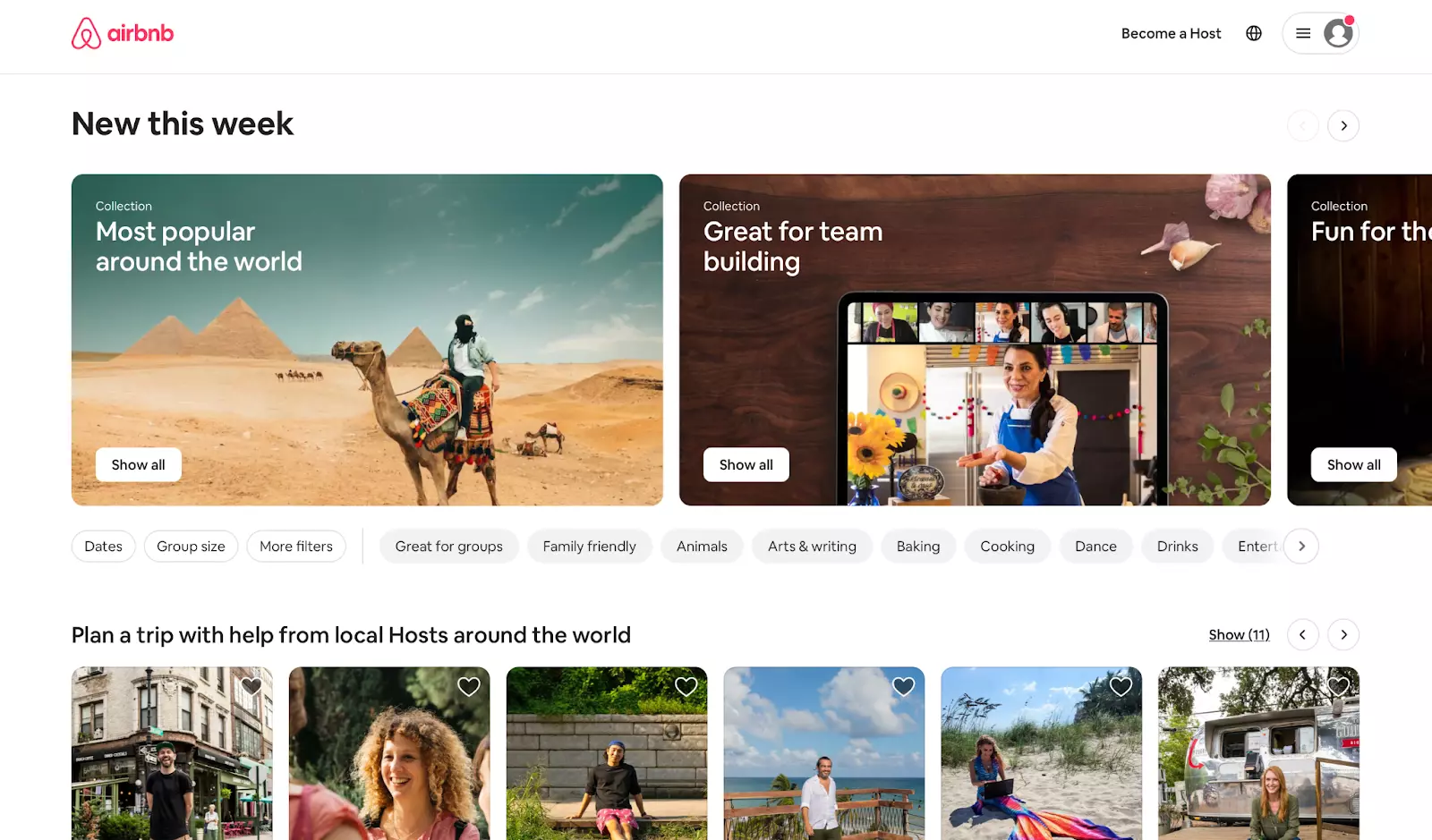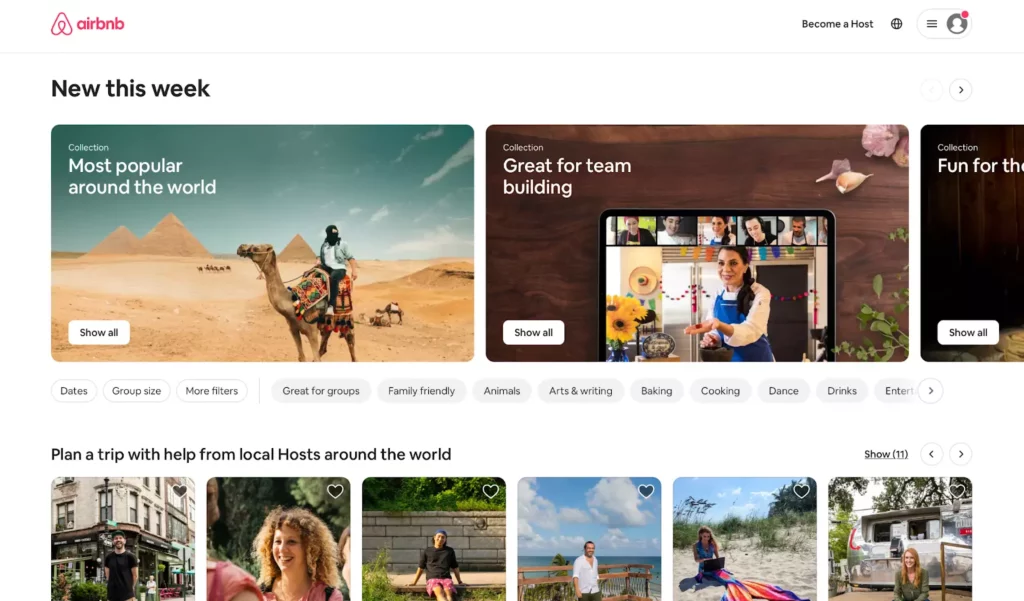 4. Airbnb
Airbnb is the leading OTA for home-sharing and vacation rentals, with over 75 million website visitors every month. In 2016, Airbnb jumped into the tours and activities market with Experiences, where tours and events led by local experts. Airbnb first started with 500 experiences in 12 cities, but quickly expanded to 30,000 activities offered around the world by 2019. The following year, the focus turned to online experiences in response to the pandemic. In 2020, there were more than 40,000 experiences in more than 1,000 cities.

5. Agoda
Agoda is a Singapore-based OTA offering hotels, vacation rentals, and flights in 39 languages. Agoda.com is one of the many brands under Booking Holdings. The website receives about 39 million website visitors per month.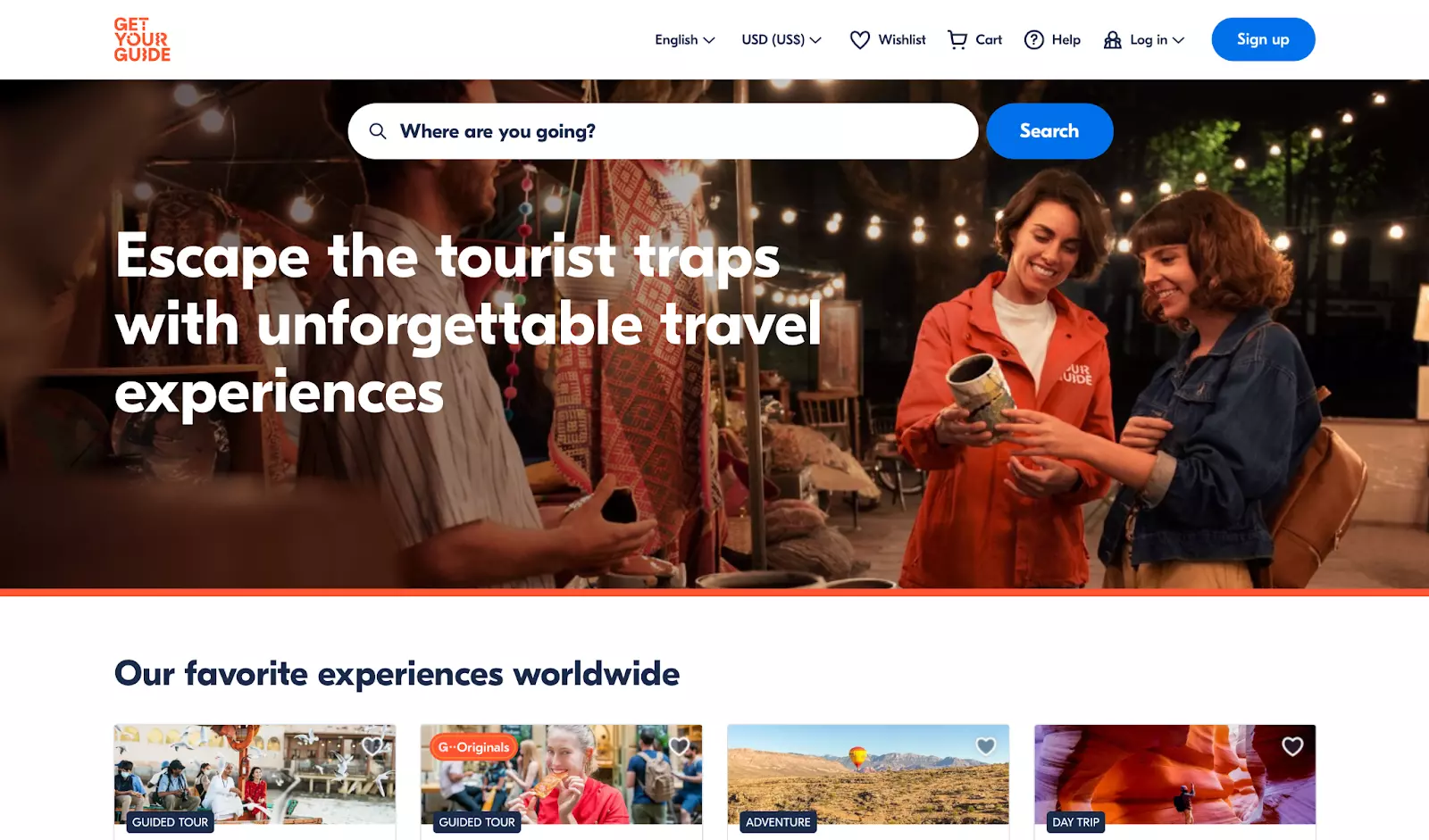 6. GetYourGuide
GetYourGuide is a trusted travel booking platform that receives over 5 million website visitors per month. Anyone that offers tours, attraction tickets, city cards, cooking classes, transfers, multi-day tours, and special travel items like Wi-Fi sticks or experiences like wearing traditional costumes can join. The platform was launched in 2009 has grown to offer over 60,000 activities today.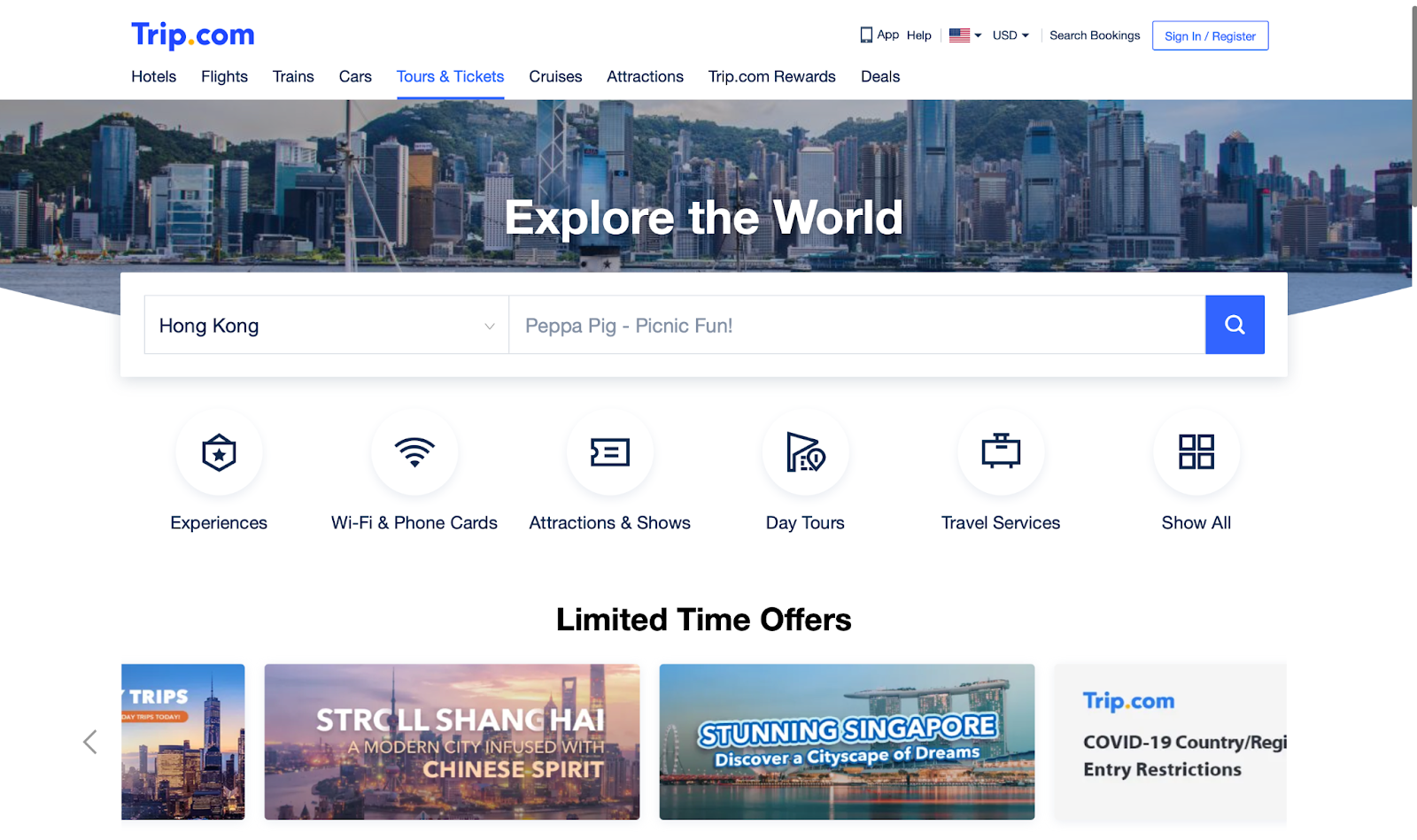 7. Trip.com
With 45,000 employees and over 400 million members, Trip.com is one of the largest OTAs in the world. The website is a full-service travel agency offering hotels, flights, cars, as well as tours and attraction tickets. The Singapore-based platform receives over 12 million website visitors per month.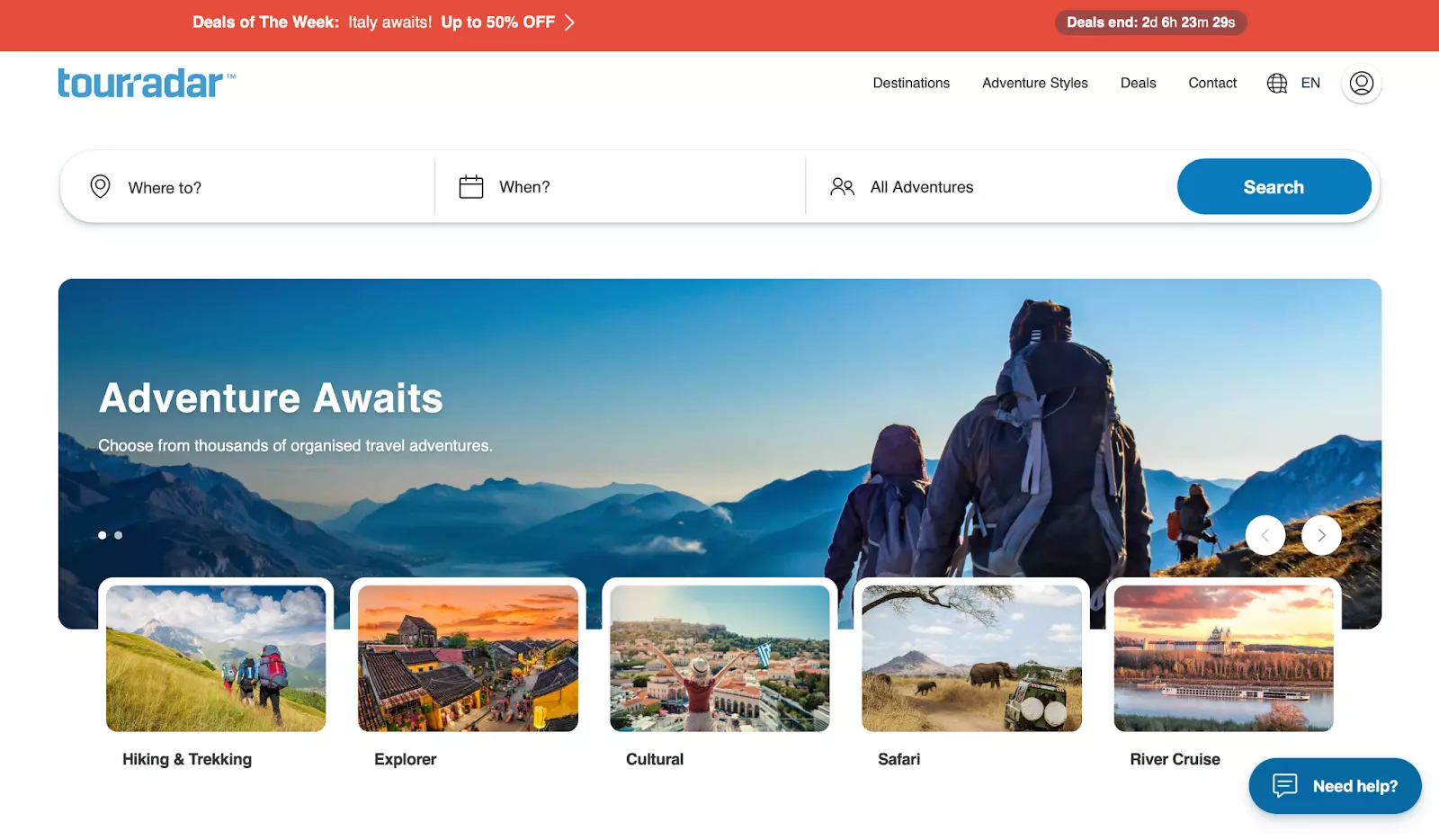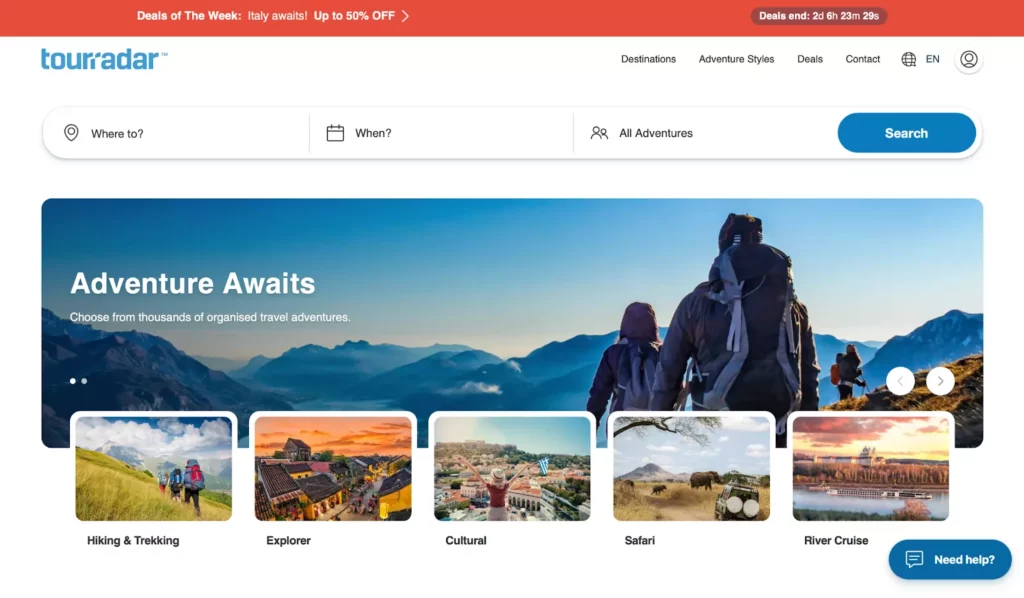 8. TourRadar
TourRadar offers more than 50,000 tours in 160 countries around the world. The company focuses specifically on multi-day tours. Founded in 2010, TourRadar was one of the first OTAs to offer group and private adventures that span multiple days in an online marketplace, which today receives 1.3 million visitors per month.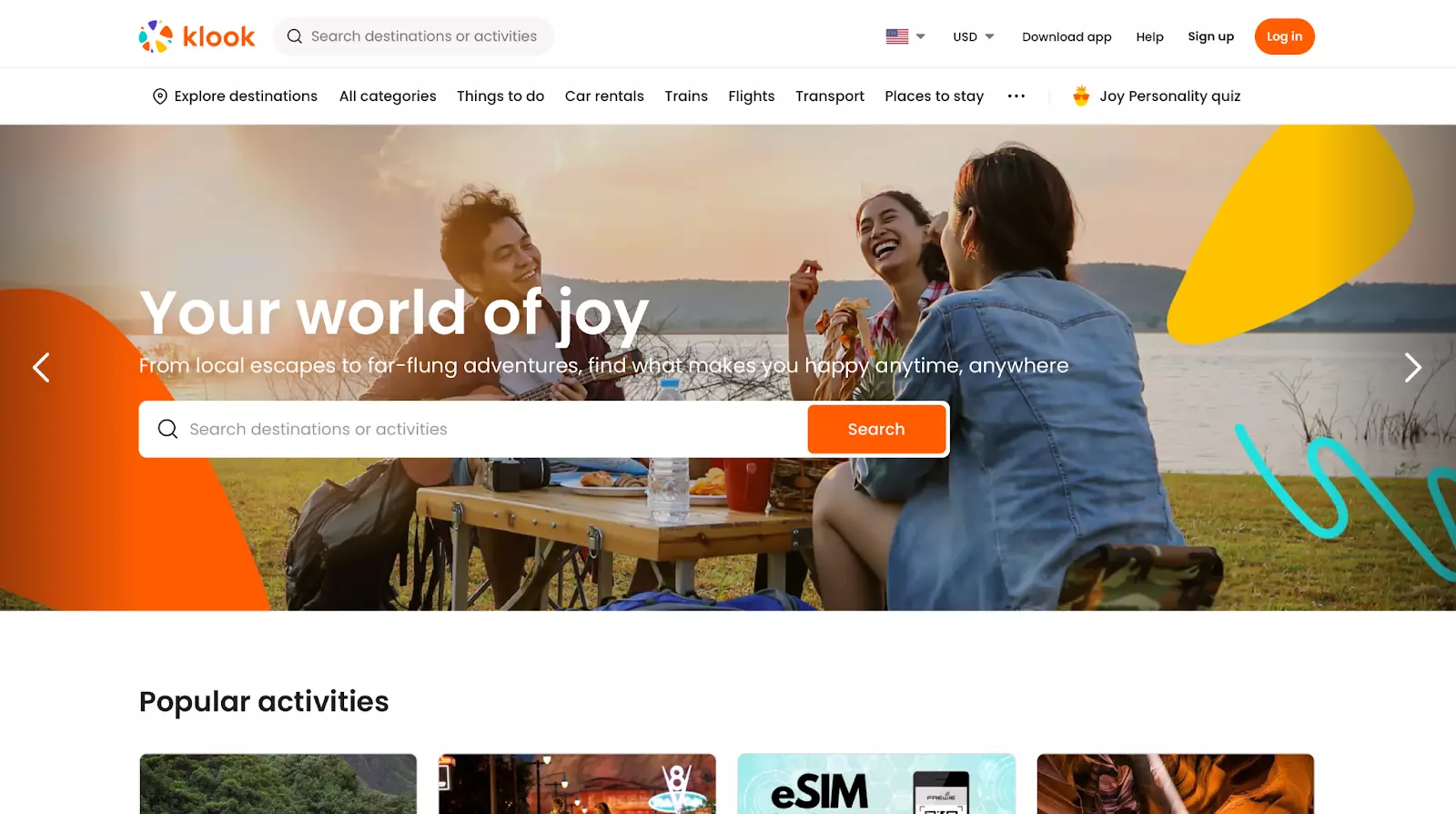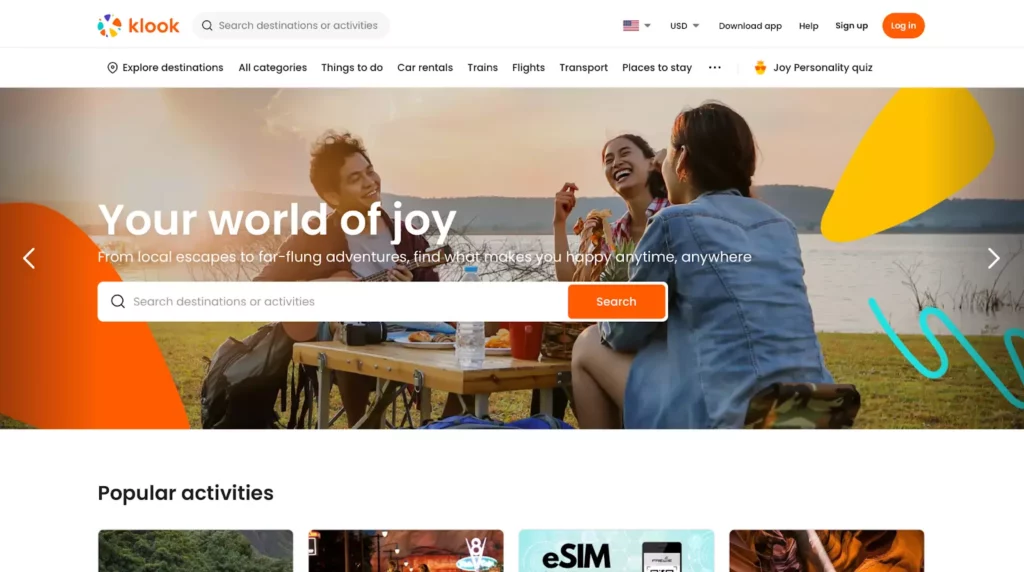 9. Klook
Klook is a travel experience booking platform based in Hong Kong with over 6 million website visitors per month. The website and app mostly serve the Free Independent Travel (FIT) market in Mainland China, Hong Kong, Taiwan, Korea, and Southeast Asia, or tourists that travel in small groups or alone. Klook also has a growing audience in parts of Europe and the U.S.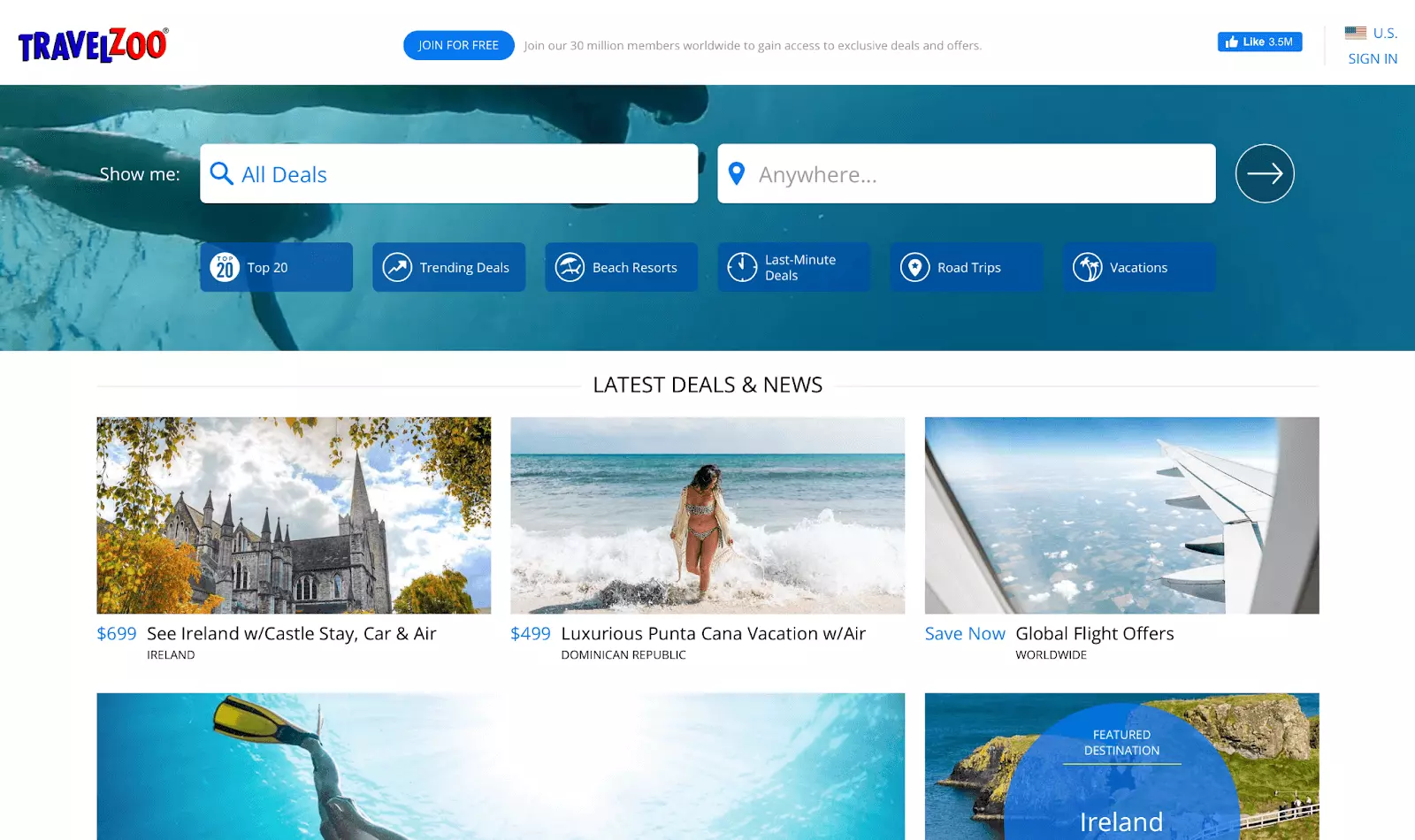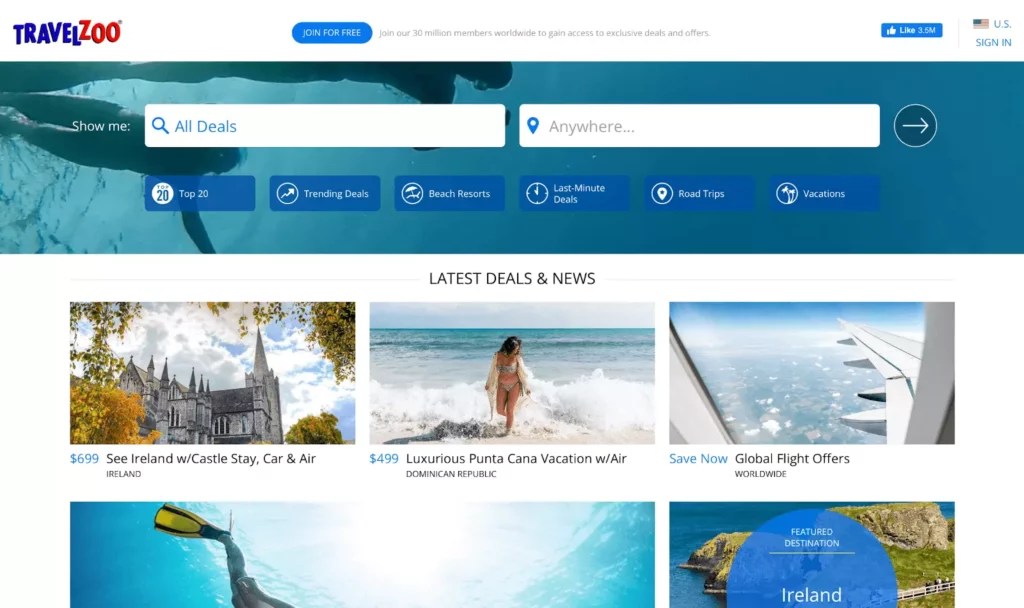 10. Travelzoo
Travelzoo works with over 5,000 suppliers to offer travel, entertainment, and lifestyle experiences. It also aggregates the best travel deals for hotels, flights, vacation packages, cruises. The website receives over 6 million visitors every month.
When to use an OTA
There's a reason why so many tour operators and attractions continue working with OTAs. Most operators see the benefit in reaching a much larger audience than they normally would through their own site.
If you're wondering when to use an OTA, here are the main ways your company can benefit:
Increased visibility: Your brand name will be exposed to a large global audience. This can be especially useful for a new company that doesn't have the biggest marketing budget to invest in social media and paid search ads.
Opportunity for more bookings: With the heightened visibility comes the opportunity to convert more customers. The idea behind working with an OTA is that more people will be viewing your tours and offerings, and that'll hopefully translate to more bookings.
New guests: You can reach new guests that would've never come across your website on their own.
The drawbacks of relying on OTAs
The main drawback of relying on OTAs as your main distribution channel is the commission. A portion of every booking completed through an OTA will go back to the platform, which cuts into your profits.
Aside from the commission fees, there a few more cons of selling through an OTA:
You don't keep the customer data: When a guest books a tour through an OTA, the platform will store their email address and phone number. This information won't necessarily be passed on to your company, meaning you'll lose valuable customer data that could be used to nurture your relationship and build brand loyalty.
Depersonalized customer service: OTAs typically don't provide customers with the same dedicated, personalized customer service as an individual tour operator would. If anything goes wrong, the customer will need to deal with a large company and often unsatisfying customer service. That could eventually reflect badly on your company if the customer doesn't know to separate you as the tour operator from the OTA.
Loss of control: Each OTA uses a different search algorithm to rank your tour listings. You'll be competing with a lot of other tour companies, and your ranking will ultimately be up to an algorithm. Many OTAs also present different tour listings in a similar way, which can remove your brand identity from the equation.
***
Now it's time for your company to weigh the pros and cons of OTAs. If you decide to make an OTA one of your distribution channels, consider working with one of the top players you learned about in this post.