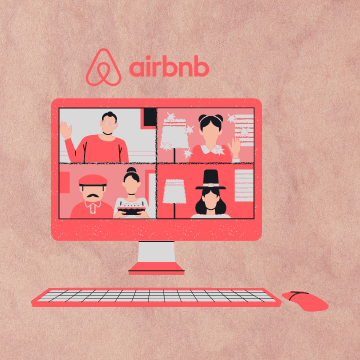 Virtual travel experiences were growing in popularity even before the pandemic. Then, lockdowns around the world accelerated the trend forward.
Airbnb Online Experiences was just one of many responses to that. The home-sharing platform was quick to launch virtual activities that guests from all around the world could participate in from the comfort of their own homes.
Whether it's to learn something new from experts like making street tacos with a Mexican chef or to virtually escape to a city like Paris with a local when travel isn't possible, people are excited about online experiences.
In this post, you'll learn the pros and cons of offering an Airbnb online experience.
What are Airbnb online experiences?
Airbnb's online experiences are live events hosted by tour guides and destination experts on Zoom. These video sessions can range from cooking classes taught by a professional chef to city walking tours run by locals.
Guests can virtually participate for a fee, which gives them the chance to experience travel-related activities from the comfort and safety of their own homes.
When it launched, it had about 50 virtual experiences. Four months after launching, there were already 700 activities available.
Airbnb's new at-home entertainment led guests to begin virtually traveling all over the world. More than 80% of guests that attend an online experience are from outside the host's home country.
When did Airbnb launch online experiences?
Airbnb launched online experiences in April 2020 in response to the COVID-19 pandemic.
The company wanted to provide guests with a way to continue participating in travel-related experiences while stuck at home. Meanwhile, these virtual experiences could help keep Airbnb hosts and tour guides afloat during the lockdowns.
The decision to launch virtual experiences came after the Airbnb team decided to pause its in-person experiences. The pause was difficult for the many hosts that used Airbnb Experiences to supplement their income.
Hosts soon started asking if they could host virtual versions of their existing experiences. About two weeks later, Airbnb launched its new online experiences.
How do I create an Airbnb online experience?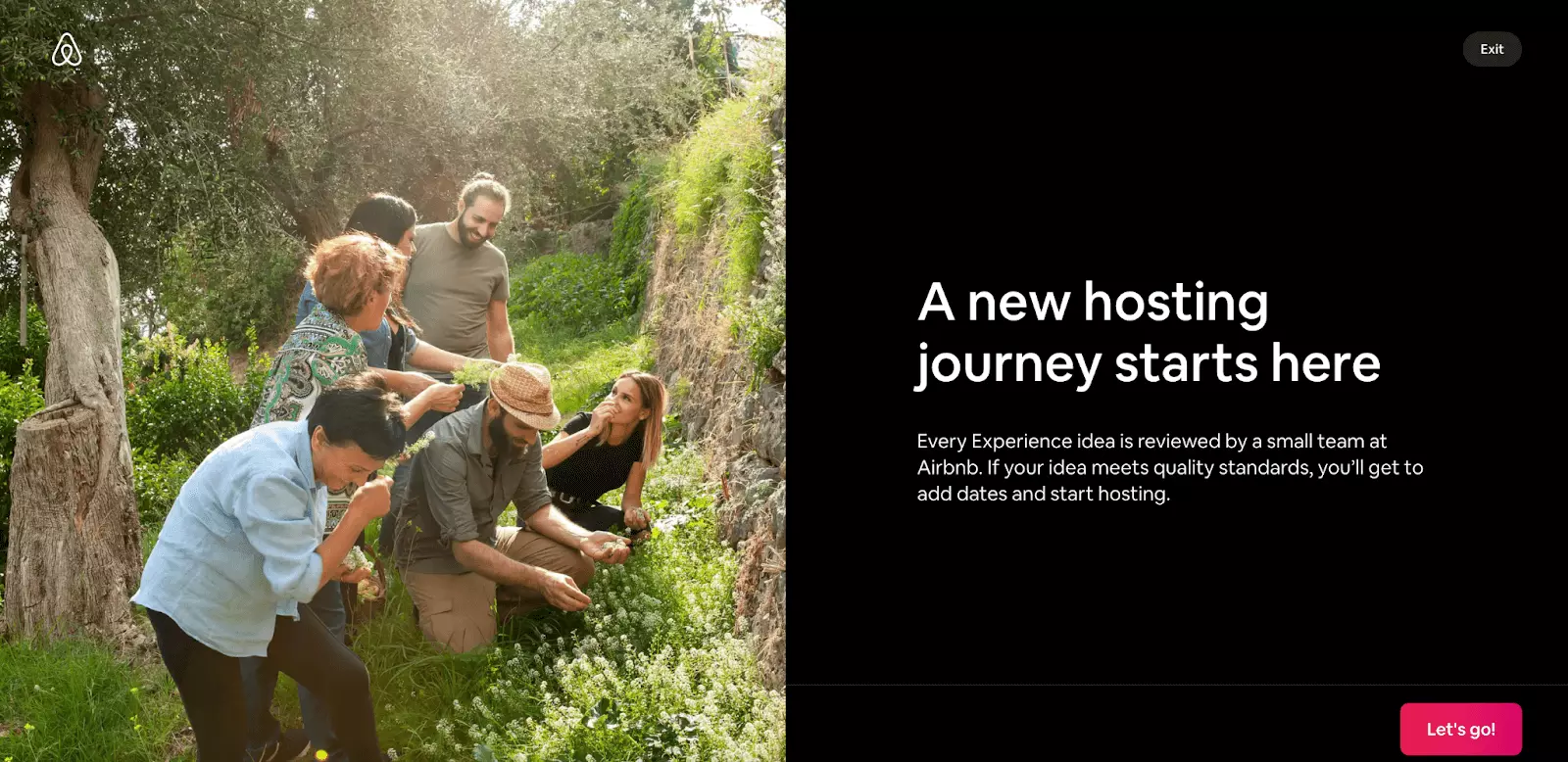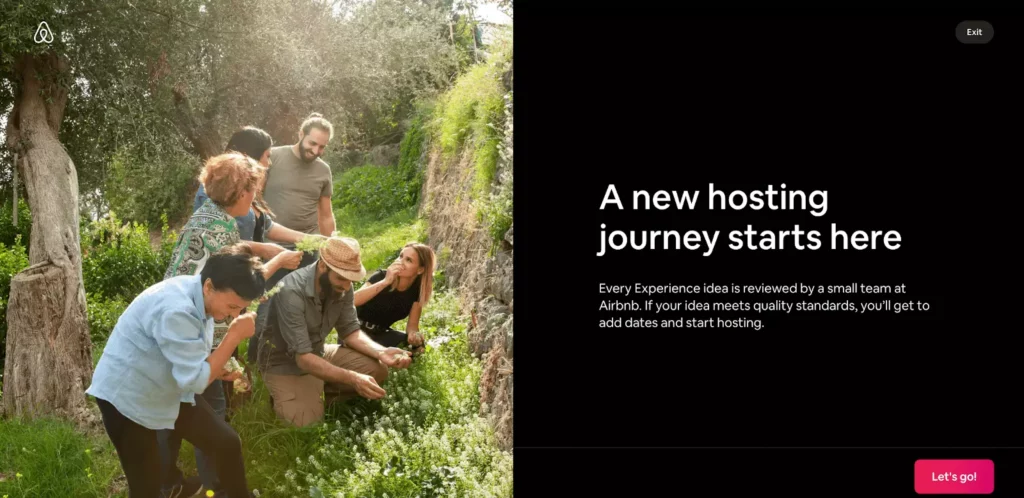 If you want to host an online experience, you can start by gathering a few pieces of information for your Airbnb application:
Title for your experience
Description, including where you're broadcasting from and what makes it special
Activity description, including an itinerary
Your qualifications, work history, or credentials
A list of what guests should bring
High-quality photos of your experience
A photo ID
You can start an application for your online experience by visiting: https://www.airbnb.com/experience-hosting/become-a-host/intro.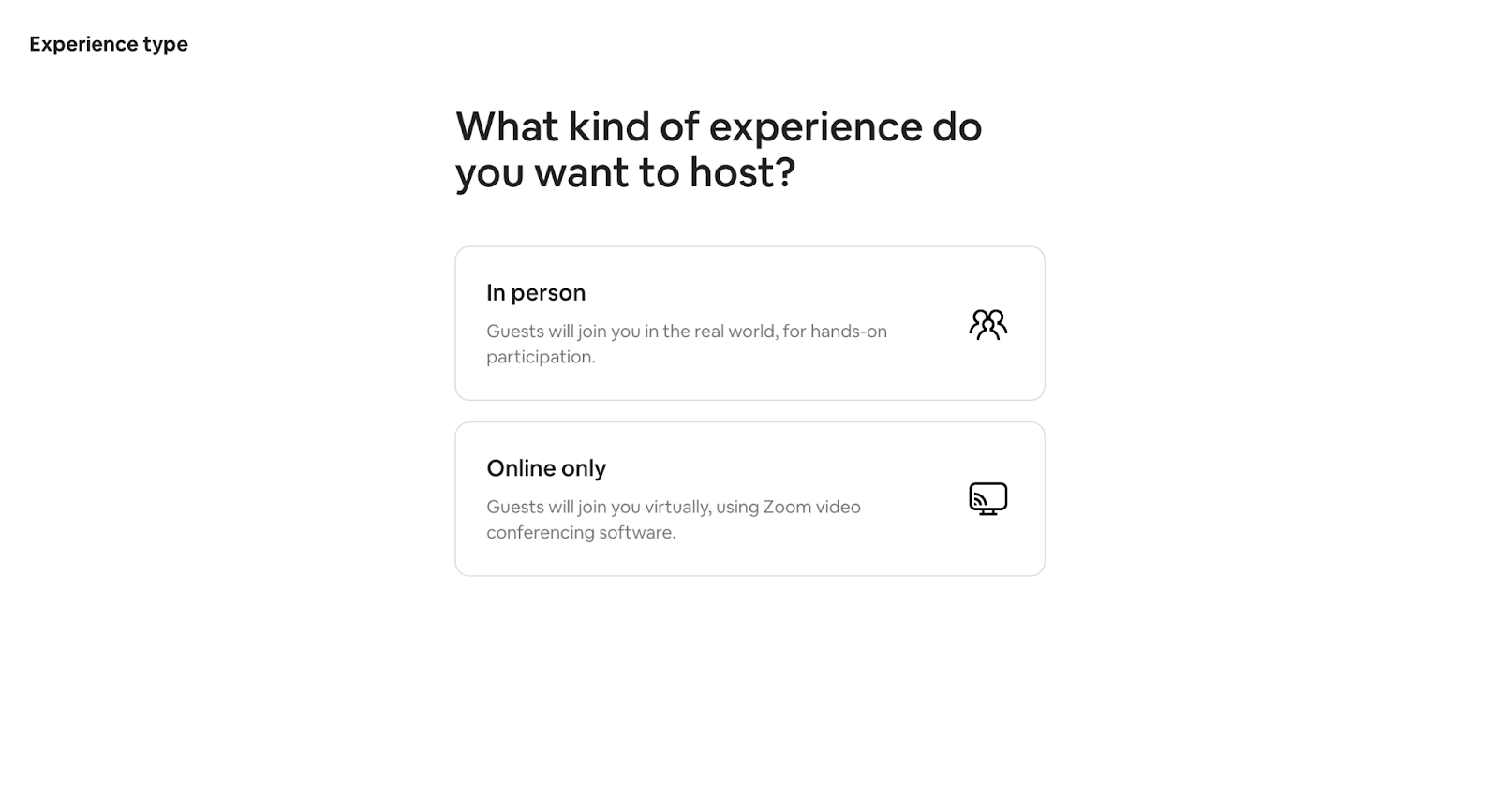 Airbnb will first ask you whether you're creating an in-person or online-only experience.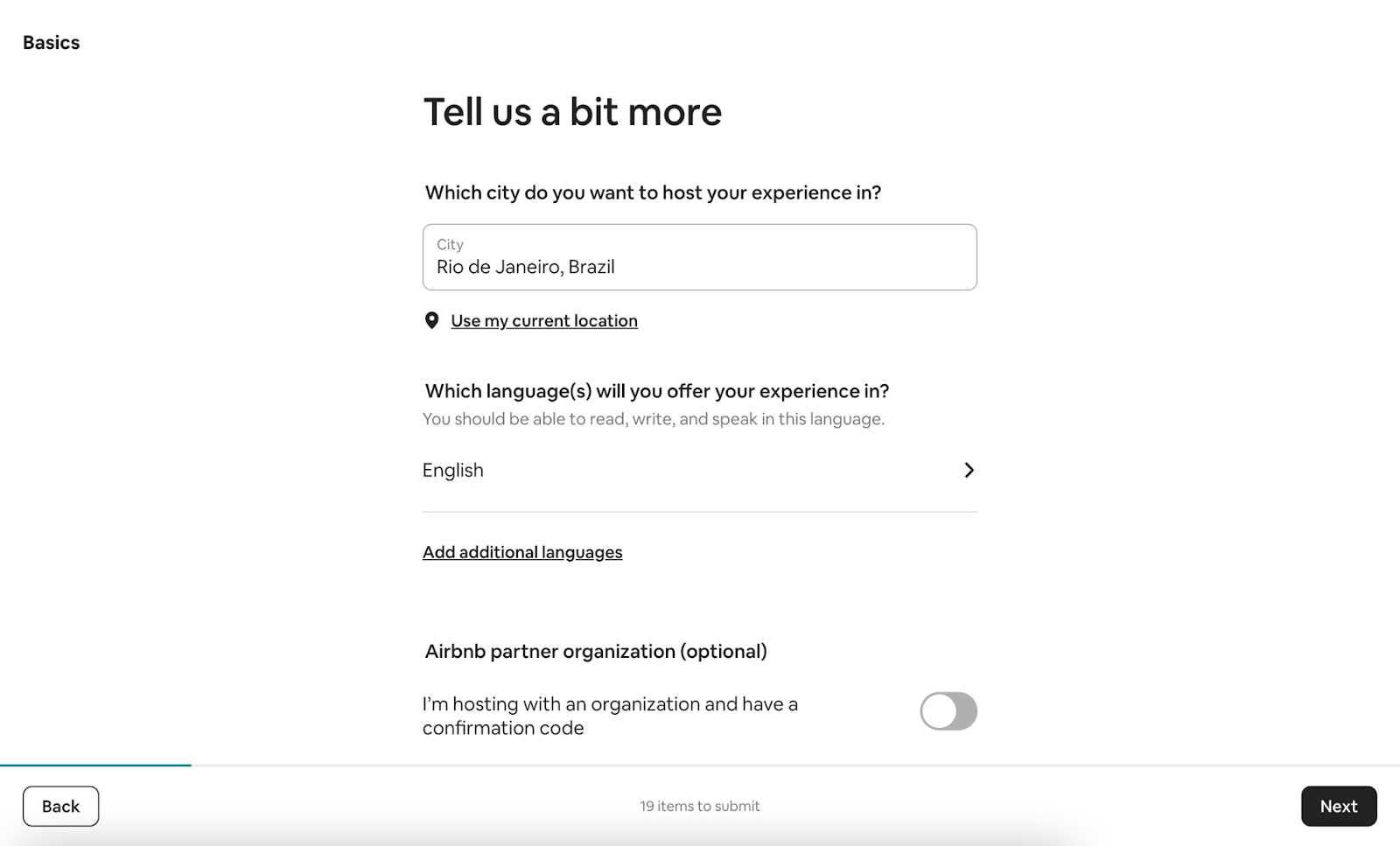 Next, you'll share the location and language of your experience.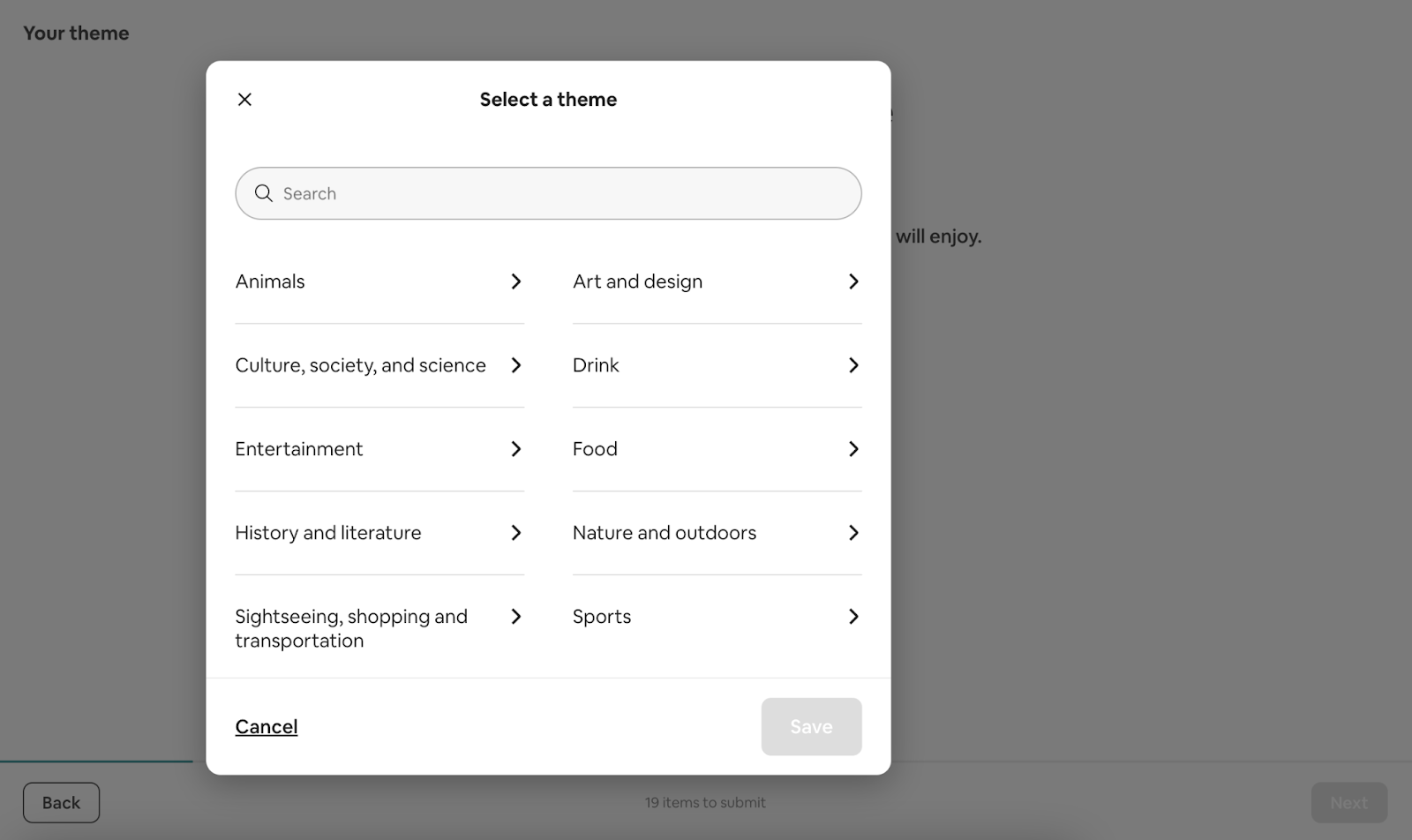 Choose from a list of themes like "Sightseeing" or "Food" that best categorizes your offering.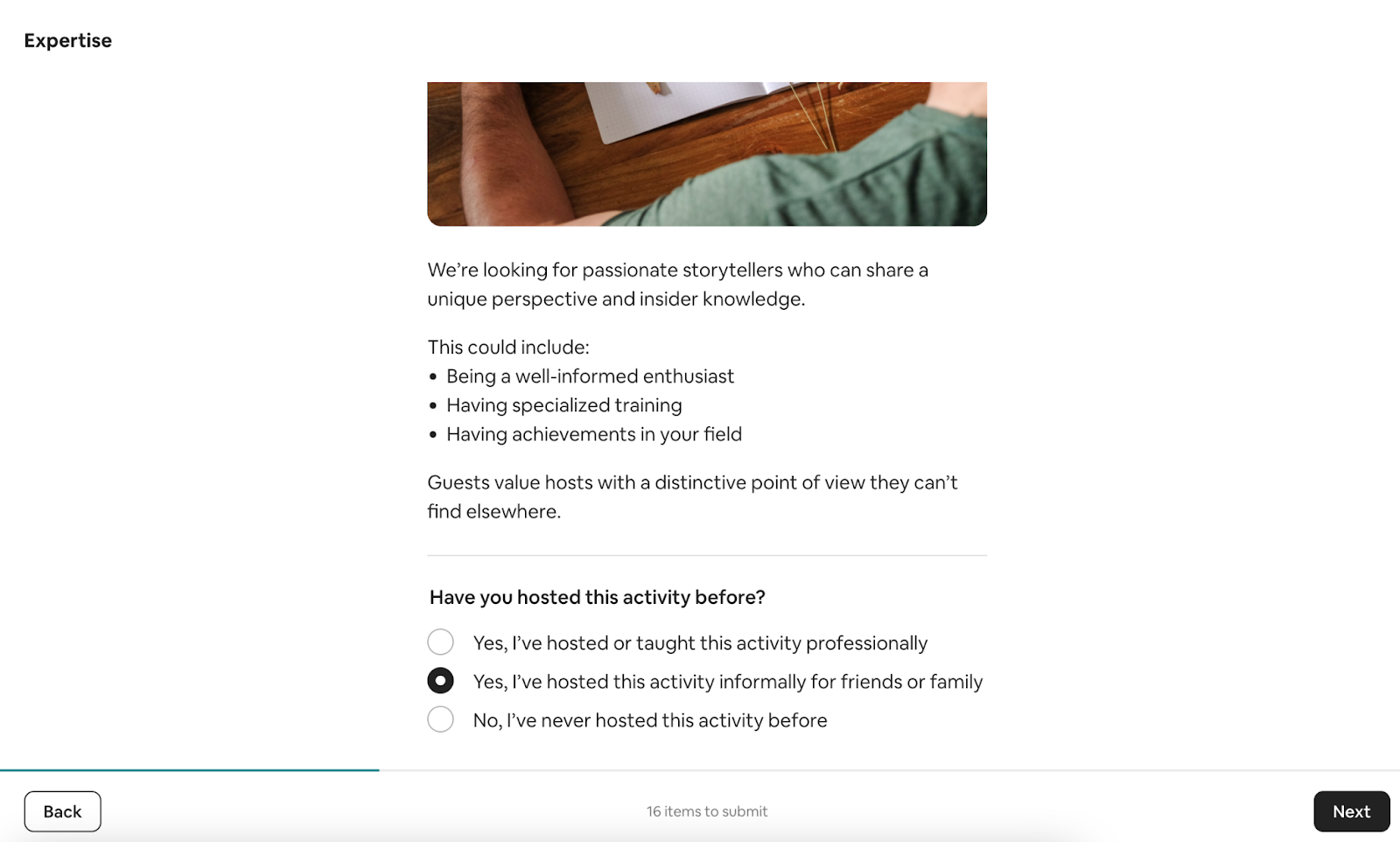 Now, Airbnb will begin to ask you about your expertise. The platform will specifically want to know if you've hosted this experience before. Plus, it'll be looking at the following factors while reviewing your application:
Expertise: Exceptional skill, ability, or background
Participation: Engaging activities that leap off the screen
Easy to do: Requires minimal supplies and preparation
Technical quality: Comfort with the Zoom platform and audio/video set-up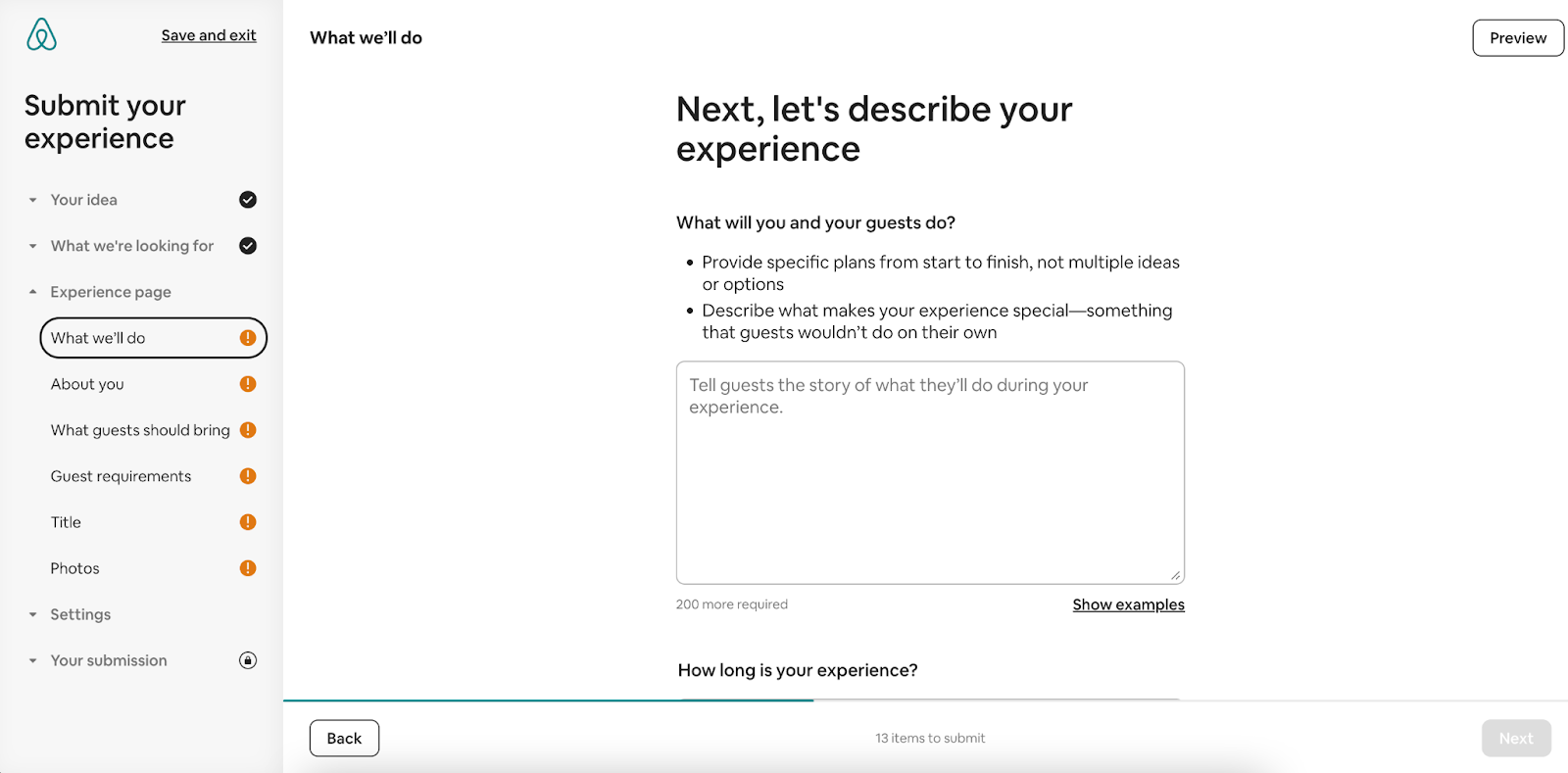 The information you set aside earlier will come in handy for the next few pages. Airbnb will ask you to describe your experience, share a bit about yourself, list what guests should bring as well as any additional requirements.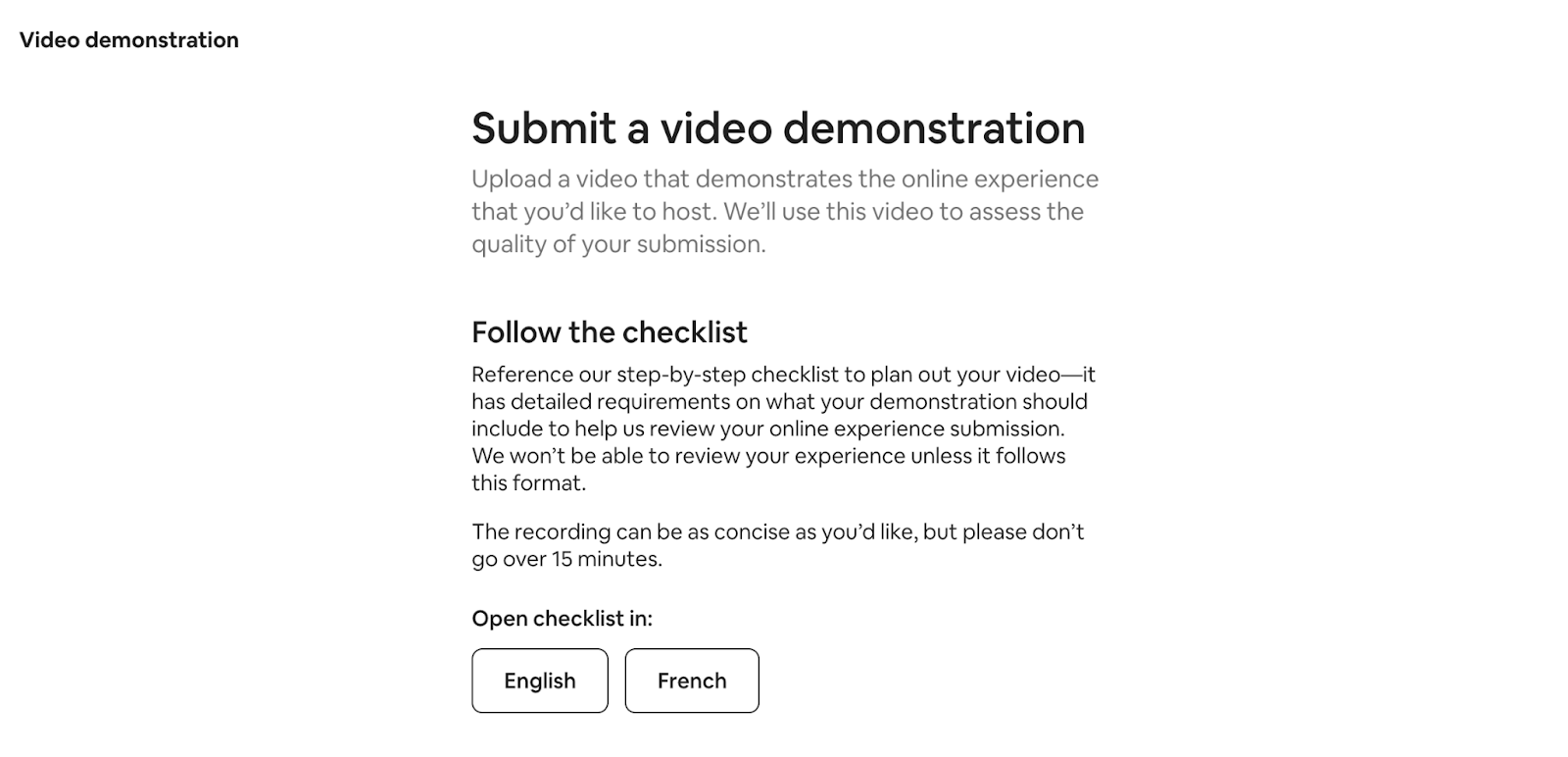 The final step is to record and upload a video that demonstrates the online experience that you'd like to host. Airbnb will use video to assess the quality of your submission.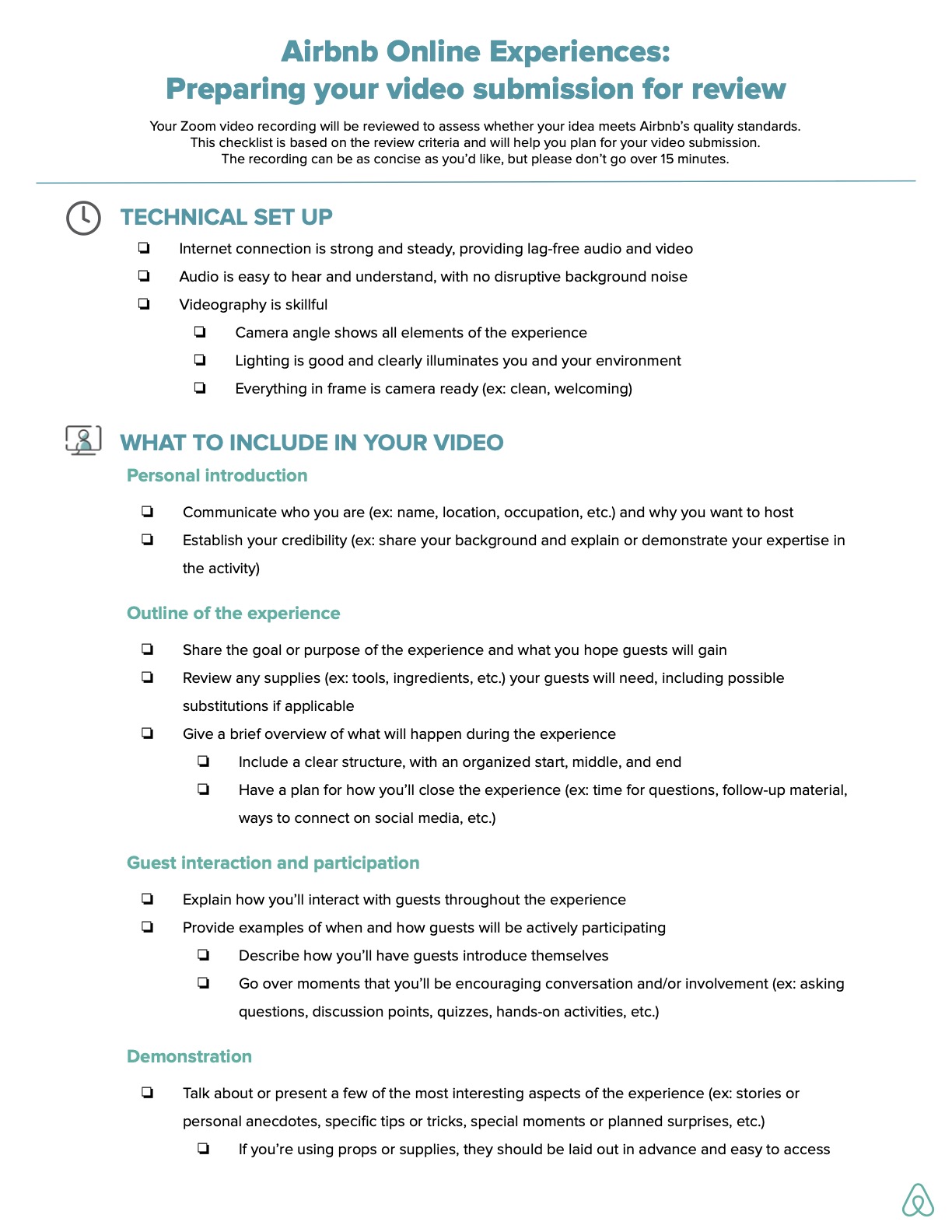 Airbnb video checklist
Overall, Airbnb wants to establish that you know how to use Zoom, the video platform that'll be used to host the online experience.
In your video, you should talk about your expertise; show your environment; explain what will happen at each stage of your experience; and review the highlights of the experience itself. You can find more tips and a tutorial here.
After you submit your application, it should take the Airbnb team about a week to review your application. Once approved, you can add availability to your calendar and start accepting bookings right away.
Pro Tip: Read over Airbnb's standards and requirements before submitting your application.
What makes a good online experience?
The top categories for Airbnb's online experiences include food and drink, culture and history, and wellness. Even if your experience doesn't fall into one of those categories, there are many ways to make your activity stand out to virtual travelers.
Airbnb and its guests are looking for interactive and entertaining experiences. You'll notice that the most popular experiences offered are very interactive, whether it involves cooking a meal with the host or participating in a trivia game.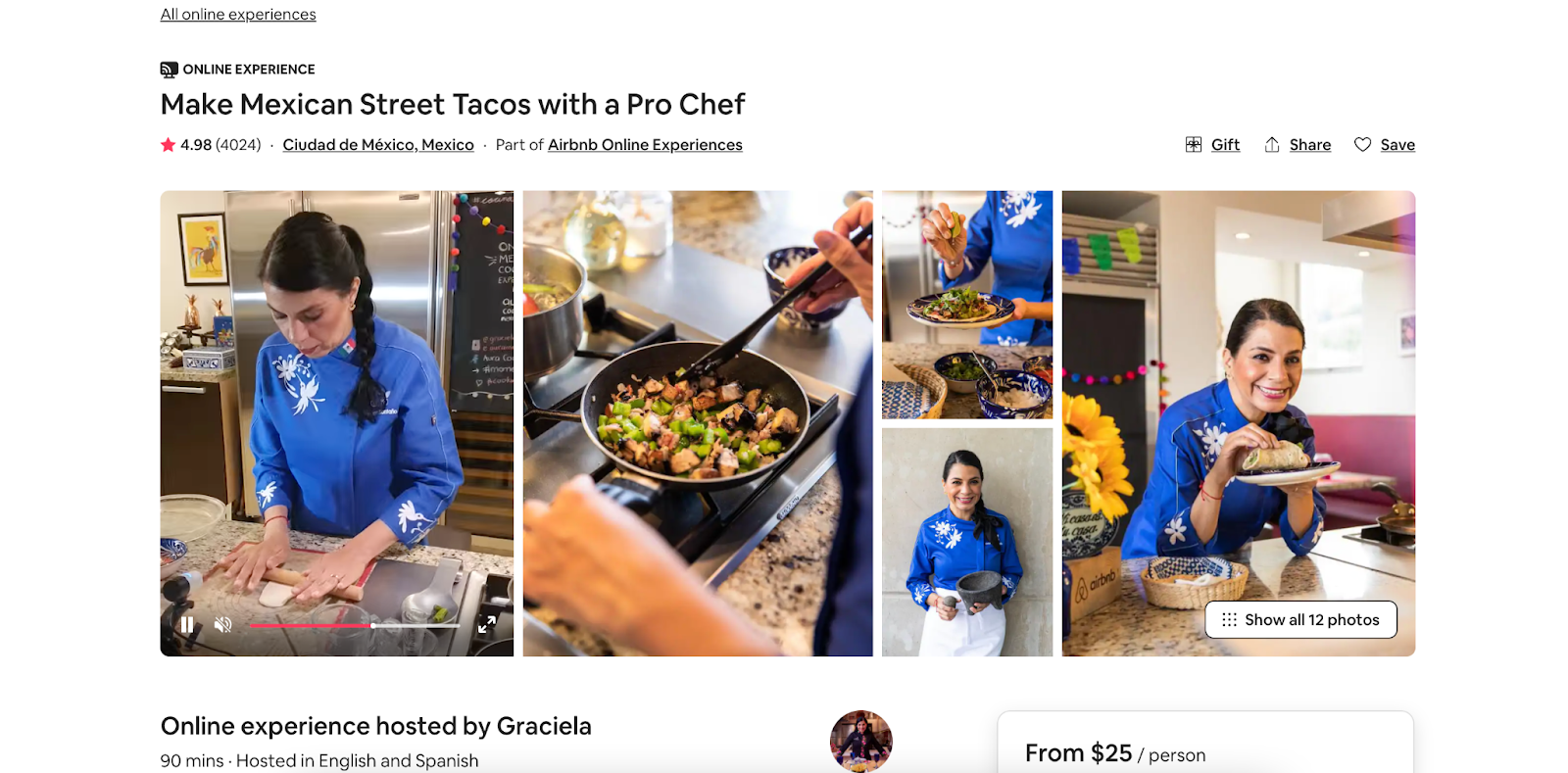 One of the top online experiences is called "Make Mexican Street Tacos with a Pro Chef." Hosted by a Mexican chef in Mexico City, the experience offers a step-by-step cooking class for one of the country's most desired street foods.
The experience is offered in both Spanish and English, which makes it available to a wider audience.
As you can see in the photo above, the listing lures participants in with high-quality photos of the food they'll be creating. Having great photos is key to getting more bookings on Airbnb.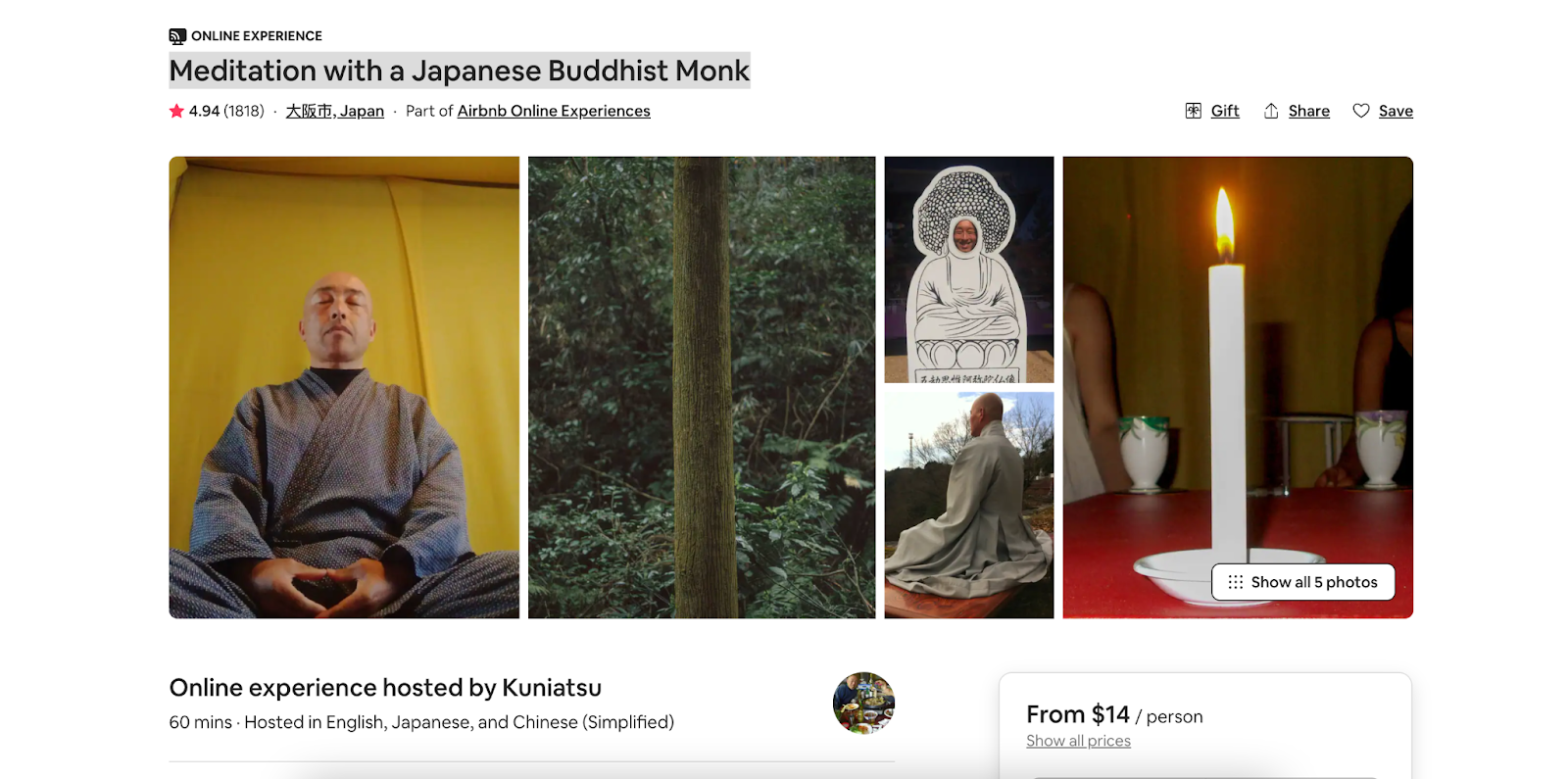 Another highly reviewed online experience is the "Meditation with a Japanese Buddhist Monk," where guests learn and practice meditation with an expert. Again, this is an interactive activity that guests can fully participate in from the comfort of their homes.
The best experiences are creative and offer something special from a local's perspective.
Can you make money hosting virtual/online experiences?
You don't need to rent out your property to make some extra income on Airbnb. Now, people around the world are capitalizing on the virtual experience trend and using experiences to supplement their income.
Some hosts have had a lot of success going virtual during the pandemic, with popular online experiences earning close to $500,000, according to Airbnb.
The platform reported that hosts earned more than $2 million in 2020.
But the success of an experience varies widely across different hosts and destinations. DPGO found that hosts make anywhere from $0 to nearly $80,000 from both their in-person and online experiences.
Airbnb found that 56% of its hosts were using online experiences to supplement their income in 2020.
Pros of hosting Airbnb online experiences
Hosting online experiences allows you to reach a new audience through Airbnb. It especially makes ways to reach people who are using the platform to plan their stay in your city. Being able to book both their accommodation and activities on the same platform simplifies the travel planning process.
Of course, this mainly applies to in-person experiences. But online experiences can also reach a new audience through their love for a destination. Someone who loves New York City, for instance, might look for virtual New York-related activities if they can't physically visit.
Airbnb has a reputation for authentically connecting travelers to locals. When you list your experience on the platform, you'll gain a stamp of credibility. Guests that see your tour page affiliated with the Airbnb brand might feel more confident to book it than if they came across your virtual experience somewhere else.
Another pro of hosting an online activity is that you get to set your own schedule. If you run in-person tours during the daytime, you have the flexibility to offer virtual experiences in the evenings.
Finally, virtual experiences can be a strategic way to grow your revenue, especially if your city continues to face pandemic-related restrictions. Airbnb pays the host within 24 hours of the activity or tour.
Cons of hosting Airbnb online experiences
Unlike your in-person experiences, Airbnb doesn't allow you to set group minimums. This means that you must host your experience even if there's only one booking.
This can eat up a lot of a small business owners' time without a big enough return.
Another con of hosting Airbnb online experiences is that the platform doesn't integrate with your current booking software, like Xola. This means you'll have to manually input your Airbnb bookings into your booking system.
Then, there's platform risk. Airbnb can be a great place to start as well as help small operators get to their first 6-figures. Yet if something were to happen to the platform, you could risk losing your entire business.
Eventually, every business owner should diversify their distribution strategy to include other OTAs and direct bookings through their website.
Lastly, running a virtual event with Airbnb means you'll be paying a commission on every booking. Airbnb charges a 20% commission fee on both in-person and online experiences.
***
In conclusion, Airbnb's online experiences could help you grow your revenue while travel picks back up again.
Listing a virtual experience on Airbnb can help you reach a new audience and connect with guests over their love for a destination, even when travel isn't a possibility. Another benefit is being able to set your own schedule. You can host online experiences before or after your in-person tours and activities.
However, the downsides should also be considered. Online experiences can take up a lot of your time without a big enough return. Since Airbnb won't integrate with your booking software, you'll also need to dedicate time to manually managing your virtual bookings. Commission fees can also be high.
Every operator should weigh the pros and cons of Airbnb before making their decision to join. Then, use this guide to get started on the platform.