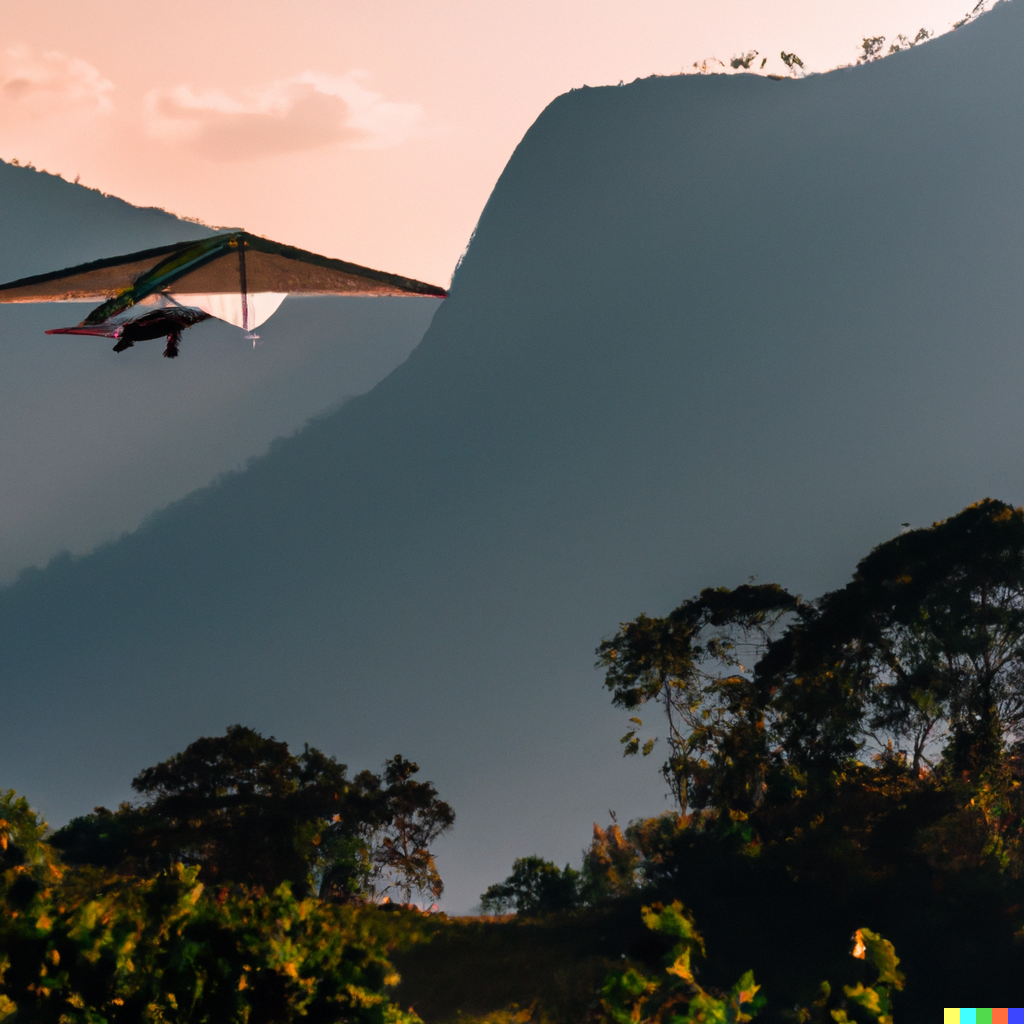 For adrenaline lovers and extreme sports enthusiasts, hang gliding is one of the most exciting options out there. Those brave enough to take flight are given the bird-like sensation of soaring above beautiful landscapes with their makeshift wings. It's an unbelievable experience, no doubt.
Running a business centered on extreme sports is no easy feat. Hang gliding is no different. Yet there's a growing market of outdoor enthusiasts who are itching for adventure after the pandemic. For them, hang gliding may be just the answer.
In this post, you'll find hang gliding statistics to help you expand your business — or start a new one from scratch.
General Hang Gliding Industry Trends
The longest hang gliding flight lasted eleven hours and 472 miles in Texas.
As of the 1970s, some 25,000 Americans were participating in the sport.
The growth in interest in extreme sports is fueling the demand for the hang glider market.
People also have more disposable income to participate in sports. Meanwhile, the confinement of the pandemic has pushed more people outdoors. These factors are helping push the adventure sports industry forward.
However, the aging of its core population as well as the public perception of danger has affected hang gliding popularity over the past few years.
The five major hang gliding equipment market players are Wills Wings Inc., Moyes Delta Gliders, Aeros Company, Airborne Windsports Pty Ltd, and North Wing.
The extreme adrenaline sports industry has more than 490 million participants worldwide and brings in about $200 million in revenue per year.
One of the biggest barriers to entry for the sport is the high cost. Going on a tandem flight can cost $150 to $450.
Getting into hang gliding can cost up to $3,000 to $5,000 for lessons, a hang glider, harness, helmet, parachute, variometer, and other essentials.
How big is the hang gliding business industry in 2023?
The major players in the global hang glider market are Wills Wing and Aeros.
Is hang gliding a growing trend?
Francis Rogallo, also known as the Father of Hang Gliding, created the first flexible wing in the late 1940s. The design was even used by NASA and the military at the time, but it eventually was recognized as the birth of modern-day hang gliding.
As of the 1970s, some 25,000 Americans were participating in the sport. The activity was made popular by the baby boomer generation. But now, as the hang glider pilot population ages, the number of members in the US Hang Gliding & Paragliding association has been steadily declining.
However, as people prefer to spend more time outdoors post-pandemic, recreational sports like hang gliding are poised to reap the benefits. In fact, as more people turn to extreme adrenaline activities, the demand for hang gliding is expected to increase worldwide.
The surge in desire for extreme activities is helping fuel the market
Where is hang gliding most popular?
North America has the most hang gliding enthusiasts in the world. Many places in the U.S. are geographically favorable for hang gliding, including:
Kitty Hawk, North Carolina
La Jolla, California
Kahului, Hawaii
Salt Lake City, Utah
How much does it cost to start a hang gliding business?
The startup costs for an aerial sports business can easily reach $50,000 or more. The first significant cost is training. As an instructor, you'll need to attain a high level of training to safely run your business. The other large upfront cost is the price of equipment:
Other upfront expenses include liability insurance, staffing costs, and marketing fees. You'll also likely need a vehicle suitable to transport students and gear.
What do you need to do before starting a hang gliding business?
Starting a hang gliding business involves careful planning. Here are some important steps to take before launching yours:
1. Get the proper certification and training
Hang gliding is an aerial sport with its fair share of risk involved. It's crucial to have the necessary certifications and qualifications before you begin to teach others how to fly. Your first steps would be to obtain a pilot's license for hang gliding, gain extensive experience in flying, and practice instructing others.
2. Research legal and regulatory requirements
Next, you'll need to research the legal and regulatory requirements associated with operating a hang gliding business in your city. You may need special permits, licenses, or liability insurance. Become aware of any aviation regulations, safety standards, and environmental regulations to ensure your company is compliant from the start.
3. Create a business plan
A well-structured business plan will guide your decision-making and serve as a roadmap for your business:
Outline your vision
Define your target market
Figure out your pricing strategies
Brainstorm marketing and advertising plans
Tally up startup equipment and maintenance costs
Set your financial goals
4. Find a suitable location
When choosing a location, consider the weather conditions and accessibility of the launching sites. Also, make sure it's close to your potential customers. Finally, ensure that the location has the necessary permissions and meets safety requirements for your hang gliding operations.
5. Invest in equipment
As we previously discussed, starting a hang gliding business is no cheap endeavor. It's key to invest in high-quality hang gliders, safety gear, and equipment to provide your guests with the best — and safest — customer experience possible. Partner with reputable suppliers to ensure you have reliable and well-maintained equipment. Then, establish a system for regular maintenance and inspections to guarantee the safety of your customers.
6. Focus on risk management and get the right insurance coverage
Safety should be your top concern. Develop comprehensive safety protocols and guidelines for both pilots and customers. This will include processes for pre-flight checks and regular equipment inspections. Then, you'll need to train your instructors and staff on these safety procedures and emergency protocols.
Injuries are always a possibility with high-risk activities, which is why you'll need to protect your business with suitable liability insurance. Speak with an insurance professional who specializes in aviation and outdoor recreational activities to ensure you have the right liability coverage for accidents, injuries, and property damage.
7. Hire your team
Recruit qualified, personable instructors who can provide top-quality training and ensure a positive customer experience.
8. Develop a brand and marketing strategy
Choose a logo, fonts, and colors that will make up your brand identity. It's important to establish an online presence right away. Create your website and create your social media profiles. Then, brainstorm ways to reach your target audience through social media content, Google ads, Online Travel Agencies, and more.
How many injuries occur at hang gliding businesses?
Hang gliding is an extreme aerial sport and both can be dangerous if done improperly. There are roughly 3.5 hang-gliding deaths per year.
There are several risks associated with the spot, including collisions with other gliders, poor weather conditions, landing mistakes, and equipment failure.
How to keep hang-gliding guests safe?
Before arriving, guests should be aware of the risks involved with hang gliding. They should receive recommendations on how to safely prepare for the activity, including what to bring and the proper dress code. For example, in an email sent before their arrival, you should provide tips like informing guests who wear glasses that they'll need to make them secure enough not to fall during the flight.
Owners should also consider the following to keep guests safe:
Hire experienced instructions who are well-versed in emergency protocols
Regularly inspect your equipment
Ensure guests are aware of the safety guidelines
Provide tandem flights for inexperienced guests
Check the weather conditions before flying
Make sure guests are wearing clothing and gear that is appropriate for the weather conditions, as well as something that can hold up in an emergency landing
Have an emergency response plan
What to do if someone gets injured in your business
Hang gliding isn't a walk in the park. Despite your best efforts, emergencies can still happen. Here's what to do in that scenario:
Have the pilot or instructor provide first aid assistance and assess the injury.
Seek immediate medical attention for the injured guest, if necessary.
Collect witness statements and create an incident report.
Contact your insurance provider.
How to avoid being sued if someone gets injured
Making your guests aware of your safety guidelines will help avoid injuries and protect your company from getting sued.
Digital waivers are also key to protecting your company from litigation. Make sure each visitor signs a waiver that outlines the risks and rights being waived when they agree to take flight.
Insurance is another big factor. Every hang gliding business needs a reliable insurance company that will help them navigate any potential lawsuits. Here are a few more safety precautions to take to avoid being sued:
Insurance is another big factor. Every hang gliding business needs a reliable insurance company that will help them navigate any potential lawsuits. Here are a few more safety precautions to take to avoid being sued:
Safety waivers
Staff safety briefings
Investing in additional training for your pilots
Equipment maintenance
Pre-flight training for guests
Age limits
Weight limits
Proper dress code
Guest communication before the flight
Keep in mind that every state has a statute of limitations on personal injury claims. In most cases, it's two years from when the injury occurred, but the number of years that victims have to file can vary widely from state to state.
***
Hang gliding is a thrilling sport beloved by adventure enthusiasts. Despite the aging of its core population, the market will benefit from the increase in demand for adrenaline-filled outdoor activities.
Whether you're considering expanding your business into a new market or considering hang gliding as a new business venture, we know this round-up has given you a solid overview of the industry and where it's heading.