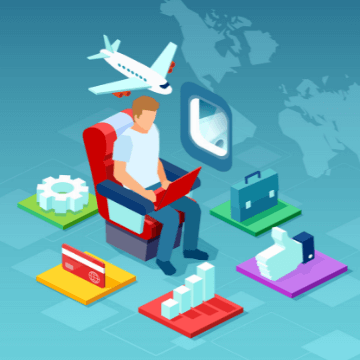 Most tours and attractions consider Online Travel Agencies (OTAs) a crucial piece of their distribution strategy.
OTAs were the fastest-growing distribution channel for tours, activities, and attractions before they began to lose market share in 2020.
Still, OTAs remain powerful booking engines due to their sheer size: Expedia receives 112 million monthly visitors across its network of travel websites, which includes Expedia.com, Vrbo, Hotels.com, Orbitz, and Travelocity.
If you've ever wondered, "How do online travel agencies work?" then you're in the right place. In this post, you'll learn everything you need to know about listing your experiences with an OTA.
What is an OTA?
An OTA is an online marketplace where travelers can research and book their travels, including hotels, flights, cars, tours, activities, and events.
Some OTAs like Expedia allow travelers to book a variety of different services, from hotels to flights to local tours. Others like GetYourGuide and Viator focus solely on tours and activities.
There are also smaller OTAs that focus on a specific niche or geographical location. Tripshock, for instance, is a Florida-based marketplace focused mainly on tours and attractions along the Gulf Coast. Meanwhile, BringFido helps pet-owners find pet-friendly hotels, activities, and events.
Tour operators and attractions often list their tours on OTAs to increase their chances of getting seen by more guests. Most OTAs often reach a global audience that's significantly larger than a single tour website's audience.
Listing your tours and activities on a large platform like GetYourGuide can sound appealing. Yet new operators may find it easier to stand out and reach more travelers on a smaller OTA. If you're a Florida-based attraction, for instance, you could start to sell your tours on a smaller platform like Tripshock, where you won't be competing with big, global operators.
At the end of the day, these OTAs act as tour and activity resellers. In exchange, businesses like yours pay a commission on every booking made.
What's the difference between a travel agent and an OTA?
With the rise of online booking and digitization of the travel industry, most people now approach their trips with a do-it-yourself mentality. They'll log onto one of the most popular OTAs and start searching for flights, hotels, and activities on their own.
The approach to trip planning wasn't always this easy, though. Before online bookings, guests had to plan everything through a travel agent.
A travel agent is a tourism professional that makes all the necessary arrangements for you. They book your hotels, flights, and more for a fee.
Even today, some people still prefer to go through travel agents to plan their trips. Travel agents remove the hassle of going through an OTA, which presents travelers with dozens of options at multiple price points.
Luxury travelers also appreciate the personalized support that comes with working with an agent. It removes the hassle of trying to figure everything out on their own. Instead, they can tell an agent their budget and what kind of experience they're looking for.
Unlike an OTA, a travel agent provides guests with a custom-tailored experience that fits their needs and preferences.
Travel agents have years of expertise in the market, so they often know where to look for the best value deals, too. While travelers may need to pay a premium to work with an agent, they can often score great deals due to an agent's connections in the industry.
How do OTAs make money?
Most OTAs make money off of each completed booking, including every flight, hotel room, rental car, tour, or event ticket purchased through the website.
The airline, hotel, tour operator, or attraction selling the service pays a commission fee for every booking made. These fees are typically folded into the final price shown to guests on the platform.
Commission fees can be anywhere from 5% to upwards of 25% of every booking. Before signing up to sell your tours on an OTA, you'll typically negotiate a rate based on your destination, services offered, and other factors.
How do OTAs work?
Tour operators and attractions of all sizes can sign up to work with an OTA.
There are dozens of different OTAs out there, so the first step is to choose the one that best fits your niche. Some OTAs like Adrenaline only focus on adventure travel activities, while larger platforms like GetYourGuide offer thousands of bookable activities that span all categories.
The next step is to apply to be a supplier on your OTA of choice. The application process typically consists of an online questionnaire where you'll share details about your tour offerings, some background only our company, pricing, and more.
You'll need to upload photos to visually showcase your experience, as well as come up with a catchy title and description for your experience.
There are typically no upfront costs for listing your experiences on an OTA. A representative will reach out to negotiate commission fees unless a standard fee is already in place.
Your experience will then be listed along with thousands of others on the platform. Every guest that visits the platform will now be able to find you through their unique searches.
Every OTA uses its own search algorithm in order to rank listings in the search results. Once you've chosen an OTA to work with, it helps to learn about its search algorithm to increase your chances of appearing in front of more people.
Guests can then book experiences or purchase tickets through the OTA, and you'll pay a fee for every completed booking.
How do you manage OTA bookings?
When bookings are coming in from several different channels, things can quickly get messy.
This is why it's key to find a booking software that integrates with your preferred OTAs.
Xola, for instance, offers seamless integration with GetYourGuide and Viator, among other platforms. This makes it easy for suppliers to share their booking schedule across both platforms. Then, the supplier can manage all reservations on their Xola dashboard, no matter where the booking was made.
Without this integration, suppliers would need to manage OTA bookings manually. That is a recipe for overbooking.
If guests are booking your tours directly on your website as well as through an OTA, it's crucial to gave both linked to one another.
When to use an OTA as a tour operator
Over a fifth of travelers use OTAs to book all or part of their travel because they've grown to love and trust certain brands. And if you're not listed on their go-to booking platform, there's a chance your company will never reach them.
Here are three reasons why a tour operator should use an OTA:
OTAs spend billions of dollars investing in marketing. The reason their audience is so large is that they have the funds to market to a global audience. Since OTAs make money off of actual bookings made, it's in their best interest to drive as many bookings as possible — hence the lofty investments in marketing. Expedia spent $4.2 billion on sales and marketing in 2021.
OTAs can help a new tour company or attraction build brand awareness. New companies typically have to make a big upfront investment in search marketing, website design, social media, and paid ads to reach a cold audience. Yet when they list their experiences on an OTA, they'll start reaching new guests and building brand awareness immediately. Even if guests have never heard of your brand, they will feel comfortable booking a tour because they found it on a reputable website that they've grown to trust.
You can reach a global audience. The biggest OTAs are active in several countries around the world. This makes your listings to travelers far outside your community or even country. Many OTAs also make your listings available in several languages, which is another way to attract an international audience.
Yet there are potential drawbacks to relying on OTAs.
One is that you have less control over your brand's story. When you list your activities on an OTA, the platform will lump your listing in with various others like it. OTAs typically make most listings look the same to make it easier for guests to compare activity features and pricing.
You'll have little control over your brand image on these platforms, and your tours can easily get lost in the mix.
OTAs use different search algorithms to rank suppliers and their tours. In order to appear at the top of relevant search results, you need to carefully follow the platform's recommendations and stay up to date with important algorithm changes.
At the end of the day, OTAs are focused on selling the experience, not the brand behind it. You should keep this in mind as you work on your distribution plan.
***
Now that you have a better understanding of how OTAs work, you can decide whether they're the right choice for you.
The biggest and most successful OTAs have thousands of tours and attractions listed, meaning that a whole lot of tour operators and attraction owners felt it was a good idea to work with them.
In other words, if you choose to list your tours on an OTA, you'll likely be in good company. How much is too much company? You'll certainly need to invest time in your listings to stand out.
It's also important to remember that most tour operators and attractions don't rely solely on a single distribution channel. Even if you're selling your tours through a third party, it's always a good idea to devote time to increasing your direct bookings, too.