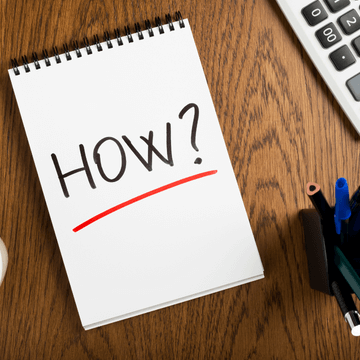 Whether you're looking for booking software or a DIY booking form, there are many ways to collect and store guest information on your website.
Being that it's one of the most popular calendar tools on the market, Google Calendar is one of them. The platform has appointment scheduling capabilities that can be used as a DIY solution.
In this post, you'll learn how to create a Google Calendar booking form — and find out when it's time to migrate to booking software.
When should you DIY your booking form using Google Calendar?
Google Calendar's booking forms should be a temporary solution for tour companies that haven't established a large customer base yet.
Here are a few scenarios in which your company may find a DIY booking form sufficient:
New tour business looking for a free solution. New tour operators are trying to keep their starting costs as low as possible, which may lead them to DIY solutions like Google Calendar.
Low volume of bookings. These forms help collect and store customer information while you process payments and finalize bookings. Google Calendar can be used as long as it's just a few bookings per month. However, when your bookings start to increase, you'll likely need to find a better solution to avoid overbookings.
Sole operator with no tour guides or equipment. A walking tour operator, for instance, is less exposed to the costs associated with no-shows and last-minute cancellations. While it still costs time and money to deal with unfilled tour slots, sole operators don't have to spend extra money on unused guides and equipment. This also makes them less prone to overbooking. Still, as a sole operator grows their business, they will likely need to hire guides, at which point booking software would come in handy.
What are the limitations of Google Calendar?
Google Calendar lacks many of the automation, scheduling, and reporting features of traditional booking software.
The main purpose of a Google Calendar booking form is to show your tour availability to your guests and collect their information. However, Google Calendar forms can't process payments or send digital waivers.
In other words, DIY Google forms should be a temporary solution until you're processing enough booking volume to use booking software.
How to create a DIY booking form in Google Forms?
The easiest way to create a booking form through Google is with a Google Form.

Let's take a look at how you can create one.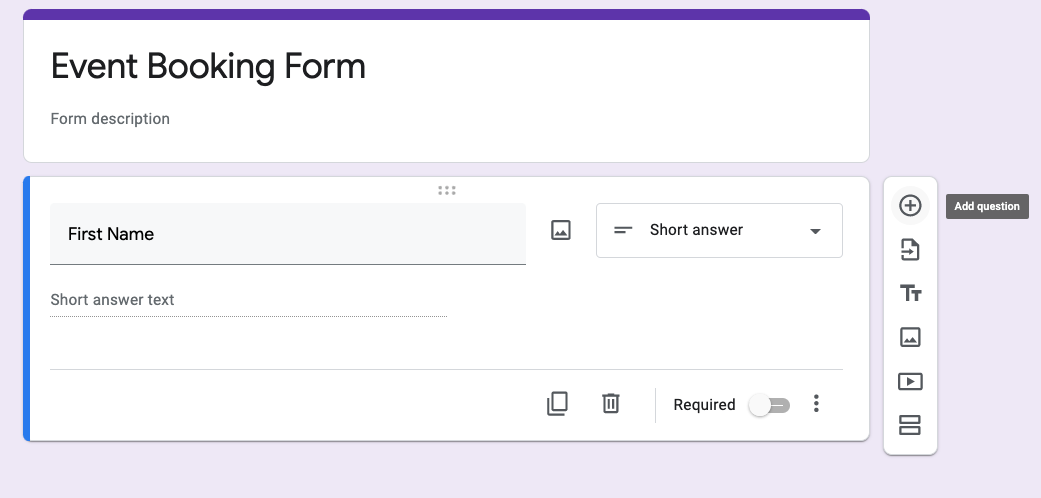 Step 1: Open Google Forms. Start a new form, and name it. Add a description if you'd like. Click the "+" on the right-hand side to add a question. From the pull-down menu on the right of the text box, choose "Short answer."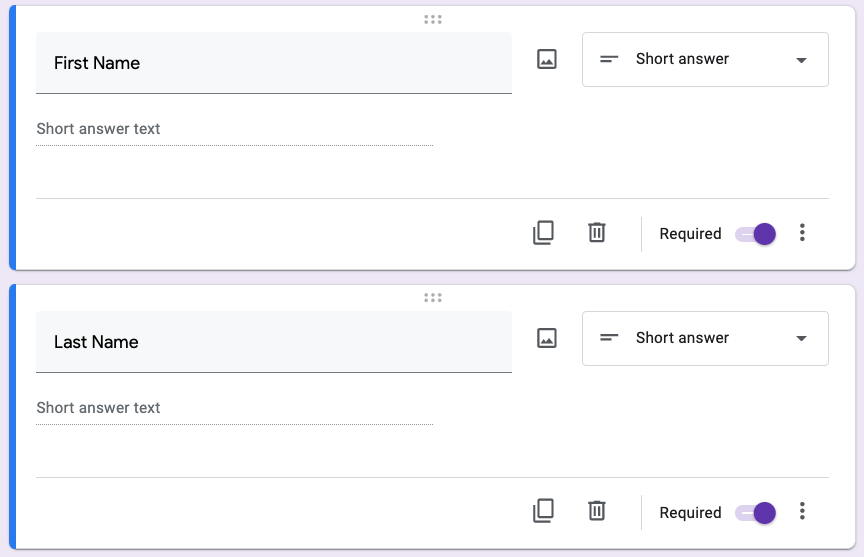 Step 2: Start adding fields representing the information you need from each guest. This might include:
First Name
Last Name
Mobile Number
Email Address
Activity Date
Activity Time
Number of Guests
Comments/requests
Tip: Check off "Required" for the line items that guests shouldn't skip over.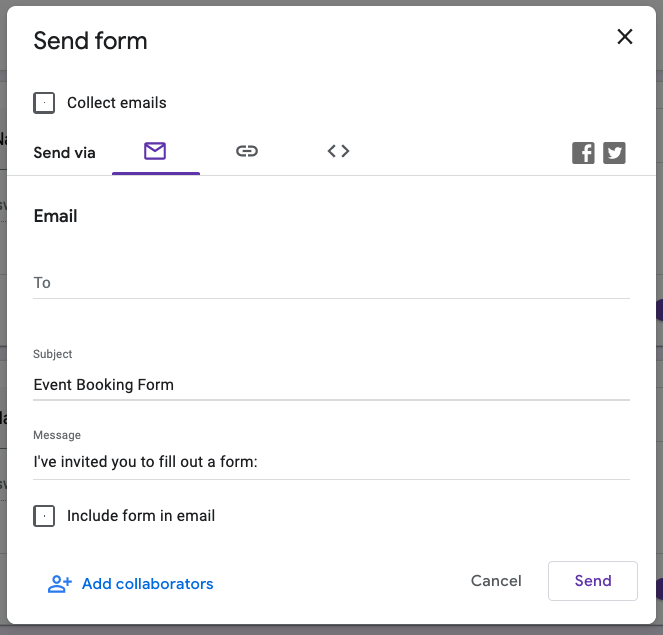 Step 4: When you've completed the form, click the "Send" button. You can then choose to send the form to guests via email or share it as a link. You can also copy the HTML code to embed the form on your website.
How to make a booking calendar in Google Calendar with Appointment Slots
If you have a Google business account, you'll have access to a feature called "Appointment Slots."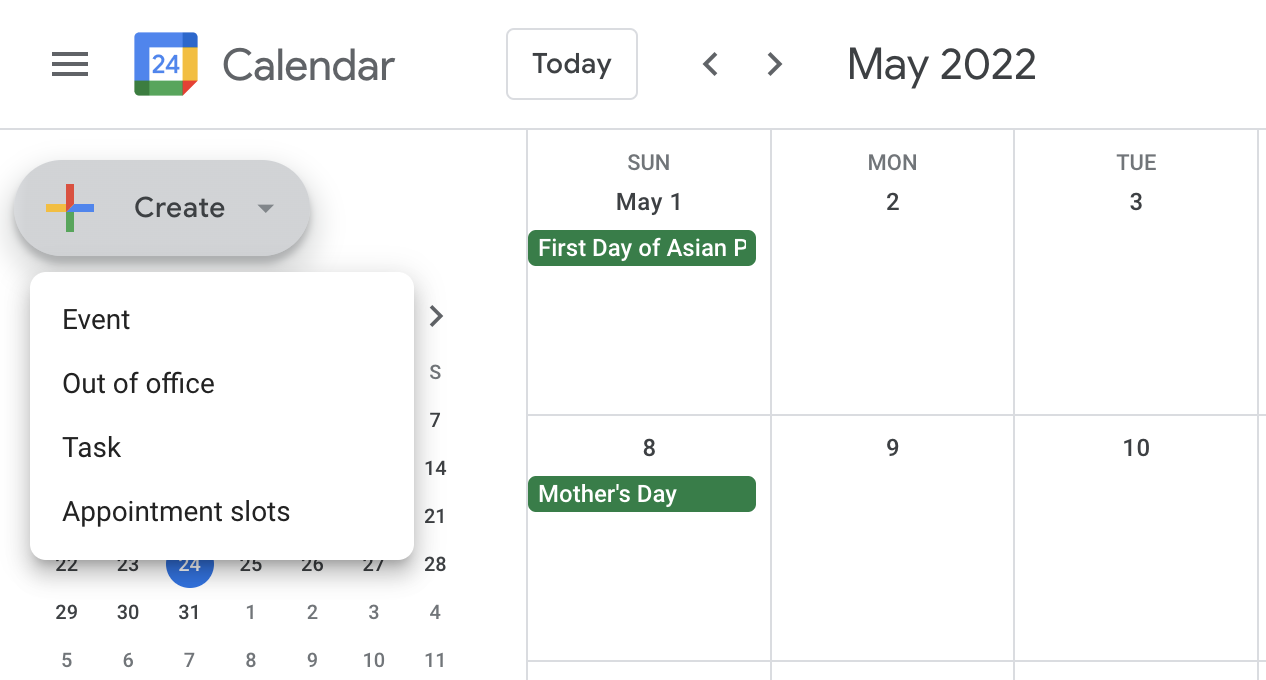 Step 1: Go to Create > Appointment slots > More options.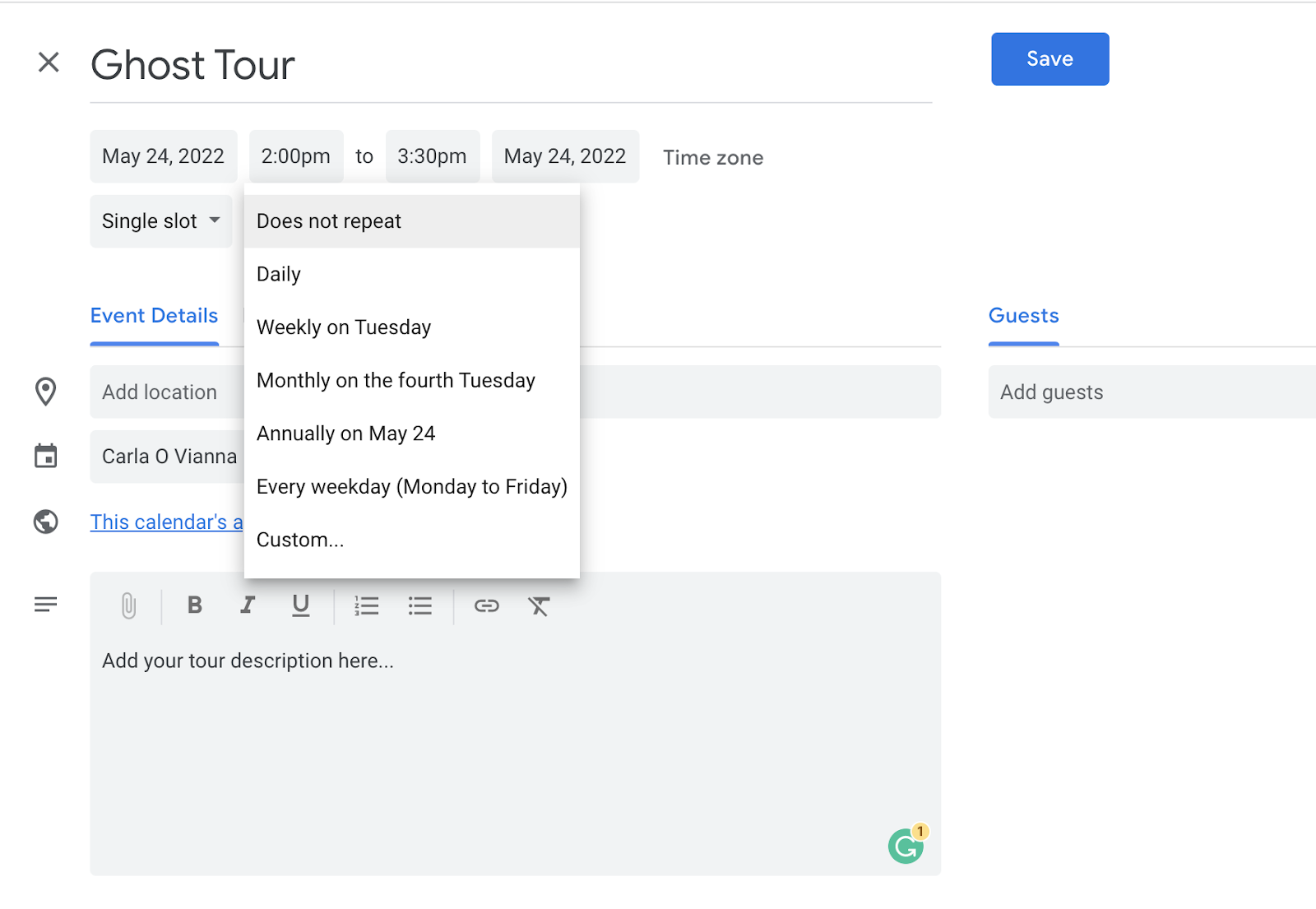 Step 2: Name your tour. Set the date, time, and duration of the tour. If the same tour happens repeatedly throughout the week, you can adjust that here, too. Add location details and a tour description.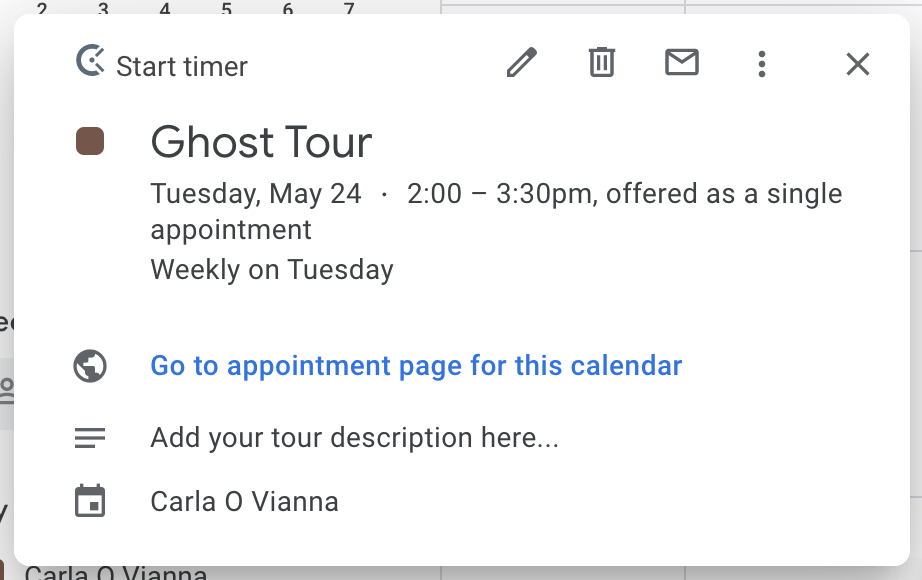 Step 3: You'll then see the tour booked on your calendar. Click the "Go to appointment page…" link. This links to the booking page in your Google Calendar where guests can book an appointment slot. Your guests can then "book" that time slot on your Google Calendar. When someone makes a booking, you'll receive an email notification.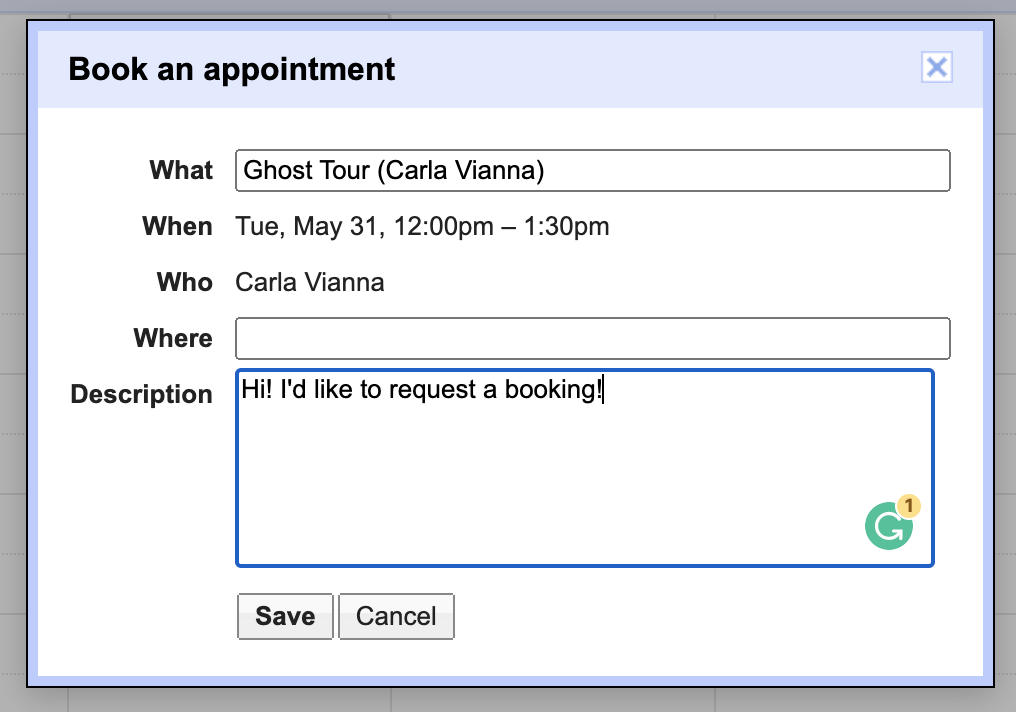 When to migrate to booking software
When does it make sense to switch over to booking software like Xola? As your company grows, the idea of automating the booking process becomes more and more appealing.
Turning your website into a 24/7 reservationist is just one of many features that can help you scale your business. Let's explore more of them below.
24/7 Reservationist: With booking software, you can leverage more automation, so that you can process direct bookings on your website at anytime through an optimized checkout experience.
Tour Scheduling: You can manage tour guide schedules and bookings through the same dashboard. Booking software like Xola makes it easy to update and share employee schedules, as well as track their hours efficiently.
Capacity planning: On that same note, you'll also have access to certain features — such as capacity planning — that help you understand how your guides or equipment are being utilized. If you're a bike tour operator and all of your bikes are consistently being used, it may be time to buy a few more.
No more overbooking: Xola keeps track of your tour availability in real-time. If a tour is sold out, that time slot will be removed from the available options on your website. Guests can even add their names to a waitlist, which makes it easier to fill last-minute openings.
Reporting: DIY booking forms don't collect much more than customer names and emails. They don't track your booking volume, weekly revenue, expenses, etc. With booking software, you get access to a suite of business intelligence and financial reporting that help you make smart decisions about your business.
Digital waivers: Xola's built-in waiver solution has guests electronically sign all liability paperwork before their tour. This way, they can start having fun as soon as they arrive. It also saves tour operators loads of time and paper.
***
In conclusion, new tour operators looking for a free booking solution might want to give Google Calendar and Google Forms a try.
However, as your business grows, you'll outgrow the DIY booking form.

Ready to get started with Xola? Request a free demo here.