Booking software can turn your website into a 24/7 reservationist — allowing you to accept bookings anytime.
On the one hand, your website is accepting bookings for you so that you can focus on other aspects of running your business. And guests can easily book tours at their own convenience.
In this post, you'll learn how to make a booking website and discover different tour companies doing it right.
Why do you need a website for your online tour business?
How much does it cost to create a website?
4 easiest website builders to use
5 examples of great booking websites
Why do you need a website for your online tour business?
Your website is the vehicle through which you can reach and convert visitors into paying customers. Your site, along with your social media pages, becomes the face of your brand online. It's where guests will learn about your company, browse through your listings, and book an experience.
Additionally, your website gives you the ability to appear on Google for specific keywords in your niche. Through strategic content marketing and search engine optimization (SEO), you can rank high on a search page for keywords like "helicopter tour in New York," for instance.
Your website makes your discoverable online, helps you build brand reputation, and gives guests an easy way to book your experiences on their own time. This helps drive more direct bookings so that you're relying less on third-party sellers.
How much does it cost to create a website?
A simple website for a small business can cost almost nothing to set up, or as high as $30,000+ for a professionally developed custom-built site.
There are three core things that every tour operator or attraction needs when it comes time to make your booking website:
A domain name – A domain name is the URL of your website, such as MiamiKayakTours.com.
Website hosting – The website builder is a platform like WordPress or Wix where you can design your website.
Content Management System (CMS) – The third investment is web hosting, which is the platform that will store all of your website content
Once you've got those three components covered, you can begin designing your website.
4 easiest website builders to use
The easiest way to make a booking website is through a site builder. A website builder is a platform that allows you to choose and customize your website design, also known as a website template. You can easily add new pages, blog content, and more through the same platform.
There are a variety of website builders available, but we've narrowed down the best ones for you.
1. WordPress
There are two WordPress platforms: WordPress.com, a blogging tool, and WordPress.org, a self-hosted website builder. WordPress.org is the most popular website builder in the world; about 43% of all sites use it. The free builder offers dozens of customizable, mobile-friendly themes that are ideal for blogs and content-heavy websites. The platform comes with a host of plugins that allow you to add additional features and functionality to your site, such as a shopping cart, photo gallery, live chat, and more.
Pricing: WordPress is free, but you'll need to choose a hosting provider like SiteGround or Bluehost to use it.
Alternatively, Xola Websites connects you to a team of experts that can build you the best possible site for your customers. Once the site is live, you'll receive ongoing support and maintenance, allowing your site to scale with your company.
All Xola customers can get a free website, including a custom theme and website hosting on WordPress.
2. Webflow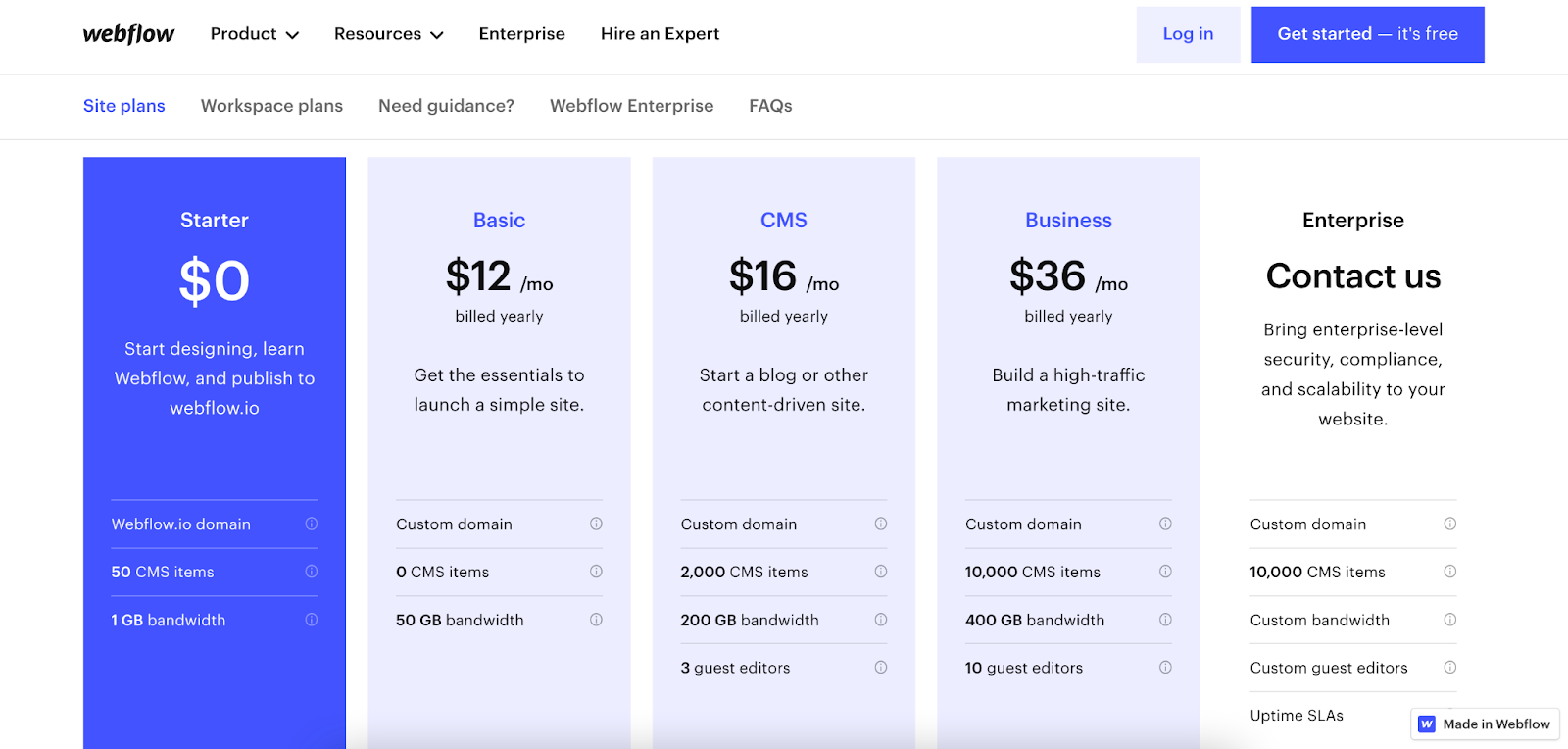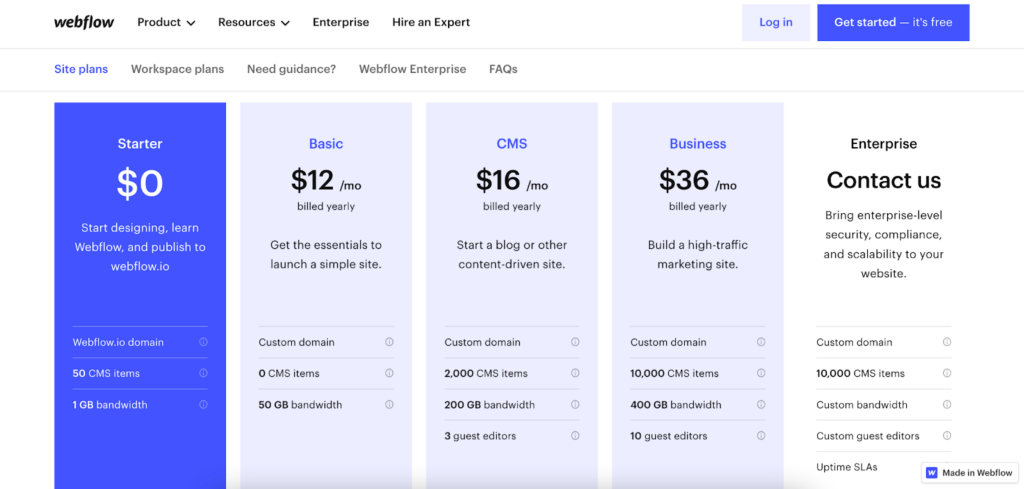 Webflow is becoming the website builder of choice for designers, freelancers, and agencies. The platform offers plenty of design customization without having to know code, as well as a great variety of templates. However, the Webflow editor isn't as user-friendly as others on this list. If you don't have much experience designing websites, you may find all of the design options a bit intimidating.
Pricing: You can start designing your site for free. For additional functionality, you'll need to upgrade to one of the paid plans that start at $12 per month.
3. Wix
Wix is a well-known, beginner-friendly website builder that offers many customizable templates. The platform gives you full creative control over your website, and it's an especially good option for businesses with online stores. Wix also has a special artificial design intelligence tool that helps you design a site that fits your needs based on your industry. Keep in mind that you won't be able to change your Wix template for another once your website is published.
Pricing: Wix plans start at $6 per month with 500 MB of storage and 24/7 customer support.
4. Squarespace
Squarespace allows you to create an especially great-looking website. Although there are fewer templates to choose from than others on this list, all of them are beautifully designed. The platform is slightly more sophisticated than Wix, so it may take some more time to get used to. However, its template designs are considered the best on the market. You can also use the platform's hosting services rather than having to find your own.
Pricing: Squarespace plans start at $14 per month. The most popular option is the Business plan, which starts at $23 per month.
5 examples of great booking websites
Let's take a look at five websites doing a great job at driving more direct bookings. These websites are all powered by Xola and use our custom themes.
1. Brew Bus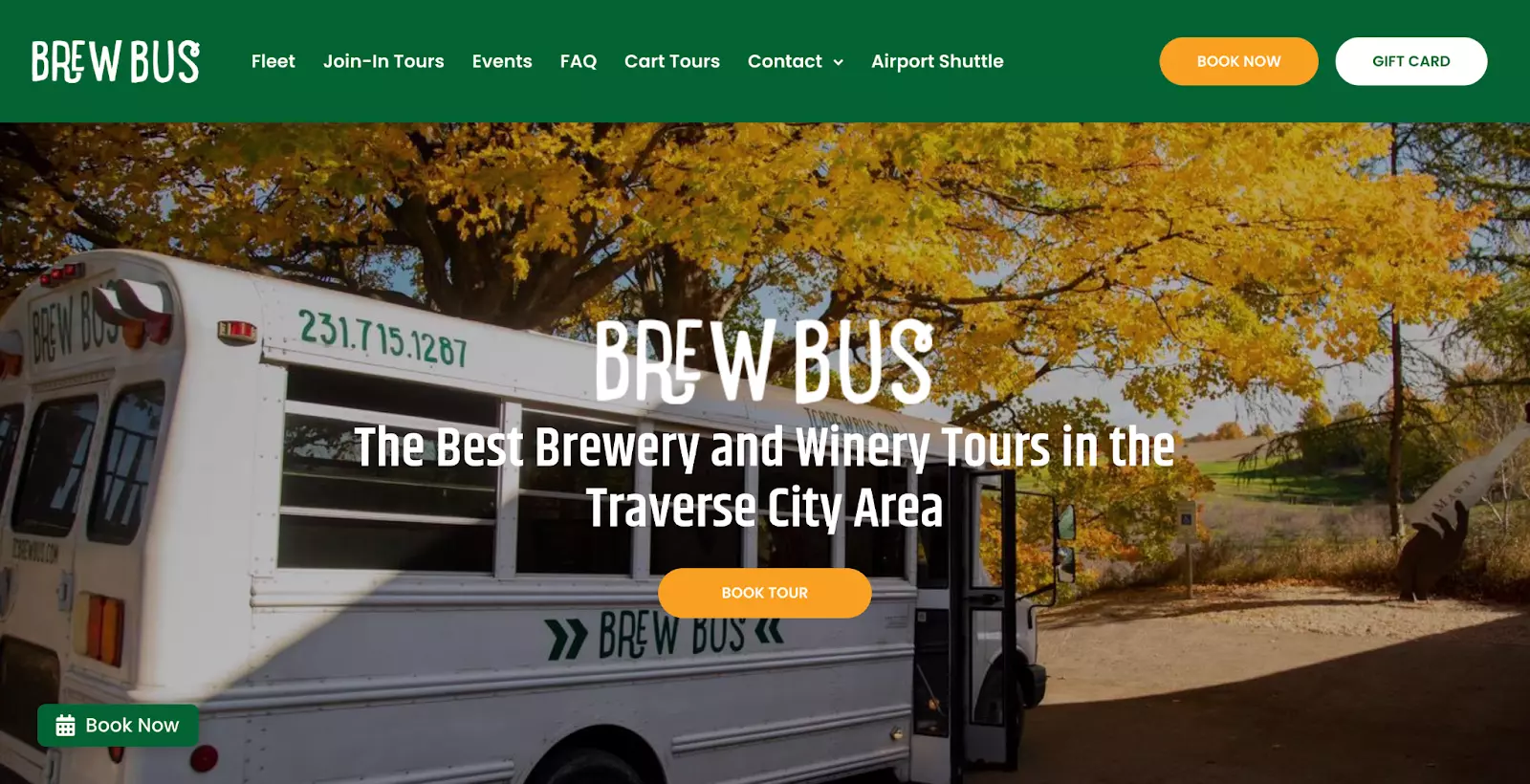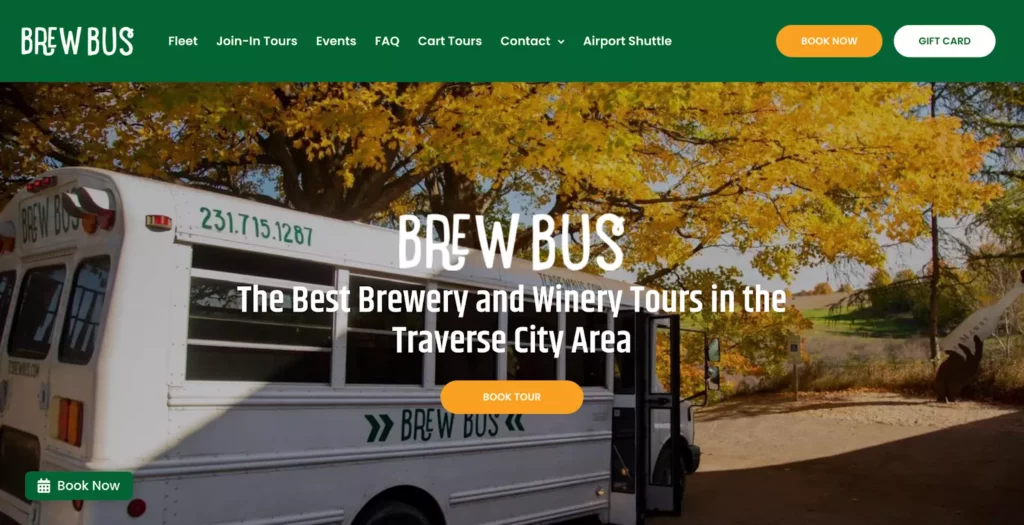 Brew Bus has a sleek and modern website with beautiful photos that highlight its tours in Traverse City.
The website is also optimized with the latest conversion science best practices. There's a "Book Now" button prominently displayed in the header, which makes it easy for customers to book a tour on any page of the website. You'll also find a "Book" button in the middle of the homepage and the far left corner.
The strategic placement of these buttons helps maximize the website's potential and drive more online bookings.
2. Denver Adventures and Zipline Tours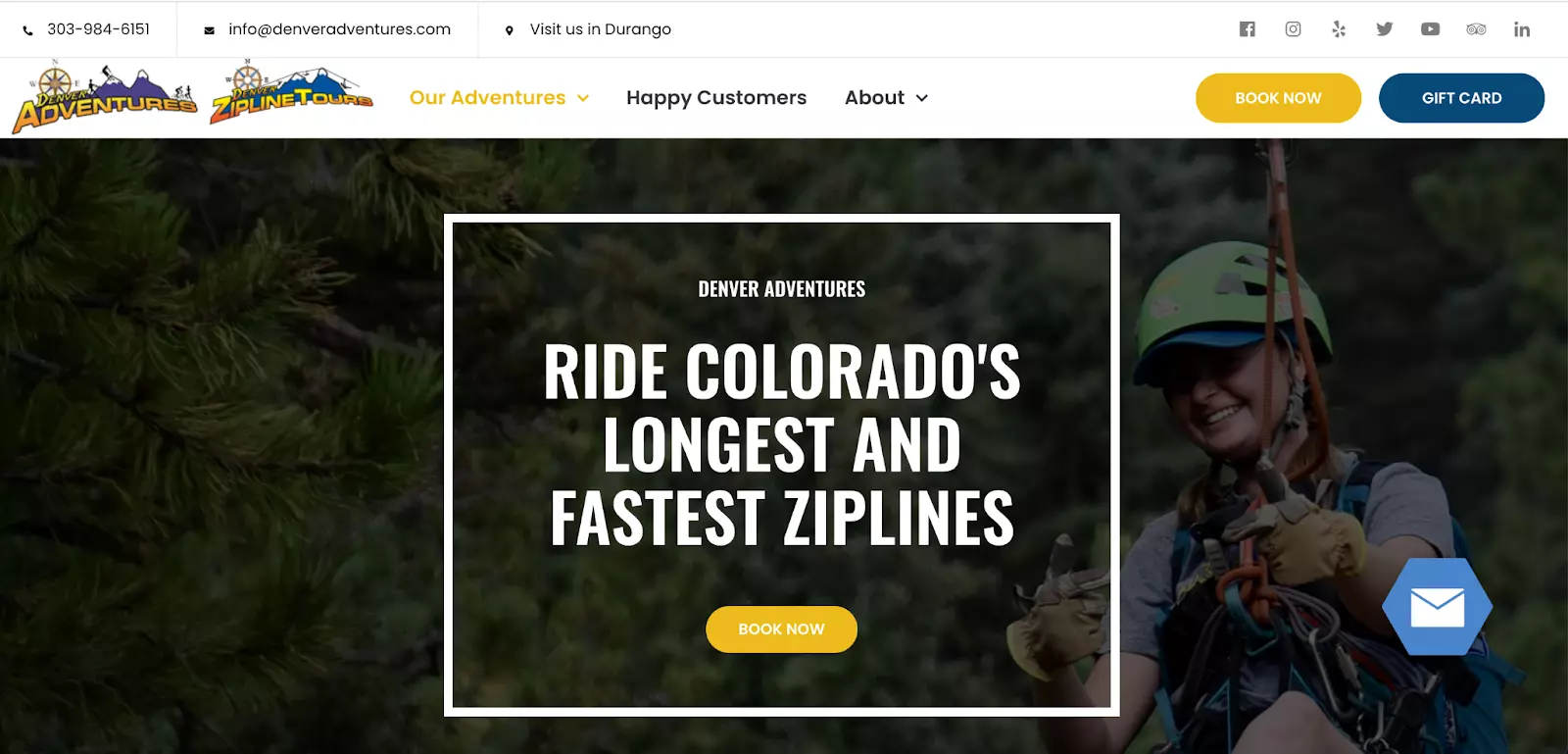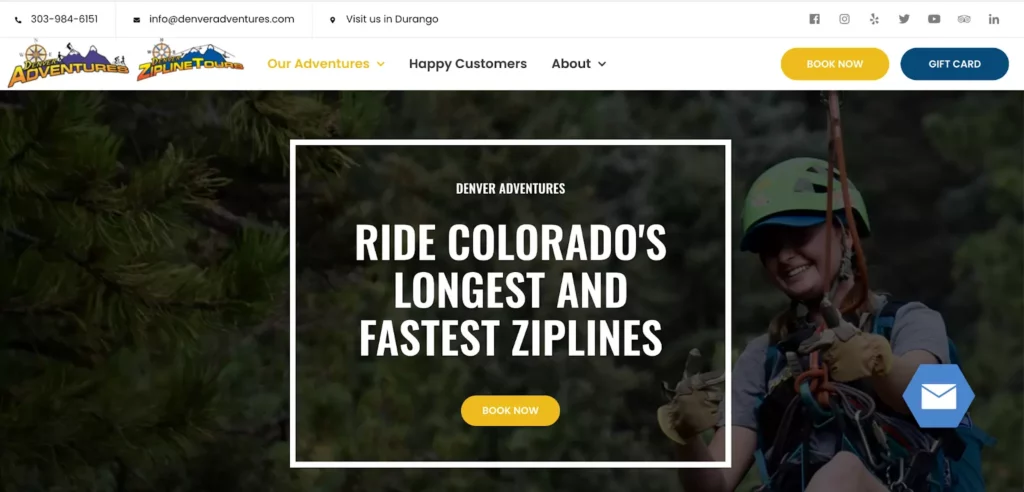 Denver Adventure and Zipline Tours has a beautifully designed website that pulls visitors in with its vivid imagery. The photos highlight the adventurous tours offered by the company, which encourages future guests to book them.
The booking buttons are also easy to find on any page of the website. They stand out from the page in a different color, which helps draw the visitors' eyes to the button.
3. Rill Adventures Raft & Gear Rentals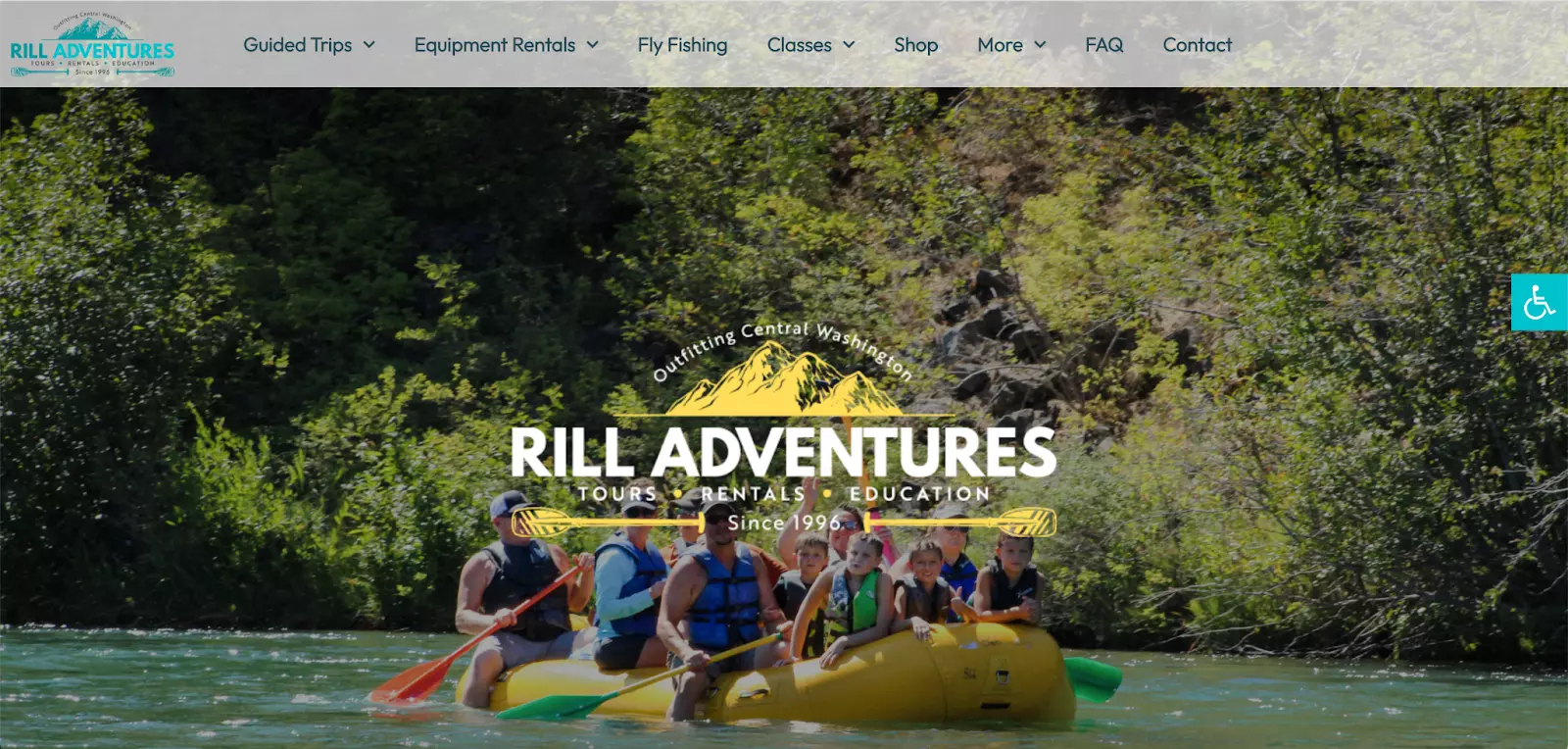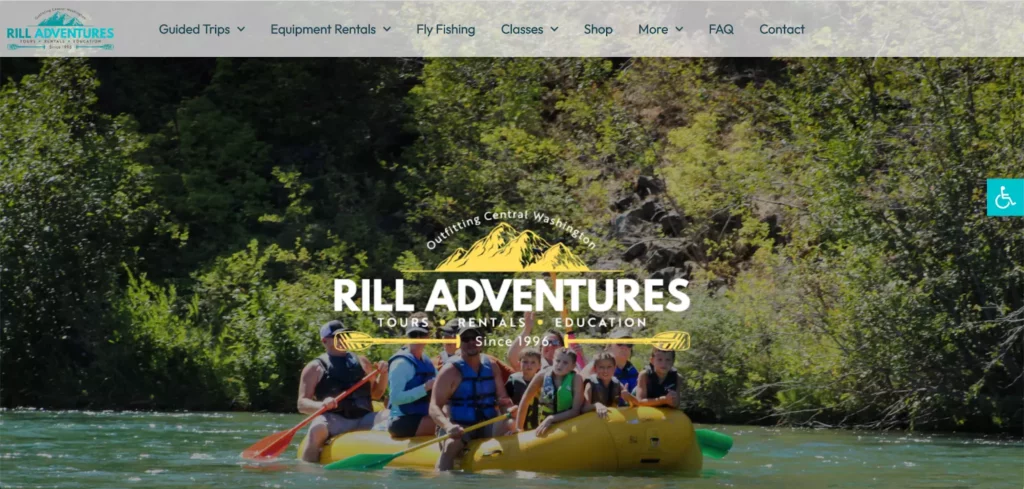 Rill Adventures, a tour and equipment rental business in Central Washington, has a beautifully designed website that's easy for guests to navigate. At the top of the homepage, guests can choose from guided trips, equipment rentals, fly fishing, and more, depending on what they're looking for. A well-organized menu bar makes it easy for guests to find and book their desired experience, without having to waste any time sifting through your website.
4. Anna Maria Banana Boat Rides
Did you know that nearly half of online bookings are made using a smartphone or tablet?
As you can see from the screenshot above, Anna Maria Banana Boat Rides offers a responsive website design that works on both desktop and mobile. It also supports Apple Pay and Google Pay to make it even easier for guests to book through their mobile phones. This helps the banana boat company get ahead of its competitors who may not offer the same mobile experience.
5. Rogue Jet Boat Adventures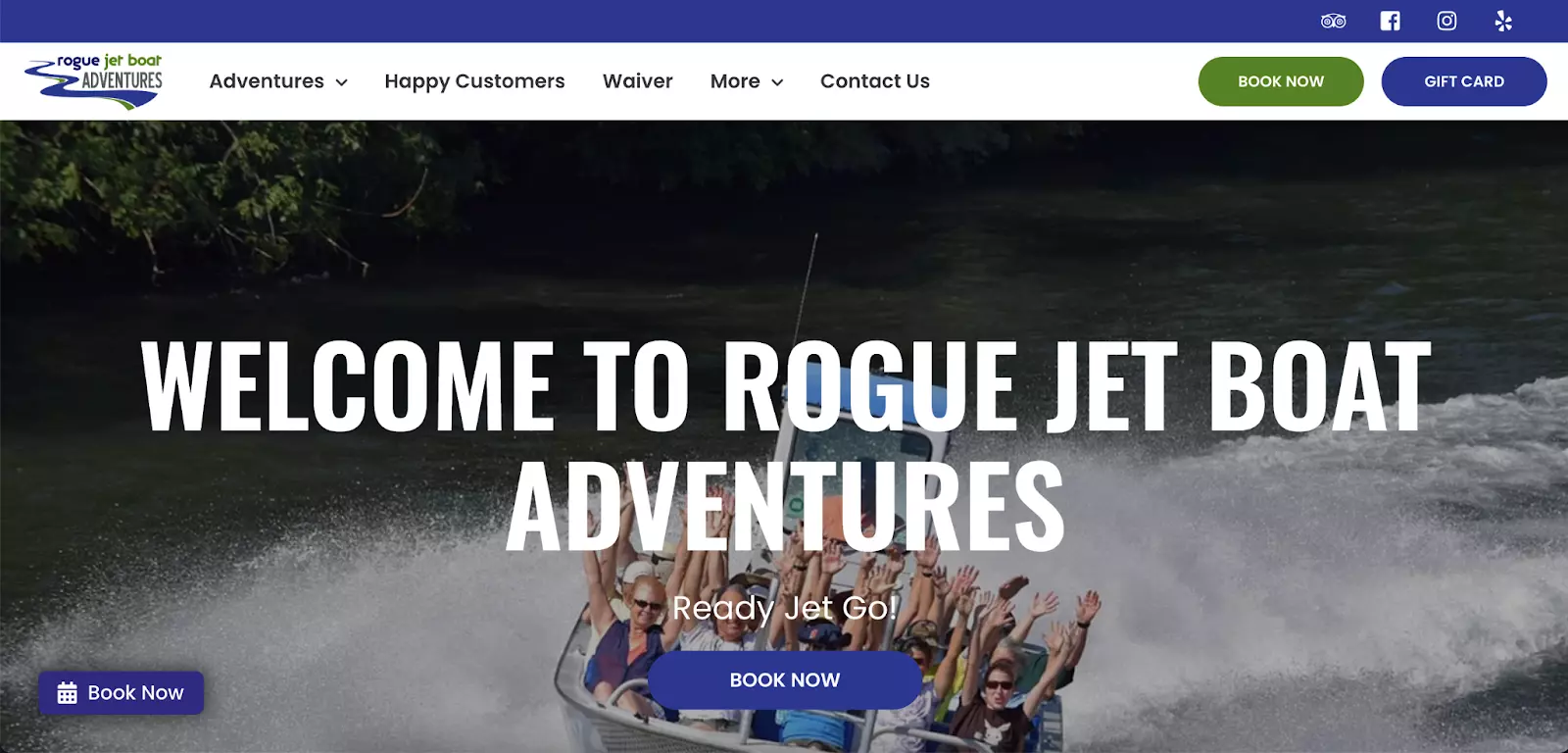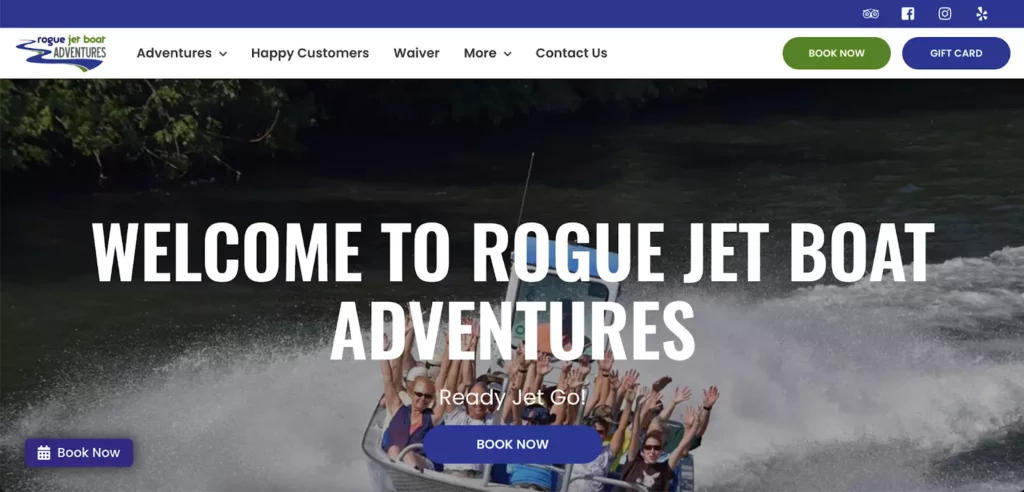 Oregon-based Rogue Jet Boat Adventures has a clear and concise website that helps customers easily — and quickly — find what they need to complete their checkout. The tour operator's homepage not only offers three "Book Now" buttons for guests to easily book an experience, but it also has a "Gift Card" button on the header. No matter what page guests visit on this website, they'll be able to hit the "Gift Card" button to make a purchase. This button also serves as a reminder to guests that gift cards are available, which will help boost a revenue stream other than direct bookings.
***
In conclusion, your website is the face of your brand online. A well-designed website that's optimized to drive bookings will help convert visitors into paying customers.
If you're a Xola customer looking to revamp your website, get in touch with us here to see about getting a new website.