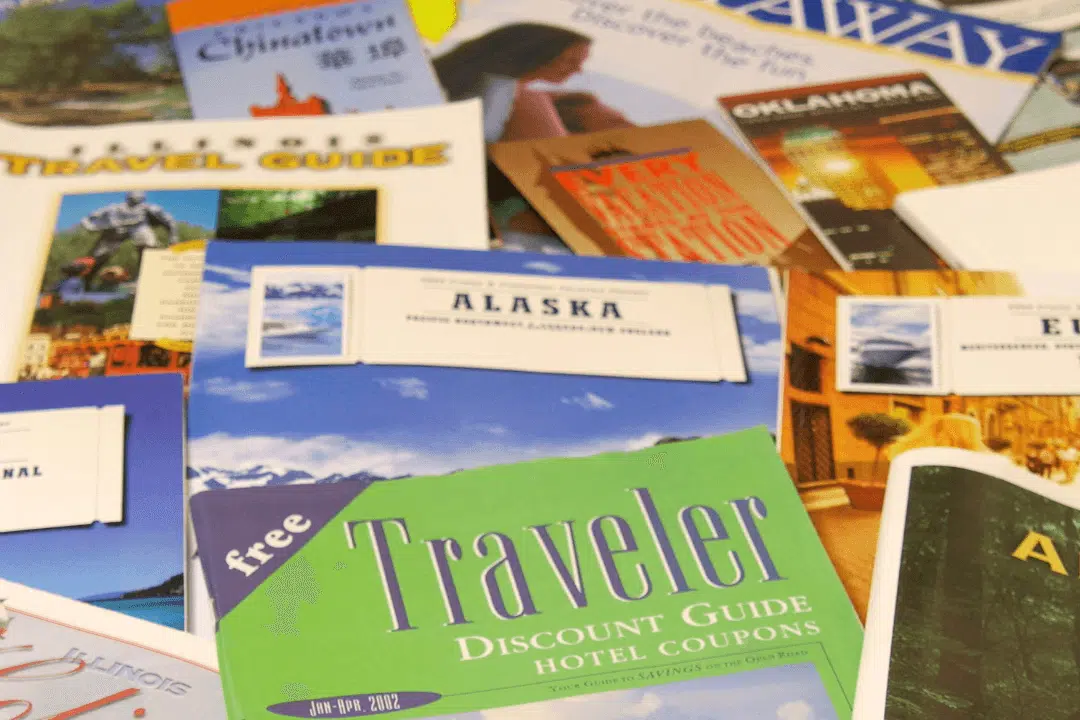 When 90% of travelers are booking their trips online, are tourist brochures still relevant?
Today, most guests turn to their phones for travel information, meaning the display with brochures stacked up in a visitor center or hotel lobby could soon be a relic of the past.
Instead of creating a physical brochure that promotes your tours or attractions, you could invest more time on your website to drive more bookings online.
After all, your website functions as a 24/7 tourist brochure — and with the right SEO strategy in place, it can attract new customers (and convert them) far better than a brochure ever will.
Still, many tourists continue turning to brochures once they arrive at a destination. Since that's when nearly half of experience bookings happen, tour operators might consider adding a brochure to their marketing arsenal.
If that's the case, here is everything you need to know to create yours.
1. What is a tourist brochure?
A travel brochure is a promotional pamphlet advertising a destination, attraction, or tour activity.
Tour operators might offer travel brochures about their activities to educate guests about their offerings. An outdoor adventures company, for example, would create a brochure showcasing all of the different activities it offers, from hiking to skydiving.
Tour operators might also want to display a colorful travel brochure about their destination, which lists historic sites, local restaurants, and other interesting things to do. This way, you can indirectly help guests plan the rest of their itinerary, without having to do much extra work.
2. What is the purpose of a brochure?
Travel brochures are used to inform travelers about a particular destination or travel company. Brochures can inspire guests to plan a trip and educate them about things to do after they've arrived.
As a tour operator, you would create a brochure to inform guests about your experiences. Similar to the tour listings page on your website, your brochure would display your best experiences alongside descriptions that persuade guests to book.
The idea is that guests skim through these listings when they're in your tour office and that the information provided helps them choose a tour.
You might also want to hand them out for guests to take home. If they're not quite ready to book, another look at your colorful brochure might convince them to bite the bullet later that day. With that brochure in hand, customers are more likely to go straight to your website to book, rather than through another Online Travel Agency.
3. How can I write a brochure?
Every travel brochure should include a good cover, high-quality photos, and valuable information that will help guests in their trip planning.
Here are six key components to include in your brochure format.
A good cover: The cover of your brochure should be visually compelling and include your company name, logo, and colors.
About your company: Write a short paragraph or two about your tour company and what you offer.
Tour or attraction descriptions: Inside, you should list and describe your tours and/or attractions. Make sure your descriptions excite potential guests and anticipate their questions.
Call to action: Your brochure should persuade guests to book your tour or visit your attraction. Add a clear call to action such as "visit our website to book" or "call now to book your visit."
Location: Include the exact location of your attraction or tour office, if you have one.
Contact: Let guests know the best way to reach you. Tourist brochures typically display contact information on the front or back page.
4. How do I make a brochure for free
Today, tour operators can make a brochure online in just a matter of minutes. Free online tools like Canva, Flipsnack, and Adobe Spark offer customizable templates for all types of marketing material, including brochures.
Canva is a free graphic design tool where you can easily design your travel brochure. Once you're on the website, search for "travel brochure." You'll find several different templates to choose from.
You can then customize the text, colors, and graphic elements to make the brochure your own.
Flipsnack similarly offers free templates for travel brochures.
You can then publish your brochure on Flipsnack's online platform and share it as a digital brochure. This way you can send your brochure to guests on social media or email without needing to print it.
Adobe Spark is another option. The online platform offers a few free templates you can edit to create something unique to your brand.
The internet has made it a lot easier to create travel brochures.
Better yet, travel companies today might not even need to spend the extra money to print out their brochures. Instead, you could include a digital travel brochure created on Flipsnack as part of your online marketing strategy.
It's also worth noting that your website can also act as an in-depth digital brochure. Your site serves the same purpose as a travel brochure: It provides customers with a place to learn more about your company. Except on your website, your customers will be able to book an experience at the same time (and without having to call your team!)
Whether you're writing a physical tourist brochure or creating one online, use this guide to make the best one yet.