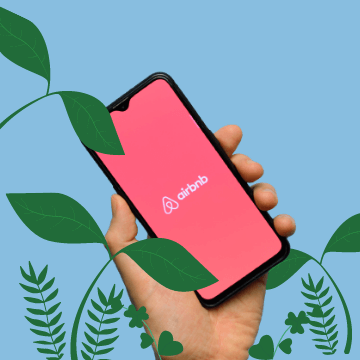 You've created an exciting new Airbnb experience — and now you need to get it in front of as many eyes as possible.
How can your tour company or attraction stand out among all of the experience listings on Airbnb?
Search algorithms can be confusing. When you understand the different factors that influence them, though, you can start to improve your ranking.
The more you get to know the Airbnb ranking system, the more you'll increase your chances of being found by guests.
In this post, you'll learn about the Airbnb search algorithm and how the platform ranks its experiences.
Does Airbnb have a ranking algorithm?
How does the Airbnb algorithm work?
How to make your Airbnb experience listings stand out
5 most important ranking signals for experiences
Does Airbnb have a ranking algorithm?
Airbnb does have a ranking algorithm that determines where and how often your listing will appear in search results. In fact, Airbnb's algorithm uses more than 100 signals to decide how to order its listings.
The platform specifically pays attention to the search intent of the user. If a guest is searching for outdoor activities in Miami, the listings will match those search criteria.
Let's say there are 25 experiences offering outdoor activities in Miami. Airbnb will then rank them based on quality, popularity, and price.
How does the Airbnb algorithm work?
Airbnb's exact algorithm is confidential, but the company does reveal a few of the most important factors that impact your ranking.
The first point to understand is that a user's search results are always personalized. Airbnb considers user behavior, location, dates, and trip duration to present guests with a list of search results that best reflects their preferences.
This means that different users are often shown different results.
Overall, the algorithm is designed to match guests to the listings they're most interested in. Much of this is based on examples of searches that have led to bookings in the past.
Airbnb will also consider how well your listing page is performing by looking at the number of clicks, bookings, shares, and additions to wish lists.
Quality and availability are the two other main factors considered in your ranking. Availability refers to the number of dates the experience is available and booking cutoff times. And in terms of quality, the more reviews and positive feedback you receive, the higher you'll likely be ranked
New listings, however, will get a fair shot at ranking. New experiences appear higher in the search ranking to give hosts the opportunity to get established successfully.
Listings for unique activities hosted by someone with special expertise tend to be more popular with guests and rank higher.
How to make your Airbnb experience listings stand out
There are two things that you can do to immediately improve your ranking. The first is to make sure you're pricing your tours competitively, and the second is to begin accepting more bookings.
To optimize your calendar for more bookings, you should show availability three months out. When you open your booking calendar well into the future, you make it easier for travelers planning their trips ahead of time.
Yet, it's also important to optimize your calendar for last-minute bookings. A large percentage of bookings are made within two days of the experience, according to Airbnb, which recommends setting the cutoff time as close to the start of the event as possible.
Another way to immediately stand out to your guests is to make a good first impression. Your listing's title, photo, and price all influence a guest's decision to click through. And if an experience has a higher click-through rate than others in the category, its ranking will improve.
Once a guest clicks into your listing, they'll want to know more about the person hosting it. A descriptive bio that gives guests some background about you and your expertise in that particular subject matter or activity will encourage them to book with you.
5 most important ranking signals for experiences
Whether you're offering an in-person or an online experience, these are the top 5 signals that impact your Airbnb ranking.
1. Your listing's page performance

Your cover image and title will be two of the first things guests see when searching for experiences. Make sure both compel them to click on your listing. Your photo should be bright, colorful, and high-quality.
It should feature a person — either you or previous guests — engaging in the activity or event you're hosting, such as the photos shown in the Pastel de Nata Workshop in Lisbon.
Airbnb's algorithm considers how often guests click on your listing when determining your ranking. It also tracks how often guests attempt to contact you from your listing page, as well as how many booking requests you accept. Further, the platform will also look at how many people add your experience to their Wish Lists and the number of times your experience link is shared.
All of these signals help boost your ranking in search results.
2. Experience quality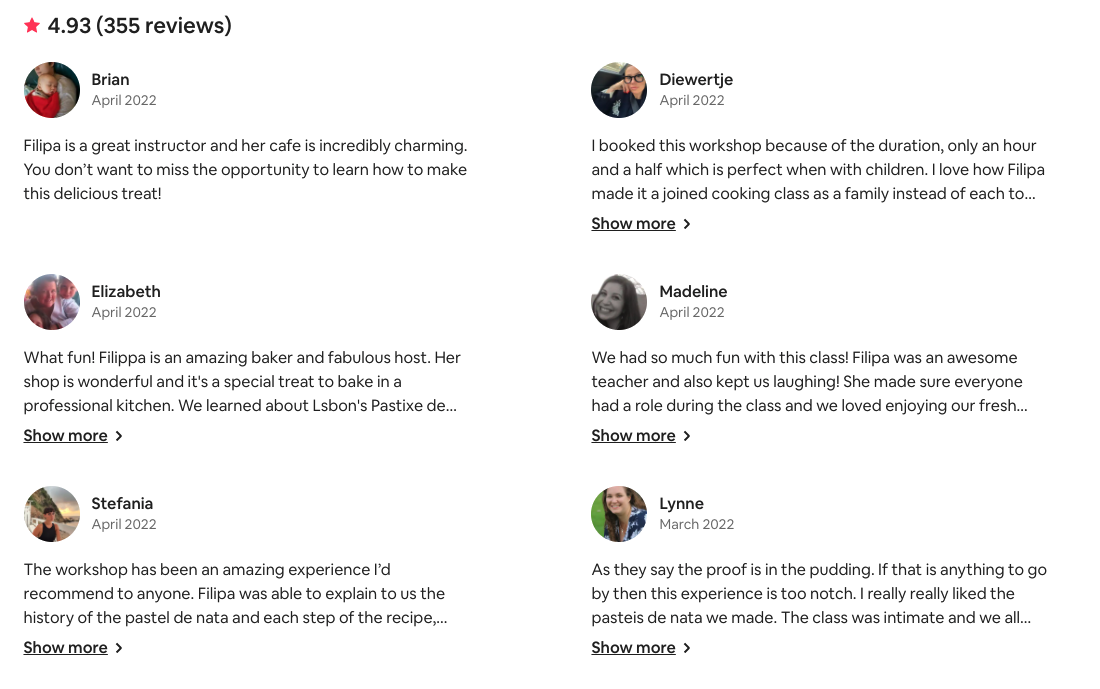 Positive reviews are essential to ranking high in search results. Airbnb will consider both the number of reviews your experience receives as well as the feedback guests give.
This Pastel de nata workshop in Lisbon has 355 reviews and a high rating of 4.93 out of 5. That's likely why it's one of the highest ranked listings under cooking experiences in Lisbon.
Hosts often follow up with guests for feedback. Sometimes they send them a photo of their time together and kindly remind them that reviews are key to their growth and success on Airbnb.
3. Competitive pricing

Airbnb will compare your pricing to similar experiences in your market. Listings offering guests the best value for their buck will not only stand out but also appear higher in search results, according to Airbnb.
As you can see above, the Pastel de nata workshop is a steal compared to a few of the other cooking experiences in Lisbon.
4. Experience popularity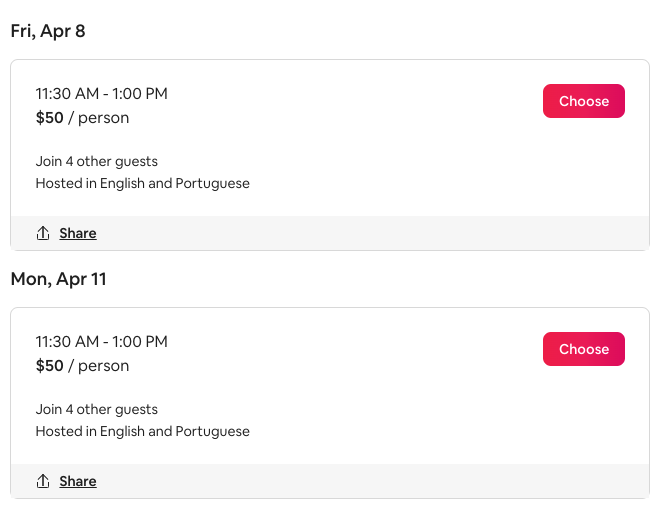 The algorithm evaluates the popularity of your listing based on how guests engage with it, as well as how often they book it. The schedule of availability for the Pastel de nata class shows that a number of guests have already booked the experience, which points to its popularity.
If a lot of guests are saving your experience to their wish list, Airbnb will view that as a good sign. This will help your experience rank higher, and those guests are likely to find your listing again in future searches.
Overall, more popular listings tend to rank higher in search.
5. Booking availability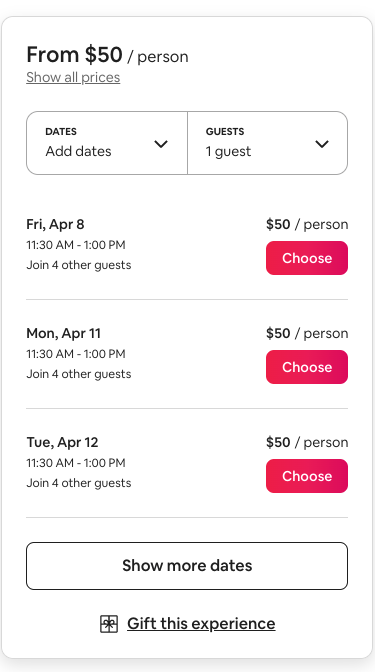 Availability can impact your search results as well as the number of bookings you receive. Airbnb wants to make sure that your tours and events are available before showing them to guests.
Make sure to keep your calendar updated. If your calendar has plenty of open dates, it'll be shown to more people. As we mentioned previously, opening your booking calendar three months ahead of time can help boost your ranking.
***
In conclusion, understanding how search algorithms work will improve your chances of appearing to the right guests.
Airbnb's search algorithm may sound complex, but if you focus on the most important factors like pricing and availability, your listing will be in good shape.