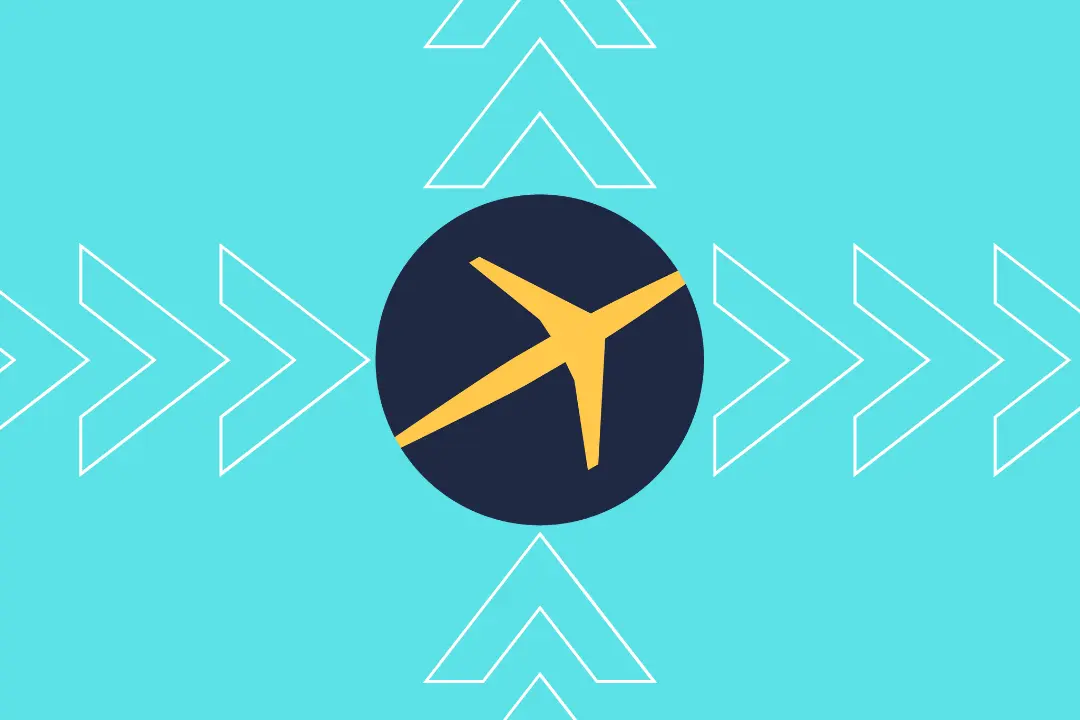 Listing your tour company on Expedia can be a great way to drive more bookings — but only if you're ranking high enough for your customers to see you.
There are hundreds of similar tour operators on Expedia, and there's no way for the platform to show them all at once. That means it needs to rank them in a way that makes sense.
Enter the Expedia algorithm.
This algorithm dictates how high your company will appear on a list of options when a traveler searches for your tours.
If your tours are buried beneath dozens of others, your chances of people finding you and making a booking are slim. But if your tours appear among the first 10 options, a lot more people will come across them.
In this post, you'll learn how to work with the Expedia algorithm to boost your ranking and drive more tour bookings.
How does Expedia's algorithm work?
6 tips to rank higher on Expedia
How does Expedia's algorithm work?
Expedia considers three key factors for ranking tour operators:
Offer strength
Quality score
Compensation
Your offer strength is based on how your listings compare to similar operators in terms of quality of deals, pricing, and guest reviews.
The quality score looks at whether you're putting your best rates on Expedia and not offering a better deal elsewhere. Expedia also considers the quality of your photos and descriptions, as well the number of refunds requested by customers.
The last factor is compensation, which reflects the commission fees your company pays Expedia for every booking.
Overall, though, the Expedia algorithm impacts flights, accommodations, and experiences differently. Let's take a look at what Expedia considers when ranking each category:
Flights are ordered from lowest to highest in price. When two flights have the same price, the shorter flight will be listed first.
Accommodations are ranked based on price, guest ratings, reviews, number of bookings, and location relative to the search. The listing description and image quality are also major factors. When ranking properties with similar offerings, Expedia also factors in each company's commission rates.
Experiences are ranked based on price, location, distance from accommodation options, traveler reviews, and local research. The number of bookings made and the compensation earned on each also influences the ranking of experiences.
6 tips to rank higher on Expedia
To rank higher on Expedia, your listing needs to stand out from the crowd. Your headline, photos, and description all factor into the quality of your listing. Here are seven tips to improve your rankings on Expedia.
1. Have a beautiful photo gallery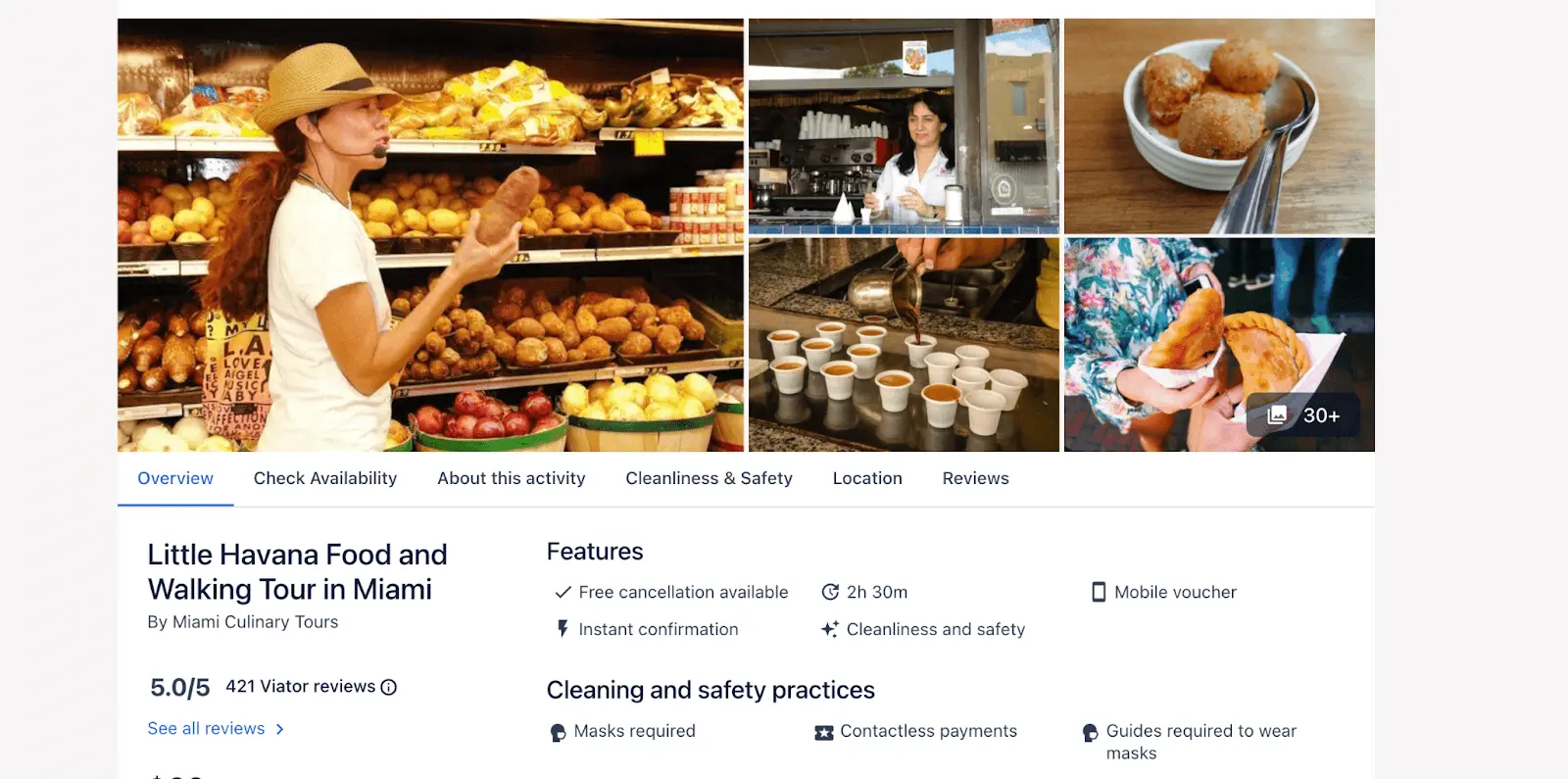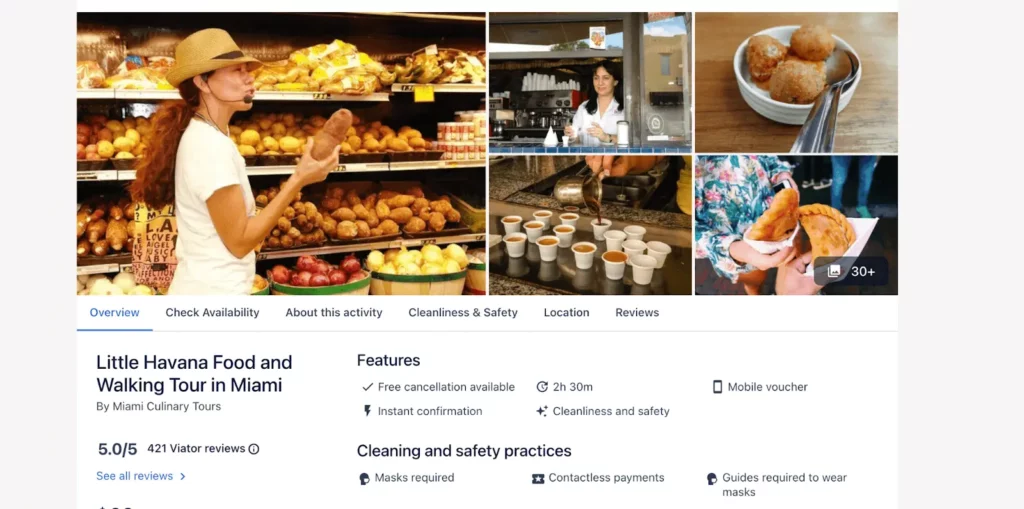 Beautiful photos can help your tour business stand out from the rest because it catches your customers' attention. A visually striking listing should have plenty of high-quality images showcasing your tours, including photos of people having a good time on previous ones.
The example above has plenty of close-ups of the food guests will try on this Miami food tour.
Once you're logged onto your Expedia dashboard, you'll see that the platform provides you with a "photo score." This score factors in the number of photos you've included for your business or tour listing, the resolution of those photos, and whether they meet traveler expectations. Expedia will then make suggestions on how to improve your photo gallery.
Pro tip: Make sure to follow Expedia's specific guidelines for photos.
2. Craft a great headline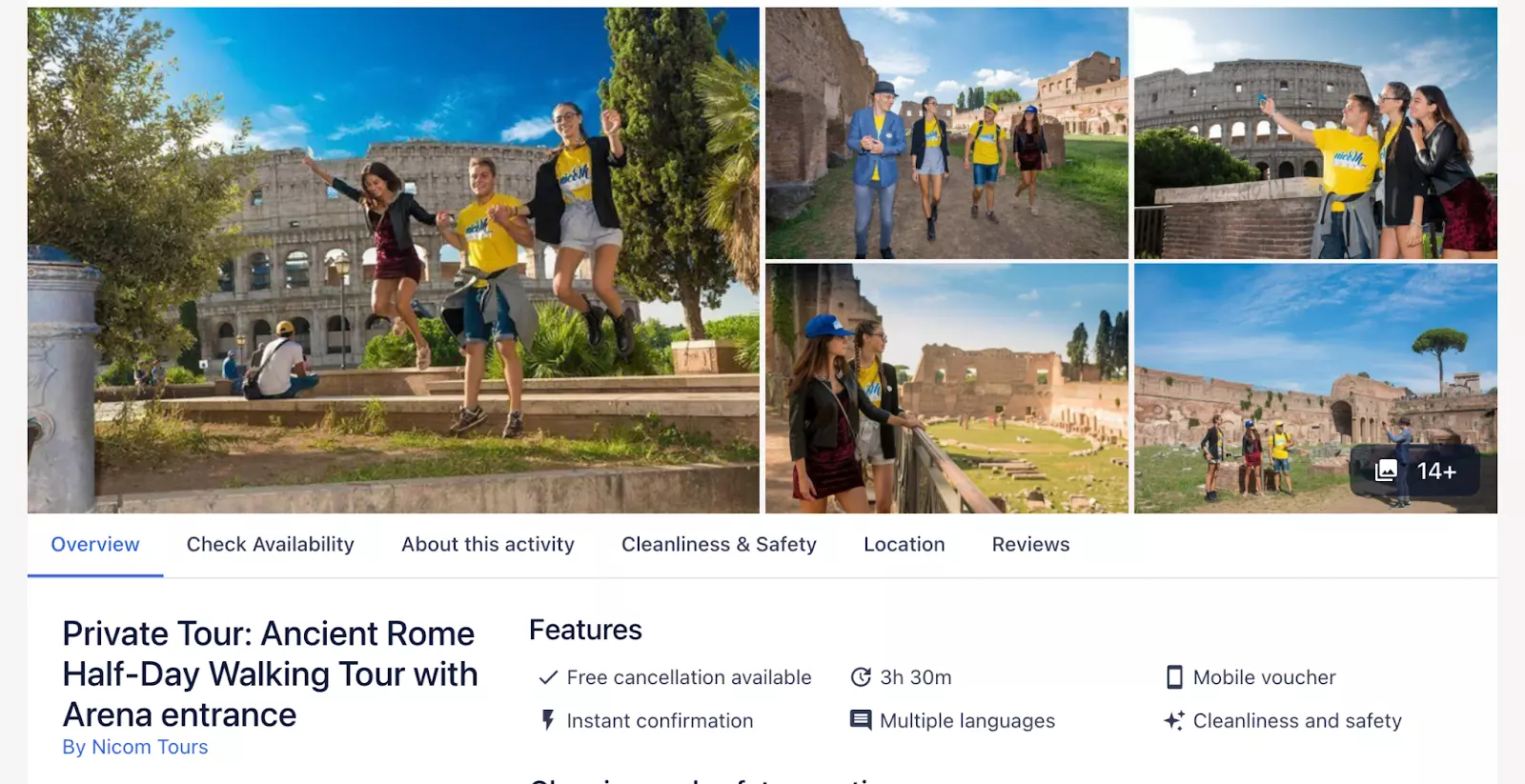 Don't let your photos do all the work: Your headline should reel visitors in, too. Make sure the title clearly states what kind of services you're offering.
For example, if a guest is looking for walking tours in Rome, they're going to be looking for headlines that meet that description. In the tour listing above you'll see that keywords like "private tour," "ancient Rome," and "walking tour" are all included in the headline, which makes the listing pop out to guests searching for those experiences.
3. Write a detailed description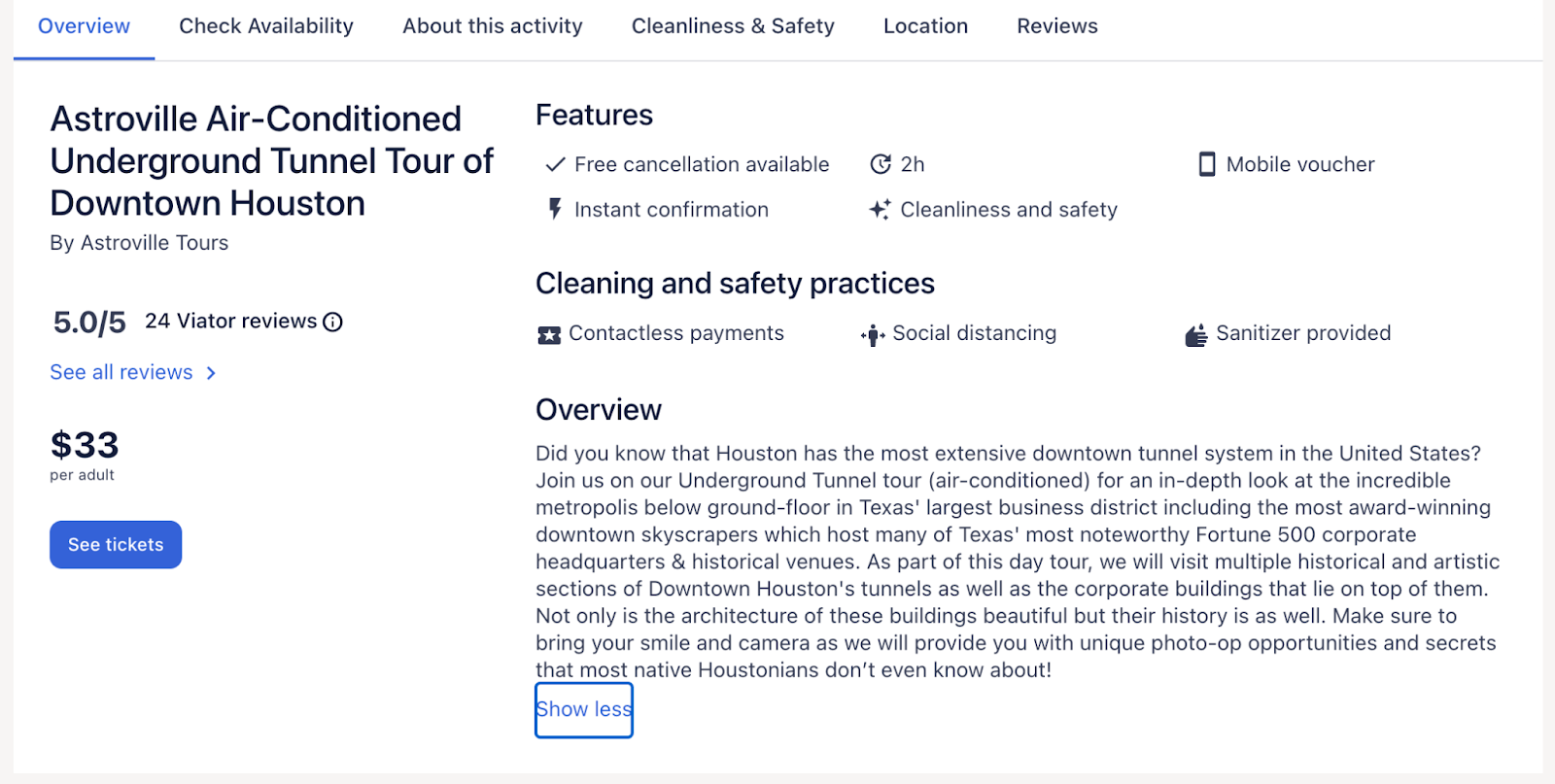 When describing your services and tours, use descriptive language to engage your audience. Describe what they're going to see, do, and experience on your tours.
For example, the description for this underground tunnel tour of Downtown Houston makes the experience sound intriguing: "We will provide you with unique photo-op opportunities and secrets that most native Houstonians don't even know about!"
Your description should similarly make guests feel excited enough to book right then and there.
Don't forget to provide guests with necessary information like location, contact, and itinerary details. Expedia will provide you with a "content score" that evaluates your listing details and lets you know if there's information missing.
4. Use Expedia's Accelerator marketing tool
Expedia's Accelerator tool is a paid option to increase your listing's visibility. It's a "pay as you go" model in which you increase the commission fees you pay Expedia, and in exchange, the platform boosts your ranking. You can adjust the compensation rate and date range as you go, as well as stop the Accelerator at any time.
For example, let's say you want to boost your ranking during the first week of summer, knowing that it's one of your busiest weeks in terms of bookings. You can test the Accelerator tool for a week to see if it drives more tour bookings.
5. Set competitive rates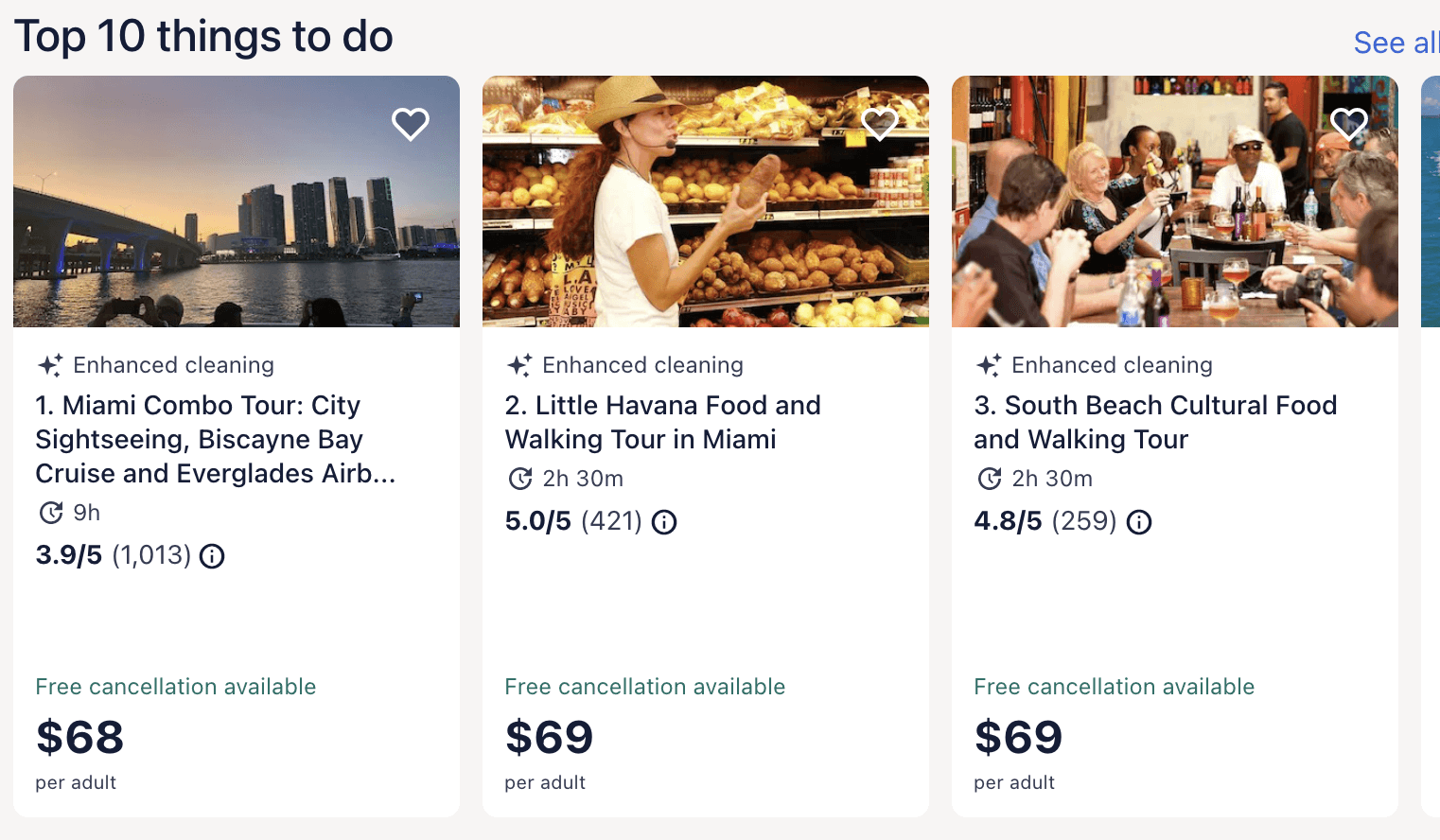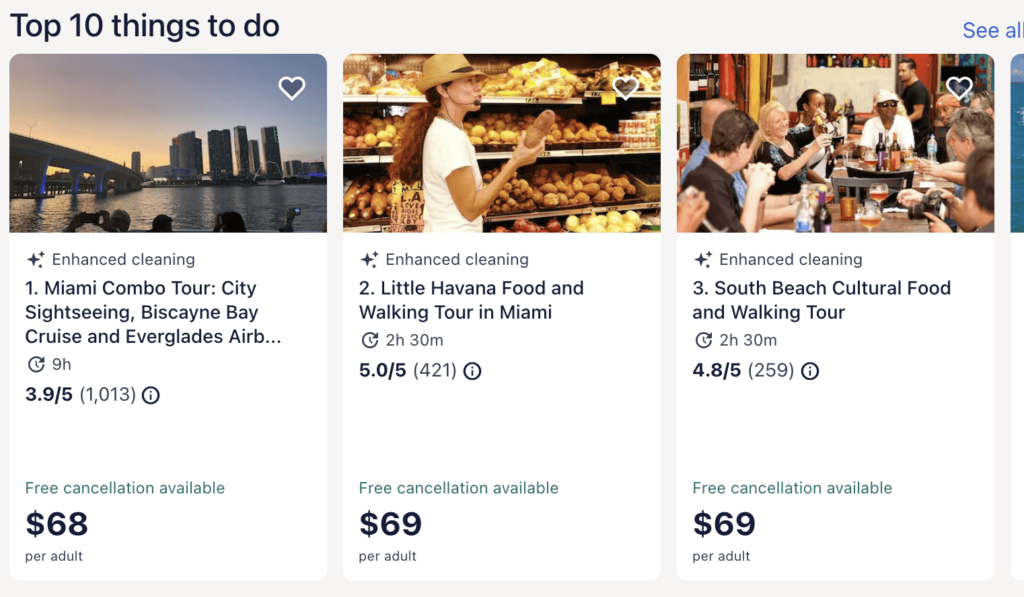 Take a look at what similar operators and other tourism businesses in your area are charging. Your rates don't necessarily need to be lower than theirs, but they should fall within a range that's appropriate for the experience you're offering.
If you look at the example above, you might notice that the top three tours in Miami are all priced similarly.
6. Grow your reviews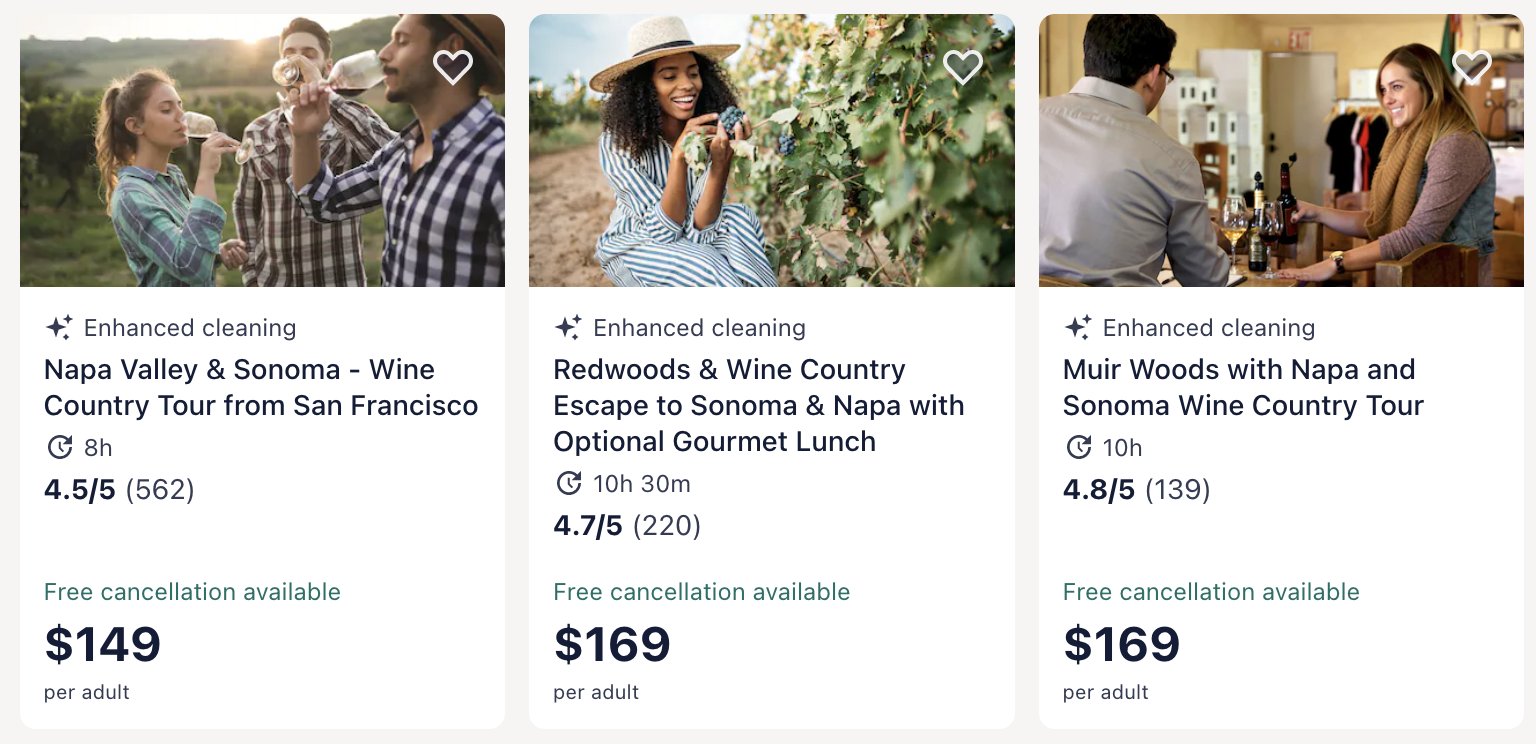 Notice how the three top-ranking winery tours in San Francisco have plenty of reviews.
Positive reviews show Expedia that guests are enjoying your tours. Reviews also help future guests make their booking decisions, so it's no surprise that Expedia considers the number of reviews your company receives.
One of the best ways to grow your reviews is to remind guests as they're leaving to leave you a review. You can also reach out to them after the tour via email with a link that takes directly to your Expedia listing, prompting them to leave you a review where you need it most.
***
In conclusion, many factors can impact your ranking on Expedia. Having a nice photo gallery, competitive pricing, and positive reviews can help you outrank the competition.
Use this guide to improve your Expedia ranking and start driving more bookings today.