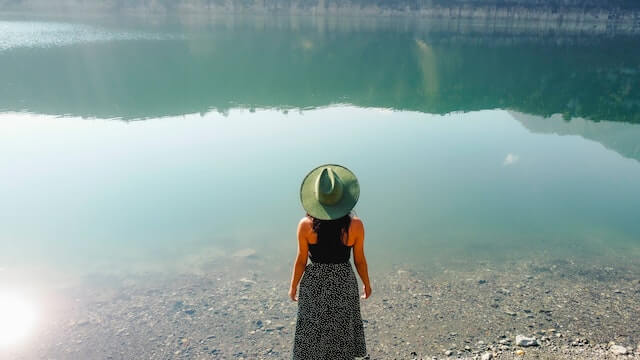 Facebook and Instagram are great tools for driving new bookings through your website, and events are one way to go about that.
Once you've created a business page on Facebook — and if you haven't yet, you'll learn how to do so in this post — you're able to host events. Events can be virtual or in person, and they engage an audience more than a static post ever will. Facebook events can boost your visibility on the platform. Since they're discoverable by anyone, they can reach far beyond your current audience.
Whether you're hosting a virtual tour or interviewing an expert in your industry, let's explore how to sell tickets on Facebook and how this can help you reach the right customers at the right time.
How to create your business page on Facebook
It's time to create a professional business page for your tour business on Facebook, if you haven't done so already.
First, you'll need a personal Facebook profile. Then, follow the next few steps to create a Facebook page for your business:

From your personal Facebook page, find the Pages section. Then, click Create new page.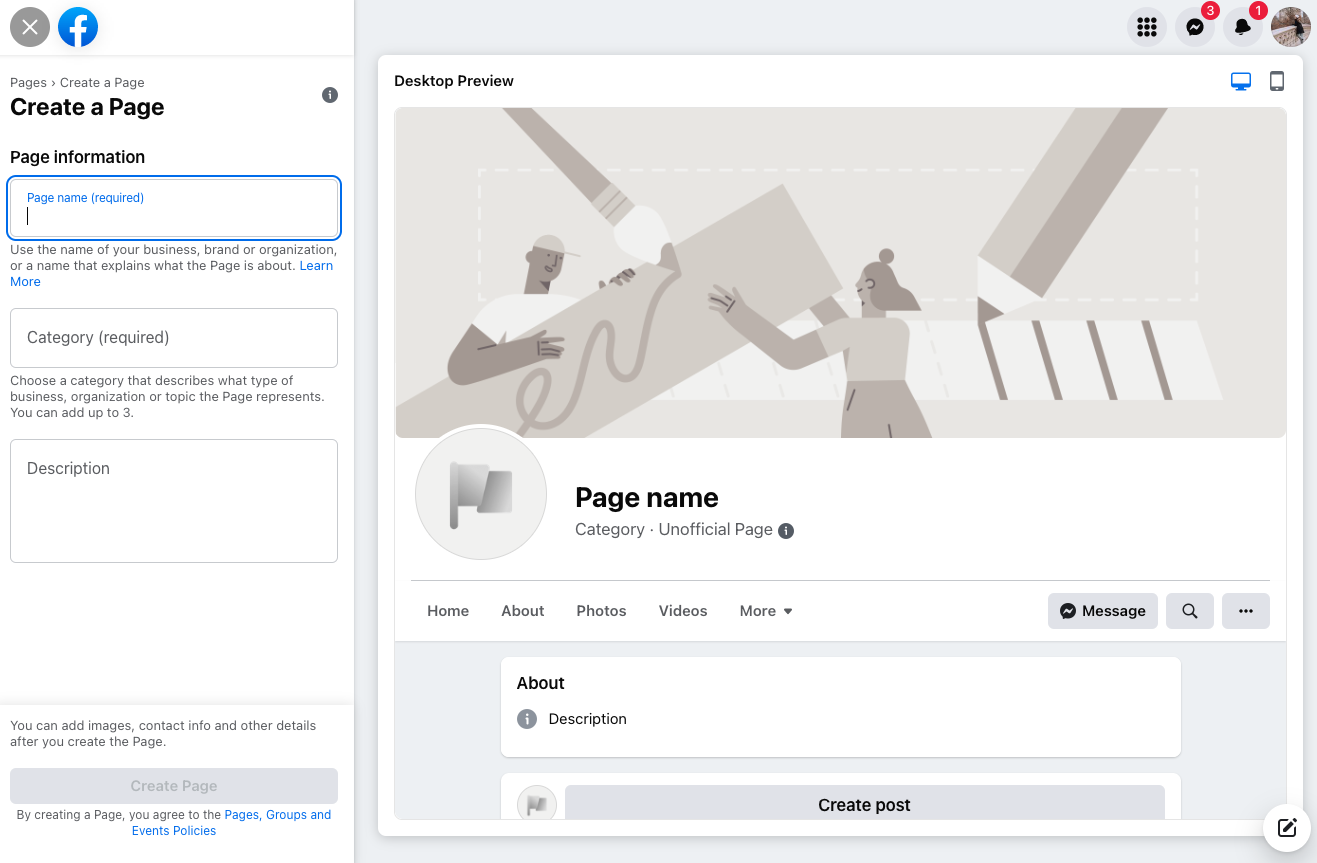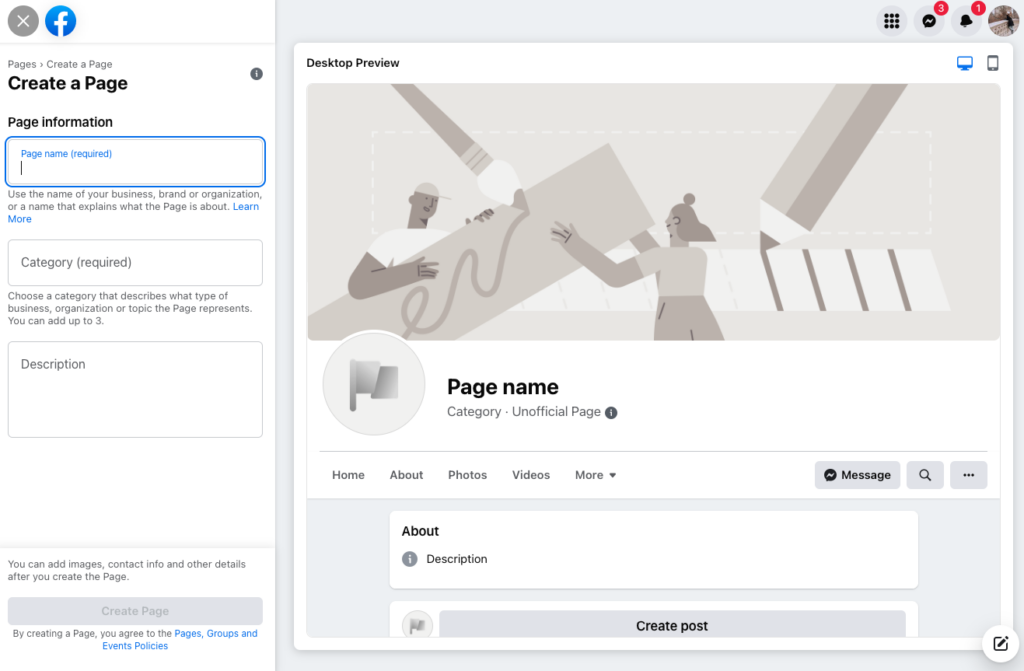 2. Add your Page name, which should be your business name. Then choose your page category, such as "Travel Company," or explore more specific categories like "Boat Tour Agency."
3. Write a description for your business and click Create Page.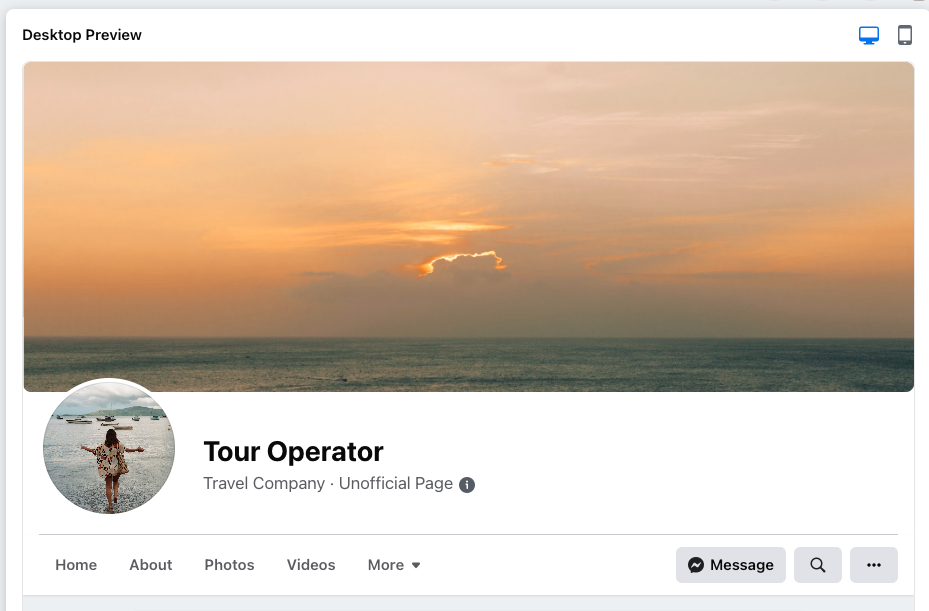 4. Now, you can add a profile and cover photos. Choose high-quality and cheerful photos that show off the best of your experience. It's great to include photos of guests having a great time so that potential customers can envision themselves in their shoes.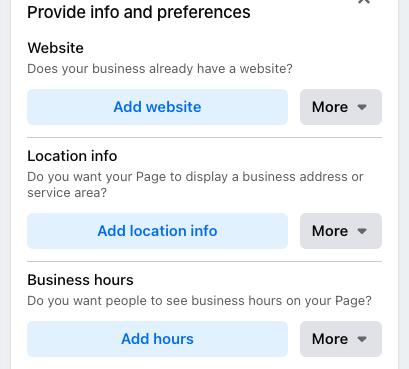 5. Next, you can add relevant information, including your website, location, hours, and contact information. Finally, edit the Action button. You can choose from several different actions, including a "Book now" link where you can connect to your scheduling tool.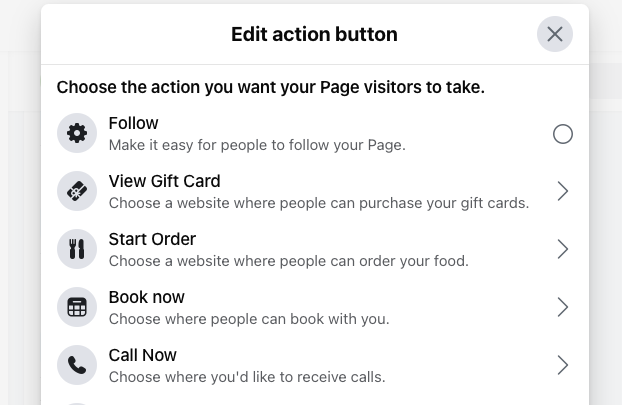 6. The final step is to invite your friends to "Like" your Page.
Tips for optimizing your Facebook page for increased visibility
The following strategies will help you grow your page audience and engagement, according to Facebook itself:
Make people aware of your brand. You need to start getting the word out about your page. Facebook recommends sharing your Page on your personal Feed, asking your friends and family to like the Page, and sharing it with others who might be interested in your business.
Connect with your local community. You can start by following and liking local businesses around you. Support your local cafe, bowling alley, or farmers market by engaging with their posts. You can leave them a comment on a recent post, which will be visible to their audience, too. Perhaps they will begin to engage with your page as well, which will help boost your visibility to a local audience.
Start posting relevant content on Facebook. To increase engagement on your Page, you need to start interacting with your online community. Comment on other posts and in groups as your Facebook Page; engage with relevant content that your fans post; and share user-generated content as well as posts relevant to your industry.
Use targeted ad campaigns. With a Facebook Page, you can run ads that appear across Facebook, Messenger, and Instagram. Facebook ads allow you to zero in on an audience that's located in and/or traveling to your city and specifically interested in activities related to the ones you're offering. You can boost your posts to reach more people, promote a post to drive traffic to your website, or promote your page specifically.
Use Page Insights to optimize your ad targeting. Facebook's Page Insights helps you better understand who makes up your audience and what posts drive the most engagement. You can delve into things like the interests and ages of your Page's audience as well as engagement metrics like the number of clicks on your call to action.
How to create a paid event on Facebook
Facebook events are accessible by anyone who looks for them. People can also share your event on their timelines, and others can join if they're interested. These events can boost your visibility on the platform, as well as engage your current audience members.
Creating an event on Facebook is easy. Here's a step-by-step breakdown of how to host your first Facebook event:

1. Go to your Page on Facebook.


2. Tap Events on the Page to begin creating your event. Click on Create new event.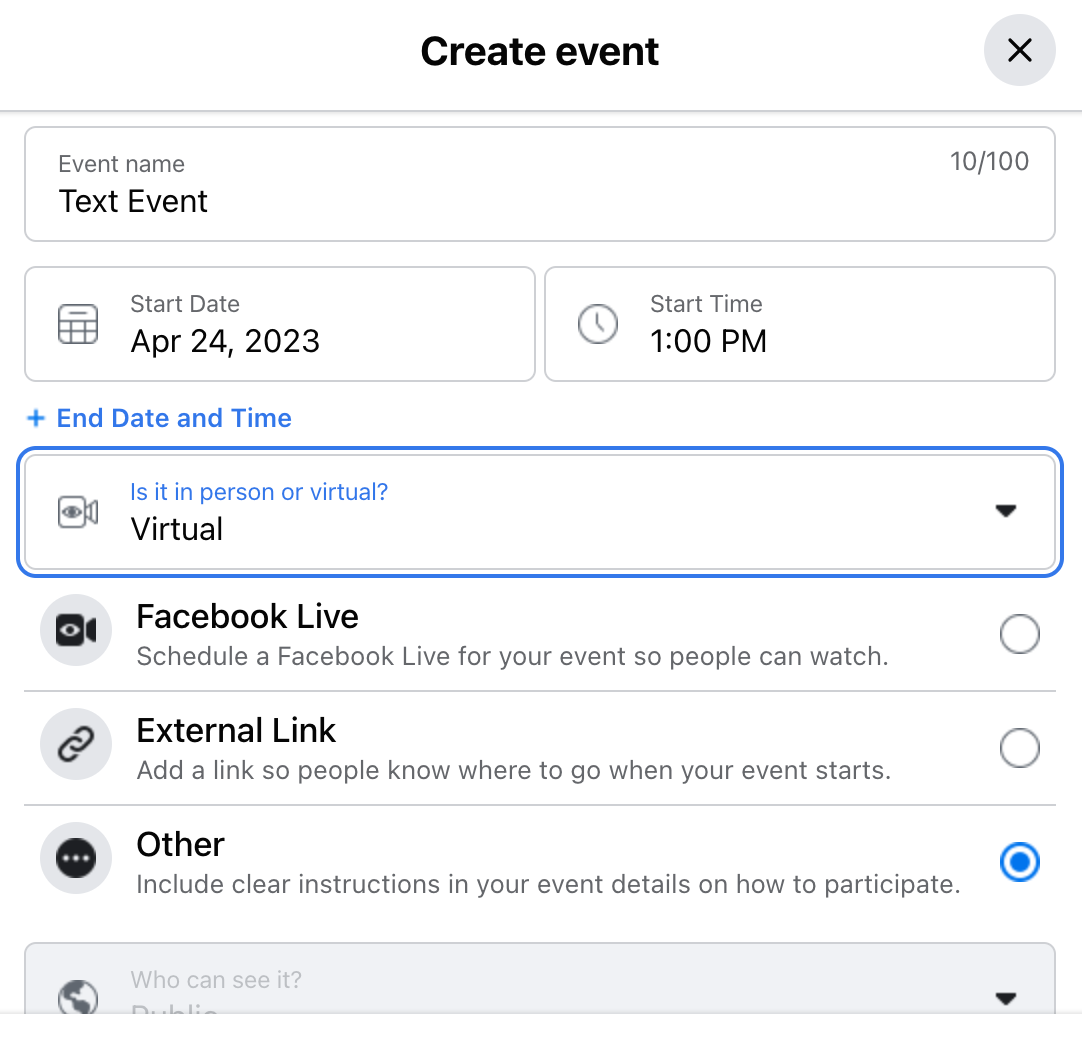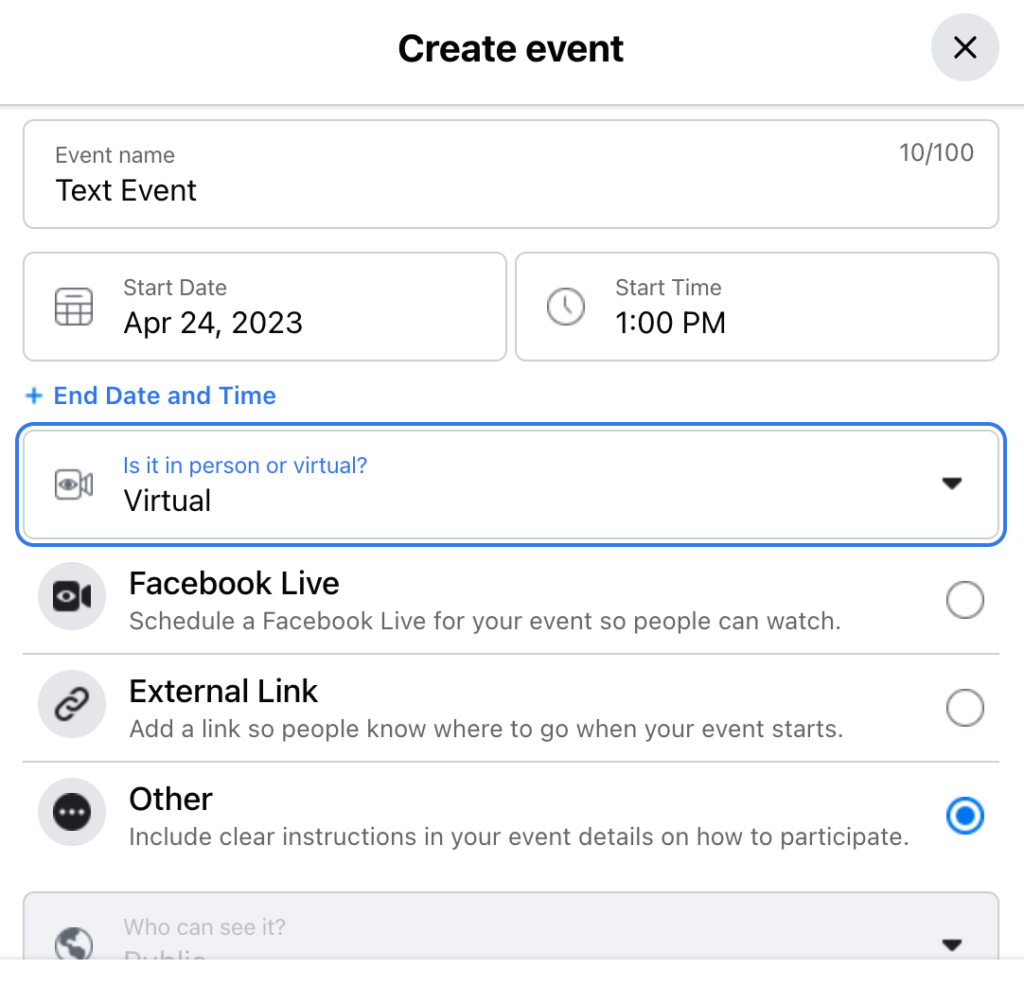 3. Give your event a name and set the date and time. Then, define whether it's an in-person or virtual event.
You can host all types of virtual events. In this case, you'll be prompted to choose between a Facebook Live, providing an external link to the virtual event, or including clear instructions on how guests can participate.
If it's an in-person event, you'll be prompted to add a location.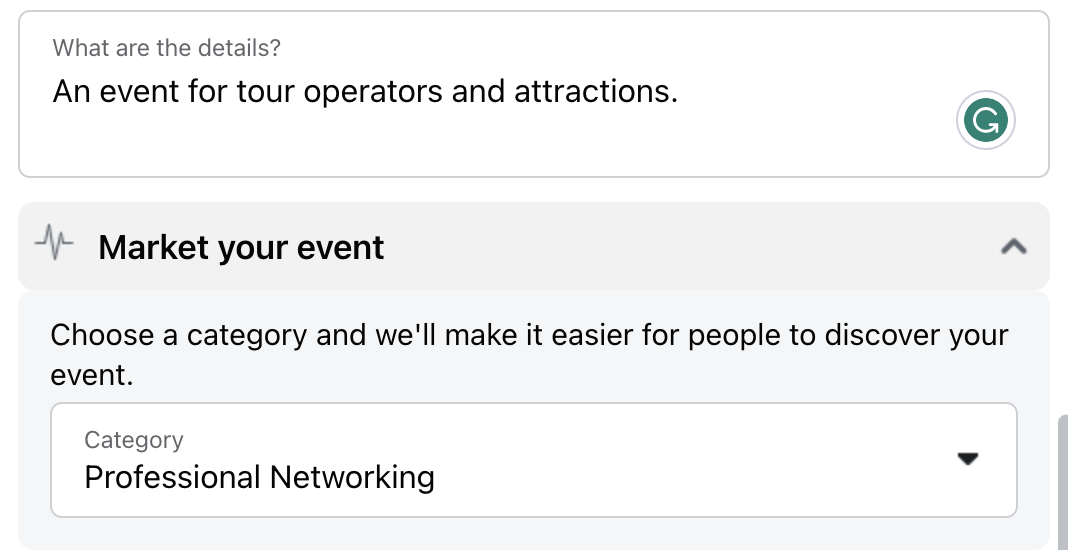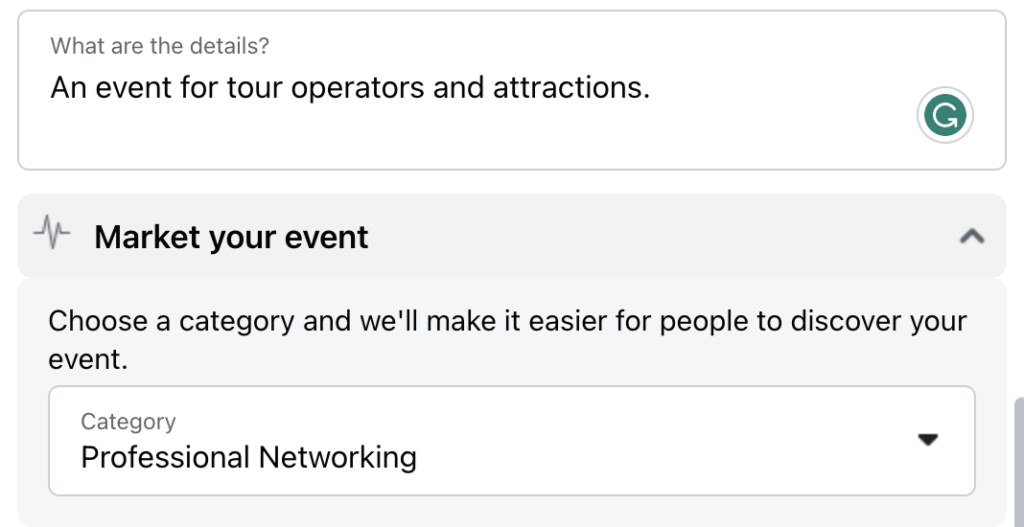 4. Write an event description and choose a relevant category. The category will make it easier for people to discover your event while browsing Facebook.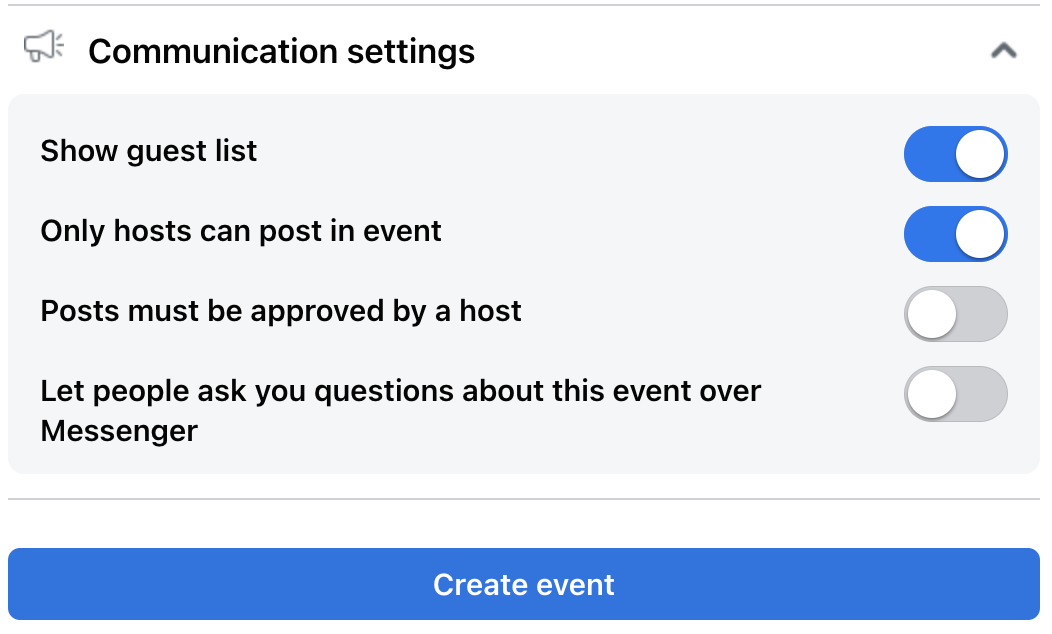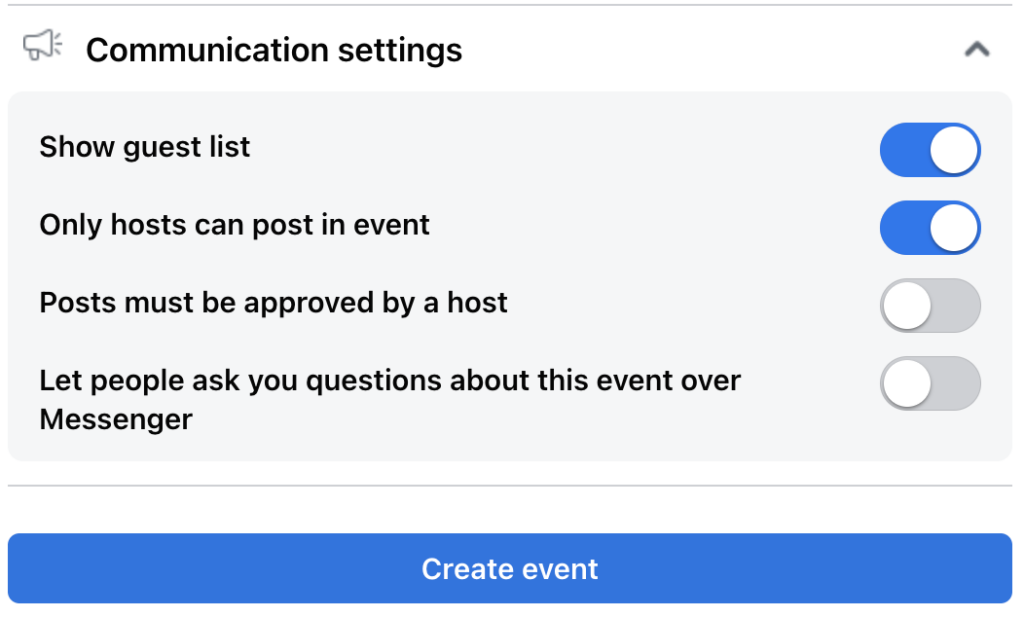 5. Next, you can choose to add co-hosts. You can also choose to repeat the event if it's a weekly or monthly situation. Finally, choose your communication settings, as shown in the image above.


6. Once you've created your event, you can invite up to 500 people directly on Facebook as well as grab an invite link to send to people outside of the platform.
Best practices for creating organic Facebook posts to drive more bookings
You don't need to pay for Facebook ads to drive more bookings. Organic Facebook posts can also reach your audience at the right place and at the right time. Use the following tips to create a successful strategy for your Facebook content:
Post new content consistently. Finding the right posting schedule will take some trial and error. When you post consistently, you'll be able to observe when and how your audience interacts with your posts. Then, tailor your post frequency to what gives you the greatest engagement.
Test out different post formats. Play around with written posts, images, and videos. Find out which post format appeals most to your audience and generates the most engagement.
Respond to comments in a timely fashion.The more you interact with your audience, the better they'll connect to your brand.
Share user-generated content. Encourage your audience to share their photos and videos with you. Then, repost this content to highlight their experience. Not only will you be shining a spotlight on a happy customer — which will generate engagement from the customer featured — but you'll also be showing future customers what to expect.
Monitor and track your social media activity. Identify the top 1-3 metrics that you care about and track them weekly or monthly. Over time, you'll be able to identify patterns and trends that can be used to improve your content strategy.
Best practices for creating paid Facebook ad campaigns to drive more bookings
Facebook is one of the best platforms for tour and activity operators to promote their businesses. Facebook ads allow operators to target specific groups of people, making it easier to reach their ideal customer base. That being said, here are five best practices that will help you drive more bookings through Facebook ads:
Highlight what makes your tours or activities unique. Think about the specific characteristics that set your tours or activities apart from your competitors. Make sure to highlight this in your ads, especially through high-quality photos and videos.
Target the right audience. Facebook allows you to target a very specific audience based on location, age, gender, interests, and behavior. Narrowing down your audience — such as specifically targeting people who are traveling to your location — increases the likelihood of your ads reaching the right people at the right time.
Have a clear call to action. Encourage the viewer to take action, whether that be to visit your website to learn more or book a new tour or activity.
Split-test your ad copy and creatives. Test different content forms like photos and videos to see what resonates most with your audience. When you find an ad format that works, replicate it for different campaigns.
Try retargeting. Retargeting ads reach people who are already familiar with your brand. For example, your ads might be shown to people who have already visited your website or liked your Facebook page.
Install Meta's ad tracking pixel. Meta Pixel (formerly called Facebook Pixel) is a snippet of code that can help you track your customers' journey between Facebook, Instagram, and your website. Learn how to create and install a pixel on your site here. It's worth noting that in 2021, Apple change its privacy rules, making it more difficult for Facebook and other marketers to track customer behavior.
***
Now that you've got your Facebook business profile up and running, it's easier to invite your audience to in-person and virtual events.