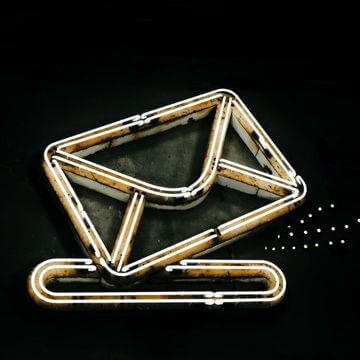 Whenever a guest makes a booking on your website, they're expecting to receive a booking confirmation email within minutes of purchasing.
When your tour company or attraction begins receiving a high level of bookings, manually sending a confirmation email to each and every guest becomes inefficient.
A booking software like Xola can put this process on autopilot: Every time a new booking comes in through your website, the guest will instantly receive their confirmation email.
In this post, you'll learn how to send a booking confirmation to all of your guests through your booking software.
What is a booking confirmation email?
A booking confirmation email notifies customers that their order has been processed. When a guest makes a booking on your website, they'll be expecting to receive an order confirmation email. This email ensures the booking was successful.
Booking confirmation emails often include relevant information about the guest's reservation, such as the date and time of the experience; the customer's payment details; your cancellation policy; the suggested arrival time; and more.
How many booking-related emails should you send?
Email is the primary form of communication between you and your guests, especially the ones that book through your website. Any time a reservation is updated, an email should be sent to guests to confirm or make them aware of the changes.
Let's take a look at the different booking-related emails you might send to your guests:
Booking request: If you manually accept your bookings, then guests will receive a booking request email after they make a booking on your website. The email will let them know that their booking request has been received. It should give them an idea of when to expect a confirmation. You can also clarify that their credit card won't be charged until the booking is processed. When you accept the booking, they'll receive a confirmation email.
Booking confirmation: The confirmation email is sent once a booking is officially made and/or approved. The email will contain all of the booking information including the time and date of the experience, a transaction breakdown, and customer details.
Updated booking: When you modify a booking, you can send your customer an email informing them of the changes. The subject line of the email should let guests know that their reservation has changed: "Your booking has been updated." This will encourage them to open the email and check on the changes.
Booking cancellation: If you or a guest cancel a booking, they should receive an email confirming the cancellation. The email should also confirm any applicable refunds or explain how guests can go about receiving one.
Booking reminder emails: A reminder email can be sent to guests a day or two before their experience. This email should remind them of the time and date of their booking as well as provide helpful information to make the most out of their visit.
How do you send a booking confirmation email?
The most efficient way to send your booking confirmation emails is through a booking software like Xola.
Xola will send booking-related emails or SMS messages automatically to your guests. You can customize when you want guests to receive a specific email, as well as define what triggers the email to be sent.
If you need to send a message manually, you can do that through your booking software, too. In a few clicks, you can message your entire event guest roster in one go, or even message an individual customer.
What should you include in your confirmation email?
Your confirmation emails should provide guests with all of the information they need to have the best time possible. Here's a breakdown of what to include in yours:
A relevant subject line. Your guest should understand the intention of the email before opening it. For example, your subject line could be, "Yay! Your booking has been confirmed!"
A thank you message. Tell your guest you appreciate their business. Thank them for choosing to book with your company over all the other options they likely came across.
Booking details. The email should confirm the reservation details, making it easy for guests to find all of the relevant booking information in one place.

Time and date of the experience
Customer details
Payment information
Transaction breakdown
Meeting point and/or address to the venue

Cancellation and refund policy: Explain to guests your cancellation or refund policies. If there's a deadline to cancel a booking for free, make that date clear in the email.
Links to your social media profiles: Encourage guests to connect with you further on social media.
Contact information: List a phone number and/or email that guests can use to contact you.
Call-to-action: Encourage guests to take the next step, such as sign a digital waiver, complete a questionnaire, or purchase an add-on for their experience.
What's the difference between an order confirmation and a booking confirmation email?
The key difference between order confirmation and a booking confirmation is that one comes after the purchase of a product, while the other confirms a reservation.
When a customer purchases a product, such as a new toaster, they'll receive a transactional email confirming their purchase. The email will list the product details, payment details, and shipping details.
A booking confirmation, on the other hand, is sent once a customer books a flight, hotel, restaurant, tour, or activity.
Both emails accomplish the same goal: To inform the customer that the transaction was successful and provide them with their order/booking details.
Booking confirmation email template examples
Let's take a look at a couple of confirmation email templates for tour/activity operators and attractions. Feel free to use these templates as your own.
Tour confirmation email template:
Subject: Your booking has been confirmed!
Email: Hi [Guest Name],
We are happy to inform you that your booking for [tour name] is confirmed!
Date: [date-time]
Time: [start time-end time]
Recommended arrival time: [time]
Customer details:
[Name]
[Email]
[Phone number]
[Party size]
Payment details:
[Transaction breakdown]
Meeting location:
[Address]
Contact info:
[Your company contact information]
Cancellation policy:
[Your cancellation and refund policy]
We can't wait to see you!
[Tour guide or operator name]
Attraction confirmation email template:
Hi [Guest Name],
We are so excited to welcome you to [attraction name] on [date]. Please find your ticket information below and your tickets attached to this email. Please keep this email handy when you arrive for your visit.
Customer details:
[Name]
[Email]
[Phone number]
[Party size]
Payment details:
[Transaction breakdown]
Attraction location:
[Address]
[Map]
Parking information:
[Directions & other relevant details]
Contact info:
[Your company contact information]
Cancellation policy:
[Your cancellation and refund policy]
We can't wait to see you!
The team at [attraction]
5 booking confirmation and booking reminder emails that you can use
Here are a few real-life examples of booking confirmation and reminder emails from different tour operators around the world.
1. The Room Escape Room booking confirmation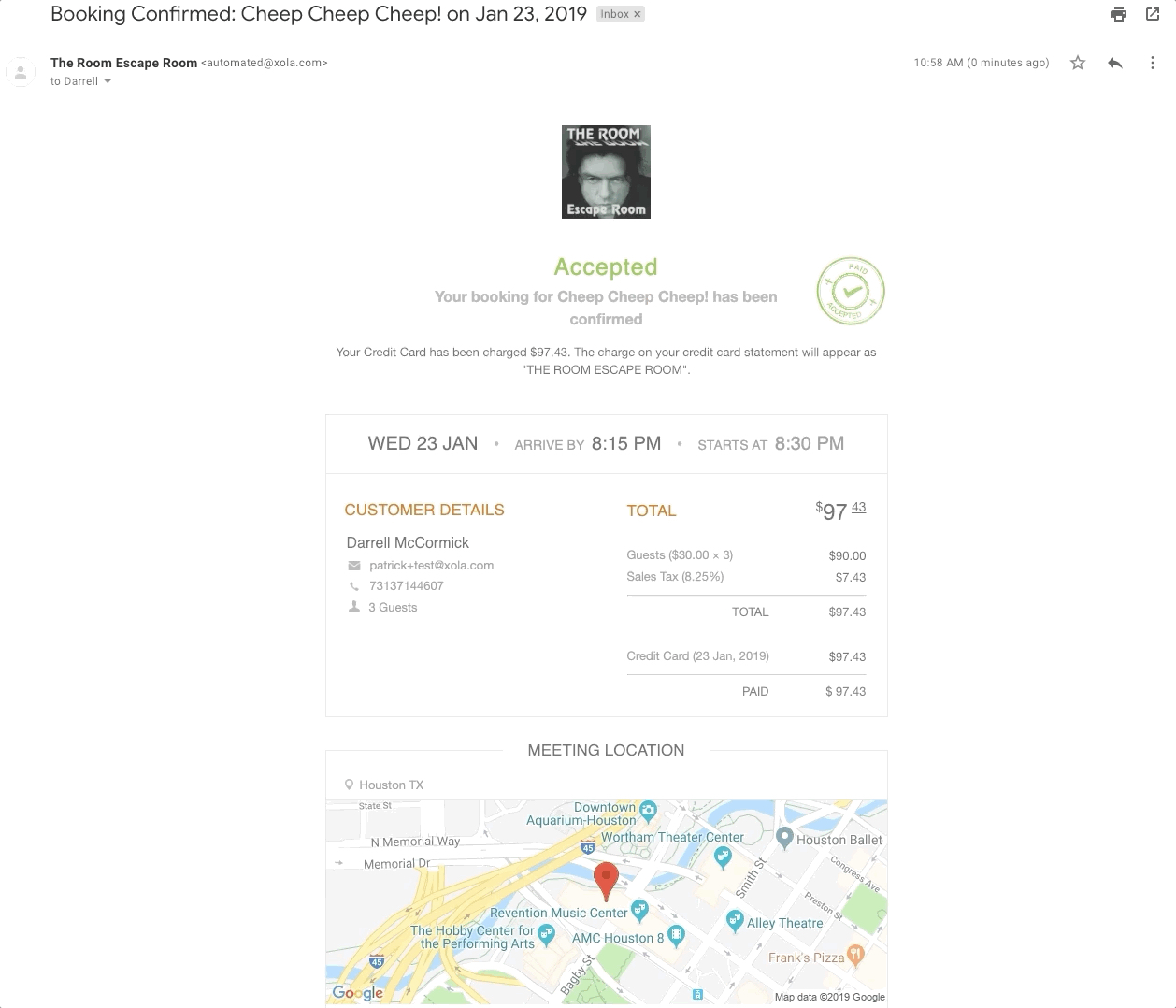 What The Room does well: The escape room operator uses a map to make the meeting location very clear for the guest. It also tells the guest to arrive by a certain time, even though the game starts 15 minutes later. This helps the guest arrive on time for the experience.
2. Voyagin booking reminder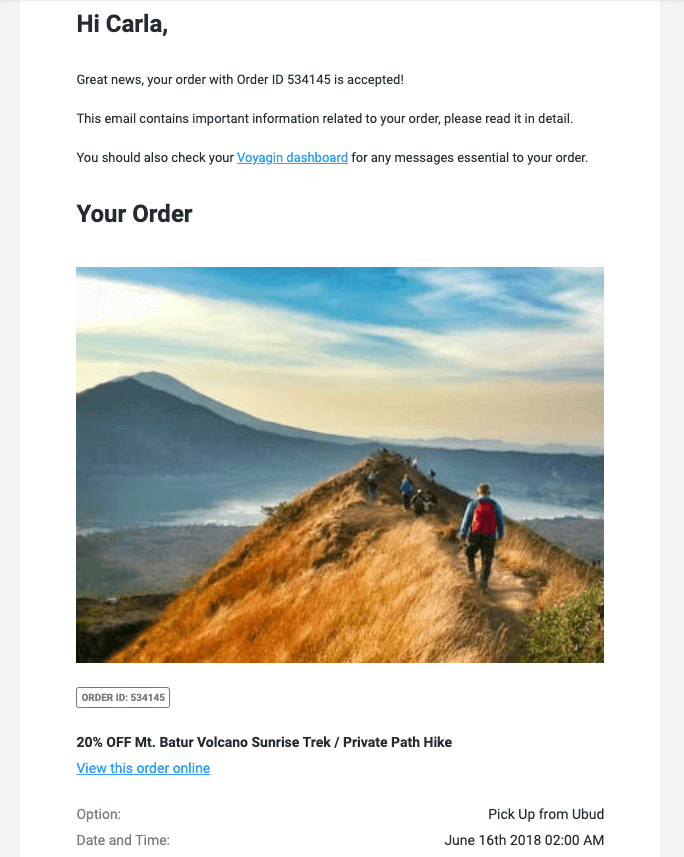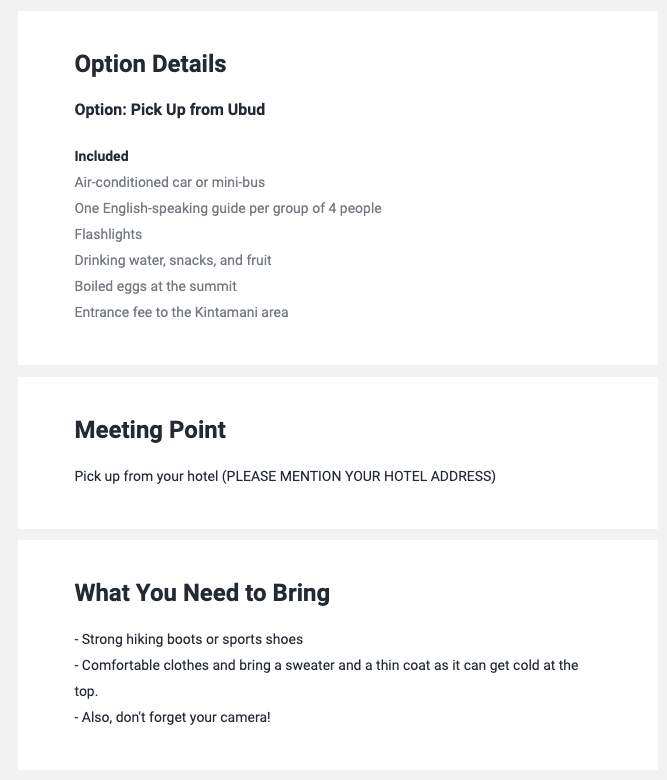 What Voyagin does well: The online booking platform sends a very detailed booking confirmation email that includes the name of the tour, date and time of the experience, pick-up information, meeting point, and cancellation policy. The email also includes a section titled "What to bring," which helps guests arrive better prepared for the hike.
3. Real City Tours booking confirmation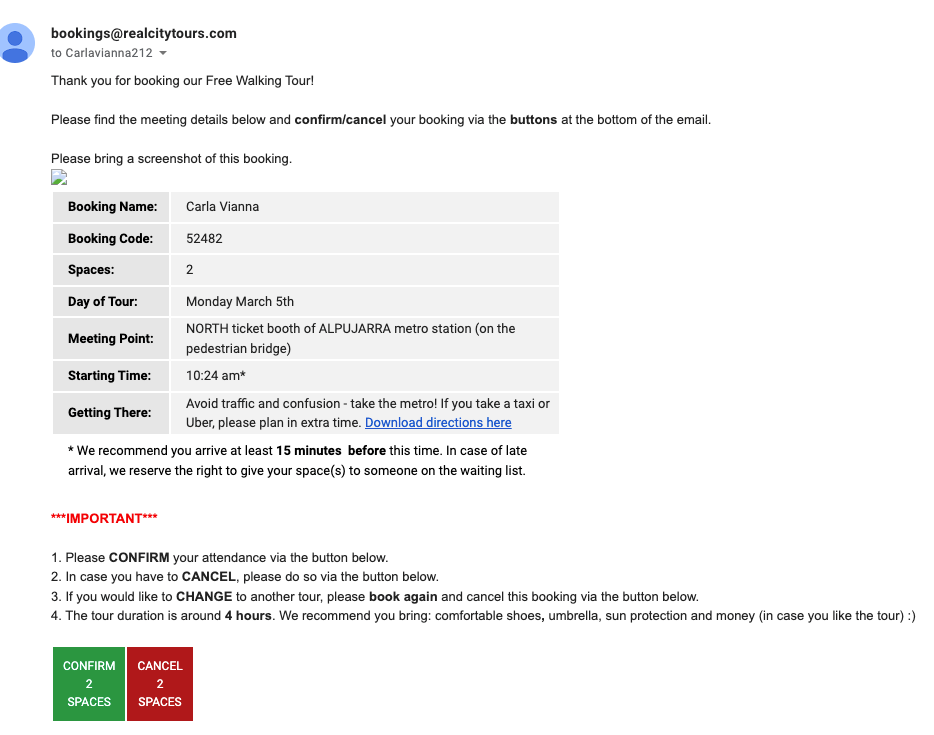 What Real City Tours does well: The tour operator allows the customer to easily confirm or cancel their booking by clicking a button in the email. This email also clearly lists important tour information like the meeting point, recommended arival time, and transit tips.
4. Laki Tours whale-watching tour confirmation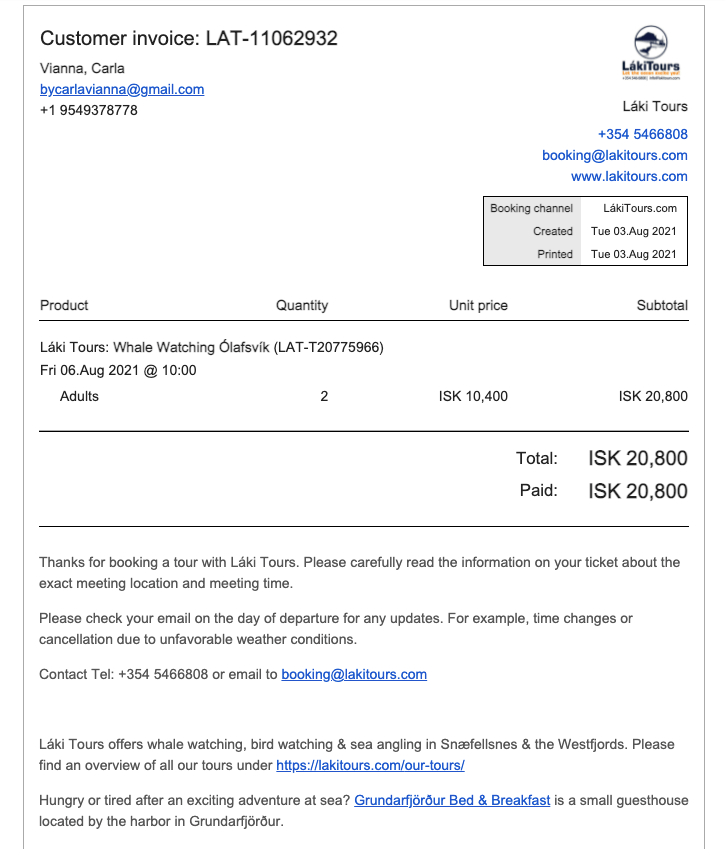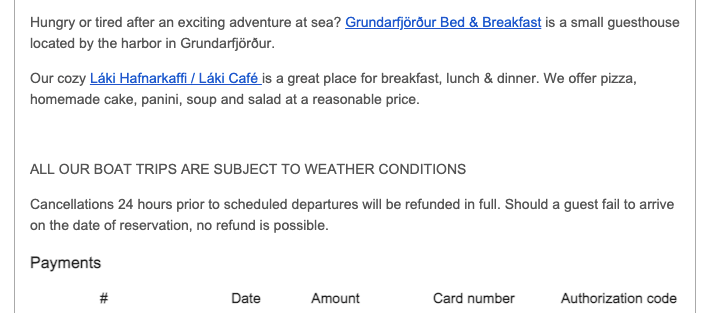 What Laki Tours does well: The tour operator thinks beyond the experience to share food recommendations for guests who are hungry after the tour. This shows guests that the operator wants the guest to continue having a great time even after the whale-watching tour.
5. Alice in Wonderland booking reminder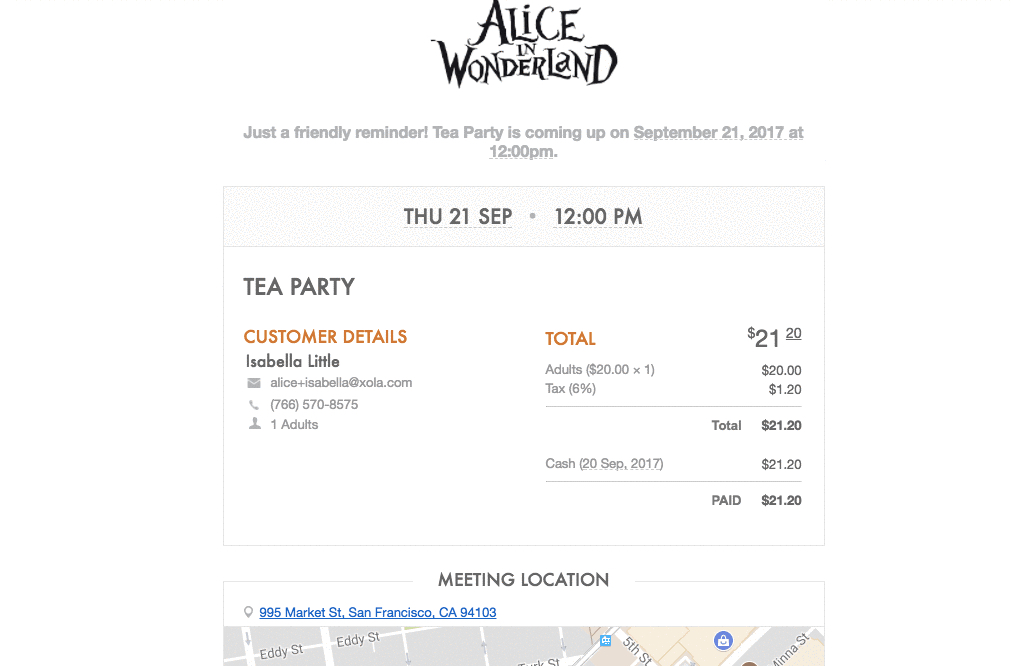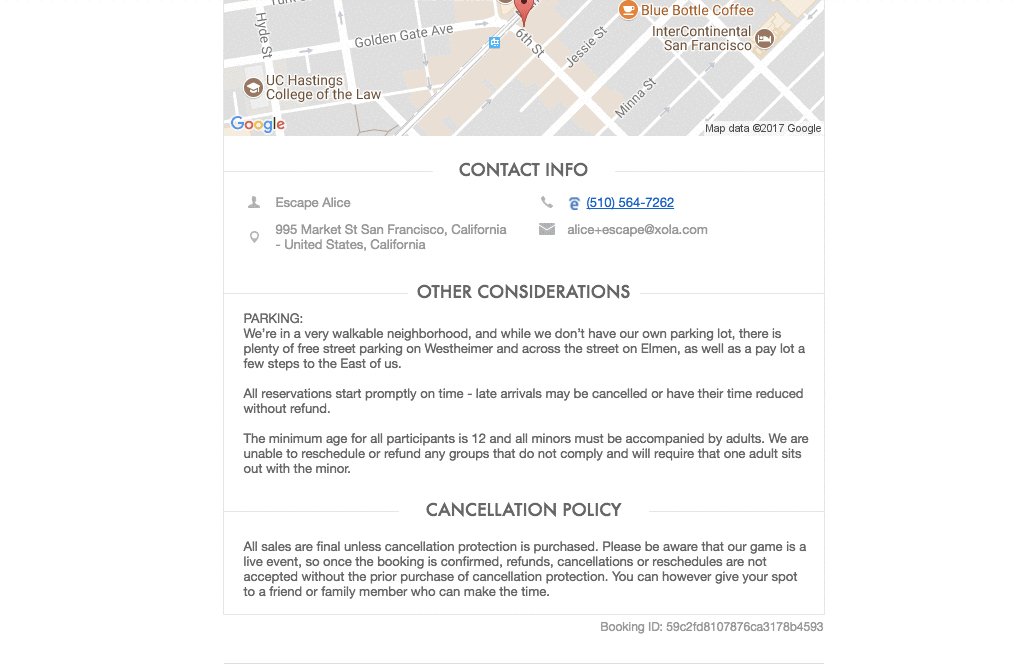 What Alice in Wonderland does well: The escape room operator adds a section called "Other Considerations" to provide the guest with helpful information about their visit, including parking tips.
How to send automated booking confirmation emails in Xola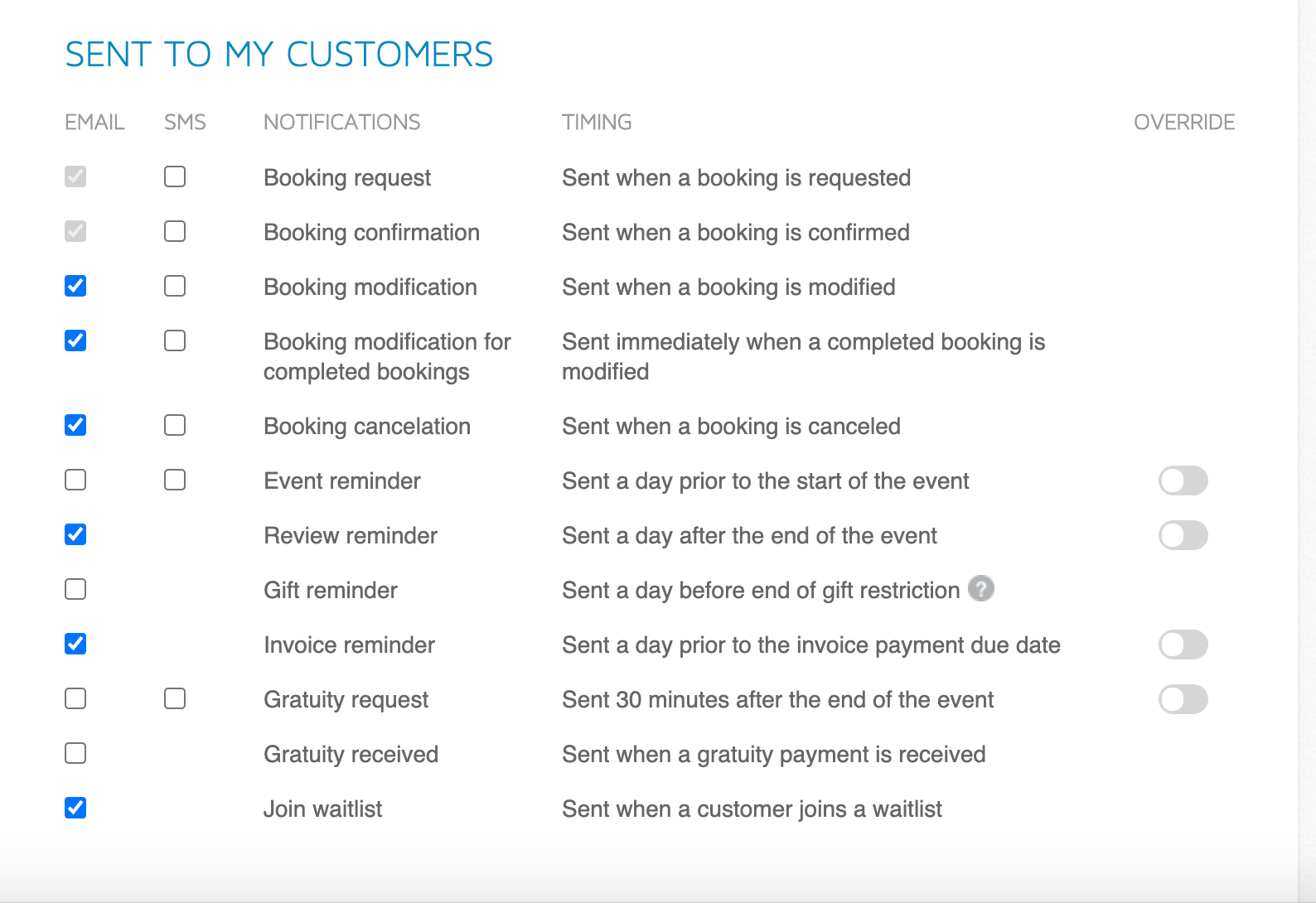 When you create your first tour listing in Xola, your email communications will be automatically set up.
You can further configure your email and SMS communications in "Settings."
There you'll find the "Sent to My Customers" section, where you can check the boxes for confirmations and notifications that you would like to send to your customers. As you can see in the image above, the booking request and confirmation boxes are already checked for you.
You can also check the "Timing" that each email will be sent. For example, Xola automatically sends the booking confirmation email as soon as the reservation is confirmed.
Once you're signed up with Xola, it's really that easy.
***
You should now have a better idea of how to set up a booking confirmation email, along with why you need one.
When you invest in a booking software made for tour companies and attractions like yours, you'll never have to worry about manually sending your confirmation emails. Instead, you'll have more time to focus on running your business and bringing future guests in.