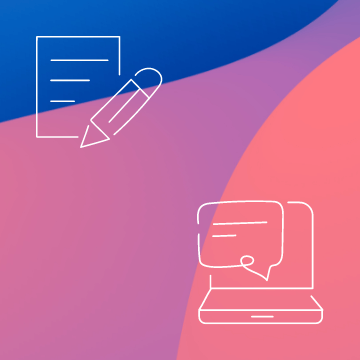 Every tour and attraction operator wants to make the booking process as easy and seamless as possible for their guests.
An easy-to-navigate website and quick checkout are essential to converting users to paying guests on your website. So how to set up online booking on your website?
The first step is to have an online booking form that can collect guest information. There are a few ways to set up a booking form, including DIY form creators and booking software.
In this post, we'll explore the importance of an online booking form and how to best create one for your tour or attraction business.
What is an online booking form?
How much does it cost to create an online booking form?
What's the difference between an online booking form vs. booking software?
5 examples of online booking forms on websites
What is an online booking form?
An online booking form is the easiest way for guests to book tours or purchase tickets for your attraction online. The form collects guest information like name, email, and payment information. It also defines the date and time of the experience and/or visit.
Booking forms are typically embedded on your website's tour or ticket pages and can be accessed via a "Book Now" button. The best way to integrate a booking form on your website is through booking software, which will store guest information, update your booking availability, and process payments for you.
Why do you need one?
A booking form allows guests to quickly book an experience or purchase a ticket directly on your website, rather than through a third-party reseller. Here are the top four reasons why every tour and attraction operator should have a booking form on their website:
Direct bookings: A booking form is the easiest way for guests to book an experience on your website. It's always a good idea to promote direct bookings through your website instead of relying solely on third-party resellers like Online Travel Agencies. Direct bookings allow you to have direct communication with your guests, build brand recognition, and continue the relationship long after their visit.
Guest information: A booking form stores guests' personal information like name, email, and phone number. Without one, you'd have to collect this information in person or through a third-party reseller. The first option would take a lot of time and complicate the guest check-in process. The second means you won't have direct access to your guest information, which complicates the communication between your company and its customers.
Streamlining processes: The main purpose of a booking form is to streamline the online booking process. Your booking form will be connected to your booking software so that once a guest books and pays for a tour, they'll receive a confirmation email right away. Meanwhile, your software will automatically update tour or ticket availability on your website.
Online payments: With booking software, your guests can securely pay for their tour or attraction ticket on your website. You can then safely store guests' credit card information to enforce your cancellation or no-show policies.
How much does it cost to create an online booking form?
There are a few different ways you can embed a booking form on your website. The most practical and efficient method is to invest in booking software, such as Xola.
Once you sign up with Xola, a booking form will be embedded onto the right pages of your website. The form is a part of the services provided by your booking software, so there's no additional cost for website integration.
If you're not ready to invest in booking software just yet, you can try a free online booking form. These DIY booking forms can be a temporary solution for new tour companies or attractions:
Google Forms
Google Calendar/Google Sheets
WPForms plugin for WordPress
Typeform (The free version that allows you to receive up to 10 responses per month)
Jotform (The free version allows you to create five forms and receive 100 submissions per month)
What's the difference between an online booking form vs. booking software?
Online booking forms and online booking software go hand-in-hand. However, there's a clear distinction between them.
The form used to gather information from your guests and make online booking possible can exist on its own. It's possible to create a booking form for your website without booking software. As previously above, the most popular DIY booking forms are Google Forms, the WPForms plugin, Typeform, and Jotform.
These are standalone forms that can collect guest information. The sole purpose of a DIY booking form is to allow guests to request a booking on your website. Most don't come with additional capabilities, such as payment processing or email notifications. The rest of the booking process will need to be managed manually.
What booking software does is automate the entire process for you. When your booking form is connected to software, guests can book and pay for their reservation on your website. An automated confirmation email is sent to them soon after their transaction is processed.
When a guest makes a booking, your booking software works in the background to update all of your listings. It keeps track of your tour or ticket availability and reflects that back onto your website to avoid overbookings.
Those are just a few of the pros of investing in booking software. Let's further explore the benefits and downfalls of choosing either booking solution.
Pros of DIY booking forms
Low-cost booking solution for new tour and attraction operators.
Great temporary option for operators that want to learn about their booking needs before investing in the right software.
They make it possible for guests to book through your website.
Cons of DIY booking forms
There's no automation. You have to manually manage the booking process from start to finish, including payments, scheduling, and confirmation emails.
Most don't offer payment processing. You'll need to find a payment processing solution that's secure enough to store guest credit card information.
No scheduling features. You'll need to manage your tour guide schedules carefully to avoid overbookings.
There's the risk of overbooking. You'll be managing your tour availability without the help of software. When your bookings start to increase, overbookings are more prone to happen.
Pros of booking software
Everything is automated, from the confirmation email to the updated tour availability shown on your website.
Your booking form seamlessly integrates with your booking platform so that every booking made is recorded in real-time.
Secure payment processing so that your guests can pay for their tours directly on your website. You can securely store their credit card information to enforce cancellation or no-show fees.
Access to revenue data like P&L Statements and more.
Easily manage your employee schedules based on your booking volume.
Provide guests with a quick and seamless online checkout that makes them feel good about your customer experience right off the bat.
Cons of booking software
It requires an investment, and new companies may not be ready to take that leap just yet.
5 examples of online booking forms on websites
Let's take a look at a few examples of online booking forms, including one created with Google Forms and four offered by Xola.
A simple Google Forms booking form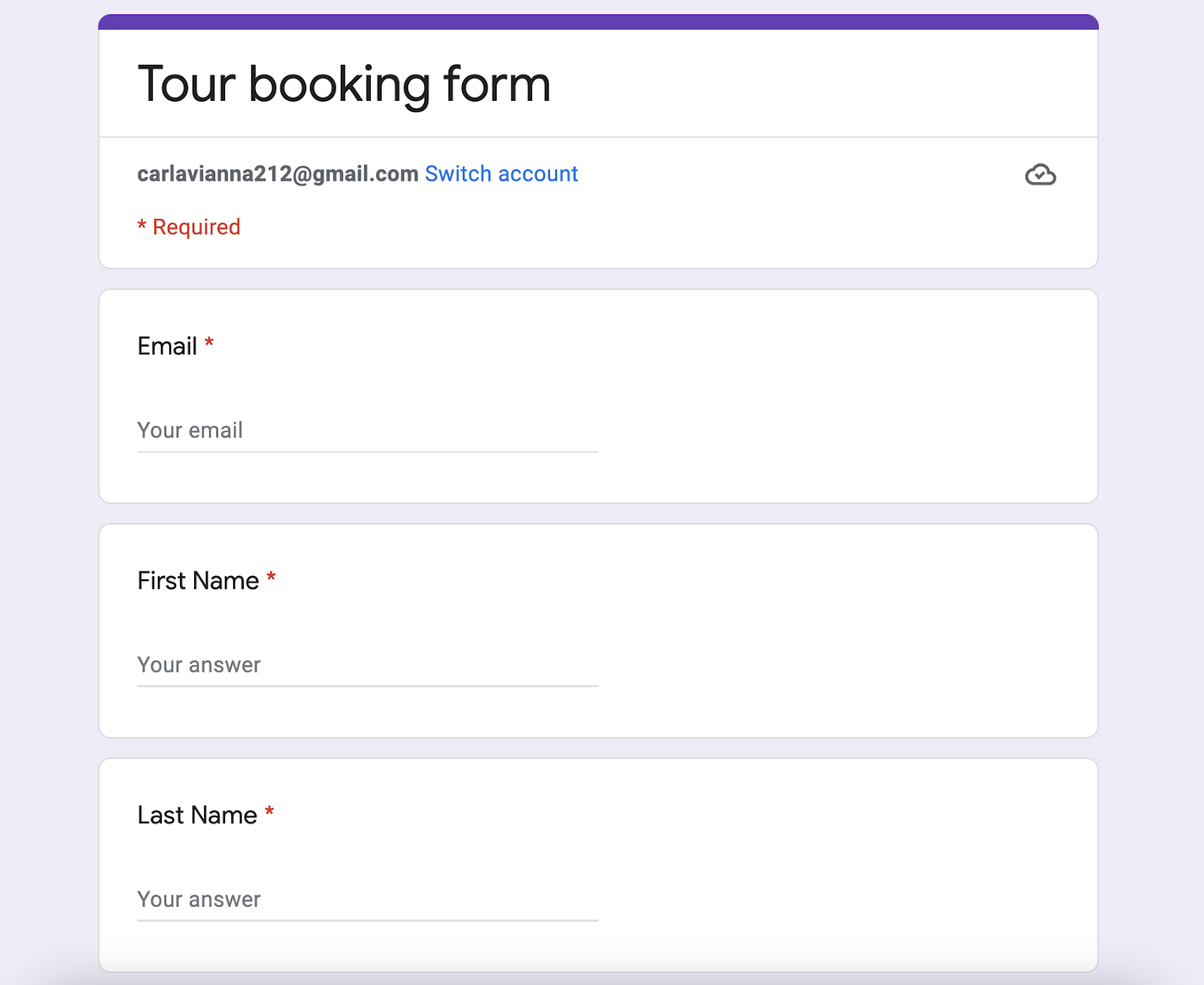 Google Forms are simple booking forms used to collect information from your guests, including the date and time of their desired booking. To complete the booking, you need to reach out to the guest to confirm their reservation and process their payment. This might make sense for a super small or new operator with only a handful of bookings a year. Yet once you start driving more bookings through your website, you'll need a more efficient solution.
Cycle Pub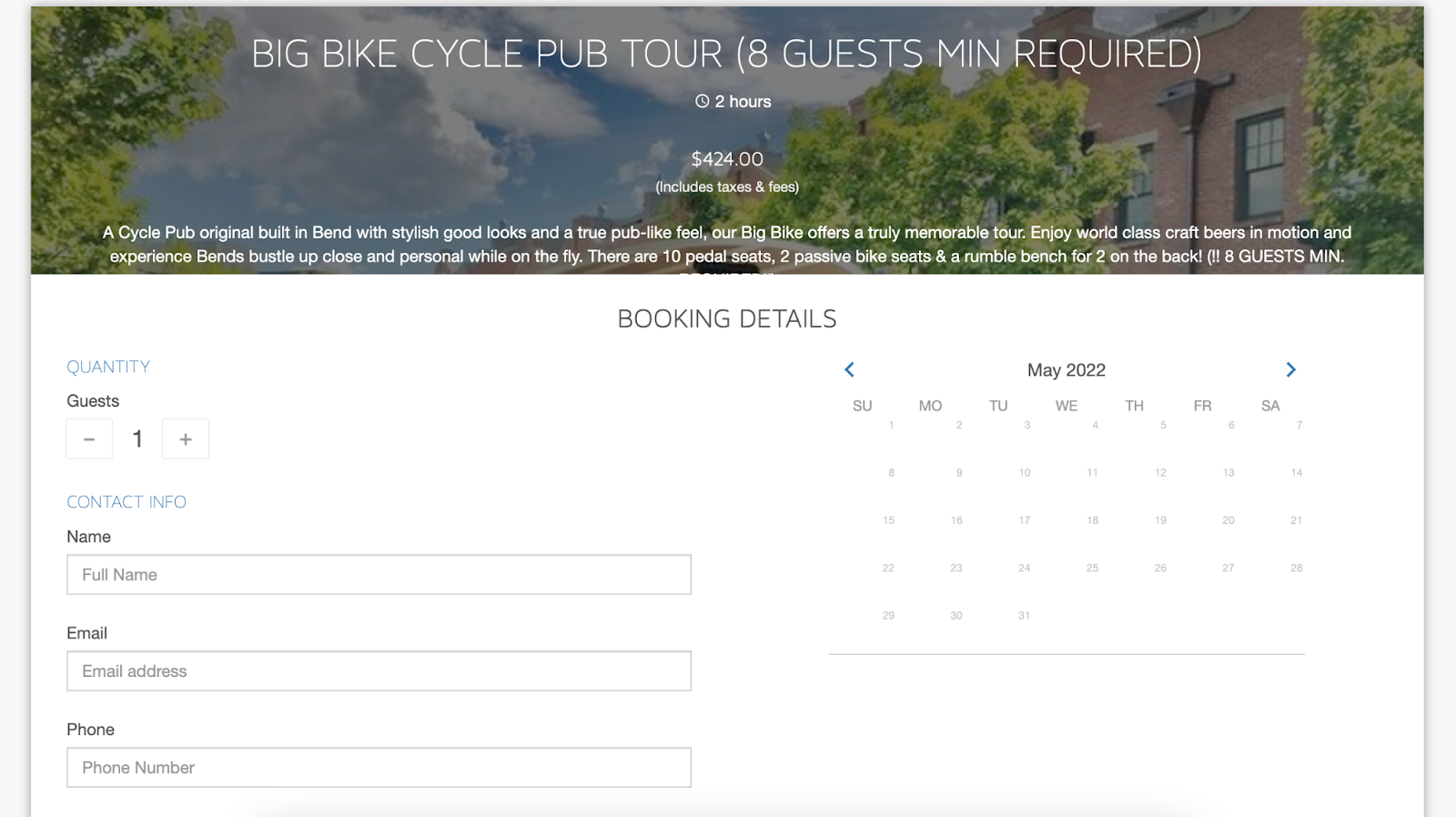 Above you'll see what Xola's booking form looks like. Cycle Pub uses Xola for all of its online booking needs. The booking form allows guests to define how many people are in their party, choose a date and time, and fill in their contact information.
This information is stored and organized within the Xola dashboard so that the operator can stay on top of new bookings and easily share them with the tour guides.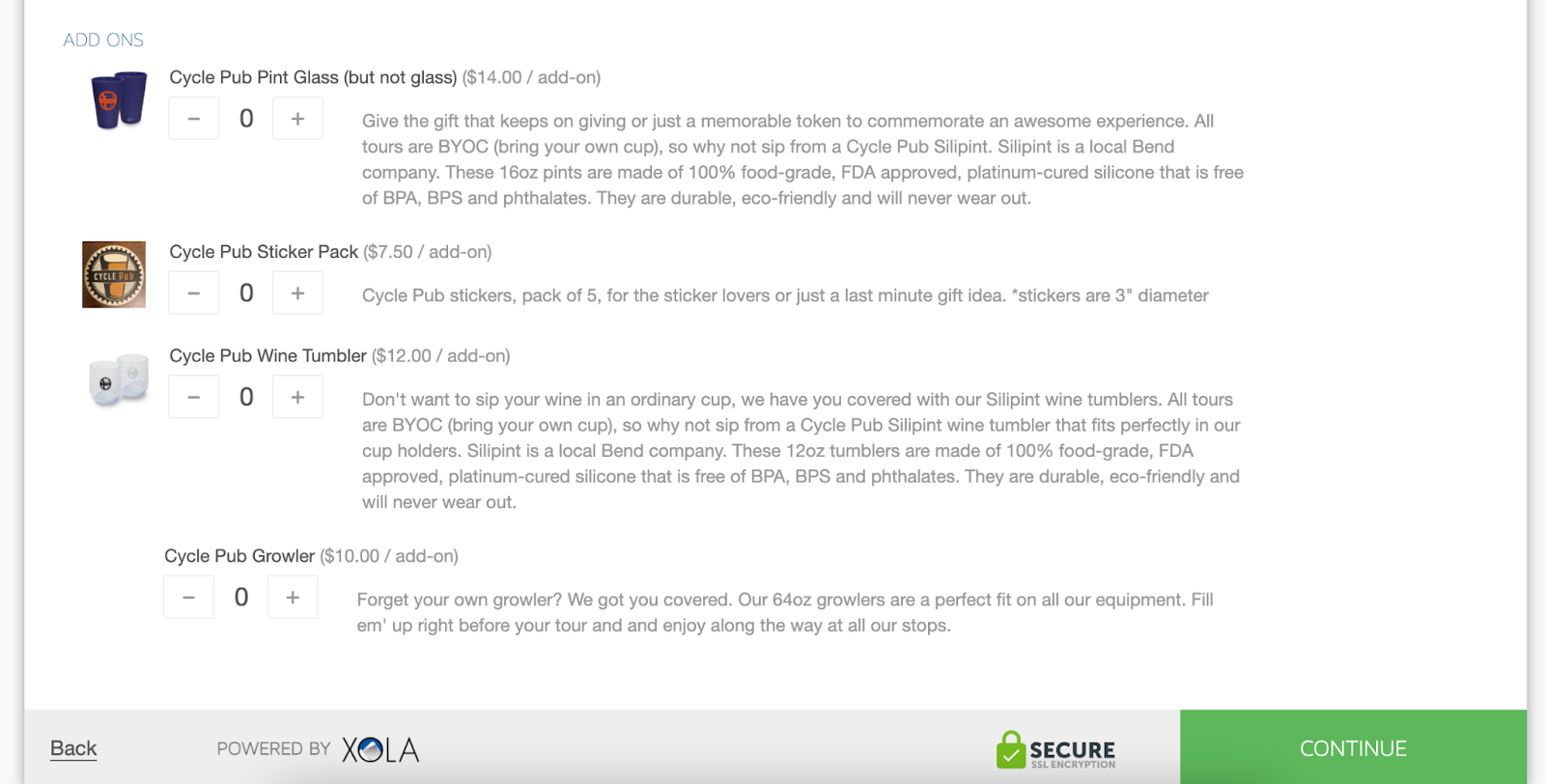 Additionally, this booking form allows guests to add merchandise to their orders. Guests can purchase a pint glass, sticker pack, wine tumbler, or growler along with their original booking, which helps boost the operator's average order value.
HeliNY

The booking form for HeliNY is also powered by Xola. As you can see above, the form allows guests to choose a shared or private helicopter tour. This gives the operator additional flexibility to be able to offer different types of tours at separate price points.
This is a great example of a company that found a booking form that best suited its needs. Without the possibility to offer different types of tours, the operator would be limited to selling one or the other.
Escape Rooms Mesa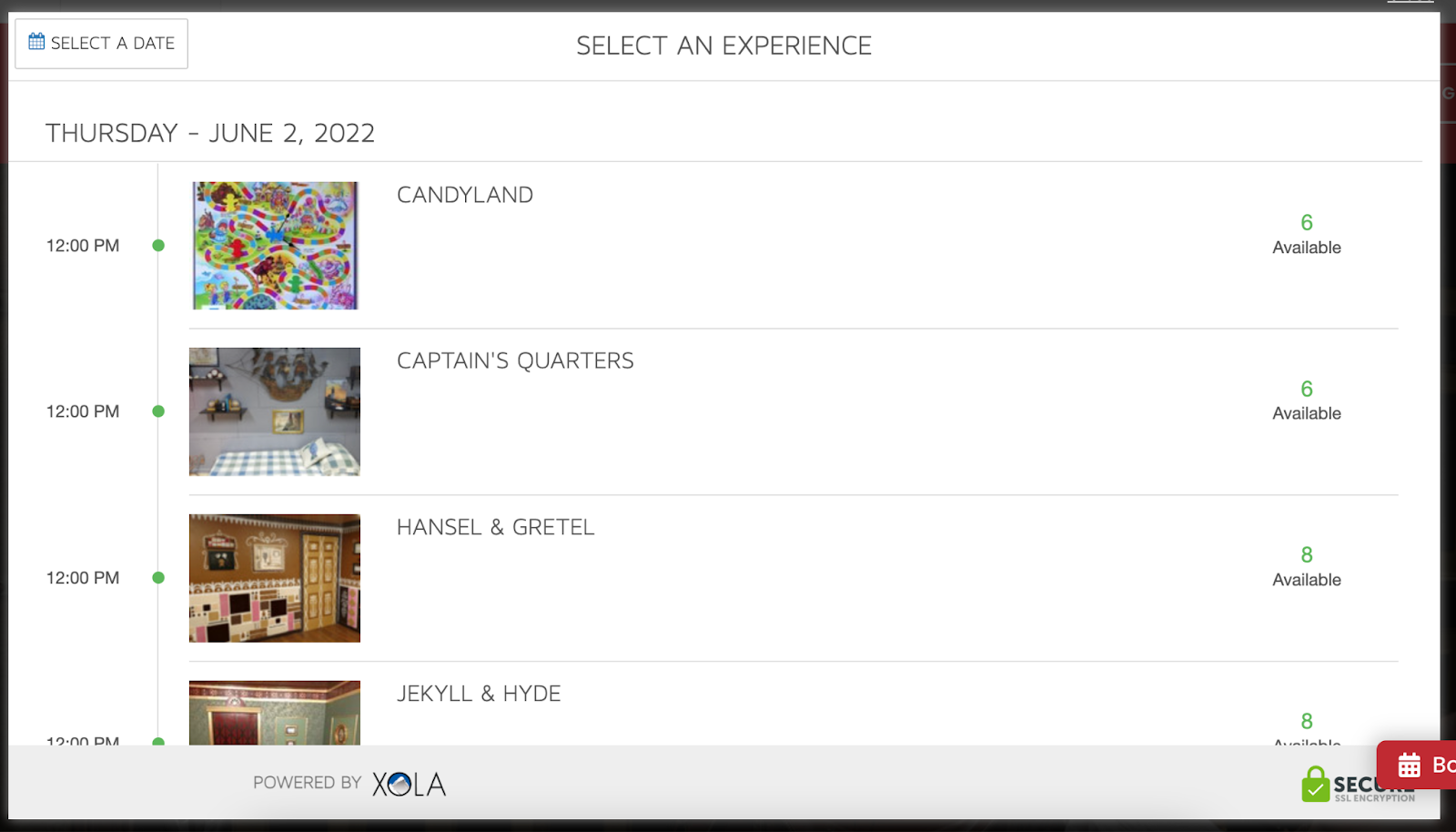 Xola's clean and easy-to-use booking form works for attractions, too. Escape Rooms Mesa uses Xola to offer guests a separate booking form for each of its many escape games. That way, guests can specifically check the availability for the game they're most interested in. As you can see in the photo above, the number of available spots is shown in green on the right.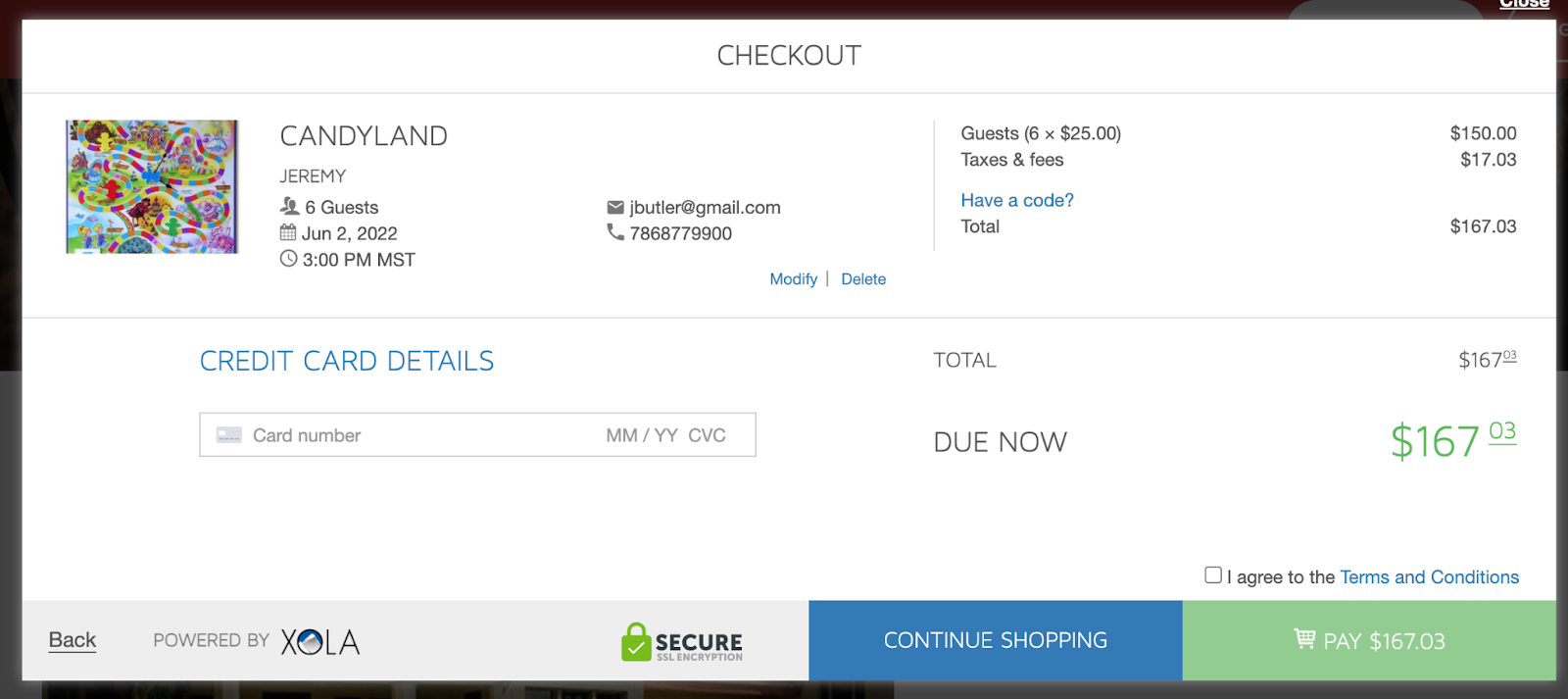 Once guests fill out their booking forms, they'll be taken to a checkout screen like the one shown above. Guests can pay for the experience by entering their credit card details, and Xola will securely process the payment. Once the booking is made, the guest will receive a confirmation email with their payment and booking details.
Raise a Glass Wine Tours

When customers book a tour with Raise a Glass Wine Tours, they'll see all the relevant information about their tour on the booking form. The operator customizes Xola's booking form to display the tour title, duration, price, and description right at the top of the page, making it easy for the guest to see. The Xola-powered booking calendar also allows guests to check availability for the entire month to make the planning process easier.
***
A booking form is a necessary component for every tour or attraction website. The form is the easiest way for guests to book their experiences online, and therefore drives more direct bookings.
Small tour and attraction operators may start with a DIY booking form. Eventually, however, you'll want to upgrade to a more well-rounded software that can accommodate a higher volume of bookings as your company grows.