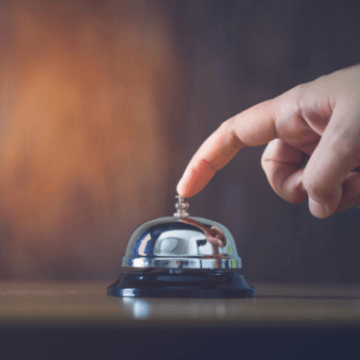 Online ratings and reviews have become one of the most important factors impacting online purchases, including travel bookings, ranking above price, and personal recommendations.
Over 90% of consumers say reviews are at the top of their list of considerations — making it critically important for attractions to receive online feedback from guests. Positive reviews provide social proof to future customers. They'll be more likely to purchase tickets to your attraction after seeing others rave about it.
Reviews can also help attract more people to your website through Search Engine Optimization. Every keyword used by a guest who reviews your attraction has the potential to rank on a search engine. In fact, companies that have 50 or more reviews rank better on Google and have a much higher click-through rate than those with no reviews.
This is all to say that reviews can be a powerful marketing tool to reel in more ticket purchases for your attraction.
Did you know that the most effective way to start gathering reviews online is to request them? In this post, we'll learn how to write a guest review email that encourages your guests to give you feedback about their visit.
How to write an email asking for guest reviews
If your attraction has little to no reviews online, sending a guest review email is a great place to start.
When it comes to asking for reviews, you want to make your email as personal as possible. Referring to the guest by their first name is key. The email should also be friendly and warm so that the guest doesn't feel like they're talking to a faceless company.
Here are additional tips for writing guest review request emails:
Keep it short and simple. Thank guests for their visit before asking them to take a few minutes to give you some feedback.
Include a link to a customer survey or a review page like Google, Facebook, or TripAdvisor so that the guest can easily click through to it from the email.
Consider the following questions to gauge customer satisfaction: How would your rate your experience? What's the primary reason for your rating? Is there anything you feel we could've done to make your visit better?
Use a Net Promoter Score (NPS) survey to gauge customer loyalty. You can find this by asking, "On a scale of 1 to 10, how likely are you to recommend this experience to a friend or colleague?"
Customer Satisfaction (CSAT) surveys can be used to find out whether you're meeting guest expectations. The survey would ask guests to rank the level of their satisfaction from "extremely satisfied" to "extremely dissatisfied."
If you receive negative feedback, your company should respond immediately to better understand what went wrong. This shows guests that you value their opinions and are making a visible effort to improve their experience.
Here's an example of what a guest review request email should look like:
Hi (Guest's First Name),
Thank you for visiting (Business Name). We hope your experience with us was one to remember. In fact, we'd love to hear more about it! Your feedback means a lot to us, and it can help us continually improve our experience. Would you be willing to take a few minutes to leave us a review? You can quickly do so by clicking here (include a link to your website or review profile).
We appreciate your time and look forward to welcoming you to (Business Name) again!
How to write a text message/SMS asking for guest reviews
If you're not having much luck with an email, you can also try sending text messages asking for guest reviews.
Your guests have their smartphones on them 24/7, so it makes sense to try and reach them there. In fact, text messages are open rates are as high as 98%, compared to just 20% for emails, which means there's a greater chance of catching your guest's attention with a quick text.
When crafting a text asking for a review, you'll be limited in space and word count. Still, the same principles apply as when sending a guest review email.
You should personalize your message and keep it simple. Here's an example of a text you could send:
Hi (Guest's First Name),
Thanks for visiting! Help us better serve you and our future guests by leaving us a review: (Include a link to your preferred review page) We look forward to seeing you again soon.
When to send guest review emails and SMS messages for maximum impact
The best time to ask for customer feedback is immediately after their visit.
You want the experience to be fresh in their minds so that the excitement of their visit shows through in their reviews.
According to ReviewTrackers, the best time to ask for reviews is between noon and 7 p.m. More specifically, customers are most active on review platforms like Google between 2 p.m. and 3 p.m. or 6 p.m. and 7 p.m.
It's also perfectly acceptable to follow up with guests who haven't responded. Companies that send guest review emails two times several days apart have seen response rates improve by as much as 60%.
How to respond to negative Google, Facebook, and Yelp Reviews
Every now and then, a guest might have something negative to say about their experience at your attraction.
Rather than take negative reviews personally, attractions should use them as an opportunity to demonstrate their excellent customer service. You can do so by responding to the review in a helpful and polite manner.
Responding to both positive and negative reviews shows guests that you value their opinion. When guests see a business responding to each individual review, they'll understand that you take customer feedback seriously. This will make them more confident in purchasing tickets to visit.
Negative reviews are especially important to respond to. Here are five tips on how to respond to negative feedback on Google, Facebook, and Yelp:
Respond quickly before a lot of people see the negative comment. By the time they see it, they should also see your response mitigating the problem.
When responding, start by thanking the guest for sharing their valuable feedback.
Personalize the message to their particular situation.
Highlight what you're doing to fix the issue or improve future guest experiences.
End on a positive note by wishing the guest well and again thanking them for their feedback.
***
In conclusion, guest reviews are a powerful tool in building a reputable brand image and attracting future visitors online.
As you know, most guests won't leave a review on their own. When they're prompted by a friendly email or text message, however, they're much likelier to share their opinions with you.
Overall, asking for guest reviews is an effective way to build your company's online reputation. Start using these tips to begin reaching out to your guests via email or text message for reviews.