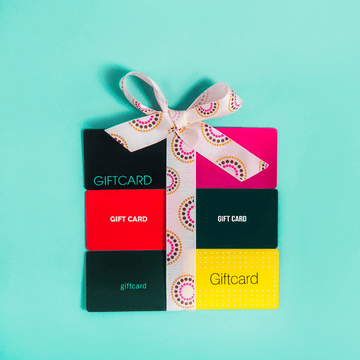 Is your tour company or attraction ready to benefit from gift card sales this year? Gift cards are one of the most popular purchases during the holidays.
In 2019, a study found that 76% of consumers preferred to spend money on experiences than on material items. As pandemic-related restrictions ease around the world, customers are prioritizing travel, tours, and activities more than ever. This also means that they're gifting these items to their loved ones.
Gift cards became a holiday staple during the pandemic, and the trend is likely to continue this year.
In this post, you'll learn how to manage gift card sales through your website — including how to create a gift card email template through Xola.
What's the difference between gift cards and store credit?
How to make a gift card certificate template in Xola?
Should you sell gift cards?
Selling gift cards does require a bit of back-end work. Once it's all set up though, you can sit back and let the sales roll in. If your company is still on the fence, let's take a look at the pros and cons of selling gift cards.
Pros of selling gift cards
It's another source of revenue: Gift card sales can cushion your bottom line and help ensure you have a profitable winter season when tour and activity operators typically receive fewer bookings. It's one of the most popular purchases during Black Friday, Cyber Monday, and Christmas.
Gift card sales are up: The pandemic lockdowns gave gift card sales a substantial boost throughout 2021. Sales are expected to continue their upward trajectory in 2022.
Loyal customers may use gift cards to support your company. During the pandemic, one of the only ways to make up for lost revenue was to sell gift cards. Even when customers couldn't visit their favorite local businesses, many chose to continue supporting them through gift card purchases.
Gift cards can bring you new customers. If a customer loved their experience enough to buy a gift card for someone else, they're going to put in a good word about your business. Whoever they give it to will become a new customer.
Even if the gift is never redeemed, you still get to keep the sale. The money lands in your account right after the purchase.
Cons of selling gift cards
It's more financially complex than a regular booking. You'll need some extra bookkeeping to keep track of gift card sales and outstanding liabilities until it's actually used.
You'll need a system in place to manage them. It can be difficult to track your gift card sales manually, especially when it comes to ensuring they're not being used more than once.
Your website will need to be able to process them. The easiest way is to invest in booking software like Xola, which can optimize your site for gift card sales and process them quickly through our simple checkout.
What's the difference between gift cards and store credit?
A gift card is a prepaid card purchased by customers with the intent of giving it to someone else. Gift cards are often offered to customers at the end of their visit to encourage them to give the experience to someone else.
While they can be sold year-round, most marketing efforts focus on the holiday season. Gift cards are one of the most popular presents to give during the holidays.
Store credit, on the hand, is typically issued to a customer when they return an item to a store. Instead of issuing them a refund, some retailers offer them a credit of the same monetary value, which the customer can use to buy something else.
Tour and activity operators might offer store credit if a customer had to cancel at the last minute for an unforeseen reason. Then, the customer can rebook their experience for another time.
How to make a gift card certificate template in Xola?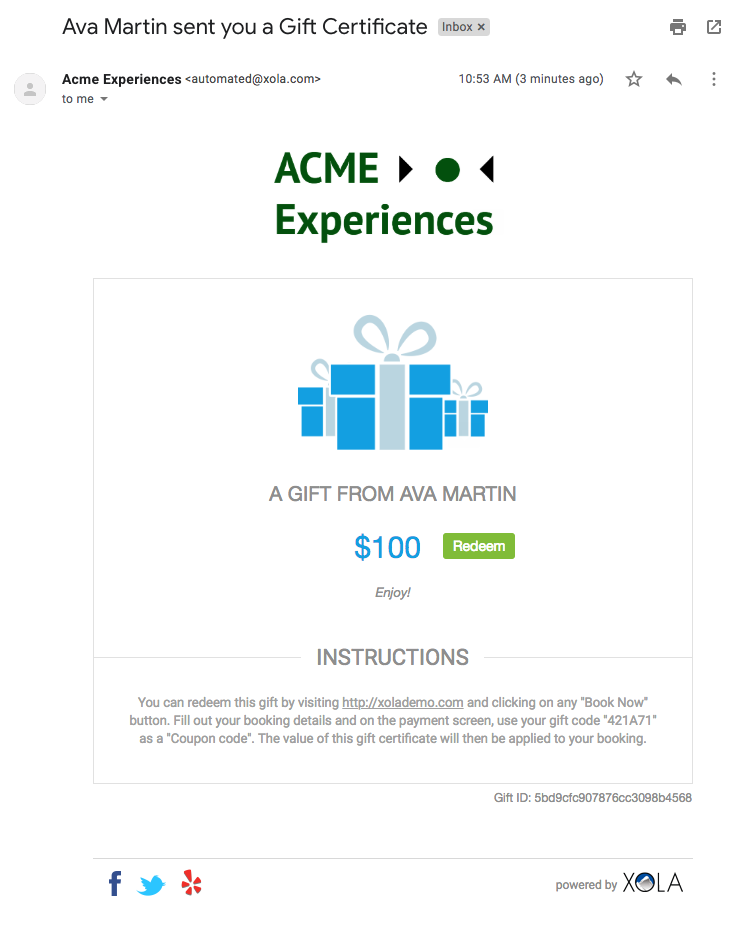 Xola makes it easy for you to sell your tour and activity listings as gift certificates. You can create a gift card in Xola in seven easy steps:
1. On your Xola dashboard, you'll find a tab called "Products." There, you can click "Create a Gift Offer" and give it a name.
2. Next, you'll choose between a fixed or variable price. For a fixed-price gift offer, you'll need to specify the purchase price and gift value, or the amount that the gift can be redeemed for. For example, a $100 gift card may only cost the guest $80. For a variable price offer, you'll specify the discount, such as 20% off all gifts of $50 or more.
3. You'll need to write a product description that customers will see at checkout.
4. Now that you've set up the basics, you can set restrictions on your gift card, including the time period the card can be purchased, when it can be redeemed, and blackout dates.
5. The Gift purchaser can choose to send the gift certificate directly to the recipient or have it sent to themself to print out or forward to the recipient at a later date.
6. Next, upload a photo to represent your gift card. Then, create and add a "gift" button to your website.
7. The gift purchaser can choose to send the gift certificate directly to the recipient or have it sent to themselves first. Above you'll see the gift card email that Xola sends when one is purchased.
Gift card email template
Whenever a gift card is purchased, an email with the details about the certificate should be sent. This email is different than a booking confirmation email in that it confirms the purchase of a gift card, not a reservation.
Keep in mind that the person receiving this email may never have heard about your company before. Your gift card email should prominently display your company name and logo at the top, as well as make it clear that the email is a gift.
[Company Name + Logo]
A gift from [Sender name]:
$[Monetary Value]
[Redeem Button]
Enjoy!
Instructions:
[Explain how to redeem the gift card]
[Link to your website]
[Gift code]
As you can see from the email template above, the message should clearly state who sent the gift and its monetary value. There should also be a section with instructions that spells out how the recipient can use the gift — including a link to your website and the gift code to use at checkout, if necessary.
***
It's not too late for your company to start selling gift cards before the holiday season. Now is the ideal time to iron out all the details and ensure everything is running smoothly by the Thanksgiving shopping week.
Don't miss out on what can be the biggest event for gift card sales in the country. With Xola, you won't have to.