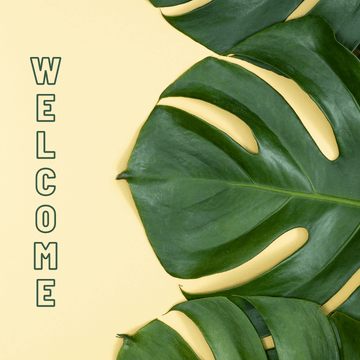 If a new subscriber never hears from your company after subscribing to your email offers, they'll likely forget they signed up in the first place.
You certainly won't be able to drive many conversions with an uninterested customer.
A welcome email can make all the difference. Sending a "Thanks for subscribing" email soon after a guest joins your email list can ensure your new subscribers stay engaged long after they join.
In this post, you'll learn how to create a great "Thanks for subscribing!" email that will stand out from the rest of the emails in your subscribers' inboxes.
Why do you need a welcome email for new subscribers?
When to send an automated welcome email
What should be included in a new customer/subscriber email campaign
6 tips for writing a good welcome email
Why do you need a welcome email for new subscribers?
Your welcome email is the first impression people will have after signing up for your email list. That message will set the tone for the rest of your email relationship and all future communications going forward.
Plus, welcome emails have an average open rate of 50%, among the highest of any email campaign.
It's the one chance you have to hook in your email subscribers: A well-written welcome email can persuade guests to open the following email you send them. A bad one, on the other hand, can do just the opposite. Once you've lost your subscribers' interest, it can be hard to regain their attention.
It also gives you a chance to set expectations. You can tell guests what kind of emails they can expect to receive from you in the future, as well as how often you plan to send them.
Finally, it's a way to remind your subscribers what they signed up for. Your guests are busy. They may be doing 10 other things online when they sign for your email. Without the welcome email, they may just forget about it completely.
A good welcome email tells guests who you are and what they can expect, all while making them excited to receive the next one. It marks a significant first step of your digital guest experience.
When to send an automated welcome email
Welcome emails are typically automated. Every time a guest completes an action on your website, such as signing up for your newsletter, they will trigger a welcome email.
If you're using a double opt-in system, the email should be sent as soon as a new subscriber confirms their email address. If you don't have a double opt-in, you can send the welcome email as soon as a guest signs up for your list.
A single opt-in means a user only needs to hit "subscribe" once. They'll begin receiving emails as soon as they subscribe.
Pros: It reduces the number of steps someone has to take to sign up for your email offers, making it easier to start a conversation with them right away.
Cons: Overall, a single opt-in drives lower conversions.
Double opt-in means a user must confirm their email through another link after they hit "subscribe." Only those who confirmed will receive emails.
Pros: Attracts high-quality subscribers that are willing to take the extra step to confirm their subscription. In other words, they're really interested in your emails and are likelier to make a purchase after receiving them.
Cons: It's an extra step that can drive users away. Many customers never follow through on that secondary confirmation process.
Timing is key for an automated welcome email, especially if there's more than one email. Some businesses may create a series of emails to fully introduce the new subscriber to their brand, mission, and values.
Yet even automated emails can be personalized. You should, for instance, always refer to the subscriber by their first name. This will make the email feel more personal right off the bat, even if you weren't the one to manually hit "send."
You could also have different welcome emails for different subscribers based on different triggers. A guest who signs up for an adventure travel newsletter, for instance, may receive a different welcome email than one who signs up for a Black Friday deal.
What should be included in a new customer/subscriber email campaign
A "thank you" message: Joining an email list may seem like a small gesture for your subscribers, but as a small business owner, a growing email list can bring many opportunities. Show your subscribers how much you appreciate them for signing up with a short and sweet "thank you" message.
The incentive or resource you promised: Many businesses may offer a free resource or discount code in exchange for an email sign-up. If this is the case, include the promised incentive in your welcome email.
A reminder about who you are: Remind subscribers who you are and why they signed up for your email list. You may include a small introduction to your brand's mission and products/services.
Your contact information: Let your contacts know how they can get in touch with you.
What to expect: Now is the perfect time to set expectations for your future communications. Let your contacts know when they can expect to hear from you again and what type of emails you plan to send them.
An "unsubscribe" link: If a contact signed up by accident, offer them a way out. Give them the option to unsubscribe by clicking a link at the end of your message.
6 tips for writing a good welcome email
Good timing, a solid subject line, and a personalized greeting are all a part of what makes a good welcome email. Here are six tips to make yours stand out.
1. Send it at the right time
Send your welcome email within an hour (ideally within minutes)after the subscriber signs up so that your company is still fresh on their minds. If you wait a day or two, the subscriber may forget that they signed up in the first place. They may not recognize your email when it comes in, which can negatively impact your open rates. A study by Experian shows that welcome emails sent in real-time have a significantly higher open rate at 88.3%.
2. Nail your subject line
Write a clear and engaging subject line. Your welcome email should be easily identified among the sea of emails in your subscribers' inboxes. As soon as your subscriber sees the email, they should recognize who it's coming from and why. A good way to do this is to say the word "Welcome" in your subject line.
You may also consider including the subscriber's first name; emails with personalized subject lines are 26% more likely to be opened.
Be sure to also add a spark of enthusiasm to pull the viewer in. Here are a few examples:
Welcome to the [Newsletter Name]!
Welcome, [Name]! We're so excited to have you on board.
Hi [Name], Here is your [free resource/discount code] 🙂
Thank you for signing up!
3. Personalize your greeting
A customer is more likely to open an email addressed to them personally than one that simply says "Dear fellow customer." Emails with personalized subject lines are 26% more likely to be opened. If you collected any personal information from your subscriber, use that to further personalize your message.
4. Consider sending a full welcome series
Instead of just sending a single welcome email, you can create a series of emails that keeps the new subscriber engaged over a few days. The first email can include a quick thank you message for joining your email list. The next one can introduce your company, including your backstory, mission, and values. In a third email, you might send them a list of blogs, products, or activities they may be interested in learning more about.
5. Sign off as a specific person in your company
Even if your welcome series is automated, you can still make the emails feel personal. One tip is to write each email as if it's coming from a specific person in your company. Owners typically sign off on their welcome emails so that customers feel like they're hearing from the company founders themselves.
6. Include a CTA
Don't just welcome your new subscribers, but give them the next action to take. You can, for instance, include a link to relevant blog posts or tour listings. New subscribers can follow the link to your website and learn more about your brand — and maybe even make a purchase. If you're an outdoor adventure company, your subscribers are probably interested in different outdoor activities. In your email, you can link to relevant content on your site that would appeal to your audience.
***
Whether you're emailing new or existing guests, the same tips apply for a good welcome email: Send it at the right time, write an engaging subject line, and personalize it as much as possible. Lastly, don't forget to make it mobile-friendly.
These tips will help keep your subscribers engaged and boost your email open rates. Make sure to refer back to this guide to help you write welcome emails that stand out.