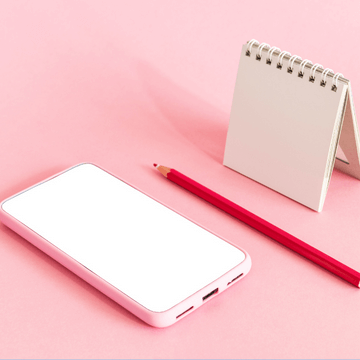 Upselling is a marketing tactic that eCommerce and tourism brands alike use to drive more profit from existing customers.
A good upsell email can boost your average order value. This helps ensure that you're not just breaking even but making a profit on every sale.
This guide will show you how you can integrate upselling into your marketing strategy in a mutually beneficial way for you and your customers. Then, we'll share some great upsell email examples that you can use as inspiration for your own.
Upsell vs. cross-sell: What's the difference?
What to include in an upsell email
5 examples of great upsell emails
Some pitfalls to avoid when upselling
What is an upsell email?
Upselling is a sales tactic that involves persuading a customer to upgrade to a more expensive experience or to purchase additional services or add-ons. For example, a winery tour operator may try to sell its customers a charcuterie board for an additional cost.
The main goal is to increase to bring additional value to the customer while increasing the profitability of each booking.
An upsell email is a message meant to persuade the customer to make that extra purchase. The email will promote a special deal or upgrade to convince the customer to spend a bit more money.
Upsell vs. cross-sell: What's the difference?
When you upsell an experience, you're encouraging your customers to purchase a comparable yet more expensive service than the one they've booked.
For example, a sailing tour provider may try to upsell a regular sail excursion by offering a private sunset tour, which typically costs significantly more. Since the customer has already booked the regular tour, though, the owner offers the private tour at a discount.
Cross-selling, on the other hand, is the practice of promoting related or complementary products or services.
Instead of selling a new tour, the sailing company encourages the customer to purchase additional services or products — like a bottle of champagne — that will make their experience more memorable.
The two terms are often used interchangeably. Both strategies can be used to offer additional value to your customers.
When to upsell
Upselling can be an efficient tactic to increase your profitability. Yet you don't want to offend or annoy your guests with too many upsell emails. You never want to make them feel like you're constantly trying to convince them to spend more money.
One way to avoid this is to always ensure that your offer is bringing them some sort of value.
Whether it's an experience better tailored to their preferences or an additional feature that'll make the tour more memorable, the upsell should be mutually beneficial for both the customer and the tour provider.
Here are a few examples of when to send an upsell email:
After a booking: Once your guest has a reservation, you can start thinking about what would make their experience even better. You'll then send them an upsell email immediately after the sale. As you'll see in the examples below, Airbnb includes an upsell offer in its confirmation email.
When you launch a new tour: For guests who have already booked a tour, the new experience may pique their interest enough to upgrade to the new experience or add it to their reservation.
Right after a tour: Consider what products or additional tours you can sell your guests after their visit, such as branded merchandise or another experience that they would love.
As they check out of your website: You can also recommend your most popular add-ons like branded merchandise or food and beverage packages as your guests are checking out. This allows you to upsell the experience right off the bat.
Why is upselling important?
If you could make more money selling the same tour, wouldn't that be something worth exploring? That's why upselling is such a useful tactic for tour and attraction operators.
If your company offers a helicopter tour for $200, most of your bookings won't surpass $200. Yet if you can successfully upsell that tour by offering guests a more tailored experience for $250 — such as a custom flight itinerary — your average order value will increase.
Now, most of your bookings are falling within the $200 to $250 range.
While it's important to attract new customers, the cost of bringing in a new customer is higher than retaining an existing one. Upselling allows you to boost sales with the customers that have already made a booking with you.
If done right, your existing customers will start to generate more revenue for your business without you having to make an additional investment.
Upselling also allows you to cultivate a better relationship with your guests. When you start offering them desirable features or alternatives that make their tour better, they'll be more satisfied with the overall experience.
Remember that your upsell emails should always provide value to your customers. Soon, they'll start to trust your recommendations and be more willing to upgrade to the next best thing.
What to include in an upsell email
If you're not sure how to write an upsell email, you're not alone. Here, we're breaking down the process for you. Follow these tips to create a great email that converts:
Personalized greeting: Go beyond using your customers' first names when you email them. The upsell email should speak specifically to their preferences based on their previous interactions with your brand. If they've already booked an experience, your email should be tailored to that specific tour and how your offer can make it better.
Show recent bookings: List and mention the experience(s) the customer has previously booked. Make them aware that your upsell offer is related to or complements that booking.
Offer a valuable upsell: Consider how your promotional offer can make the experience more memorable. Focus on the benefits your customers will receive from the upgrade or extra purchase.
Links back to your website: Make sure to include relevant links where customers can learn more about what you're offering them.
Include social proof: Customers are more inclined to do something after reading positive reviews from past guests. You can include written reviews and even photos of happy guests as social proof in your email.
Contact information: Let customers know how they can reach you with any questions or concerns.
An opt-out: Make sure your email follows national regulations, like the CAN-SPAM Act, by providing customers an option to unsubscribe from your email list.
5 examples of great upsell emails
From airlines to theme parks, here are five upsell email examples to inspire your own.
1. Frontier Airlines

Source: Really Good Emails
The original purchase: a flight
The upsell: luggage and seat assignments
Frontier offers several different upsells after a customer books a flight. In the upsell email example above, you can see that the airline allows the traveler to add bags and select seats for an additional cost. The email is designed as a playful checklist of things to do before the flight. This gives the customer the impression that the airline is helping them get organized for their trip. In turn, customers know that investing in these extra services will make their trip more comfortable.
2. Airbnb

Source: Really Good Emails
The original purchase: an Airbnb booking
The upsell: Airbnb Experiences
When Airbnb sends a confirmation email to guests, it also includes a couple of upsell options near the bottom. The upsell email is tailored to the guest in that it includes all of their reservation information, as well as recommendations of things to do at their destination.
That's where the offer comes in: Airbnb upsells its reservation by encouraging guests to book in-destination tours through Airbnb Experiences, its tours and activities arm. Each upsell email is tailored to the destination where the reservation was made, which helps the guest discover unique things to do during their stay.
3. Disney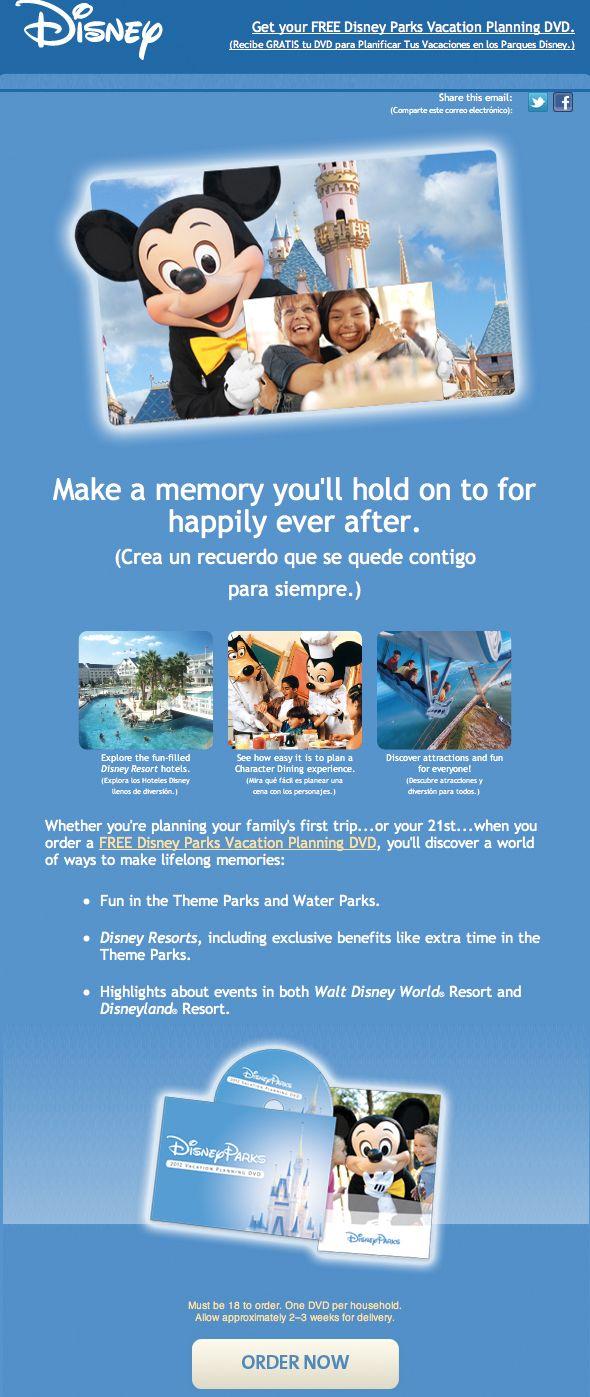 Source: Pinterest
The original purchase: Disney tickets
The upsell: A vacation-planning DVD
Here's a great example of an upsell from Disney. After a customer purchases Disney tickets, the theme park operator sends them an email offering a vacation-planning DVD. In this case, Disney is offering the DVD for free. However, the strategy is the same: The company is providing added value to the customer by having them opt in to an extra service or product.
4. Ryanair car rental upsell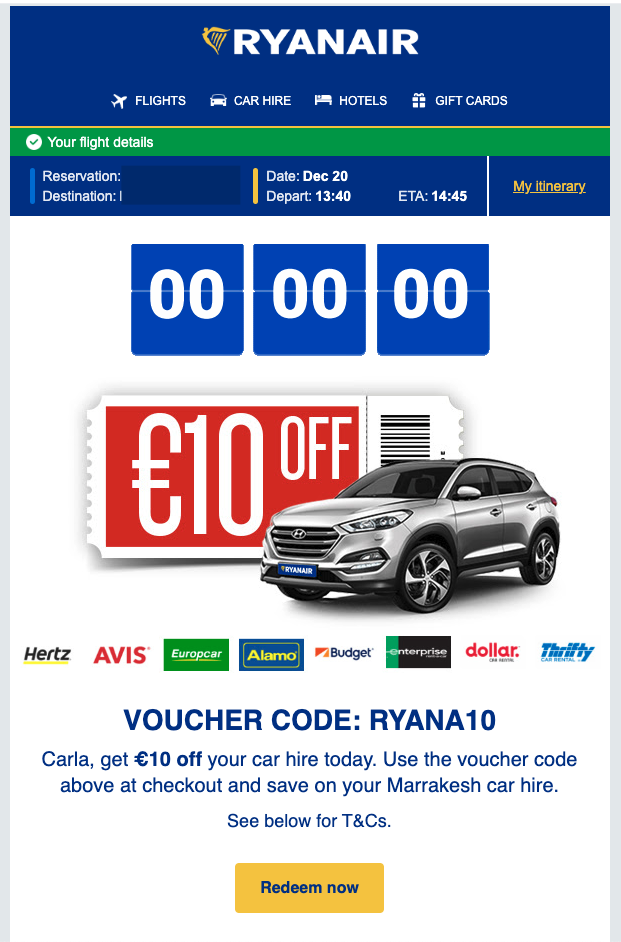 The original purchase: A flight
The upsell: A rental car
After buying a flight with Ryanair, the airline follows up with a discount code for a car renal in your destination. If you book with one of the airline's partners using the code, the company will likely earn a small commission for the booking. Tour operators can similarly offer a discount code as an incentive for customers to book another experience or upgrade an existing one. The urgency to act on a limited one-time deal can be persuasive enough to convert dozens of customers.

Source: Really Good Emails
The original purchase: A trip to Fort Myers
The upsell: A "savings" pass
The Fort Myers and Sanibel tourism board wants to encourage its customers to spend on local businesses during their visit. To do this, the organization sends visitors an email promoting a free "savings" pass that provides discounts for local restaurants and attractions.
What can a tour company learn from this strategy? You can encourage guests to purchase extra meal or beverage packages ahead of time by offering them a discount.
5. Harry's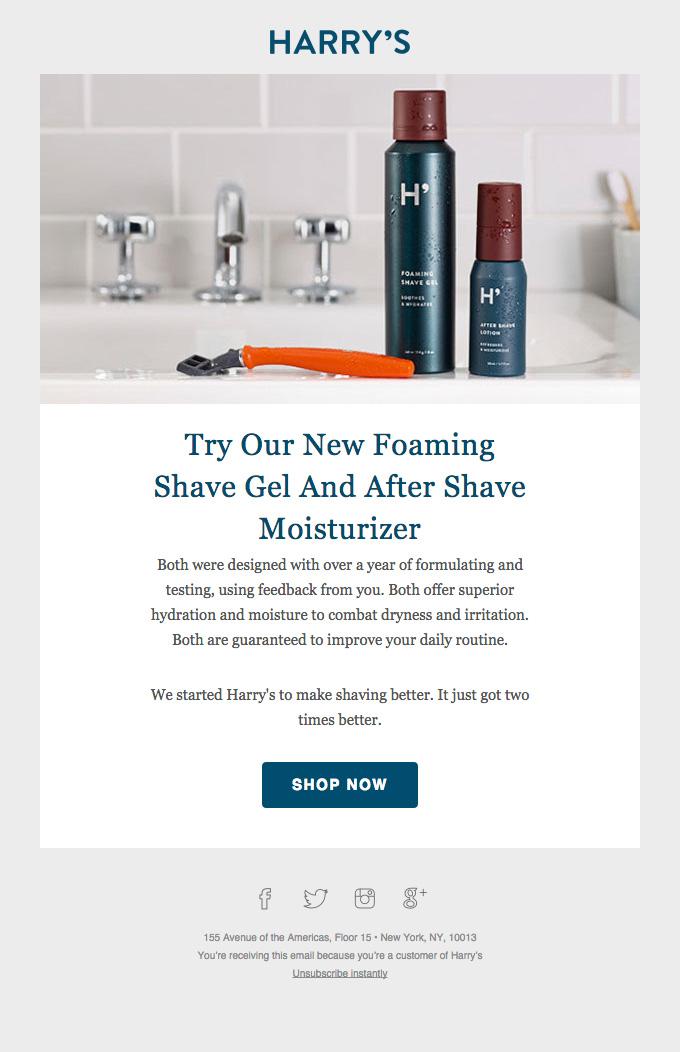 Source: Really Good Emails
The original purchase: A Harry's product
The upsell: Foaming shave gel and after shave moisturizer
While Harry's is an eCommerce brand, there's a lot tourism brands can learn from its email marketing. For instance, here Harry's is sending an upsell email to existing customers after launching a new product. In this particular case, the men's shaving company is promoting its new foaming gel and after shave moisturizer. These are products that someone who previously purchased shaving equipment would likely be interested in. As a tour operator, you can similarly promote new tours to your customers — especially if it's relevant to a past experience they've had with your company.
Some pitfalls to avoid when upselling
As you're working on your upsell strategy, try to avoid the following:
Offer something irrelevant: Your upsell email should be tailored to the specific product or experience that the customer has purchased or is interested in purchasing. This goes beyond just using a customer's first name in your email greeting. It involves understanding their preferences based on their past interactions with your brand.
Upselling at the wrong time: When is the best time to market your new tour to a customer? Consider how and when your customers interact with your company and pay attention to key moments like when they first book a tour or after they leave to go home. This will help you find the ideal moment to offer them an upsell.
Making your upsell too expensive: As a rule of thumb, your upsell offer shouldn't increase the original order value by more than 25%.
Not providing customers with extra value: Your customers will quickly see through a bogus upsell email. The best way to gain your customers' trust is to offer them something that makes their experience even better than the original booking.
***
In conclusion, every tourism company can benefit from upselling their experiences.
Remember that a great upsell will make your customers' tour even more memorable than what they originally booked. Consider how you can bring value to your customers, and the rest will follow.