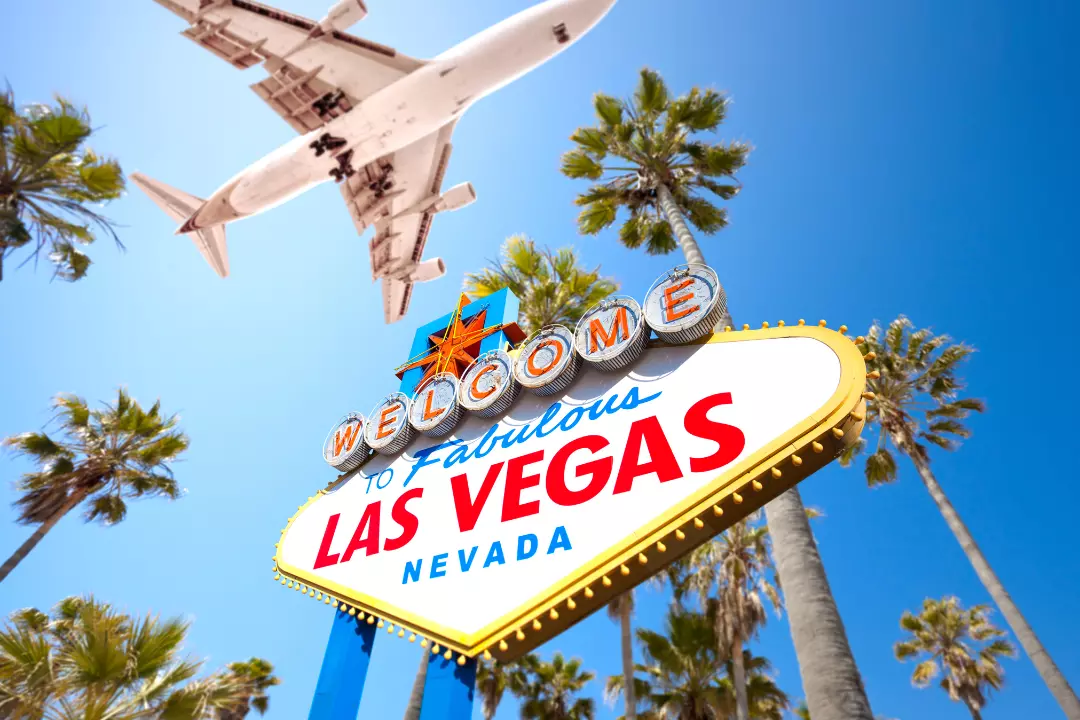 Millions of tourists flock to the casino mecca every year in search of luxurious hotel experiences, high-stakes gambling, and family-friendly attractions. From live performances to nightclubs to museums to helicopter tours, Las Vegas is everyone's playground.
Here are all the Las Vegas tourism statistics you need to know as an attraction or tour operator in Nevada's most exciting city.
How many tourists visit Las Vegas each year?
While Las Vegas became a ghost town at the start of the pandemic, it was one of the first U.S. cities to reopen hotels and casinos after the shutdown.
Its dozens of casino resorts began welcoming back guests in early June, which helped boost its visitor numbers in 2020. Still, only 19 million people traveled to Vegas in 2020. Tourism started to pick back up in 2021 and has continued to rebound in 2022.
Las Vegas Tourists in 2021
The tourism industry in Las Vegas began to recuperate in 2021. That year, the destination welcomed 32.2 million visitors. This represented a significant increase from the prior year — when only 19 million visitors came — yet still a ways away from the 42.5 million people that visited in 2019.
Las Vegas Tourists in 2020
During the pandemic, nearly all Las Vegas attractions and conventions were put on pause. This resulted in a steep drop in visitor numbers. Only 19 million people visited the destination in 2020. Visitor numbers hit historic lows at the onset of the pandemic: Less than 200,000 visitors traveled to Las Vegas in April and May 2020.
Las Vegas Tourists in 2019
In 2019, Las Vegas had a year in tourism. The buzzing destination welcomed 42.5 million visitors, up from 42.1 million in 2018.
There were several new venues, attractions, and events in the works for 2020, which promised to be a strong year up until the pandemic started.
Las Vegas Monthly Tourism Numbers
The average number of people visiting Las Vegas each month was 3.5 million in 2019.
July 2022 saw the highest monthly visitation since the start of the pandemic, reaching nearly 3.5 million visitors for the month, just 5.3% below the July 2019 tally.
Las Vegas Weekly Tourism Numbers
If there were 32.2 million visitors last year, that means Las Vegas saw over 600,000 visitors per week.
Las Vegas Daily Tourism Numbers
Las Vegas sees thousands of visitors per day. Last year, over 30 million people visited the destination or an average of 88,000 per day.
How much money does tourism bring to Las Vegas?
The economic impact of Las Vegas' tourism industry is driven by visitor spending on accommodation, dining, shopping, local transportation, shows, and other activities.
In 2021, the total economic output related to visitor spending reached $60.6 billion, which represented about half of the region's gross economic output. Of that, $36.1 billion was a result of direct visitor spending.
Meanwhile, Clark County secured $11.4 billion in gaming revenue in 2021, surpassing its 2019 revenue. The Las Vegas Strip itself brought in $7.1 billion in gaming revenue.
Which Demographics Want to Visit Las Vegas the Most?
In 2021, Las Vegas visitors were younger, more ethnically diverse, and more likely to be visiting from the Western U.S. than any other region. They were also more likely to be traveling with children than in previous years.
About 44% of Las Vegas visitors are millennials, and 54% are 40 years old or older. The average visitor's age was 43.2, which was down from 2016 to 2019.
More than half said they were visiting for leisure purposes. Most visitors had been to Las Vegas before: Only 20% said they were first-time visitors.
How many Americans visit Las Vegas each year?
The majority of Las Vegas visitors come from the U.S. In 2019, about 37 million domestic travelers made their way to Las Vegas for a visit, representing over 80% of all visitors.
In 2020, nearly 18 million Americans traveled there. Numbers started to pick up last year, when about 31 million domestic visitors traveled to Las Vegas, compared to just under 1 million international visitors.
Top states that have the most tourists that visit Las Vegas
About 60% of Las Vegas visitors came from the West Coast, with California leading the way.
About 30% of all visitors traveled over from California. Of that, 26% came from Southern California. Another 11% came from Arizona. The rest came from all over the U.S.: About 17% came from the South; 12% from the Midwest; and 8% from the East Coast.
How many international tourists visit Las Vegas each year?
Only 3% of visitors were from foreign countries in 2021, down significantly from previous years. In 2019, the destination welcomed 5.7 million visitors from abroad, representing about 13% of all visitors.
Top countries that have the most tourists that visit Las Vegas
In 2019, Canada was the leading market with 1.5 million visitors, followed by Mexico with 1.1 million visitors. The U.K., Australia, and Japan rounded out the top five international markets for Las Vegas tourism.
International visitation numbers were still lower than usual in 2021. Mexico took the top spot with about half a million visitors, representing more than 50% of Las Vegas' international visitors last year.
How Much Do Tourists Typically Spend in Las Vegas?
Despite the decline in visitor numbers, visitor spending in 2021 rebounded to pre-pandemic levels.
Visitors spent about $36 billion in Las Vegas last year — with the average visitor spending about $1,120 per trip.
Let's take a look at a breakdown of their spending:
Three-quarters of visitors said they gambled while in Las Vegas. The average visitor's gambling budget per trip was $718.
The average visitor spent $462.37 on food.
The average visitor spends $130.02 on transportation.
Visitors shopped a lot, spending an average of $284.55, the highest total ever seen.
The average visitor also spent $32.55 on shows and $51.28 on sightseeing
How Many Hotel Rooms Are In Las Vegas?
Las Vegas has the most hotel rooms than any city in the U.S. There were over 150,000 hotel rooms in Las Vegas as of July 2022. Hotel occupancy was ​​83.4% with an average daily rate of $160.43.
Before the pandemic, the destination was set to gain an additional 12,000 hotel rooms between 2020 and 2022. As the city's tourism industry recovers, the hotel sector will likely pick back up where it left off.
How many tours and attractions are in Las Vegas?
The Las Vegas Strip is home to 32 casinos, including The Cosmopolitan, Caesars Palace, and the Bellagio. These casinos are located within sprawling hotel properties that offer a range of non-gambling attractions like gondola rides at The Venetian and a shark aquarium at Mandalay Bay.
Other top attractions include the Neon Museum, which houses 250 neon signs from around Vegas; the Red Rock Canyon National Conservation Area, where you can go horse riding or rock climbing; and the High Roller, the tallest Ferris wheel in the world.
Live concerts and performances are another major attraction in Las Vegas, with Cirque du Soleil and the Blue Man Group being among the most popular.
Top 15 Las Vegas Tourism Attractions by the numbers
In 2021, three-quarters of visitors said they gambled while in Las Vegas, meaning over 24 million visited the destination's many casinos during their visit.
The bulk of Las Vegas' 32 million visitors pays a visit to The Strip, the 2.5-mile-long central section of Las Vegas Boulevard known as The Strip.
The Fremont Street Experience attracts 26 million visitors to downtown Las Vegas every year.
The Bellagio Resort and its Fountain Show use up to 22 million gallons of water. The daily shows attract millions of tourists every year.
The Hoover Dam, which spans the Arizona-Nevada border just 30 miles south of Las Vegas, is the most visited in the world. The dam attracts 7 million tourists per year.
Since opening in 2003, The Colosseum at Caesars Palace has welcomed nearly 10 million fans for live music experiences on the Las Vegas Strip.
The Stratosphere Tower welcomed its 40 millionth visitor in 2016. About 2 million people ascend the vertical adrenaline-pumping attraction every year
Mandalay Bay's Shark Reef Aquarium features more than a dozen shark species and attracts about 900,000 visitors every year.
Over 600,000 guests fly over Las Vegas, the Grand Canyon, and the Hoover Dam with Papillon Grand Canyon Helicopter tours every year.
The Mirage casino resort on the Las Vegas Strip is home to the Siegfried & Roy's Secret Garden and Dolphin Habitat, a wildlife attraction that receives 500,000 visitors every year.
The outdoor Neon Museum attracted 85,000 visitors in 2015.
Hotel staff estimate that 70,000 people pass through MGM Grand Hotel each day.
The Venetian Hotel has over 4,000 hotel suites and attracts thousands of guests and visitors alike to its Gondola Rides.
Paris Las Vegas is a massive casino resort with over 1,700 slot machines and 2,900 hotel rooms.
The Mandalay Bay luxury resort and casino has a 12,000-seat sports and entertainment complex that attracts big performers from all over.
***
As the travel industry returns to normal, Las Vegas will continue to be one of the top tourism destinations in the U.S.