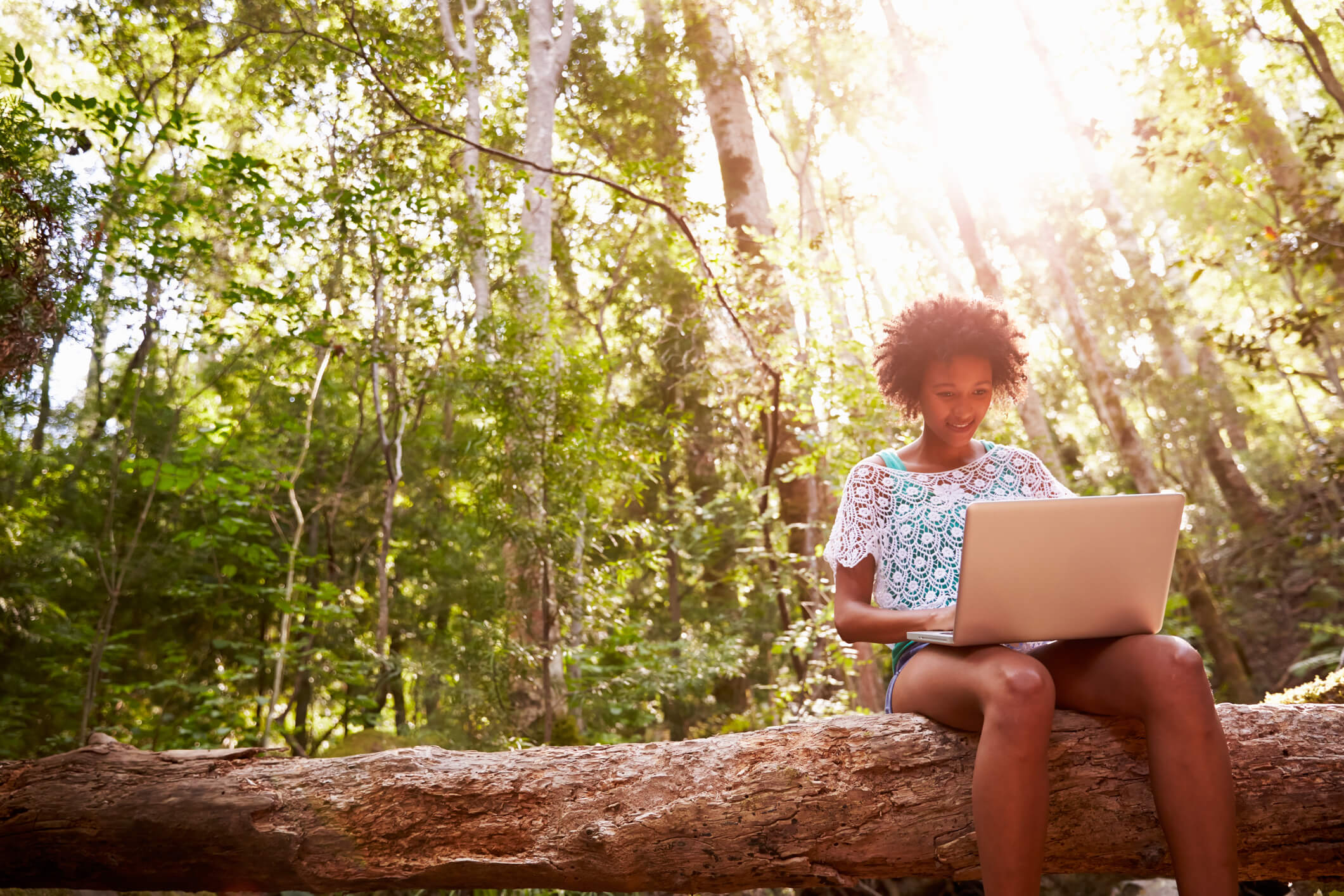 Over the next few years, your website will become your most valuable assets.
For many zipline and challenge course operators, it already is.
This is because more and more of your customers are discovering, researching, and booking experiences online. And the number is growing. Fast.
Based on our own research, looking at nearly $50M in transactions from zipline and challenge course companies we work with, we found two surprising statistics:
On average, 34.46% of zipline and challenge course transactions are made online…
But, an average of 40.45% of zipline and challenge course revenue is made online!
In other words, online bookings generate a higher ticket value than back-office bookings. And the impact on your bottom line is bigger than you might think.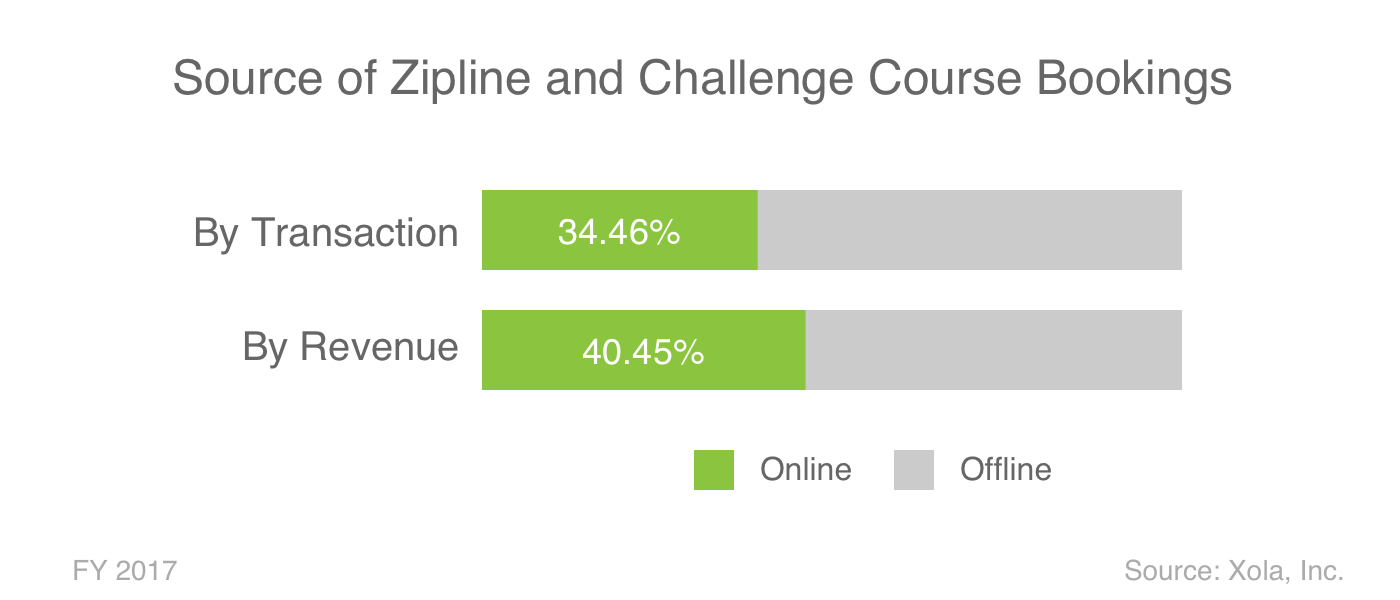 On top of that, Phocuswright (a global travel research company) predicts that online booking volumes will increase by 54.54% globally over the next 4 years.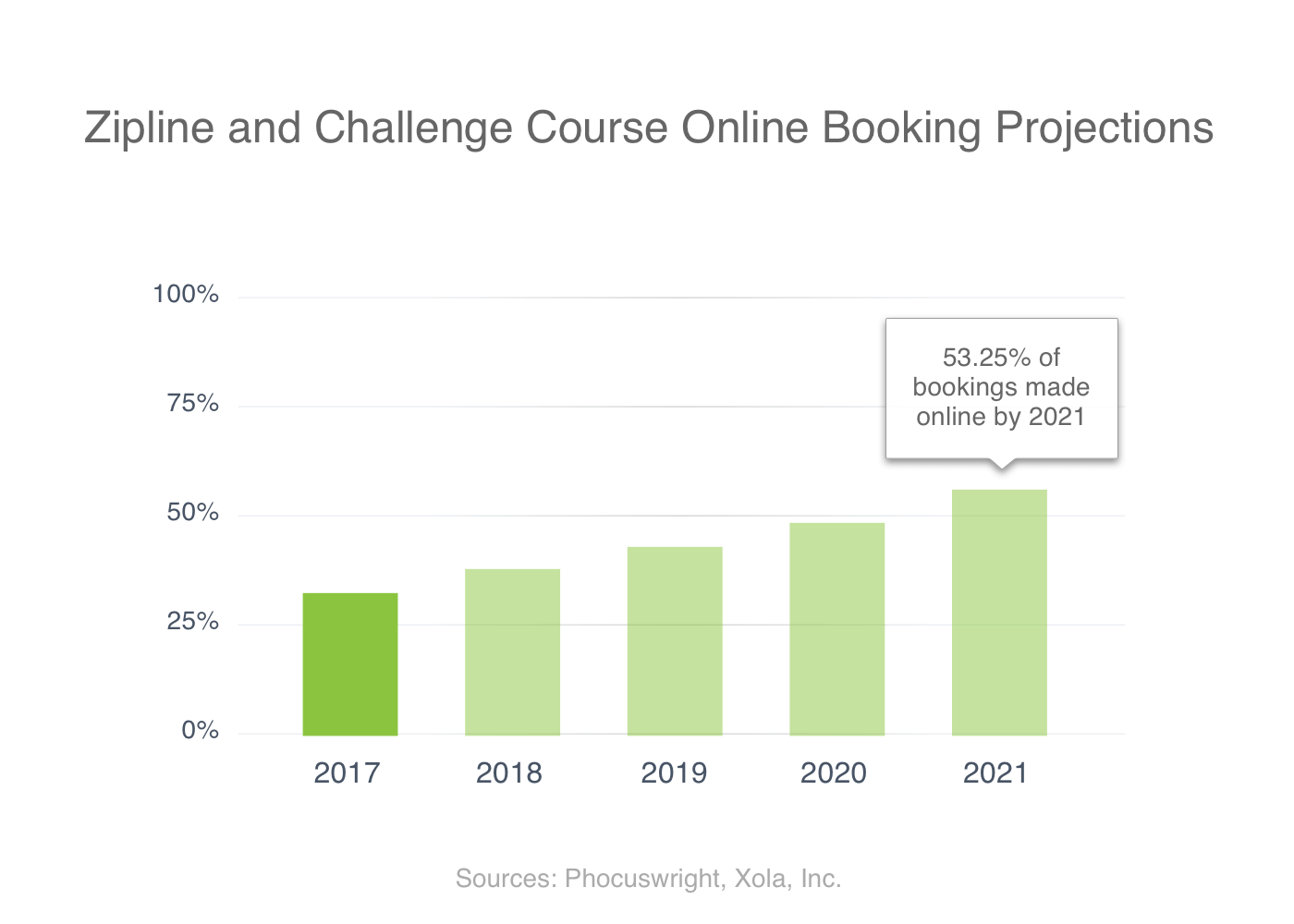 The direction is clear: it's more important than ever to focus on your website. Similar to the activities you offer, the quality and experience of your website will have a strong impact on your online success.
Here are 10 simple ways to improve your website and grow your online bookings.
1. Start With a Clear, Engaging Headline
The first time a new visitor lands on your challenge course or zipline website, they want to answer a few simple questions: Who are you? What do you do? Why should I care?
The headline on your website's homepage should answer these questions.
A great headline balances clarity and intrigue. It states very clearly who you are and what you do (e.g. zipline tours), while also providing a compelling reason they should book with you over the competition.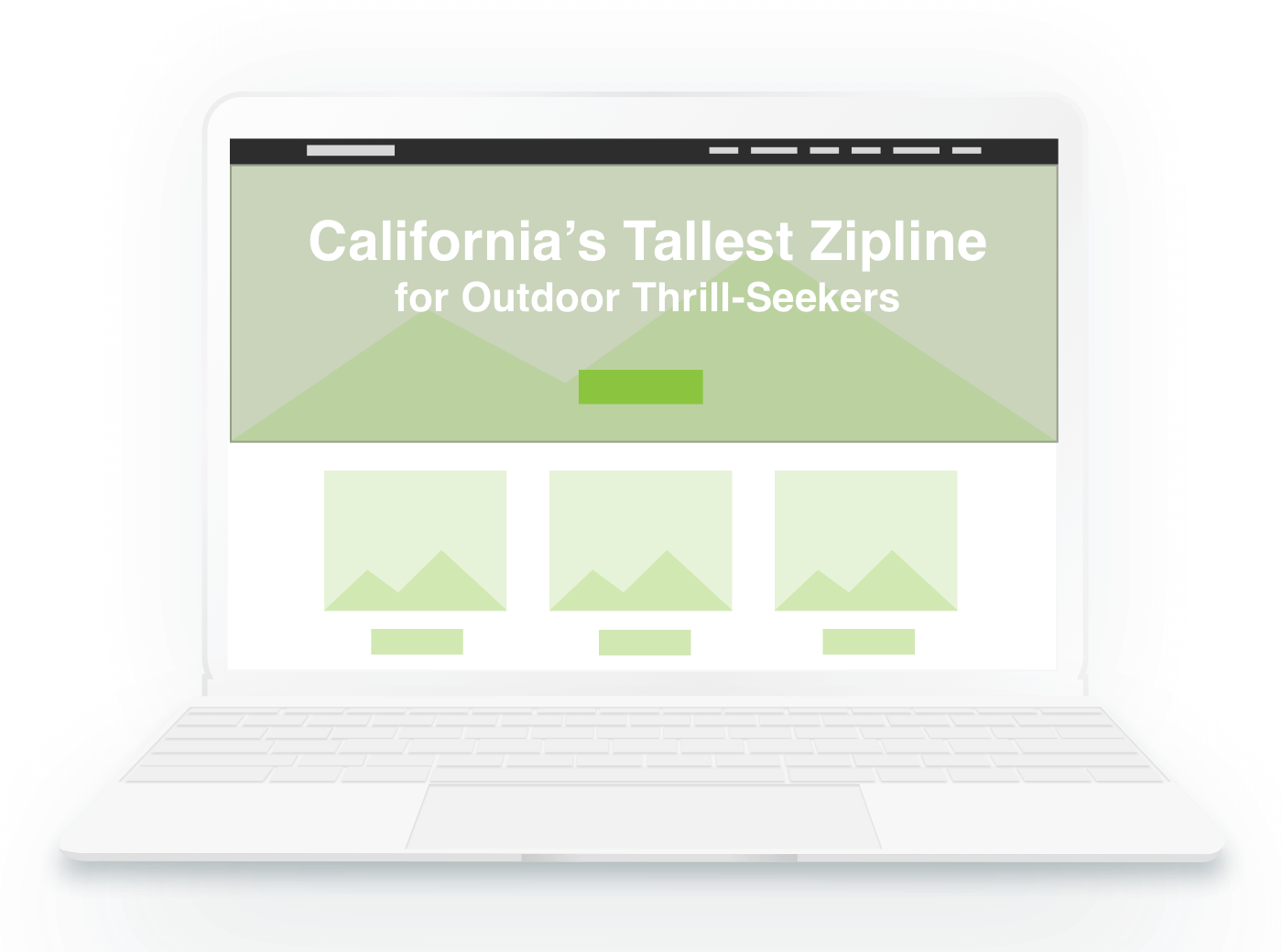 To create a great headline, begin by crafting your unique value proposition (UVP). A UVP is a short statement that gives your website visitors a unique and compelling reason to book an experience with you.
2. Show Captivating Images (and Video)
There are two kinds of images and/or videos on your challenge course or zipline website that have an outsized impact on your online bookings.
Your hero image (or video) is placed prominently above-the-fold on your homepage. It is a lot like a "second headline," but it communicates visually instead of using text. The hero image draws people in and gives them a clear idea of what your business offers.

Studies show that images with human faces create a positive emotional response and increase the number of people who book on your website. Ensure your imagery is compelling and relevant by using photos that show real customers smiling, zipping across the forest, or climbing around your challenge course.
3. Add Big, Bold Buttons
Visitors who don't click don't book.

A "call to action" is a button or text that tells your website visitors what action you want them to take next, and encourages them to continue to the next page (like the booking page).
When you add a call to action to your challenge course or zipline website, consider why the visitor came to your website in the first place.
For example, people who land on your homepage could be there for a few different reasons…
First time visitors are still learning about your business. A call to action that says "Learn More" and directs them to a list of the tours and activities you provide will encourage them to click, and get them one step closer to making a booking.
Returning visitors, on the other hand, are more likely to want to make an booking immediately. A call to action like "Book Now" that opens the checkout page of your zipline booking software will help them get from the homepage to the purchase much faster.

Adding the most relevant button(s) above-the-fold on your homepage helps get the right visitors to the right place on your website, making the online experience more enjoyable for them and improving the chances that they make a booking.
4. Make Complex Navigation Easy
Over the past few years, aerial adventure companies have dramatically expanded their offerings.
Ziplines and challenge courses are finding more ways to expand their offerings, providing more variety to their guests, making better use of their land, and increasing the average order value of each booking. Companies have expanded into rock climbing, water sports, vehicle tours, lodging, and corporate events (to name a few).
Variety is great for business. But it makes the website harder to navigate, too.
So, it's important to focus on making your site easy for visitors to navigate and find the activities they want. Simply put: if they can't find it, they can't book it.
To make it easy for visitors to navigate through a variety of offerings, use a "combo menu." Combo menus show a simple row of menu items that help categorize your pages. When the user hovers over one of the categories, a drop down menu appears, allowing them to find the specific activity they're looking for.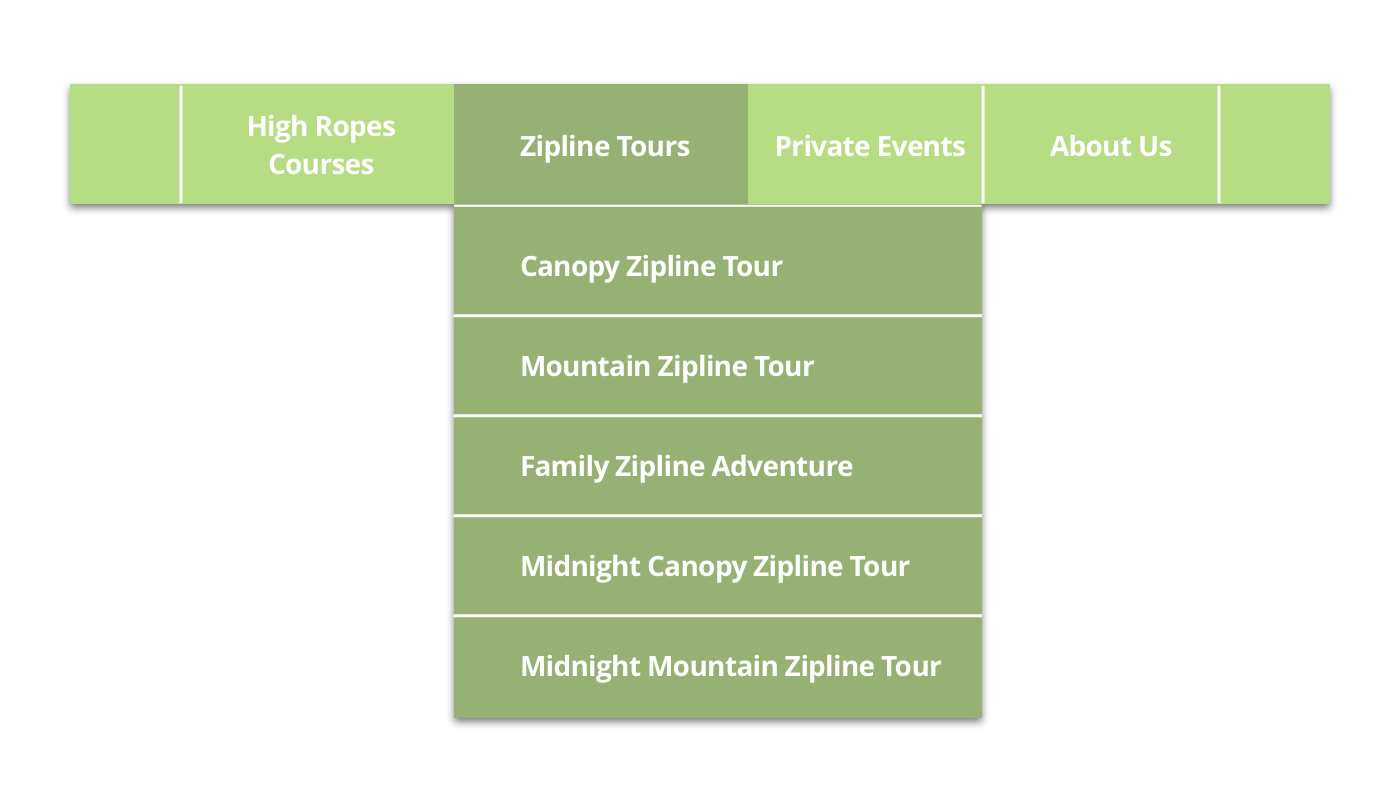 The numbers speak for themselves.
When the Nielsen Norman Group studied the effectiveness of different navigation menus, they found that combo menus were the easiest to browse and led to the more content discovery.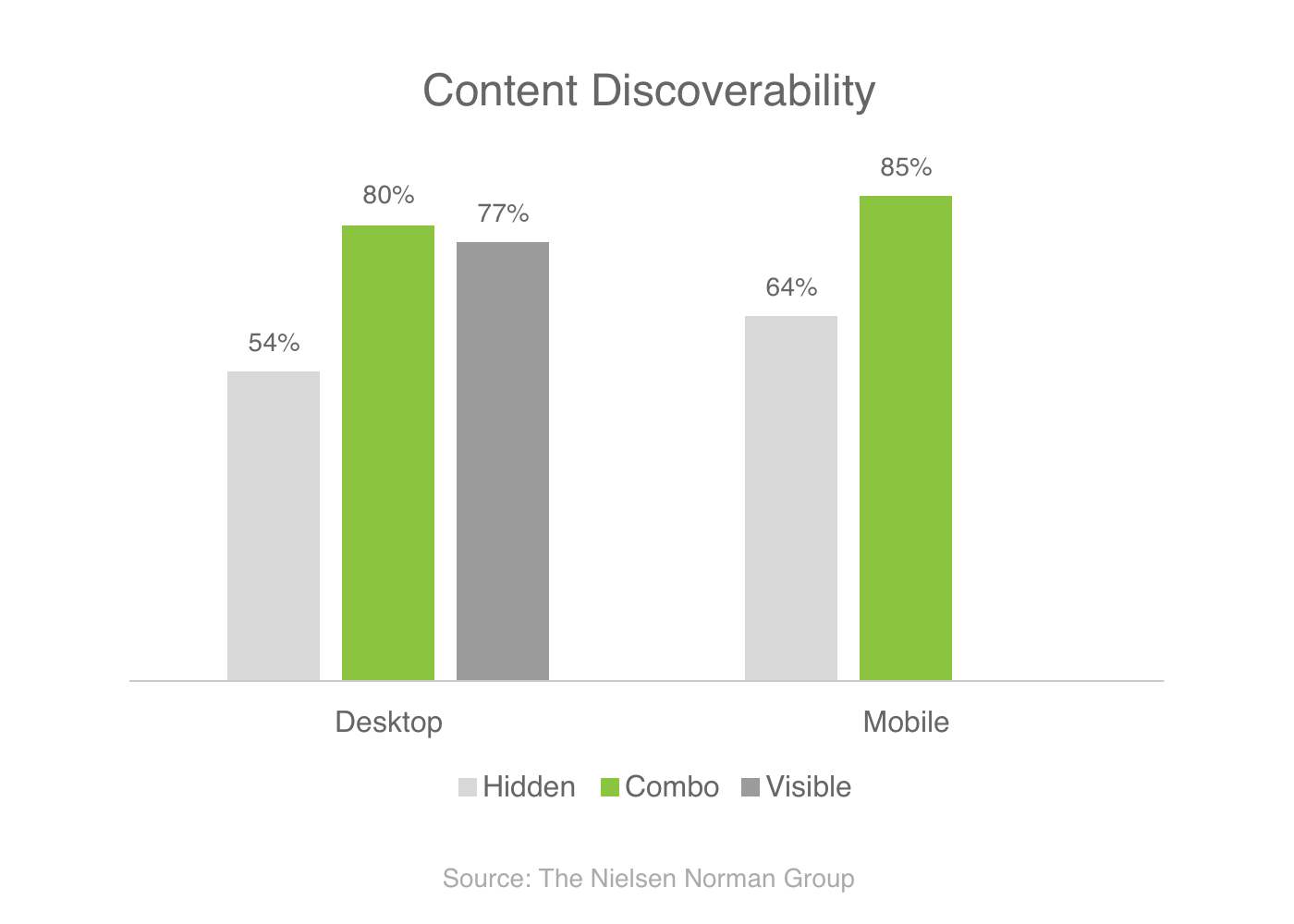 In other words, combo menus make complex navigation easy. It increases the number of people who find the activities they want, and ultimately increases the number of people that book on your challenge course or zipline website.
5. Make Your Contact Information Easy to Find
If your website visitors have questions, or have trouble booking online, where do they go?
It is important to display your contact information (email and phone number) prominently on your website. If you hide your contact information you risk losing customers simply because they don't know how to reach you.
6. Address Anxiety
There are two primary concerns visitors have when they consider making a booking on a zipline or challenge course website: personal safety and payment security.
Personal safety – Some visitors won't make a booking if they don't think the activity is safe. Clearly explain the precautions you take, including routine inspections and in-activity safety measures. Add a badge from an organization like ACCT or PRCA to reinforce the professional standards you follow. Similarly, display testimonials from customers that highlight how safe they felt during their visit.
Payment security – Payment security concerns can quickly scare people away, right as they're about to complete an online booking. In fact, 18% of people abandon checkout because they do not trust the site with their credit card information. To combat this, make sure your website is secured with an SSL Certificate. When accepting online bookings, make sure the challenge course or zipline booking software you use maintains the highest levels of privacy and checkout security, including credit card processing and data transmission security.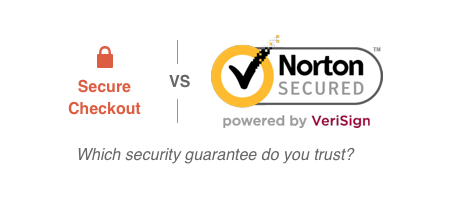 To reassure visitors during the payment process, include third-party trust signals on your checkout pages. Use easily recognizable and trusted security brands, like Norton Security, to reinforce trust and increases the likelihood that visitors complete their booking.
7. Highlight Customer Reviews and Testimonials
According to Tnooz, 95% of travelers read customer reviews before making a booking. Highlighting your customer reviews on your website allows you to control the message and make sure visitors see your best reviews (instead of that one you got from a grumpy customer with unrealistic expectation).

Try finding reviews that match your unique value proposition. Use TripAdvisor's search function to identify common words people use to describe your tours and find reviews that highlight the things that make you great.
8. Make Planning Simple and Pain-Free
Based on our research, online bookings are more valuable than walk-ups for the average zipline or challenge course. Part of the reason for that is clear: large groups plan ahead (and they do it online).
To get more online bookings, focus on making it easy for large groups to plan and reserve their trip.
One of the most important parts of planning a trip for a large group is finding availability. And there are three things a group will consider when looking at availability: group size, date, and time. These three elements make up something that we, at Xola, call "the booking loop."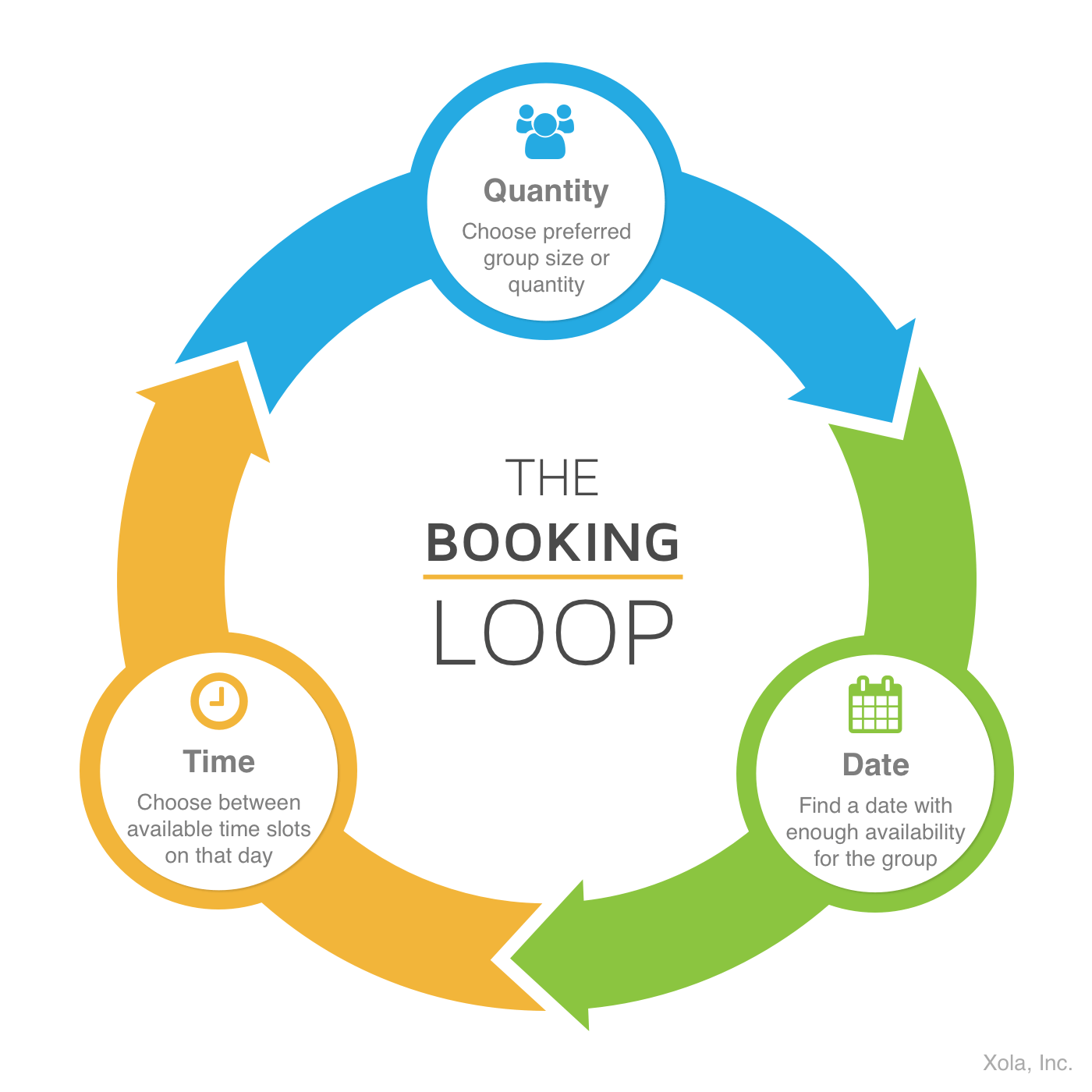 The booking loop refers to the cycle that people go through to look at variations of quantity, date, and time. When planning for large groups, people will often cycle through the booking loop multiple times to find the best timeslot for their group.
That is why, at Xola, our checkout is optimized so that people can quickly and easily look at different variations of quantity, date, and time on the same page, preventing an unnecessary (and frustrating) booking experience.
In the checkout process, we have one simple rule: never break the booking loop.
9. Optimize the Checkout
The ease of your checkout process is one of the most significant factors that can increase, or decrease your online bookings. But it's often the most neglected.
In part, checkout optimization is neglected because online booking system providers handle the checkout design, not you. But it's an integral part of your challenge course or zipline website. So it's important to choose an online booking system that understands and optimizes the checkout experience.
Here are the 8 common checkout usability mistakes to avoid. These mistakes will frustrate your visitors, increase booking abandonment, and decrease your online bookings.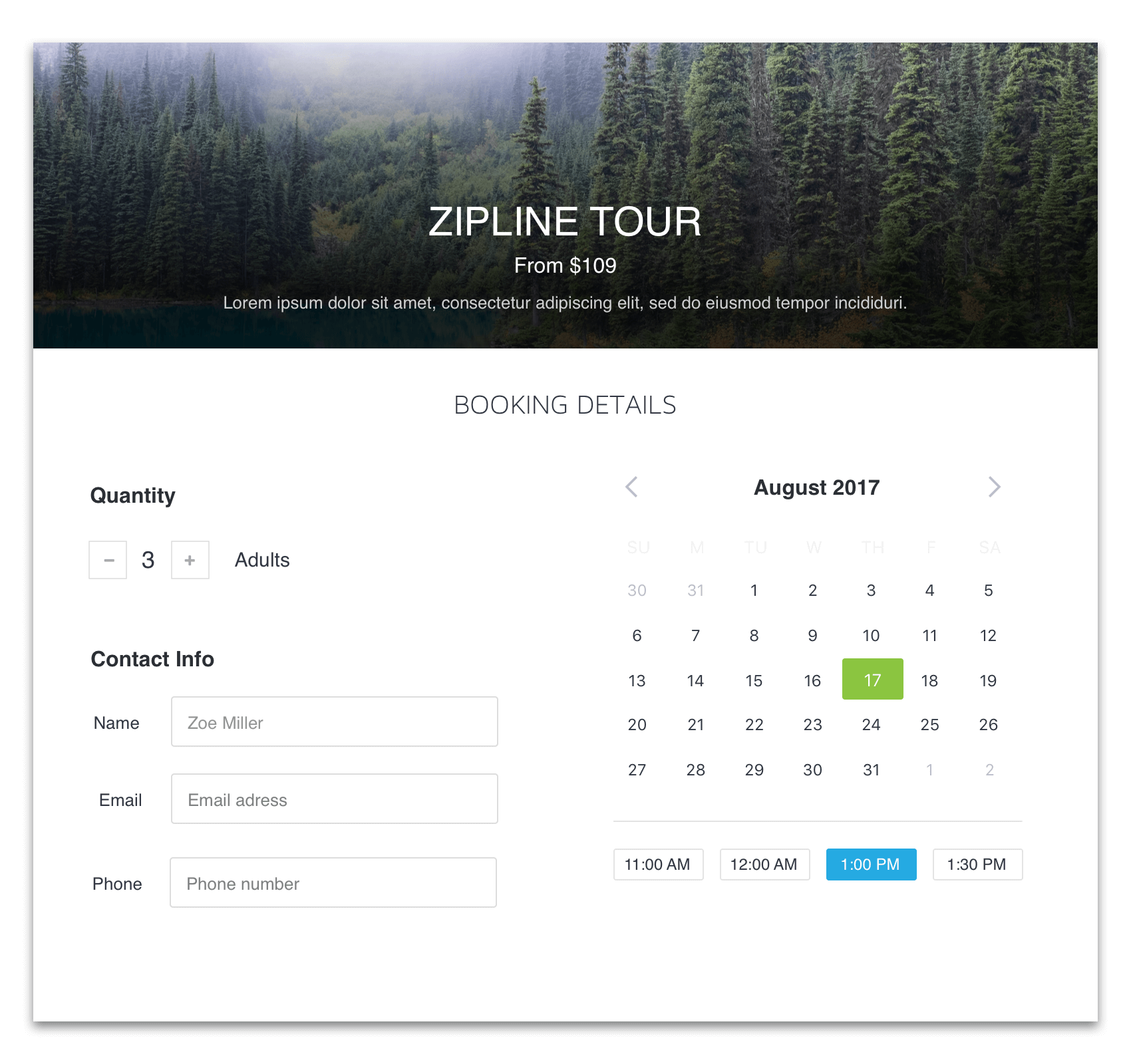 10. Don't Forget the Mobile Experience
Based on our own research, between January and November of this year, a whopping 39.17% of online bookings for ziplines and challenge courses were made on mobile devices.

From homepage to checkout, it is important that your challenge course or zipline website is optimized for mobile devices. Every page, image, and element should be easy to see, click, and navigate on the small screen of a smartphone.
With mobile optimization, it's all about the details. Take the checkout, for example. When a visitor is entering their phone number, do they see a keypad or a number pad?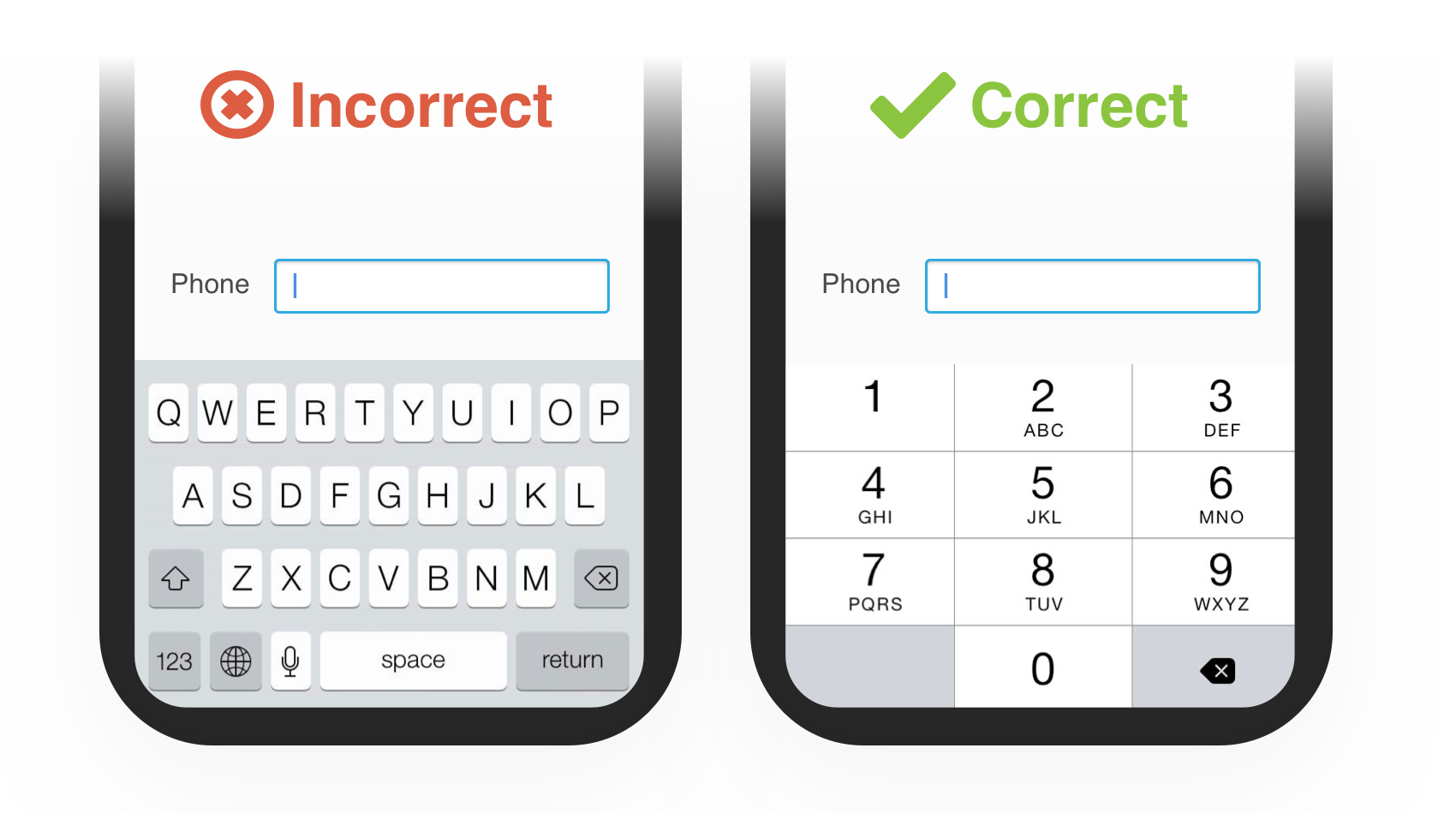 When they're entering a number field, display a number pad. Full keyboards are clunky and make it harder to enter information quickly.
Details like this one might seem small, but they can have a big impact on your mobile bookings. And, as mobile usage grows year-over-year, it will only matter more.
Conclusion
The zipline and challenge course industry is shifting to an online-first world. With
more than forty percent of revenue coming from online sources in 2017, there is no better time to focus on your website.
Optimizing your website and checkout is an important first step. The 10 tips above can help you
increase online bookings with a few simple tweaks to your webpages.
Your checkout matters, too. But in most circumstances, your online booking system handles the checkout design, not you.
At Xola, we take this responsibility seriously. We believe that your online booking system should help you get more bookings, not less. To learn more about how Xola can help you optimize your website, and improve the online experience, call us at +1 (855) 909-9652, email us at join@xola.com, or click here to schedule a demo with a product specialist.