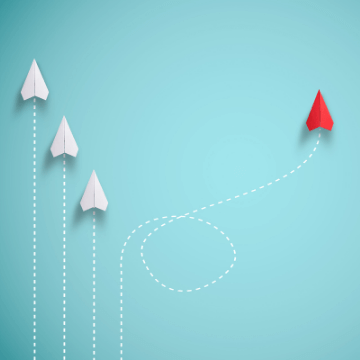 In 2022, nearly everyone is booking travel online. And online bookings show no sign of slowing down: By 2026, 74% of total revenue in the travel and tourism market will be generated through online sales.
There are two major players in the travel booking landscape: Online Travel Agencies (OTAs) and direct suppliers like you.
While OTAs enjoyed a strong recovery fueled by the rise in domestic travel in 2021, that also gave way to a rise in direct bookings. People may still be using OTAs for the majority of their travel research, but they're increasingly turning to operator websites for their final bookings.
In this post, we're looking at the main OTA vs. direct booking trends that will shape online bookings in 2022 and beyond.
5 direct booking stats in 2022
How to get more direct bookings on your website
6 OTA booking stats in 2022
OTAs had been the fastest-growing distribution channel in the tours, activities, and attractions space over the past decade. Yet in 2020, the big booking engines lost market share while direct bookings did just the opposite.
But the dip was short-lived. OTAs have typically out-performed during recessions and led travel's recovery in the past. As travel started to return in 2021, people started using OTAs again for their trip planning.
About 42% of Americans traveled in May 2021, for instance, which was 4.5 percentage points higher than October 2020. Since OTAs mainly attract leisure travelers, they began capturing that audience.
As a result, there were nearly double the amount of OTA bookings in 2021 compared to 2020, signaling a strong rebound for platforms like Expedia, Booking.com, and Tripadvisor.
5 direct booking stats in 2022
Despite the OTA rebound, it's important to note that supplier websites held onto their majority stake in the online travel market in the U.S.
In 2020, direct bookings for attractions increased a fair amount, which was likely due to a shift toward local travel and experiences.
People who chose to travel in 2020 prioritized family visits and remote, outdoor activities, and almost always kept their travels domestic. Rather than using an OTA to discover nearby experiences, people may have turned to local businesses, Google, or word-of-mouth recommendations instead.
Traveling also required a lot more planning in 2020 and 2021. When everything from attraction hours to capacity requirements can change from one day to the next, some people feel more comfortable checking directly with operators for the latest updates.
That coupled with a focus on local marketing is helping boost direct bookings.
How to get more direct bookings on your website
With direct bookings on the rise, you want to ensure your website is ready.
Here are a few ways you can attract more direct bookings through your website in 2022.
Invest in reliable booking software
Xola is a booking software created with tour and attraction operators in mind. When you invest in reliable booking software, your website becomes a 24/7 reservationist.
With a quick and easy checkout system, your guests can easily book tours and purchase tickets online without ever having to pick up the phone.

On the back-end, you'll be able to manage bookings as well as your guides, equipment inventory, and capacity through a single platform. This gives you the freedom to focus on running the business, rather than worrying about manually managing your direct bookings.
Ensure your website design is up to par
Your website is the most important tool for driving direct bookings. That being said, your site needs to provide guests with a great user experience — or most will abandon it.
When guests land on your site, they should immediately be able to understand what you're offering. Your site should also be easy to navigate. The navigation menu, for instance, should direct guests to your most important pages.
Tour descriptions are also important. Tour descriptions should be compelling and thorough so that guests are excited to book with you.
This goes for both the desktop and mobile versions of your website. With mobile bookings are on the rise — globally, the mobile travel booking market is expected to grow with a compound annual growth rate of 12.2% from 2021 to 2029 — your site should have a responsive design that works well across all platforms.
Finally, your checkout should be a breeze. The fewer form fields guests have to fill out, the better.
Add social proof
Speaking of website design, every operator's site should include some form of social proof. Social proof is user-generated content from past guests meant to persuade new guests to book. This can come in the form of photos or reviews displayed on your homepage or tour pages.
When new guests see photos of people having a great time, they'll be able to picture themselves having just as much fun. When you pair that with positive reviews, they'll feel confident enough to book your experience.
Other forms of social proof can be your social media follower counts, trust symbols like TripAdvisor badges, and rating widgets.
Focus on your email marketing strategy
Email campaigns are a great way to bring guests back to your website. Your email list is made up of past, present, and future customers that are interested in hearing more about your company.
There are several ways you can generate excitement about your tours and encourage guests to book directly with you:
Offer subscriber-only promotions via email. Exclusive deals make your existing customers feel valued and can persuade them to book.
Communicate new and exciting tours to your existing contact list. Your subscribers will be hearing the news from your first and will therefore be more likely to book directly through you.
Announce seasonal promotions like a website-only discount during the holidays. This could be a buy-one-get-one deal that encourages subscribers to not only book through your site but also give the experience to someone else.
Remember to always include a call to action that brings readers back to your site.
Offer website-only discounts
If your guests feel that they can get the best price on your website, they're going to book directly. You can use social media or email to promote website-only discounts that encourage guests to stop shopping around for deals.
Make your calls to action stand out
A call-to-action is the button guests click on to book a tour, purchase a ticket, or request more information. These buttons should clearly stand out from the rest of your website. Guests should be able to locate and click on them easily.
Your "Book Now" button is the most important call to action on your website, and it should be prominently displayed on all of your tour description pages.
Recover abandoned bookings
Tour and attraction operators lose a big chunk of revenue to abandoned bookings. These are bookings that were started on your website but never completed.
Xola offers a solution for that. Our abandoned cart feature will automatically remind website visitors to finish their reservations. They'll receive an email that directs them back to the website. It has proven to be an effective way to recuperate forgotten bookings.
Create retargeting ads
Retargeting is the process through which you promote your tours to people who have previously engaged with or shown interest in your company.
It's possible to track customer behavior on your website so that you can go back and promote relevant products to users that clicked or landed on a specific page. You can then create ads, such as on Facebook, that target website visitors who didn't complete a booking. You can also create ads that specifically target your email list subscribers.
Note: Apple and Google recently announced new privacy laws that make it harder for brands to track consumer behavior online. This makes it increasingly valuable for tour operators to own their customer data, such as an email list.
Paid search marketing
Many of your guests are using Google to find unique experiences while traveling. When you invest in Google Ads, your website can appear on the front page of search results related to your niche. This will bring your customers directly to your website first before they have the chance to click into other sites offering your tours, such as OTAs.
A hot air balloon operator in Napa Valley, for example, could invest in an ad for the keywords "hot air balloons in California." Every time someone searches for that, they'll see the operator's website at the top of the results.
***
While OTAs can be an effective distribution channel, they shouldn't be the only avenue used to drive online bookings.
By following these tips, your company — and website — will be ready to welcome an exciting rise in direct bookings.