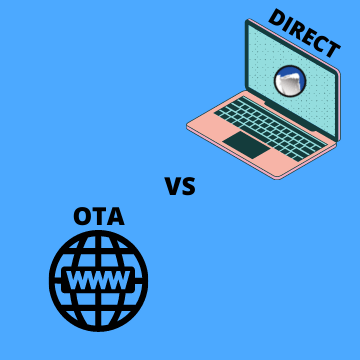 Online travel agencies (OTAs) have been the fastest-growing distribution channel for tours, activities, and attractions over the past decade. Yet in 2020, the online marketplaces lost market share due to first- and second-order effects from the COVID-19 pandemic.
According to the Arival Recovery Survey of nearly 700 tour and activity operators worldwide, OTAs as a percentage of all sales slid from 33% in 2019 to 31% in 2020. Meanwhile, direct bookings on operator websites grew four percentage points to 40%.
Attractions felt an even greater shift. OTA bookings dropped from 21% in the summer of 2019 to 18% in 2020. Direct bookings for attractions lept from 43% to 53%.
It's worth noting that, overall, less bookings were happening during this time period due to international travel restrictions and local lockdowns.
This change, however, is likely in response to a rise in local and domestic travel. When travelers are more familiar with nearby activities, they don't need to turn to OTAs to find local tour companies or attractions.
As a tour or attraction operator, having a well-balanced distribution plan is key to your profitability. In this post, we'll talk about the pros and cons of bookings via an OTA vs. direct bookings.
Pros and Cons of direct bookings for tour operators and attractions
Pros and Cons of OTA bookings for tour operators and attractions
OTA vs. Direct bookings: What's the right balance?
Pros and Cons of direct bookings for tour operators and attractions
There are more pros than cons associated with direct bookings. Every tour operator and attraction can benefit from accepting direct bookings on their website – but that doesn't mean it's the only distribution channel to focus on.
The advantages of direct bookings
1. Your website becomes your 24/7 reservationist
With good booking software, your website can turn into a 24/7 reservationist. You'll decrease the number of reservations made over the phone or in person, which will free up your time to focus on running your business.
2. Control your brand narrative
Your website displays the logo, colors, and messaging that make up your brand identity. As guests turn to your website for more information and to make their bookings, they will become more familiar with the look, feel, and messaging behind your brand. You own your narrative on your website.
The minute you list your bookings on an OTA, though, that narrative quickly dissolves. OTAs strive to make all listings appear similar to one another so that guests make decisions based on pricing and reviews over brand identity.
3. Allows you to upsell your experiences
You can upsell your experiences with strategic add-ons, such as meal or drink packages, when guests book through your website. Xola, for instance, will recommend the most popular add-ons to your guests as they're checking out. Add-ons help boost your average order value and overall revenue.
4. You keep all of your customer data
Every piece of information your customers share on your site becomes yours to keep. You'll also be able to study customer behavior on your website, such as finding out what pages guests visit before they make a booking.
The disadvantages of direct bookings
1. You need to find the best booking software for your company
To accept direct bookings on your website, you need to invest in booking software. It's important to find booking software that not only turns your site into a 24/7 booking engine but also helps your company grow. Xola, for example, offers strategic marketing tools like the Abandoned Booking Recovery, which reminds guests to return to your site to finish their booking.
2. It's harder to reach travelers
Your website likely won't reach as many people as Expedia does. OTAs reach hundreds of thousands of people around the world, while your website may only reach a local audience.
To expand your reach, you'll need to invest in driving traffic to your website.
You need to build a solid SEO strategy, where you optimize your landing pages to rank for specific keywords in your niche. You may need to build a stronger content marketing strategy, such as hiring someone to write keyword-rich blogs for your site.
You'll also want to build up your social media presence, as it's a great way to reach new customers directly and bring them onto your website.
Then, you can delve into the world of paid ads, on both social media and Google.
In sum, increasing your website's visibility is often a time-consuming, multifaceted approach.
3. It requires consistent effort to drive traffic to your site.
As we learned above, it can take a lot of time and effort to increase your website's visibility on Google and social media. You'll need to invest in your online marketing to meet guests where they're finding inspiration for their trips.
It's important to note that this won't be a one-time investment.
You'll likely need to a build a team to keep up with your content marketing, SEO plan, and social media strategy. If you want to continue reaching a new audience without OTAs, you'll need to stay consistent with each brand of your online marketing.
Pros and Cons of OTA bookings for tour operators and attractions
Should tour operators and attractions sell their tours and tickets through OTAs, even if their market share decreased in 2020? Let's take a look at the pros and cons of OTA bookings — and how they can impact your company's growth.
The advantages of OTA bookings
1. Reach a global audience
Big-name OTAs like Viator and Expedia are recognized around the world. Viator, specifically, receives hundreds of millions of monthly visitors from all over the world. Many OTAs make listings available in several different languages, making them the preferred booking method for international travelers.
2. The Billboard Effect
The Billboard Effect is a phenomenon that occurs when a tour or attraction receives more direct bookings through its website after listing on an OTA. A 2017 study by Cornell University found that 65% of customers who booked directly with a hotel website had visited an OTA before their purchase.
While a guest may initially discover your company through an OTA, they might want to compare prices or reviews on your own website.
The Billboard Effect may become more prevalent in a more complex, post-pandemic travel landscape. Guests today may prefer to speak directly with a tour supplier or attraction to fully understand their restrictions and/or operating hours, as they can rapidly change due to the ongoing pandemic.
3. Low-cost way to list your tours
OTAs offer a low-cost avenue to promote your products. If a company is just starting out, it may not have a significant digital marketing budget. Many companies may not know how to build an audience on social media or the ins and outs of search engine optimization (SEO) — which are two of the main strategies used to drive traffic to their website.
Yet when they list with an OTA, they can leverage the platform's online marketing initiatives. OTAs make money off of actual bookings, so the companies invest a lot in promoting their listings. Your listings can start reaching travelers as soon as you join an OTA, which can help boost your bookings.
4. Collect positive reviews
OTAs have tools to encourage guests to leave online reviews. Travelers are often drawn to OTAs because they can compare different companies based on their offerings, prices, and reviews. When a potential guest reads the positive feedback you've received from past customers, they feel more confident to book.
The disadvantages of OTA bookings
1. 20%+ commission fees
OTA commission fees can vary from 15% to 40% of the tour or ticket value. That's a large chunk of your incoming revenue and can deeply hurt your profits, especially during uncertain times.
2. Loss of customer information
When you sell your products through an OTA, you're essentially "renting" a listing space from them. Your guests are then doing business with the OTA, not your company directly. So the OTA is the one to collect their email addresses and phone numbers, and this information isn't necessarily passed on to your company. You may lose valuable information that can be used to follow up with guests to continue the relationship.
3. The search algorithms
Every OTA uses a unique search algorithm to rank the thousands of listings available. Suppliers must constantly keep up with algorithm changes to ensure their listings aren't lost in the mix. OTAs often offer tips on how to rank well in searches, as well as paid tools to boost your position.
4. Manually manage bookings
If an OTA doesn't integrate with your booking software, you're left with a whole lot of back-end work. You'll need to manually manage new bookings made through the OTA, along with the ones made through your other distribution channels. There's no point in increasing your bookings through an OTA if your company is constantly overbooking its tour guides.
5. No direct contact with your guests
When your customers are streaming in through an OTA, it's harder to build a connection with them. You already don't have direct contact with them, so the experience starts impersonal. The guests booking through an OTA may see you as a faceless online brand.
6. Price parity
Once a price has been set with an OTA, operators are often asked not to compete with the price by setting a lower rate on their website. Some OTAs may even prohibit suppliers from offering a better deal on their site. Locking yourself within a specific price can impact special customer promotions and other campaigns you've planned.
OTA vs. Direct bookings: What's the right balance?
It can be difficult to find the right balance between OTAs and direct bookings. Before the pandemic, OTA commissions were reaching a high of 40% on some platforms.
Tour operators and attractions felt those rates eating into their profit margins, which drove many to start focusing on direct bookings.
There's no doubt that OTAs help bring in new customers. But at what cost? It helps to look at your customer acquisition cost and find out if your company can take that cost on. Do you have room in your budget to increase your marketing spend?
To drive more direct bookings, you'll need to increase your website's visibility. A solid content marketing and SEO strategy can help your site rank better on Google, where most of your customers are researching things to do in your city.
You should also take a look at the customers coming in through your OTA channels. You might find that it's a customer segment you can reach on your own.
You may also want to consider alternative distribution channels that charge less commission, including local hotels, attractions, visitor information centers, or affiliate marketing through bloggers.