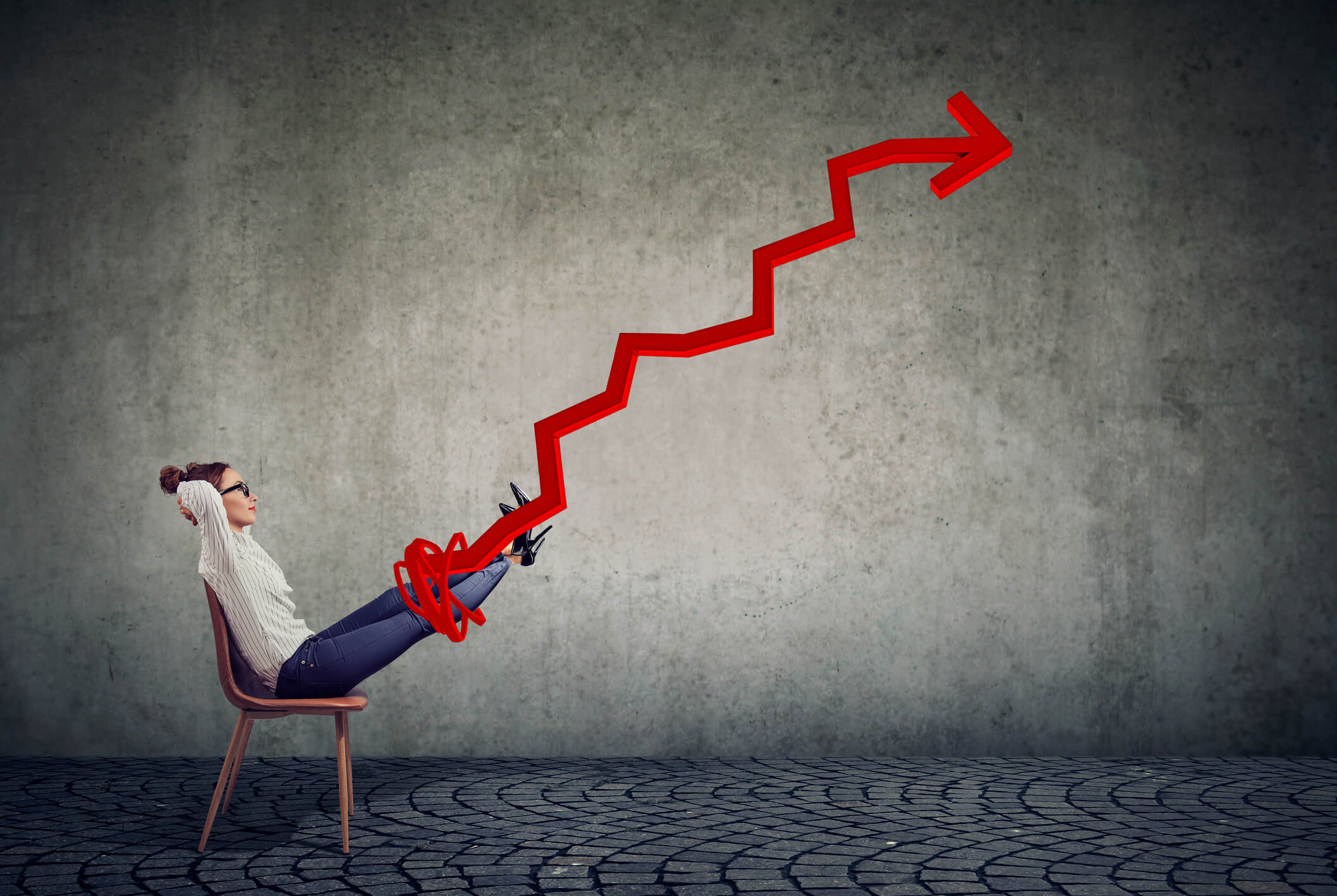 If you are a tour or activity provider, revenue from bookings can make or break your business. If you get too few bookings, you can't cover costs. However, if you sell out, then you're in the best possible position to profit and grow your business.

You can more easily focus on driving reservations if you have a strong tie between your bookings and the marketing activities that drive them. At Xola, we've made this easy with a wide selection of applications in the Xola App Store. The Xola App Store currently offers more than 40 applications, providing extended features to businesses of all sizes and customization to address complex, enterprise-level needs.
Here are just a few things that apps in the Xola App Store can help you with by getting booking data where it needs to be:

Distribution: Apps within our Distribution Channel category connect Xola to leading consumer travel activity platforms such as Expedia, TripAdvisor, and Viator. Xola monitors availability across all channels in real time so you are always up-to-date with reservations and never over book.
Conversion Tracking: The Custom Conversion Tracking app lets you use any tracking code and analytics software to analyze your online business performance. Xola also has a Facebook Pixel Tracking app on the Xola App Store.
Reporting: The Custom Reports app helps you answer all of your business intelligence questions within Xola. And Xola's Google Analytics app instantly shares transactional information captured during checkout with your Analytics account.
Each of these options allows you to utilize your bookings data in a different context, from driving more business to tracking campaigns to analysis and optimization. Once you have your tracking set up and bookings data is in Google Analytics, you can use it to analyze your online marketing activities and your online business overall.

Here are a few tips for easily extracting actionable insights from booking data in Google Analytics:

Analyze the Most Important Data in Google Analytics

With so much data accessible, it's crucial to define the questions you want to answer and how you are going to do that in order to get meaningful insights from Google Analytics. Then, make sure you add the following eight questions to the list.

What is my revenue from online bookings?
What is my revenue by customer type (veterans, minors, etc.)?
What is my revenue by type of offering, such as core, add-on, and gift offerings?
What is my revenue by marketing channel, such as paid search, organic search, social, and direct?
How much value is driven by each page on my website?
What percentage of visits to my site result in a booking?
What is my conversion rate by marketing channel?
What is my conversion rate by landing page?
We have provided detailed instructions on how to answer these eight questions with Google Analytics in a previous installment.

When the marketing aspect of your business is in focus, you can go a level deeper and explore how well your marketing activities are doing and where there might be room for improvement.

Analyze Marketing Activities in Google Analytics

If you've been following the Xola blog for a while, you'll know how to manage Facebook campaigns, grow an organic presence on Facebook, and boost bookings with a Google Ads search campaign. Plus, if you've been reading our eBooks, you'll know how to design a highly converting website and recover abandoned carts.
These resources help you get your marketing tools in place and your campaigns set up. Once that's done, you can dive deeper into the Google Analytics data that's specifically relevant to your marketing activities. As you do this, try to keep your analysis focused on bookings because there's a lot of metrics out there that can put you on the wrong track.
Here are a few things to explore that will keep you on the right track:

Revenue by Marketing Channel and Campaign
One of the most important metrics to use when assessing marketing performance is the breakdown of revenue driven by each marketing channel. (When using Xola's Google Analytics app, this information will be automatically pushed to your Analytics account).

For example, the image below shows a business who sees 39.3% of revenue coming from direct traffic, 32.4% from paid search, 24.1% from organic search, and the rest of its traffic from social and referral channels. You can use this data to inform which channels to spend the most time and money on.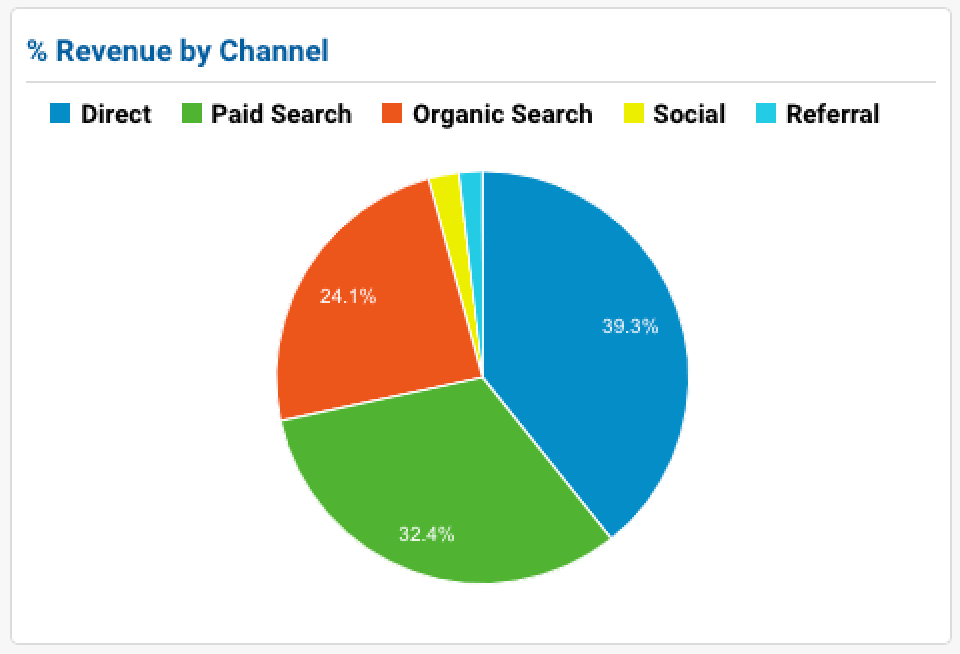 To go a level deeper and explore your bookings and revenue by marketing campaign, you'll want your campaign data in Google Analytics to be as accurate as the other data you have in there. Quality campaign data can be added to your Google Analytics account by adding the appropriate campaign parameters to all the links you use for marketing purposes. This can be done by using Google's Campaign URL Tool and by referring to Google's article about setting up custom campaigns.

There are only two mandatory fields in the Campaign URL Tool (shown below). However, the more information you put in the tool, the more ways you can slice and dice your campaign data in Google Analytics. For example, if you want to view bookings and revenue by campaign, be sure to include the "Campaign Name" parameter in all your marketing URLs.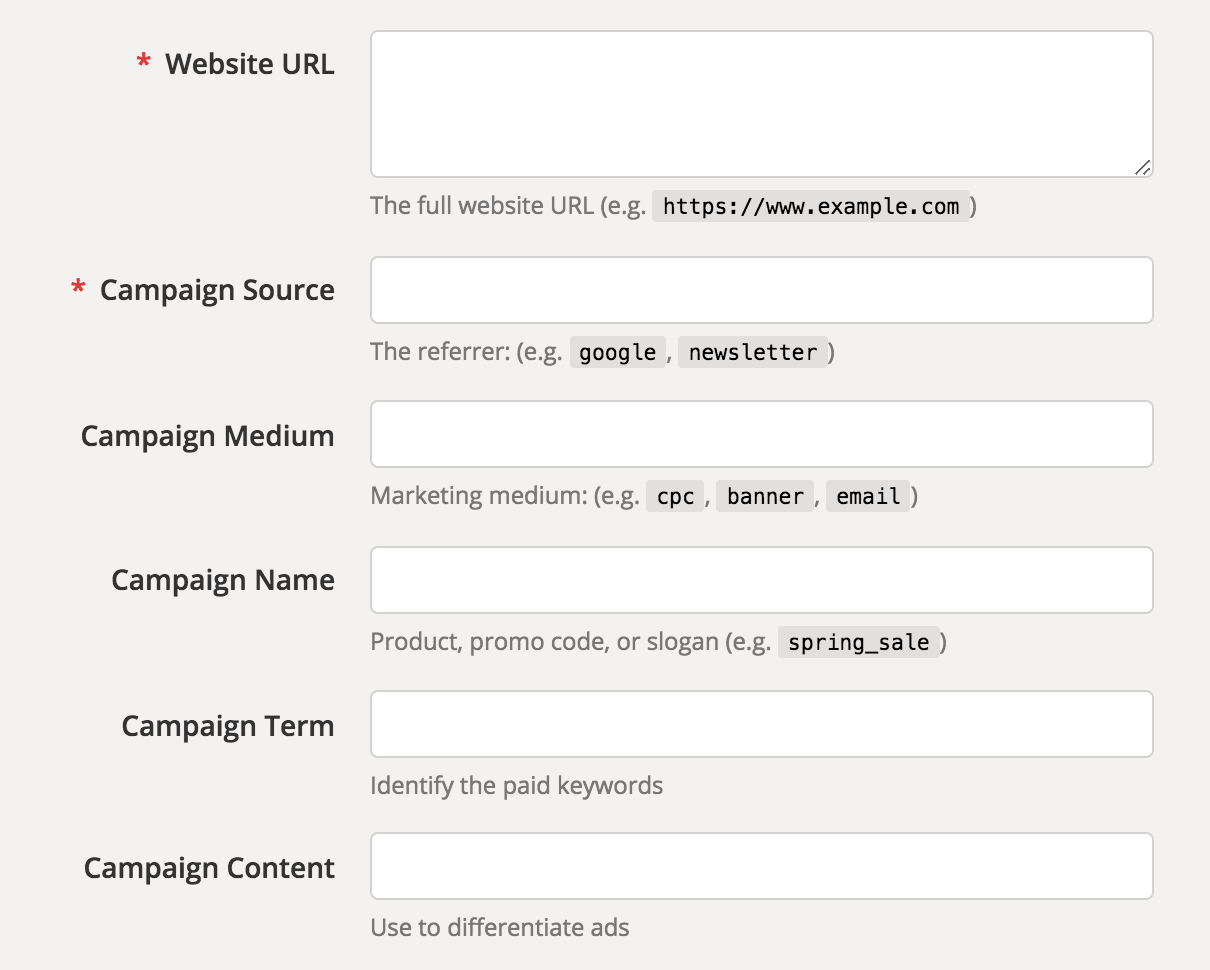 As your campaign data flows into Google Analytics, you can view it in the context of your ecommerce data by logging into Google Analytics, expanding the "CONVERSION" menu, and then expanding the "Ecommerce" menu.

Revenue by Offering and Customer Type
Xola shares granular booking information with your Google Analytics account via the Google Analytics app, including revenue by activity and specific type of audience. Use this information to compare the revenue from each of your offerings, better understand your leading customer groups, and optimize accordingly. If you offer discounts for veterans, minors, or other customer groups you can also report on the revenue these groups drive and compare them to other customer groups.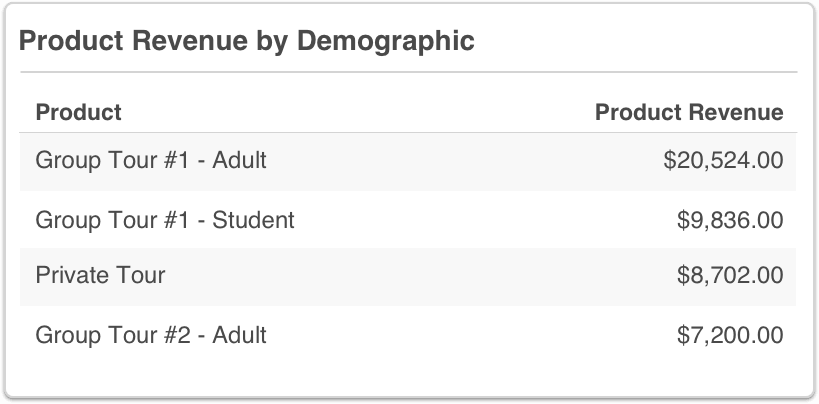 Revenue from Recovered Carts
Xola's Abandoned Booking Recovery app automatically re-engages consumers that started a checkout process, but did not finish it. It works by sending an email to the consumer shortly after they've abandoned a cart, which invites the consumer to return and complete the booking. By default with Xola, this re-engagement happens 8 hours after cart abandonment, but both the re-engagement timing can be configured to the length of time that works best for your business.

This app significantly helps tour and activity businesses get a return on their investment from the Xola Booking and Marketing Software. For instance, Xola's US-based escape room owners earned an average of $19,825.78 in revenue per year from Xola's abandoned booking recovery app. If you're using booking software that doesn't have a cart recovery feature, consider switching to one that does because it can easily cover the costs of your online booking software and boost your income.
Revenue by Device
Revenue by device is another great metric to track. It lets you see the percent of your booking revenue coming in from reservations made on desktop computers, mobile devices, and tablets. The image below shows a business who sees 51.5% of revenue come from desktop devices, 44% from mobile devices, and the rest come from tablet devices.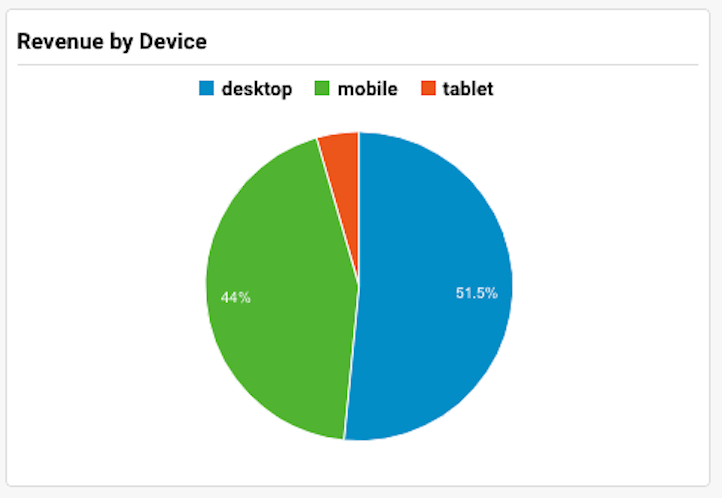 Knowing the breakdown is great because there are so many implications to it. If mobile and tablet bookings are common for your business, you'll want to make sure you have a responsive design and user experience for your website and web checkout. Xola makes this easy because its checkout has been designed to be mobile-optimized and to provide a beautiful experience on all screen sizes.

It's also important because you may want to allocate your marketing budget in order to reach consumers on the devices where they're the most likely to convert. For example, mobile consumers may be near you and looking to book in the short term whereas desktop consumers may be out of your area, planning a vacation near you, and trying to make bookings further out. If so, you can adjust your marketing campaigns to reach these different types of consumers.

Popular Booking Times and Days
If you know when customers typically make a reservation, you can optimize certain aspects of your business with this information. And if your customers typically make bookings outside of your business hours, you may want to increase your focus on providing website visitors with a great online booking experience. In fact, Xola analyzed reservations seen by the average US escape room business in 2016 and 2017 and found that 52.63% of them were completed outside of common business hours.

You may also have times when few or no bookings get made. In this case, you may want to set up your ad campaigns so that you don't advertise during these times when consumers might click on your ads but they do not make a booking.

You can easily get information about your site's most popular booking times and days by creating a report in Google Analytics or by using the Xola Custom Reports app. Xola's Custom Reports app is especially easy to use because it comes with templates that you can tweak to your specific needs.

Conclusion

In order to strengthen the tie between reservations and marketing campaigns you need to be able to access and analyze transactional data with campaign information. Xola makes this easy with a variety of marketing, tracking, and reporting apps within the Xola App Store.

Once you have all of your data where you need it, it is important to clearly define what you want to measure and how you will do so. We have provided a few tips for metrics to track and ways to report on them. And to make things easier, we have created a custom dashboard for Google Analytics that surfaces these key metrics and more. If you are a Xola customer and would like to gain access to this custom dashboard email us at support@xola.com. If you are not a Xola customer and would like to hear more about what we can do for you email us at join@xola.com.

Xola isn't just software that allows you to accept bookings. It's software that helps you grow your bookings and business.