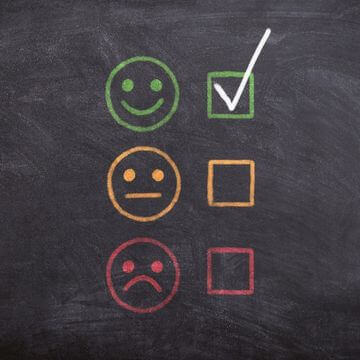 Online reviews play a big role in helping consumers make travel decisions — but did you know that 88% trust reviews as much as personal recommendations?
Your customers are increasingly basing their booking decisions on your reviews.
Deciding to respond to all reviews matters. It's not only a great way to engage with the guest that left you the review, but also gives you the opportunity to reel in future customers.
When 77% of consumers "always" or "regularly" check online reviews when looking for local businesses, you can bet that your responses are being read.
Yet many tour and attraction operators make the mistake of only addressing negative reviews. Meanwhile, positive reviewers — or those who are the most likely to become repeat customers or tell their friends — are left unheard.
Instead, we'll teach you how to show them that you value their business. In this post, we'll share positive review response templates and tips that you can use to respond to your reviews
How do you encourage travelers to write more positive reviews?
A step-by-step guide for responding to a positive review
6 examples of great positive review responses
Review response times best practices
How do you encourage travelers to write more positive reviews?
Whether you're asking for a review before guests go home or sending an automated email after their visit, both approaches can bring in customer feedback. Here are 10 tactics to encourage your guests to review your company.
Manual approaches
1. Ask them. Many customers won't go out of their way to leave you a review — unless you ask them. You shouldn't be afraid to ask your guests for reviews. A recent survey found that 12% of consumers left a review every time a business asked them to do so in the last 12 months.
2. Make it easy for your guests to find the review site. If you're sending an email asking for reviews, include a clear call-to-action in the message with a link to the review site. When telling guests in person, explain which review website is best. You can also use physical reminders such as a tent card at the reception desk or flyers that state the review website guests should go to.
3. Offer different options for review websites. Don't limit your guests to a single website. Some guests may prefer Tripadvisor over Google, for instance. Let guests choose the review website they feel most comfortable with.
4. Remind guests to leave a review as they exit the attraction or end the tour. This is the best time to ask because the experience is still fresh in their minds. They're more likely to leave you a review while they're still excited about the experience rather than a few days later.
5. Provide an incentive. If you find that guests aren't responding to the above review tactics, you can try offering an incentive. While it's not ethical to bribe a guest for a review, you can try to encourage customers with a discount on future experiences.
For example, you may email them offering a 5% discount on a future tour in exchange for a quick review on Facebook. Another option is to run a gift card giveaway, where you'll randomly choose a winner from a pool of reviews.
6. Engage with guests on social media. Some guests may find it easier to engage on a platform they're already using, such as their prefered social media page. Maintaining an active social media presence can lead to a stronger relationship with your customers, especially if you're interacting with them through your profile. This includes responding to comments — which is a form of customer feedback — on Facebook and Instagram.
7. Promote reviews on social media: Another way to use social media to attract more reviews is to promote positive feedback. You could, for instance, share a screenshot of a review and tag the guest that left it, thanking them for the feedback. When other customers see that you value your guests' opinions, they might be inspired to leave their own reviews.
Automated emails /reminders
1. Follow-up emails. Automate a post-visit email campaign that asks guests to leave you a review. Include a link to the review site so that guests can quickly click through from the email itself. If they don't leave a review, you can follow up with additional emails encouraging them to share their feedback.
2. Post-experience customer survey. Automatically send a customer satisfaction survey to your guests a day or two after their experience. This survey can be sent via email or SMS text message. You can include a link to an outside survey, or add the survey within the body of the email itself.
3. Use Tripadvisor Review Express. Tripadvisor Review Express is a feature that automatically sends review emails to your customers. These emails come from the Tripadvisor domain, which your guests will instantly recognize. If you don't have a Tripadvisor listing yet, learn how to claim and manage your profile here.
A step-by-step guide for responding to a positive review
1. Personalize the response. Don't copy and paste the same response to every review. Instead, address the customer by name and refer to specific points in their message.
2. Thank them. A quick "thank you" shows customers your appreciation for the review.
3. Be specific. Respond to specific points brought up in the review. If a guest referenced a particular tour guide, for instance, you could mention that you'll share the review with that employee.
4. Offer value. If possible, try to offer something of value in every response. Do you have a customer loyalty program that your guests may not be aware of? Or perhaps there's a new promotion going on that they may be interested in? Not only will this information be useful for the reviewer, but it can also catch the attention of others reading the review.
5. Encourage them to share their experience. Word-of-mouth marketing can be powerful. When guests tell others about the wonderful experience they had, they can help bring in new customers. You can also remind them to tag your company on social media if they share any photos or videos from their visit. Tell them that you love seeing their photos and that with their permission, you may repost them on your account.
6. Thank the guest again, and encourage them to return. End your review response by once again thanking the guest for leaving a review. Then, tell them you hope to see them again soon.
7. Record the feedback. Customer feedback is invaluable for a tourism company. Positive reviews tell you what your company is doing right while shedding light on your guest preferences. You can use this data to build upon the things your guests already love, ensuring that they become loyal customers for years to come.
6 examples of great positive review responses
Personalization is key when responding to any kind of review. Copying and pasting a generic response to every review can be tempting, but in that case, you might as well not respond at all.
The point of responding to your reviews is to show guests that you appreciate their time and value their feedback. It's also the moment where you can address any concerns they have about their experience.
When other guests see you personally responding to reviews, they'll feel more inclined to book with you. A generic "thank you for your visit" simply won't have the same effect.
1. Little Havana Food and Walking Tour in Miami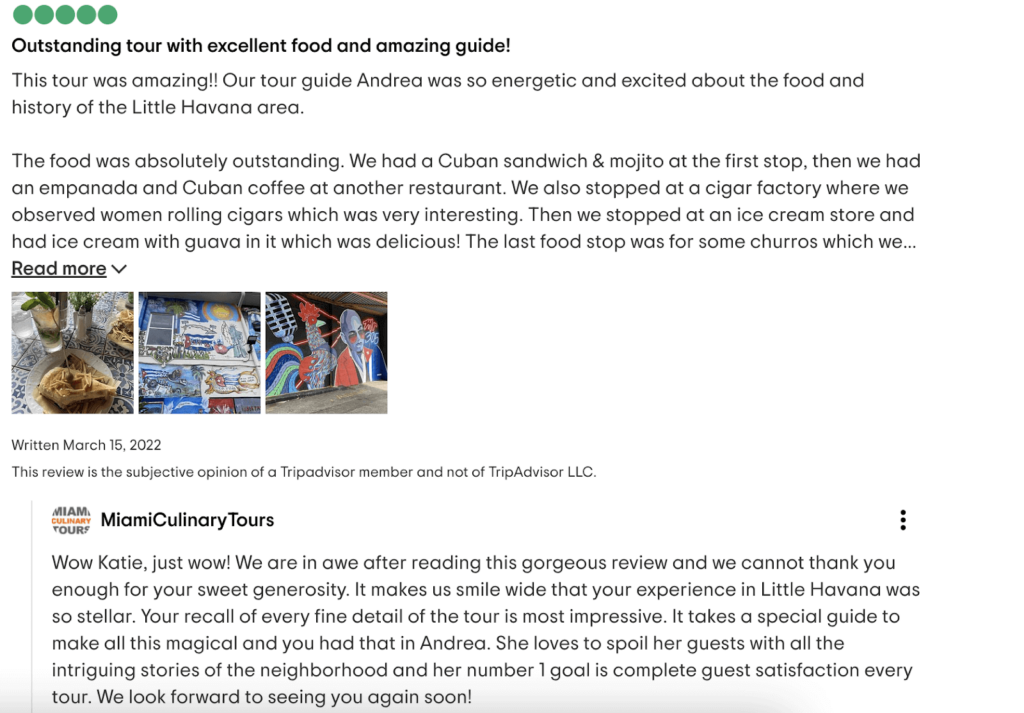 Miami Culinary Tours received a glowing 5-star review for a food tour in Miami's Little Havana. As you can see, the response was personalized to the review. The tour operator first refers to the guest by name and then specifically highlights the positive points brought up in the review, including the tour guide's performance.
2. Red Room Escape Room in San Mateo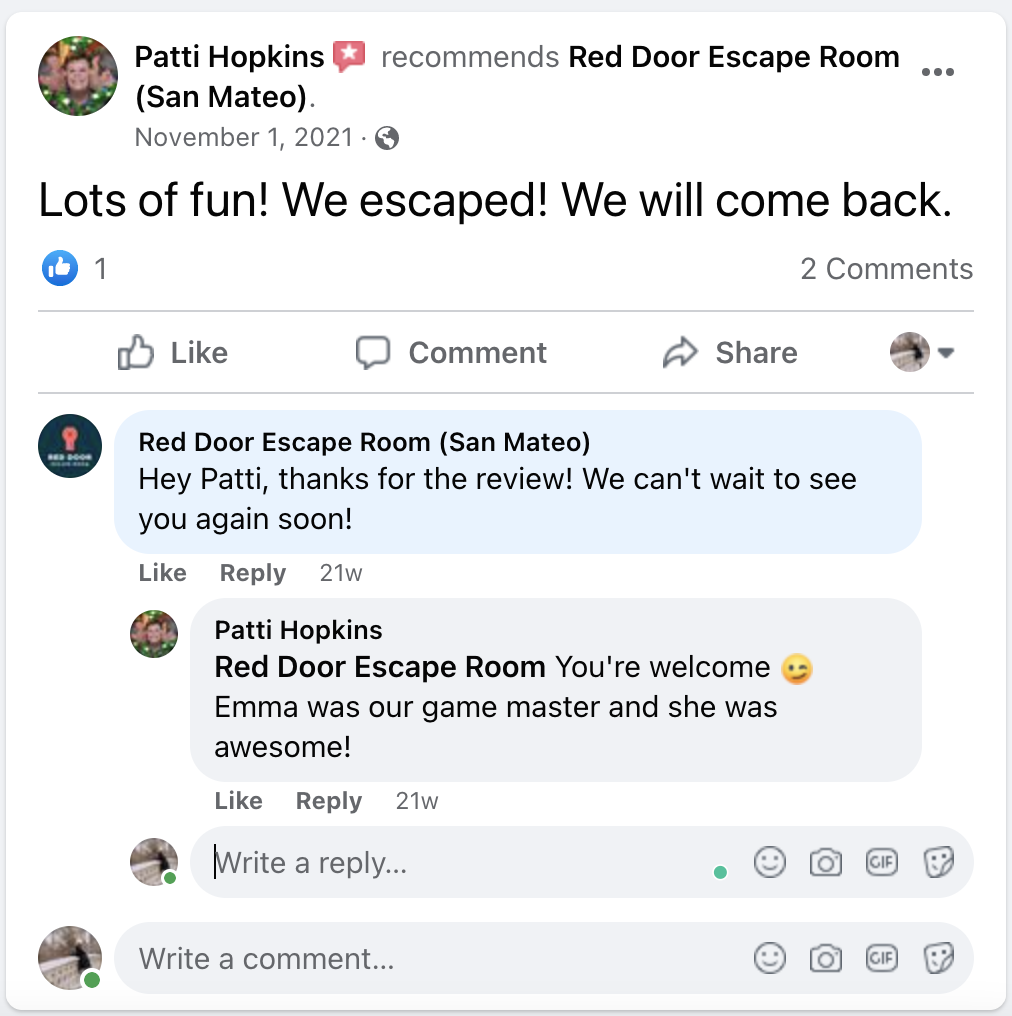 By responding to this Facebook review, Red Door Escape Room engaged with a guest on a platform where they felt comfortable enough to continue the conversation. The response clearly had a positive impact on the guest: She responded with yet another compliment the second time around.
3. Tours by Isabelle in New Orleans
Here's a good example of how to respond to a mixed review. This particular guest gave Tours by Isabelle a five-star rating for an airboat and plantations tour in New Orleans. Yet in the review, the guest mentions that the experience was "too long."
When responding, Isabelle made sure to touch on the negative point brought up by the customer.
The tour operator explains that the journey itself requires a lot of time, and then apologizes for the traffic that added an extra hour to the trip. Then, the operator ends the review on a positive note by mentioning the tour guide's performance.
When other guests read this review, they'll see that the tour operator took the time to write a fully personalized response. Isabelle not only explained the reasoning behind the tour duration but also apologizes for the external factors that impacted the trip.
4. Napa Valley Balloons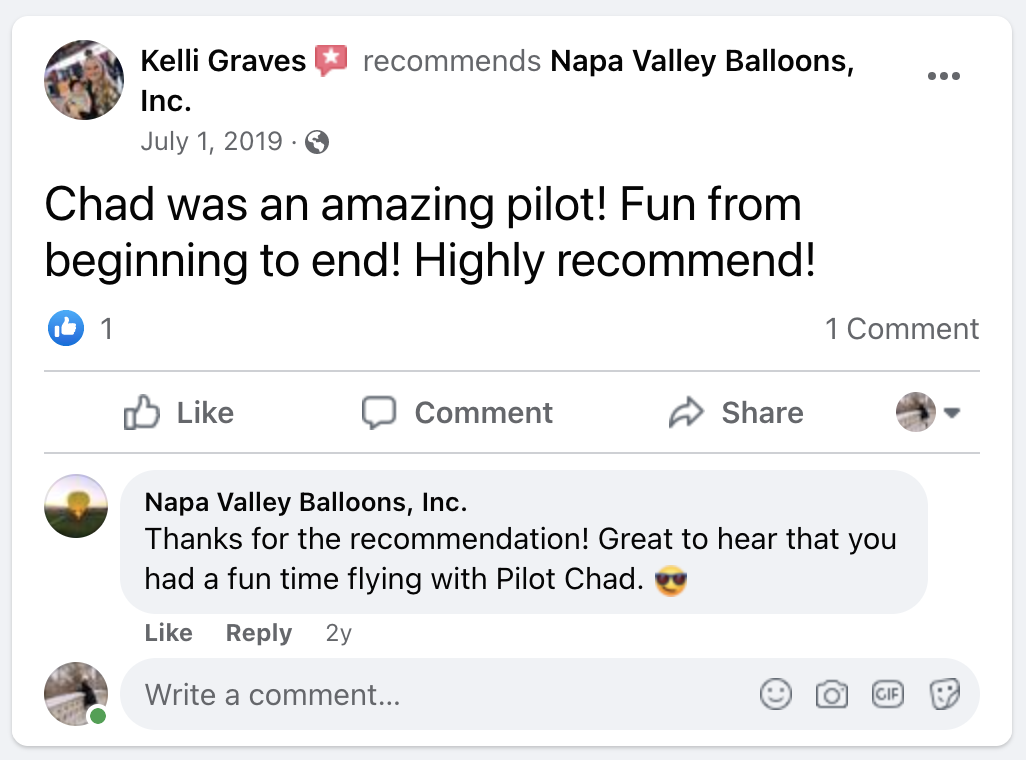 Hot air balloon operator Napa Valley Balloons knows that personalization is important when responding to reviews. In this particular case, the operator makes it a point to call out the pilot mentioned in the review.
5. Detours of Arizona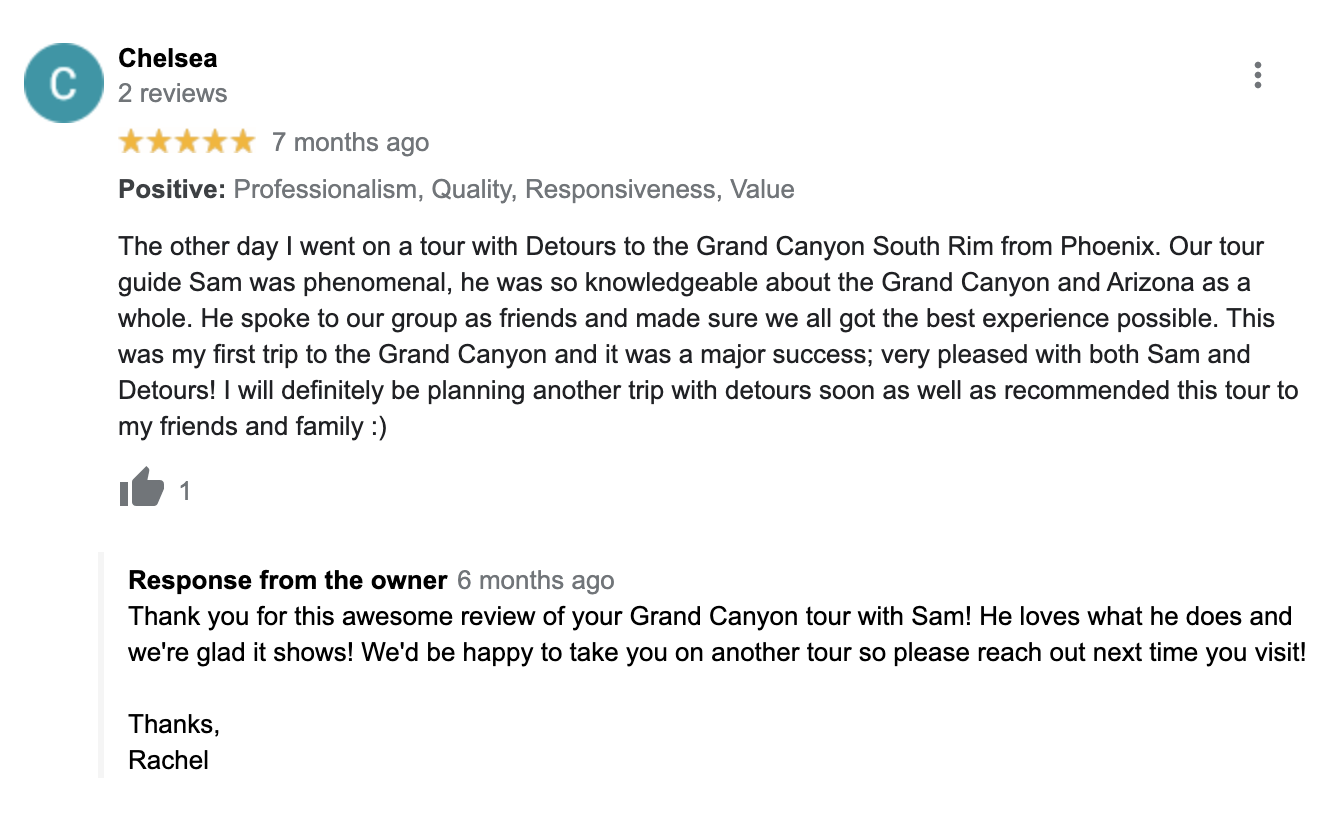 There's nothing better than hearing amazing feedback about your tour guides. It means you've made a great hire and that the guide is having a positive impact on your guest experience.
Outdoor adventure tour operator Detours of Arizona received a great review from a guest that called their tour guide "phenomenal." As you've seen with previous examples, operators almost always repeat the compliment about the tour guide in their responses. It's an easy way to personalize the response as well as bring extra attention to your staff.
In this example, Detours of Arizona also made sure to encourage the guest to return for another tour in the future.
6. Experience! The Finger Lakes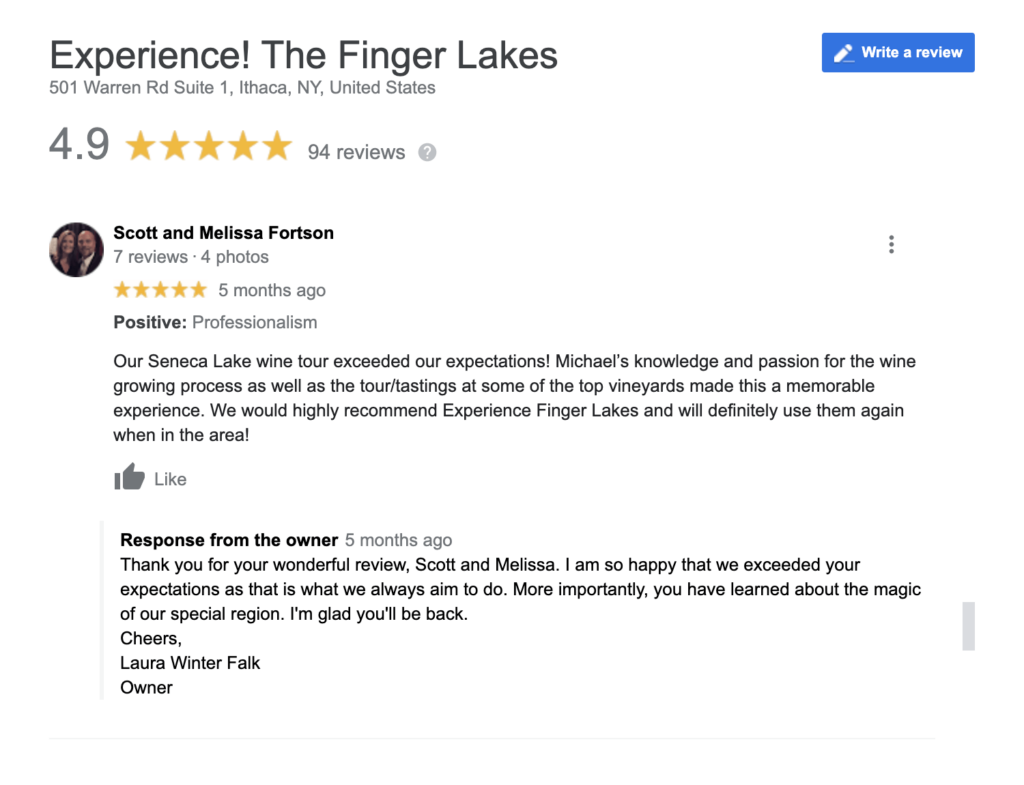 New York tour company Experience! The Finger Lakes made sure to refer to its guests by their first names. This is an easy way to make the review feel personal right off the bat.
The company then thanks the couple for the review while emulating their excitement about the region. Before signing off, the owner encourages them to return.
Review response times best practices
When it comes to response times, acting quickly can drive the most powerful results. One in five consumers expect to receive a response to their review within 24 hours, while 26% expect to hear back within two days.
Yet a recent report by ReviewTrackers shows that the hospitality industry is lagging behind. The average review response time was about 7 days. The top 10% of brands, however, had an average response rate of 1.2 days, signaling that faster review response times are linked to having a positive reputation.
In 2020, 50% of consumers only looked at reviews — and responses — left within the last two weeks when making a purchasing decision. That means that if you didn't reply within those two weeks, half of your customers wouldn't even see the response.
In 2021, though, that figure dropped to 22%.
Now, more people are looking at reviews left within the last three months to a year. This is likely because many businesses closed during the pandemic and are now undergoing an adjustment period. Guests may be looking at older reviews to compare them to newer ones to make up for the gap left behind by closures.
Overall, the quicker you respond, the more likely the original reviewer (and others) will see it. If you wait a few weeks or months to reply, the guest may have already forgotten the review altogether.
Negative reviews do have a more urgent time frame than positive ones. The goal is to fix the underlying problem and smooth things over with the irritated guest before they abandon your brand.
If you take too long to respond, customers will only see the negative review and nothing else. Yet when you address the negative review in a timely and professional manner, guests reading that review will take note.
***
When your guests take the time to leave you a review, the best way to thank them is to do so personally. We hope you can use this guide to begin responding to your positive reviews, too.