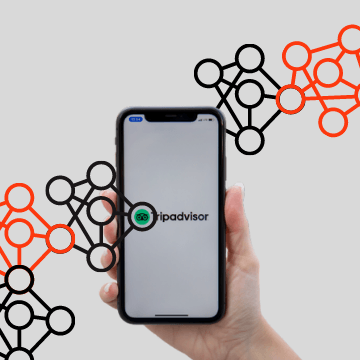 Matt is traveling to Puerto Rico and the rainforest tour is at the top of his bucket list. He's been reading reviews for over a dozen tour companies that all offer the tour, and he's having a hard time choosing between them.
So he reached out to his friend Audrey, who happened to do the same trip one month ago. She quickly recommends Company X, telling Matt that her experience was spectacular. After checking Company X's reviews on Tripadvisor, Matt sees similar responses from other guests.
Matt books the tour with Company X.
This is all to say that customers trust other customers. Whether it's a personal recommendation or dozens of positive reviews, both can have the same impact on an indecisive traveler.
Young travelers, particularly millennials and gen-z, often judge a company's reputation based on their online presence. In fact, 83% of digital natives say that reviews play an important role in their booking decisions. And many of these travelers are turning to Tripadvisor for their research.
Are you starting to understand why Tripadvisor reviews are so important for your tour company or attraction? In this post, we're going to delve into the Tripadvisor ranking system and why it matters for your tour business.
Why should you care about your Tripadvisor ranking?
How does ranking work on Tripadvisor?
5 tips to increase your ranking
Why should you care about your Tripadvisor ranking?
Improving your Tripadvisor ranking means appearing higher on the page when a traveler searches for similar activities. Your ranking directly impacts how many people see your company and therefore how many bookings you generate from that listing.
There are over 1.2 million attractions listed on Tripadvisor. A higher ranking prevents your company from getting lost in the mix.
Yet if no one is seeing your business listing when they search for "rainforest tours in Puerto Rico," then no one is going to think of your company as an option.
How does ranking work on Tripadvisor?
Tripadvisor looks at three elements to determine your company's ranking: quantity, recency, and quality of your reviews. The consistency of those reviews over time is also factored in.
Quality: Guests can review you from 1 to 5 "bubbles" on Tripadvisor. These bubble ratings are used to determine the quality of the experience. A business with more 5-bubble ratings will rank higher than one that has few 5-bubble ratings.
Recency: Tripadvisor says that recent reviews are more valuable than older ones. In a way, this ranking factor lets companies redeem themselves after negative reviews. Even if you've revived a negative review in the past, if the newer reviews are positive, they'll outweigh the bad ones.
Quantity: In terms of quantity, the more reviews the better. Tripadvisor says that "a business just needs to have enough reviews to provide statistical significance and allow for a confident comparison to other businesses."
However, just because you have more reviews than another company doesn't necessarily mean you'll outrank them.
If Company X received 500 reviews and Company Y received 1,000 in the same time period, they're likely to be ranked near each other. "This is because they both have enough reviews to make us confident in the potential travel experience they can deliver," according to Tripadvisor.
5 tips to increase your ranking
The best way to improve your ranking on Tripadvisor is to consistently collect positive, high-quality reviews. Here are 5 tips to help you do so.
Provide your guests with a fantastic experience
Great reviews stem from great experiences. If you provide your guests with a spectacular tour or visit, they'll be more inclined to give you a positive review. It also helps to start building a stronger relationship with your guests, whether that be through personalized marketing or exceptional treatment in person. As your guests start to fall in love with not just your brand but the people behind it, they'll want to leave you a glowing review.
Ask your guests for reviews
Perhaps you're already providing your guests with a fantastic experience yet you're seeing little to no reviews in return. The reason could be that your guests simply don't know how important reviews are for your company. They may not even know where to leave one. So why not let them know?
Before saying goodbye to your guests, you can try asking them to leave you a review. Your guests won't be bothered by the request because they've likely been asked by other tour companies in the past. Plus, if you ask them in a way that describes how much their review matters to your business, they'll be more likely to help you out.
Tripadvisor's Review Express
With Tripadvisor's Review Express feature, you can automatically send customized review request emails to your guests. You can configure your settings so that emails go out within 48 hours of the guest's experience. Plus, you can automatically send a reminder email to any guests who haven't submitted an online review one week later.
Respond to reviews
Responding to reviews — good or bad — shows guests that you value their feedback. It gives you the chance to thank them for their time and address any issues if the review is negative. When other travelers see that you're actively responding to reviews on Tripadvisor, they'll feel more confident in your customer service. And perhaps that's the extra push they needed to complete their booking.
Never bribe your guests for positive reviews
Never offer your guests any sort of payment or benefit (such as a free gift or meal) to your customers for writing a review. Your guests will be biased after receiving special treatment, and this is explicitly prohibited by Tripadvisor. The platform strives to keep its reviews honest and helpful for other travelers, and biased responses can skew that. Tripadvisor can suspend or terminate your account if it finds out your business offered something in exchange for a review.
***
As we mentioned previously, a major chunk of travelers — over 80% of digital natives — consider reviews before booking an attraction.
Now that you have a better grasp of the Tripadvisor ranking system, you can implement the tips in this post to collect more reviews from your guests.