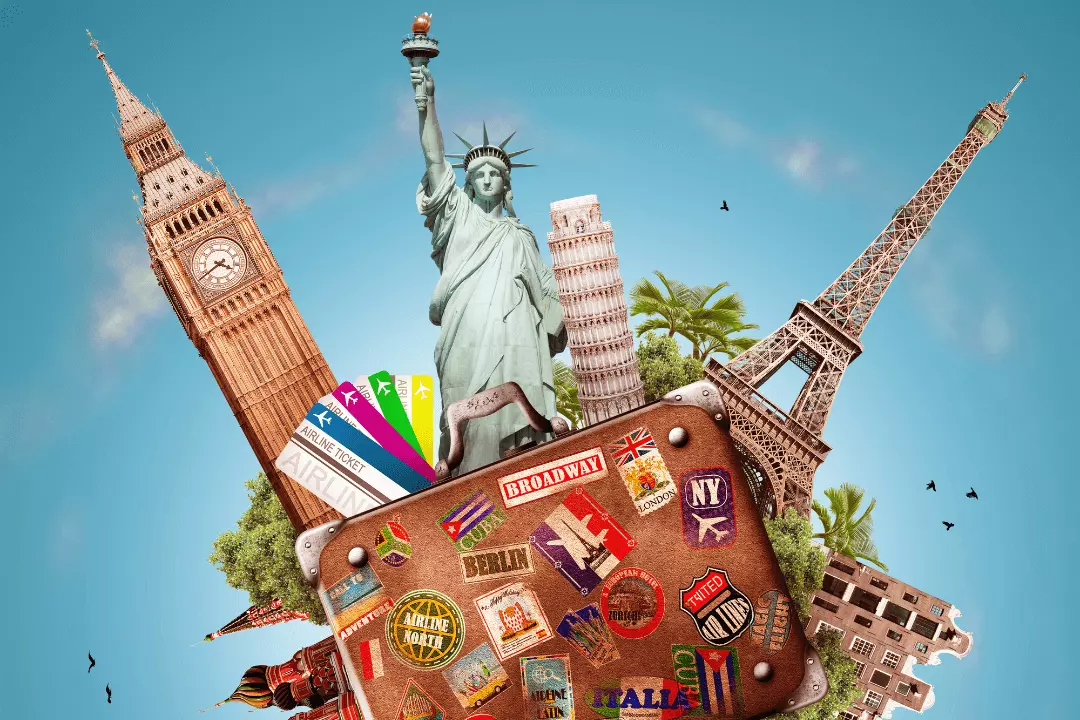 The most notable trend is travelers' desire to spend more time outdoors. They're helping revive the tourism industry in states like Utah and Arizona, where state and national parks are plentiful. Meanwhile, Florida's booming theme park industry and accessible beaches are driving an exceptional recovery for the state.
This is good news for tour and attraction operators. The uptick in visitors to your state will translate to more bookings and revenue for your travel business.
If you're not sure how your state is faring, here are all the U.S. tourism statistics by state that you need to know.
What US states spend the most on tourism?
Historically, Hawaii, Florida, and California were the top three states that spent the most on tourism. Texas, Michigan, and New York were also among the top spenders.
Over the past five years, state tourism funding has increased by 20% across the board. States spend, on average, $22 million on tourism initiatives to attract tourists and generate visitor spending.
Most states took a major step back in tourism spending during the pandemic, but now, they're jumping back into the marketing game. Twenty-nine states ramped up their tourism budgets during the 2021-2022 fiscal year, including Colorado, Florida, Montana, Nevada, Oregon, Texas, and Washington.
Hawaii and Florida were among the top spenders: In 2022, Hawaii secured a $60 million tourism budget, while Florida had over $80 million to work with, including $30 million in federal stimulus money.
How much of Florida's economy is tourism-driven?
Nationwide, travel and tourism are major drivers of economic activity. The tourism industry is responsible for 2.9% of the U.S. GDP.
That number is even higher in Florida, where tourism represents 10% of the state's overall GDP. The industry supports nearly 13% of the state's jobs.
In 2019, Florida welcomed 131 million out-of-state visitors, 10% of which were international. In total, visitors spent $98.8 billion and helped generate $27.6 billion in federal, state, and local taxes.
The total economic impact amounted to $96.5 billion in 2019.
How much of Hawaii's economy is tourism-driven?
Hawaii is also heavily reliant on tourism. The travel industry represents about a quarter of the state's economy.
Over 10 million tourists traveled to Hawaii in 2019, which is over seven times the state's population. Visitors spent $17.8 billion and contributed over $2 billion in tax revenue.
What are the top 20 US states with the most tourists?
New York, California, and Ohio are among the most popular states in the U.S. In 2021, many states experienced a strong rebound in visitors as domestic travelers started to venture out of their home states.
These were the top-visited states in 2021; numbers are shown for the year 2021 unless otherwise noted.
Top 10 fastest-growing US states for tourism
Theme parks, casinos, and parks are fueling a strong tourism rebound in these 10 states.
1. Florida
The state is quickly catching up to pre-pandemic visitation numbers and even setting new records. In 2021, Florida welcomed nearly 118 million domestic visitors, the highest level in state history. This was great news for the hotel industry, which is already generating revenue at pre-pandemic levels. The state's total hotel revenue hit a record in 2021 at $17.3 billion, a 2% increase from 2019.
2. Tennessee
Tennessee's tourism industry is already setting post-pandemic records. In 2021, visitors spent a record $24 billion traveling through the state. That breaks down to $66 million daily, a 44% increase from the year prior.
3. Virginia
The shift toward outdoor and adventure travel has increased park attendance across the U.S. In Virginia, nearly 8 million people visited the region's 41 state parks in 2021, a 15% increase from 2019.
4. Arkansas
Similarly, the tourism growth seen in Arkansas is driven by its parks. The state welcomed just over 41 million visitors in 2021, surpassing the 36.3 million that came in 2019. Hot Springs National Park had over 2 million recreational visits in 2021, topping the previous visitation record set in 1970.
5. Utah
Utah's strong rebound can be attributed to the popularity of the "Might Five," which is the nickname given to Arches, Bryce Canyon, Canyonlands, Capitol Reef, and Zion National Parks. The five parks welcomed 11.2 million recreation visits in 2021, and all but Bryce Canyon National Park had a record-breaking year.
6. Wyoming
Wyoming had a big tourism year in 2021. Visitors spent $4 billion, which helped generate $243 million in tax revenue — a 50% increase from 2020. Yellowstone National Park welcomed a record number of visitors (nearly 5 million).
7. Maine
Tourism in Maine has rebounded to pre-pandemic levels. In fact, tourism was up 25% in the first five months of 2022 compared to the same period in 2019. Meanwhile, visitor spending was up 18% in May of this year over May 2019. In 2021, over 15.6 million visitors flocked to the state, an increase of 29% from 2020.
8. Montana
Montana's state parks welcomed a record-setting number of visitors in 2020. That trend continued into the following year when visitors spent $5.15 billion while traveling through the state, a billion dollars more than they spent in 2019.
9. Arizona
In 2021, Arizona outpaced the national rate in terms of visitor spending and overnight stays. The state recovered 87% of its overnight visitation and 92% of its visitor spending rate from pre-pandemic times. Overnight visitors spent $23.6 billion across the state in 2021.
10. Nevada
Las Vegas is fueling a strong tourism rebound in Nevada. This past February was the best in history for Vegas, with $1.1 billion of casino winnings recorded. Meanwhile, monthly passenger traffic at Harry Reid International Airport more than doubled in February compared to a year ago.
What are the top 10 least-visited states in the US?
Alaska, Nebraska, and Vermont are among the least visited states in the U.S.
Yet even these states are growing in popularity as domestic travel returns in full force. Visitors flocked to the Alaskan outdoors this summer, boosting demand for hotels and car rentals. Meanwhile, Nebraska's lodging tax revenue hit an all-time record this year. And as autumn rolls around, Vermont is gearing up to welcome hordes of leaf-peeping tourists.
These are the top 10 least visited states in the U.S. — at least for now:
***
Whether you run a business in one of the most- or least-visited states in the country, your busy season is about to get a whole lot busier. As tourism continues to rebound in 2022, is your travel company ready to welcome the influx of visitors?