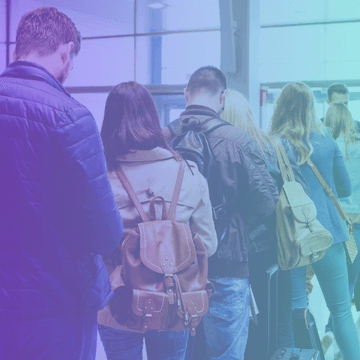 If your tour company or attraction is often hitting 90% or more capacity, you may benefit from implementing a waitlist.
A waitlist allows guests to sign up for a tour or attraction that's already fully booked. When a spot opens up, these would-be guests are notified. Since these guests are actively expressing interest in that experience, they're more than likely to fill that open slot.
It's a win-win situation for both the guest and the operator.
If you're starting to wonder why you haven't implemented a waitlist yet, this post will walk you through everything you need to know about waitlist management.
What is waitlist management?
Your tours likely have a pre-defined capacity limit. This means that when a tour is sold out, you're forced to turn customers away.
A waitlist, however, allows you to capture the demand of these customers. Rather than pushing them off to your competitors, a waitlist can help you keep these customers engaged with your brand, even when your tour is fully booked.
Customers simply need to add their names and contact information to the list in hopes of a spot opening up. If you have a last-minute opening due to a cancellation, you can reach out to the next person on the list.
Not only will the customer be excited to get the time slot they wanted, but you'll be filling a spot that would have otherwise been left open.
Xola's booking software offers a waitlist feature for this very reason. We understand how costly last-minute cancellations and no-shows can be. Yet with our waitlist management system, tour and attraction operators have a much easier time filling gaps in their tours.
Moreso, Xola's waitlist feature makes room for guests with more flexible plans. It gives them the option to join the list across a block of time, such as from 2 p.m. to 4 p.m. if a spot opens up, the guest is automatically booked for that time slot.
Xola will then send an automated notification either through email or text message to the next person on the list.
Why is it important?
A waitlist keeps would-be customers engaged with your brand, even when your tours are fully booked. If a spot opens up on one of your tours, the waitlist will help you quickly fill it with the next person in line — someone who would've otherwise joined one of your competitors' tours. This not only helps you boost your capacity but also your revenue.
Let's take a look at five ways that a waitlist can benefit your tour or attraction:
1. Earn more revenue: There's no reason to turn away would-be customers when you have a waitlist. Even if they don't get a spot on the tour they wanted, you'll be able to market similar tours to them once you receive their contact information. A waitlist is a great way to collect the names and email addresses of people who have expressed real interest in your business. If a spot opens up on a tour, odds are they will book it. This helps you recuperate lost revenue due to last-minute cancellations or turning away potential customers.
2. Boost your capacity: If your tours are constantly running under capacity due to last-minute cancellations, your company isn't operating as efficiently as it could be. With a waitlist, you collect a list of names of people who are willing to fill those spaces for you. In turn, you operate at a higher capacity.
3. Avoid in-person chaos. Turning away customers in person can lead to a lot of frustration. After all, the customer traveled to your location with hopes of joining one of your tours, only to find out that there's no room for them. A waitlist system will ensure this never happens. Customers will only show up at your venue or meeting point if they made it into the tour group.
4. It can make your experience appear more popular. Waitlist signals demand. This can instantly make your experience appear more valuable and drive FOMO. If your tours are completely sold out, your guests will assume that they must be worth doing.
5. Forecast future demand. If your tours are constantly sold out, then you know the demand for them is high. Without a waitlist, though, you'll never know just how high. For example, are there enough people wanting to sign up for a particular tour that would warrant hiring an additional guide? This can also help you identify when it's time to add an another time slot or increase the capacity of that tour. With a waitlist, you will see just how many people are interested in your experiences, which can help you better forecast demand in the future.
When to implement a waitlist
When you notice that your capacity is nearing 100%, you can benefit from a waitlist. The moment you have a fully booked tour is the moment you begin turning away potential would-be customers.
That being said, a waitlist is best used to capture the demand for your most popular tours.
Xola's capacity planning tools can help you keep track of your capacity at all times. It can help you identify your most and least popular time slots and listings, as well as stay on top of your resource limits.
These valuable insights will help you choose the best time to implement a waitlist.
5 tips for managing guests expectations who are on a waitlist
1. Define your waitlist policy from the start
Your waitlist policy will keep your staff and guests aware of your waitlist protocols. You want to make sure your employees are on the same page about your waitlist to avoid any confusion, miscommunications, or worse: overbookings.
Your policy should define how guests can be added to a waitlist and how to communicate with them once they're signed up. It should also explain what to do when your spots become available. This will help your staff manage the list and communicate with guests in a consistent manner.
2. Set up waitlist expectations for your guests
Be open and honest with your guests about your waitlist. Don't lead them on with false expectations. Your staff should be cautious when telling waitlisted guests what to expect. If one of your guides promises a guest spot and one doesn't open up, for instance, that guest will likely be upset. They might lose trust in your brand altogether and look for a similar experience elsewhere.
To avoid giving your guests false hope, make your waitlist policy clear from the start. You can explain on your website as well as through email when they join. Let guests know that there is no guarantee that they'll win a spot on your tour, but that they'll be notified as soon as one opens up. Also, make sure they know what they need to do to confirm their booking if a spot does become available.
3. Communicate with them through email and text
When a guest signs up for your waitlist, they should receive a confirmation email. This is the ideal moment to describe your waitlist policy and set expectations up front. You may also try and offer different time slots and/or experiences that they can book instead.
If a spot becomes available, you should reach back out to your guests via email and text message. Traveling guests will likely be out and about exploring your destination; sending both a text and email will ensure they get the message.
Depending on your waitlist policy, waitlisted guests will need to confirm their presence. Clearly outline how they can do so in your text and email. If there's a specific time limit, for example, make that very clear in the message.
4. Don't fake it
When guests see that you have a waitlist, they'll assume your tour is pretty popular. This is how a waitlist can increase demand. That being said, you may be tempted to set artificial limits that would make it seem like every tour is sold out (when they're really not). Once you garner enough names on the waitlist, the tour magically opens up for them. The problem here is that you're not being honest with your guests, and they will likely catch on soon enough. It's simply not worth risking their trust in your brand.
5. Use booking software like Xola to manage your waitlist
The easiest way to manage your waitlists is through booking software like Xola. The software will collect names and contact information for the waitlist and organize it per experience. This way, you can always get a high-level view of your waitlist demand. Booking software can also automatically notify the next guest in line when a spot opens up, ensuring you never miss a beat.
***
At this point, you've probably realized that the benefits of implementing a waitlist are too big to ignore. With Xola, incorporating a waitlist on your website is easy.