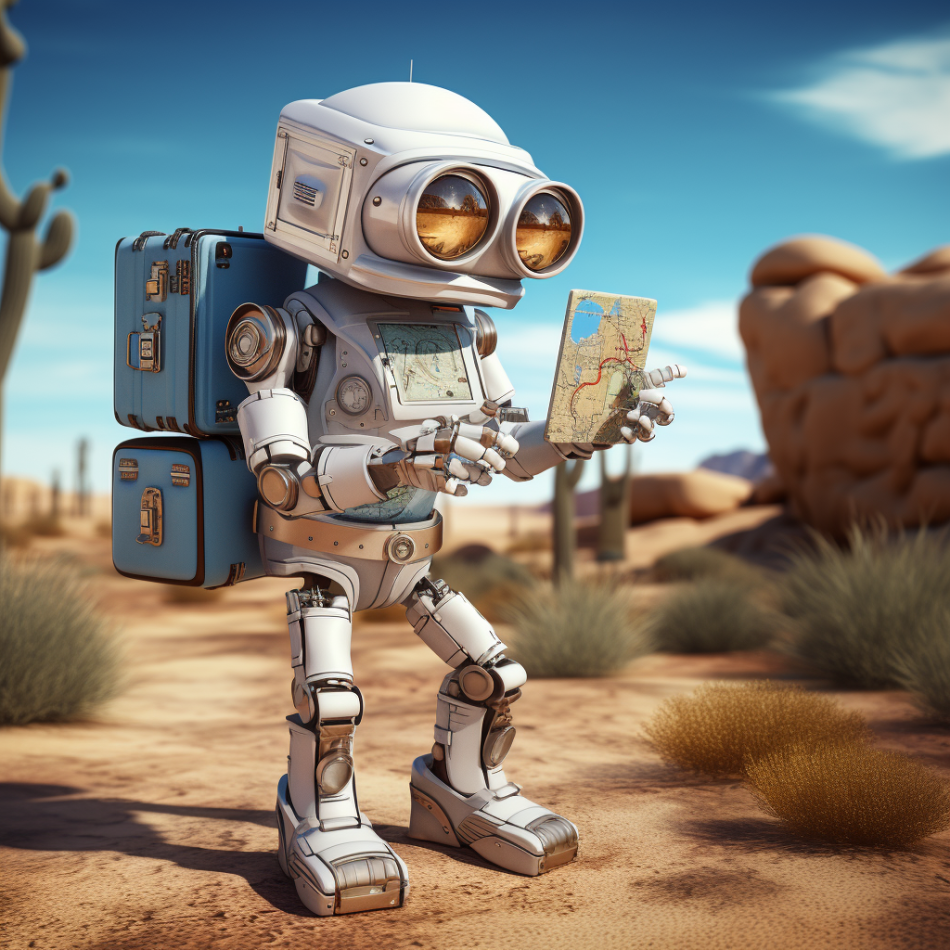 The introduction of AI tools such as ChatGPT, a chatbot powered by advanced natural language processing, has ignited a surge of AI solutions within the travel industry.
Recent statistics reveal that approximately a third of U.S. travelers are inclined to use ChatGPT for trip planning.
Renowned travel brands like Expedia, Kayak, and Booking.com are embracing this trend in response, developing AI trip planners that transcend conventional customer service and usher in a new era of itinerary customization. Meanwhile, tour and attraction operators are leveraging automation to handle routine tasks, allowing their staff to focus on more intricate customer demands.
In this post, we'll dive into the tangible ways in which real-world travelers are harnessing AI-powered tools to craft their own travel experiences.
Understanding AI in travel planning
Artificial Intelligence (AI) is revolutionizing the way travel businesses interact with customers while making it easier than ever for travelers to plan their own trips.
Since the launch of ChatGPT, a chatbot with advanced natural language processing capabilities, the travel industry has doubled down on AI solutions. AI tools leverage machine learning and data analytics to assist customers in a variety of tasks, from customer service to itinerary planning.
By analyzing vast amounts of data, AI algorithms can predict travel preferences, recommend personalized itineraries, and provide real-time assistance throughout the customer journey. On the operator end, tour and attraction businesses are finding ways to automate many routine tasks and free up staff to focus on more complex customer needs.
AI technology is appearing in the travel industry in many forms, including:
Chatbots: AI-powered chatbots have become popular virtual assistants, providing instant customer support, answering queries, and offering travel recommendations 24/7.
Predictive algorithms: These algorithms analyze user data, past travel behavior, and preferences to anticipate future travel choices. They're then able to provide personalized assistance, helping customers discover destinations and activities that align with their interests.
Recommendation engines: AI-driven recommendation engines suggest accommodations, tours, and attractions based on user profiles, ensuring a curated and personalized travel itinerary.
Benefits of using AI in travel planning
The integration of Artificial Intelligence (AI) into travel planning has ushered in a new era of convenience and personalization for travelers. Let's delve into the advantages that AI brings to the forefront of modern-day travel planning.
Personalized recommendations: AI analyzes user preferences and behavior to offer tailored travel recommendations. Travelers can, for instance, tell ChatGPT that they're looking for family-friendly activities in Miami. The suggestions they receive will be fully aligned with their interests.
Time savings: AI can streamline the trip planning process. Whereas before a traveler would have to visit several travel sites and blogs to find recommendations, they can now receive curated options from a single source. Expedia, for instance, has launched a ChatGPT plugin to help travelers narrow down their hotel search in a matter of minutes.
Cost-effectiveness: While travel agents still play a role in specific sectors of trip planning, the regular traveler could take matters into their own hands with AI. ChatGPT can help travelers pick a destination, recommend hotels, and even draw up a sample itinerary. Kayak's new ChatGPT plugin is a great example. It can provide customers with destination ideas based on their budget, enhancing the chatbot's typical functionality, which lacks real-time pricing data.
Real-time assistance: Chatbots and AI-powered tools can offer instant, 24/7 support. For example, KLM Royal Dutch Airlines has a chatbot called BlueBot to assist passengers throughout their travel journey, providing flight information, boarding passes, and handling customer service issues in real time.
Multilingual support: ChatGPT can communicate in over 50 languages, making it easier for your company to provide customer support to international customers. In turn, non-English speaking customers can quickly resolve any issues in their native language.
7 current AI-powered travel planning examples
Travelers are curiously dipping their toes in AI-powered travel planning, from finding tours and activities to planning family vacations. Let's explore seven compelling examples that illustrate how your customers might use AI to shape their travel experiences.
1. Using ChatGPT to plan a beach vacation
Ever since ChatGPT's arrival, travelers began testing the chatbot's ability to plan trips.
A writer for CNBC, for instance, recounted her experience using ChatGPT to plan a beach vacation. The writer first informed the chatbot about her interests, budget, and the desired length of the trip: a week-long beach vacation in mid-March to spend time with family, with no set budget.
Overall, the chatbot was useful in the early stages of planning. Specifically, the chatbot helped recommend destinations, restaurants, and accommodation recommendations.
"ChatGPT is fast, chatty, and feels like you're interacting with a human," she wrote. However, considering that ChatGPT runs on data dating back to 2021, she found that some of the tips were outdated or inaccurate.
2. Planning a day in Kyoto with GuideGeek
A traveler spent a day in Kyoto based on recommendations from an AI-powered WhatsApp app that acts as an AI travel concierge. Called GuideGeek, the app specializes in providing travel tips ranging from the best places to stay and eat to advice on how to avoid crowds.
GuideGeek helped this traveler find traditional Japanese restaurants, including lunch at a historic soba restaurant. It also led her to monuments like the Fushimi Inari Shrine and Kiyomizu-Dera temple, while providing insights into the monuments' historical significance.
Drawing from a vast database, GuideGeek can recommend everything from dining hotspots to scenic trails, trendy bars, and beaches. All a traveler needs to do is provide a destination, and the app will deliver instant insights at their fingertips.
3. Using Trip.com's ChatGPT plugin to plan a multi-city vacation
The recently launched Trip.com plugin promises to simplify travel planning through features like flight and hotel searches, personalized recommendations, and itinerary customization. One traveler recently put the plugin to the test.
The traveler presented a complex travel scenario involving multiple cities, flights, hotels, and car rentals. The original query:
I want to fly from Stockholm to Amsterdam on August 9th, stay downtown in Amsterdam until August 12th, then fly to New York, and stay 3 nights in New York. Then, I will rent a car from New York and drive to San Francisco. Finally, I want to fly back from San Francisco to Stockholm on August 19th. Find me good flights and hotels under $150, and a good car to rent.
While the plugin struggled with multi-city itineraries, it did efficiently present affordable flight and hotel options. It also pointed out potential car rental options like Hertz and Avis.
When asked to find the cheapest flights for a November weekend trip from Stockholm to Madrid, the plugin initially provided seemingly relevant answers. However, upon closer inspection, it had recommended flights for August and July instead of November. The traveler then compared this to a manual search on Trip.com's website, which yielded more accurate results with an intuitive bar chart.
4. Another traveler uses Trip.com's plugin to plan a trip to Rome
Meanwhile, another traveler successfully planned an itinerary to Rome using Trip.com's new plugin. As you can see in the Tweet shared above, the traveler received hotel and flight options, as well as a day-to-day itinerary with restaurant recommendations. The traveler is excited that he was presented with a seamless "one-command" purchase option, making the online booking process easier than ever.
5. Testing Expedia.com's ChatGPT plugin
During an early access trial of Expedia's Conversational Trip Planner, a reviewer embarked on a fictional summer trip to Italy's Amalfi coast with their partner.
The interaction began with a detailed query about booking a romantic getaway, including affordable flights and activity ideas. Expedia's ChatGPT quickly responded, offering four hotel options and suggesting attractions such as visiting Ravello and the gardens at Villa Cimbrone.
While the chatbot swiftly provided hotel options, the reviewer was surprised that it couldn't display flight options. An attempt to book the suggested "Hotel Belvedere" led to the chatbot redirecting the user to the Expedia website for manual booking. However, upon exiting the chat, the system prompted the reviewer to incorporate their trip details into their booking.
Although the chatbot couldn't automatically save hotel preferences, it demonstrated effectiveness during a second test when asked to find flights and hotels for a spring trip to Paris. The plugin provided four flight options, all for less than $800 per person. It also helped the reviewer find a hotel with a view of the Eiffel Tower in their price range.
6. Using the GetYourGuide ChatGPT plugin to find things to do in Milan
Source: Android Authority
GetYourGuide is a popular online platform that offers a wide range of tours, activities, and attractions around the world. The GetYourGuide ChatGPT plugin helps connect travelers with relevant activities based on their destination and budget.
In the example above, the user informs the chatbot that they are traveling in a family of four to Milan and are looking for cultural experiences. In response, they were provided with a varied mix of GetYourGuide tours and activities, including options for day trips to interesting cities nearby.
7. Traveler plans family road trip using AI
One traveler used ChatGPT to plan an RV road trip through Southern California, accompanied by his wife and 18-month-old son.
To start, the traveler put ChatGPT to the task of finding an RV rental that met specific requirements. The AI quickly directed him to Outdoorsy, a platform for peer-to-peer RV rentals.
While the chatbot couldn't directly make reservations, it provided information about potential campsites, recommended restaurants, local attractions, and a checklist of items to pack. It also offered step-by-step instructions for tasks such as hooking up the RV to sewage facilities, recommended family-friendly dining establishments, and even provided guidance on building a campfire for s'mores.
The traveler discovered that, despite its limitations in real-time data, ChatGPT's suggestions and insights helped facilitate the road trip planning process.
***
The widespread interest among U.S. travelers in using ChatGPT and similar tools for trip planning underlines the growing significance of AI in the travel industry. As titans of the travel sector embrace the trend, it's evident that AI's role in trip planning will continue to expand.