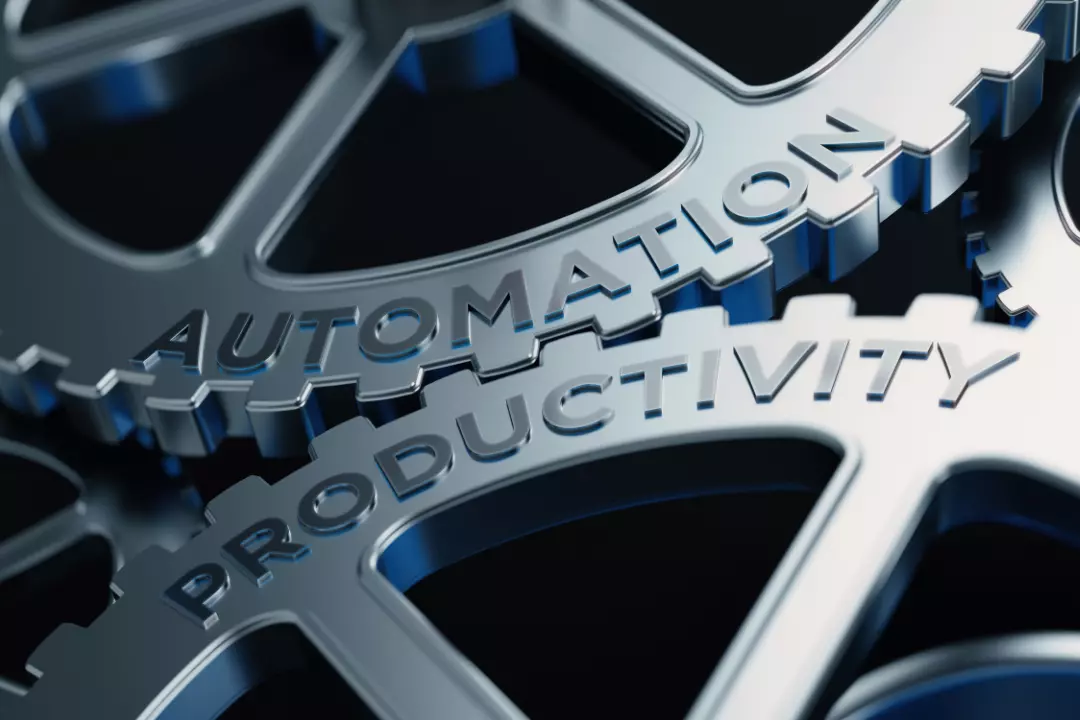 If you currently manage your bookings manually, you may be wondering if booking software is really worth all the fuss. Your manual processes are working for you, so why should you spend more on software?
The truth is that booking software makes running a tour or attraction business a whole lot easier. It eliminates the tedious tasks that come with manually managing bookings — like constantly answering the phone, replying to dozens of emails, and dealing with cancellations. Yes, booking software can even help reduce cancellations.
When you automate the booking confirmation process, you're free to focus on growing your business, rather than just keeping it afloat.
In this post, we'll discuss the benefits of automating your booking confirmation process and what that might look like for your business.
What is an automated booking system?
An online booking system is a software solution that allows guests to book and pay for experiences directly on your website. It allows you to manage your reservations, ticket sales, tour guides, equipment, and more all under one dashboard.
Booking software can virtually automate the whole booking process for you. It'll keep track of tour and ticket availability so that you're never overbooked. Some software providers including Xola even offer marketing features that help your website convert more guests.
Overall, an automated booking system will provide you with the tools and resources to grow your business, all while providing guests with a great customer experience.
Why should you automate the booking confirmation process?
The booking confirmation process requires a lot of time when done manually. There's probably a lot of back and forth between via email and over the phone. It's easy for important details like party size and tour availability to fall through the cracks.
It might look something like this:
You'll answer the phone.
You'll explain all of the different tour options to the caller. They may want to book on the spot, or ask to give you a call back later.
Once they're ready to book, you'll manually add all of their details into your booking system, whether that's a notebook or an Excel sheet.
You'll collect their credit card information over the phone or ask them to pay in cash in person on the day of the tour.
Once the booking is made, you'll write and send them an email with all of their booking details.
A day before the tour, you'll send them a reminder email.
Booking software automates the booking process as a whole, including the email confirmation that tells guests their transaction was successful.
It's one of the many benefits tied to automating the booking confirmation process; let's explore more below.
Save time: Automation helps businesses save loads of time on tedious processes like sending emails, processing payments, and scheduling staff. Done manually, these tasks can take up a big chunk of your day-to-day. Your booking software will take most of the load off of you so that you can focus on growing your business instead.
Eliminate the risk of overbooking: You can get rid of the Excel spreadsheet or notebook you use to keep track of bookings. As your booking volume increases, it'll become more and more difficult to avoid overbookings. Booking software can, fortunately, keep track of tour and ticket availability for you, ensuring that guests never book an experience that's already sold out.
Improve the guest experience: The booking experience is a key part of guests' overall perception of a company. With booking software, you're ensuring the guest experience starts on a positive note. A booking confirmation email will arrive in their inbox immediately after they book, and it'll contain all of the relevant information to make the most out of their visit.
Reduce cancellations and no-shows: Your booking software will be in charge of sending all sorts of confirmation emails — including reminders. Guests can be forgetful, and a reminder email may just save them from a last-minute no-show.
Digital waivers: Get liability paperwork and waivers out of the way by prompting guests to sign them beforehand. Xola automatically emails guests a digital waiver, reducing the need to fill anything out in person.
Store guest details: Guest names, emails, and phone numbers will be stored so that you can continue the conversation with them even after their visit.
How to create an automated booking confirmation email in Xola
Xola is a booking software built with tour and attraction operators in mind. Xola knows that communication with your guests is key to providing them with a great experience. This is why the software will send out emails and/or SMS messages on your behalf at various times during the experience, from booking confirmations to reminders.
Let's take a look at how easy it is to create an automated booking email in Xola.
In your Xola dashboard, you'll have a CRM tab. That's where you'll find "Message Templates" and can begin creating your own. You can create all types of messages, ranging from booking confirmations to weather updates.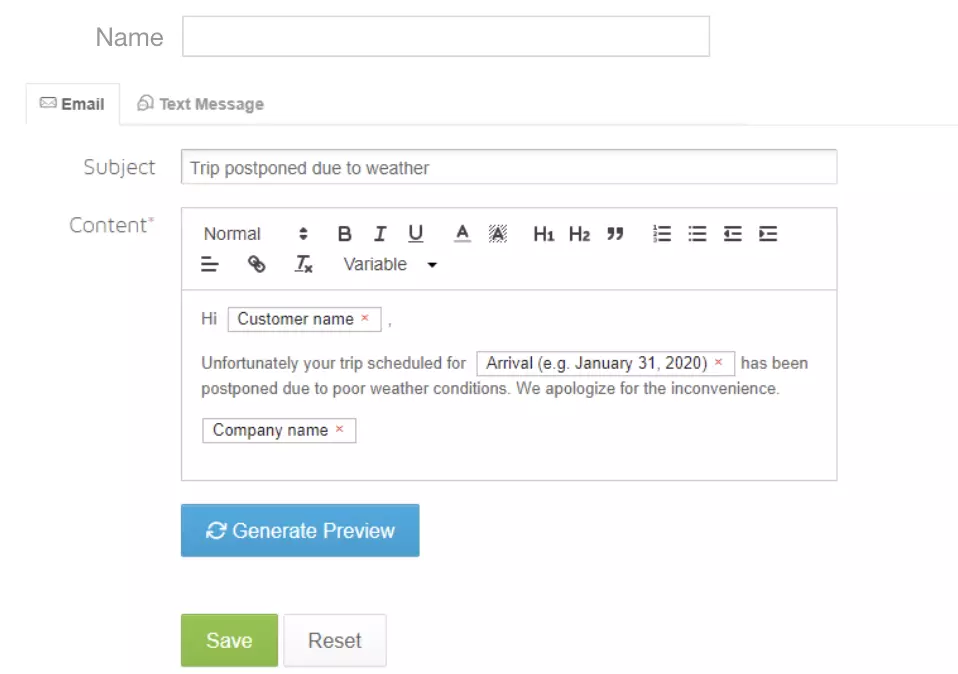 The email template will look like this:
Name: Give your template a name, such as "Booking confirmation email."
Subject: This is the subject of the email that customers will see when they receive it.
Content: Here you can write a nice confirmation message for your customers.
Then, you'll be able to choose from several variables to customize your email, including things like arrival date and company details. These variables will dynamically populate content in the email based on the customer it is being sent to, as you can see in the example above.
Here are a few of the options:
Arrival: Xola will automatically include the start date entered by the customer.
Company: Your company's name.
Company website: Your company's website.
Customer name: Auto-populate what the customer entered in the name field.
Listing name: The name of the listing that was booked.
Every time a booking is made, customers will automatically receive an email created by Xola. The email looks like this: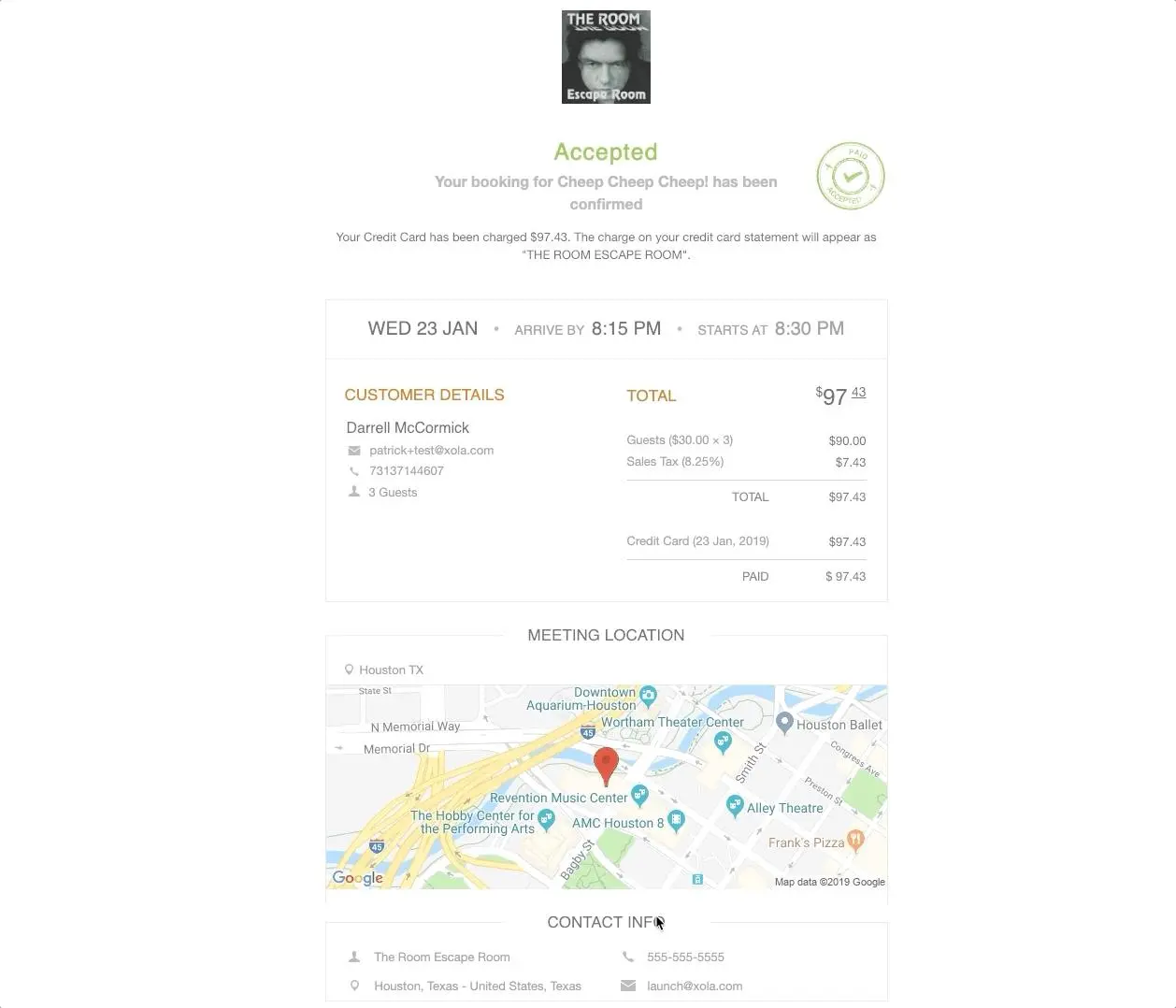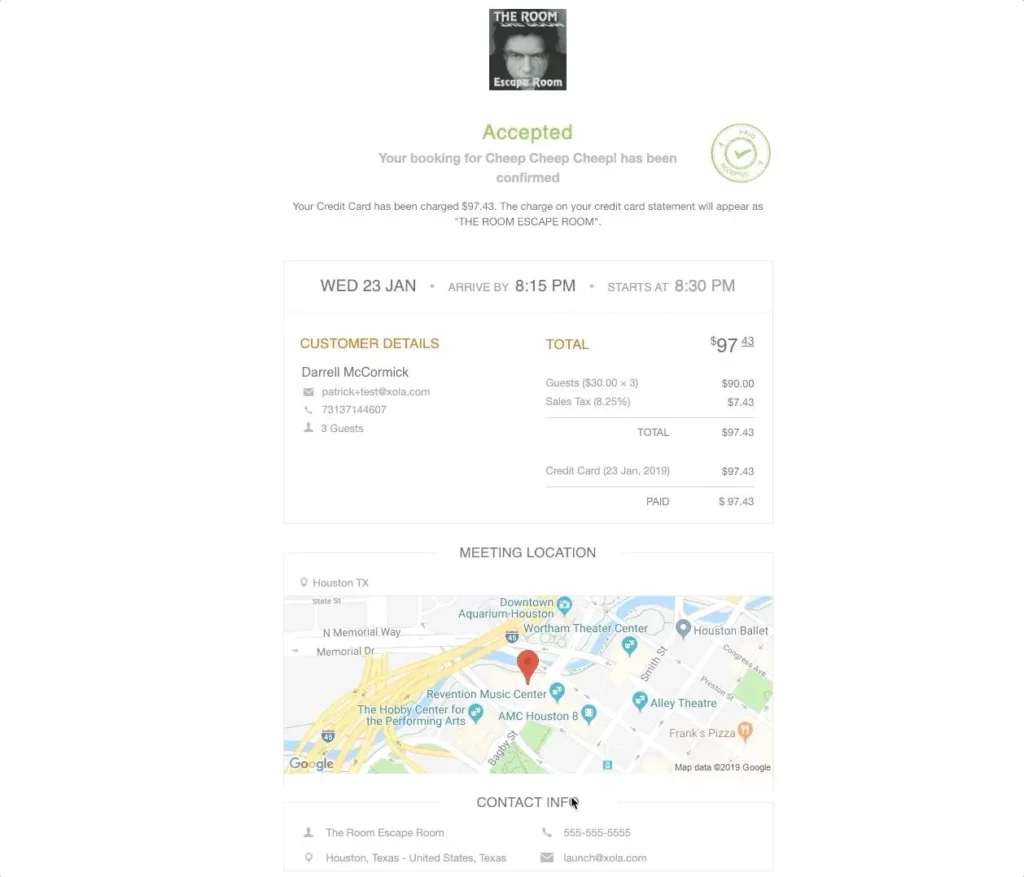 Your booking confirmation email can be customized with your company name and logo. More importantly, it provides guests with the most relevant booking information, including:
Date and time of the experience
Customer details like name and contact information
Payment information, including a breakdown of taxes and fees
Meeting location with a map
Company contact info
***
In sum, booking software can streamline your business operations and improve your guest experience. Xola has the best tools for automation and growth so that you can continue growing your travel business for years to come.