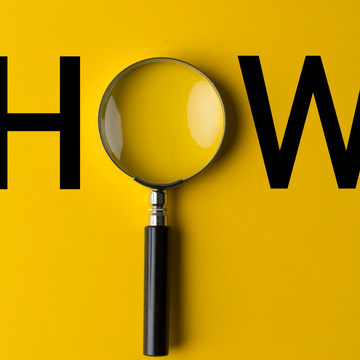 Chances are if you are reading this, you're looking for a free or cheap booking solution for your tour company.
You may have heard about DIY booking forms that can collect customer information on your website. If you're set on choosing the DIY route, we'll walk you through a booking form template for Google Docs and Word in this post.
What should be included in a booking form?
The purpose of a booking form is to collect the necessary reservation information from your guests. This includes their contact details, the date of their visit, the number of guests, and payment.
There are several DIY booking solutions which you can use to collect this information directly on your website. However, these forms lack the automation, scheduling, and reporting features that most booking software offer.
Once a guest submits their booking form, it's up to you to ensure there's space for them on your tour, send an invoice to collect their payment, and issue a booking confirmation email.
When should you DIY your booking form using Word or Google Docs?
You just started your tour business. Your inbox probably won't be overflowing with booking requests when you first open your tour company. It can take a lot of time and effort to consistently attract new visitors. At this point, you may not feel ready to invest in booking software. In this case, a DIY booking form can help you keep track of those first few bookings.
You're looking for a free booking solution. Small tour operators want to keep costs as low as possible, especially when they're first starting their business. A free online booking form can help you manage your bookings until your revenue picks up and you can invest in a more sophisticated booking solution.
You're a sole operator with no tour guides or equipment. A walking tour operator, for instance, doesn't need to manage guide schedules or equipment inventory. The DIY booking form might meet a sole operator's needs until they decide to expand the business and/or hire more guides.
How to create a DIY booking form in Google Docs
The best way to create a DIY booking form through Google Docs is to create a Google Form.
Google Forms is a free form builder that comes with every Google account. You can customize your form with standard questions, drop-down questions, multiple choice, as well as date and time fields.
Follow the steps below to create your first booking form using Google Forms.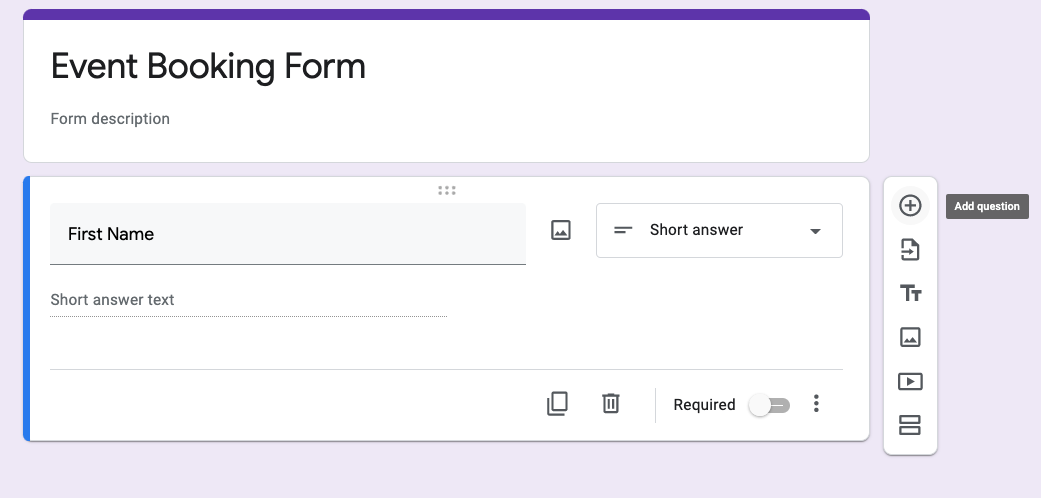 Step 1: Open Google Forms. Start a new form, and name it. You can add a form description if you'd like.
Step 2: Click the "+" on the right-hand side to add your first form field. From the pull-down menu on the right of the text box, choose "Short answer."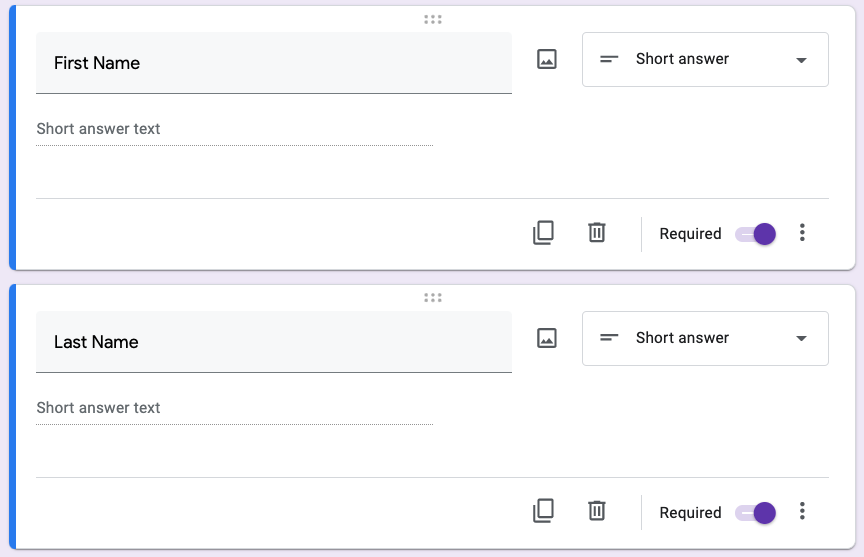 Step 3: Add each field of information you need from your guests, including:
First Name
Last Name
Mobile Number
Email Address
Activity Date
Activity Time
Number of Guests
Comments/requests
Tip: Check off "Required" for the line items that guests shouldn't skip over.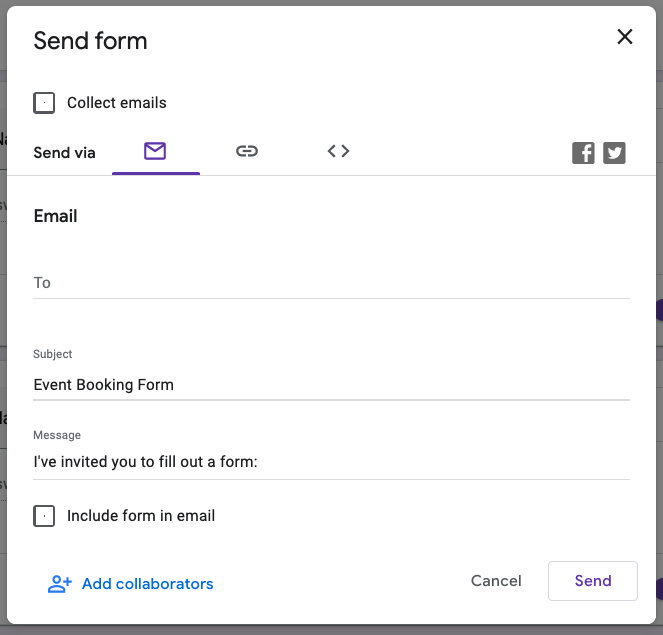 Step 4: When you've completed the form, click the "Send" button. You can then choose to send the form to guests via email or share it as a link. You can also copy the HTML code to embed the form on your website.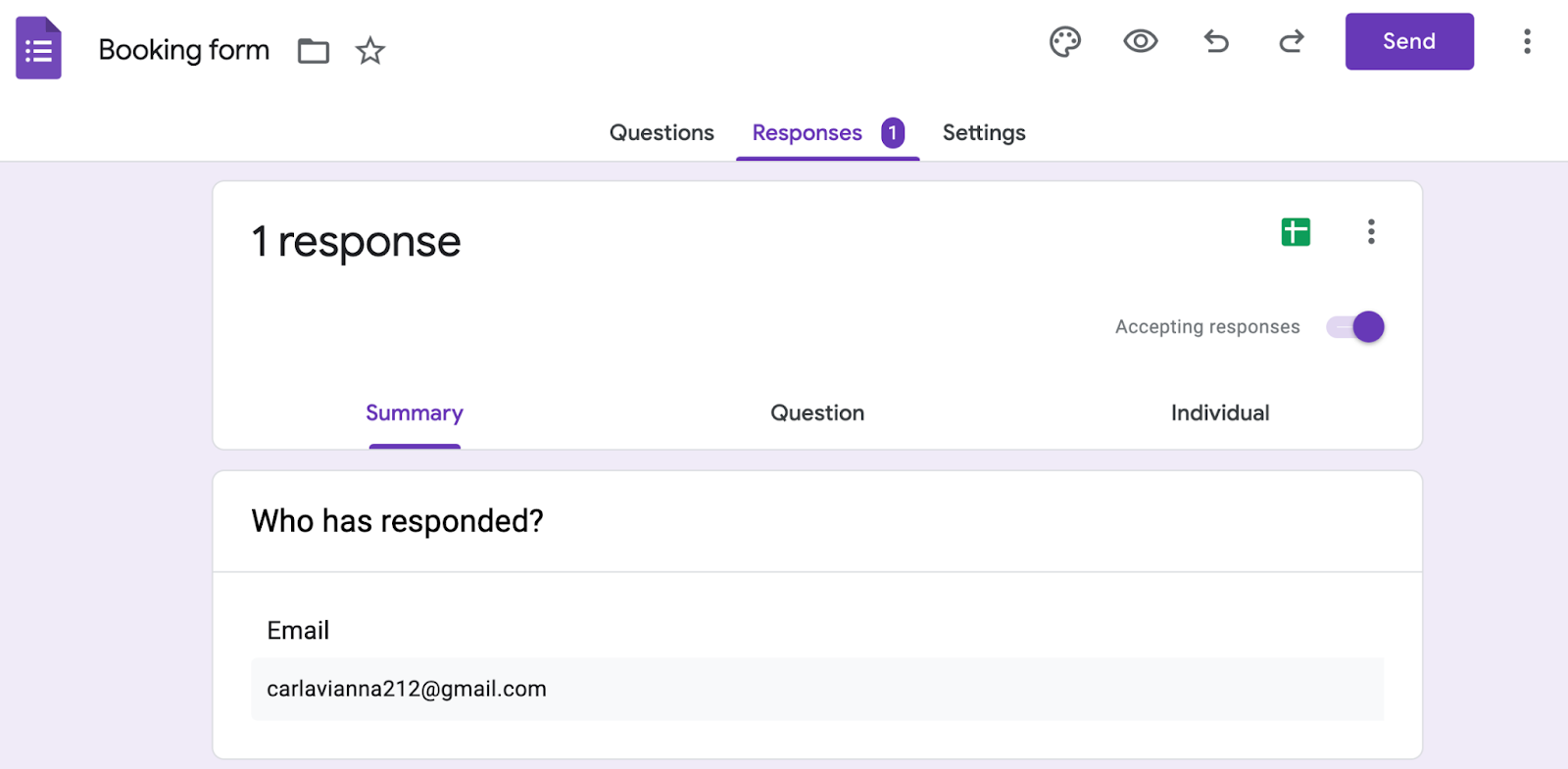 Step 5: Keep track of form responses. You can find guest responses on the second tab of the booking form. Simply click "Responses" to view them.
When to migrate off your DIY booking form to booking software
Direct bookings are increasing. When the volume of bookings becomes too much to handle on a DIY form, you risk overbooking your tours. If you're spending too much time managing new bookings, you won't be able to focus on more important aspects of your business — such as improving your guest experience or brainstorming ideas for growth.
You have more than one tour guide. Scheduling a single tour guide for a single tour shouldn't be too difficult. Multiply that by a dozen or so tours and a handful of new tour guides and things can get more complex. DIY booking software won't help you manage guide scheduling, which makes overbookings a real possibility.
You're adding new tours. The same goes for new tours. When your guides and equipment are stretched between multiple tours, overbookings can easily happen.
You overbooked a tour. The moment you start to have overbooking issues is the moment you should look into booking software. Accidental overbookings leave guests frustrated before they even have a chance to experience your tours, which diminishes the chance of them coming back.
You're spending too much time manually processing bookings. You're constantly answering the phone and jotting down names and emails on paper, only to later realize you've misspelled a name or two. You're having to reach out to customers to confirm their attendance or to processing payments. Meanwhile, bookings aren't rolling in consistently enough to make up for all the time lost processing them.
No-shows and last-minute cancellations are costing you a lot of money. No-shows and last-minute cancellations can be very costly for small tour businesses. With booking software, you'll have a secure payment portal on your website that can collect credit card information. Now you can enforce no-show or cancellation fees to discourage guests from canceling as well as offset the costs of those who do.
You want to make smart business decisions based on data. DIY booking forms don't provide you with any business intelligence or financial insights. With booking software, however, you'll have access to business intelligence reports and other revenue reports. You'll be able to track revenue growth on a consistent basis and make informed decisions about what comes next.
***
If you fall within one of the above scenarios, it's time to invest in booking software.
Booking software like Xola can will help you efficiently manage your bookings as well as give room for your company to grow. Xola was made for tour operators like you, with thoughtful features that help not only attract new customers but retain existing ones.
Give Xola a try today.