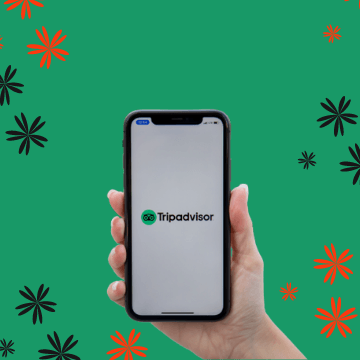 There are over 800 million reviews on Tripadvisor, which makes it the leading review platform for all things travel. Most travelers check online reviews before making a tour booking — and more often than not, they'll land on the Tripadvisor website.
So it should come as no surprise that tour companies can benefit from having a presence on the platform.
Tripadvisor can not only help put your tour company in front of more people, but it can also be a place to receive feedback from your guests. When that feedback is positive, it'll give future guests the confidence to book with you.
Once your company is on Tripadvisor, you can actually sell your tours and experiences through Viator, the platform's booking partner. Even if you prioritize direct bookings, listing your experiences on an online travel agency can help you build brand recognition and reach people all over the world.
In this post, you'll learn that listing your company on Tripadvsior isn't difficult. In fact, your company may already be there without you even knowing.
If you're wondering how to get listed on Tripadvisor and how to manage tour bookings through the platform, you've come to the right place.
How much does it cost to appear on Tripadvisor?
There are no fees associated with listing your business on TripAdvisor. In fact, there's a good chance that your business is already on there.
Any time a guest reviews a hotel, restaurant, or tour operator for the first time, Tripadvisor will generate a listing for that business. So if one of your guests previously reviewed your company, you'll already have a profile on the platform.
You can go ahead and check if your business is already listed by searching for your company name here: https://www.tripadvisor.com/Owners.
Surprise! Your business is already listed on the platform, isn't it?
The next step is to claim that listing. At this point, you should click on your business name and choose the "Claim Your Business" option.
Once you're set up as the owner of your business, you'll be able to customize your listing details, upload photos, respond to reviews, and track your brand's performance on the platform. You can access all of these features for free.
But let's say you search for your business and don't find anything. Then, you're free to create a new listing for your business.
We'll break down how to get listed on Tripadvisor in the next section.
How do I create a listing for my company on Tripadvisor
There are two ways to get your company listed on Tripadvisor. The first is done manually, and the second is through your booking software. Here's a step-by-step breakdown for both.
Manually create a new listing for your company on Tripadvisor
Anyone who owns a business or provides a service can create a Tripadvisor listing.
The very first step is to set up a personal Tripadvisor account. This will make it easier to manage your business account.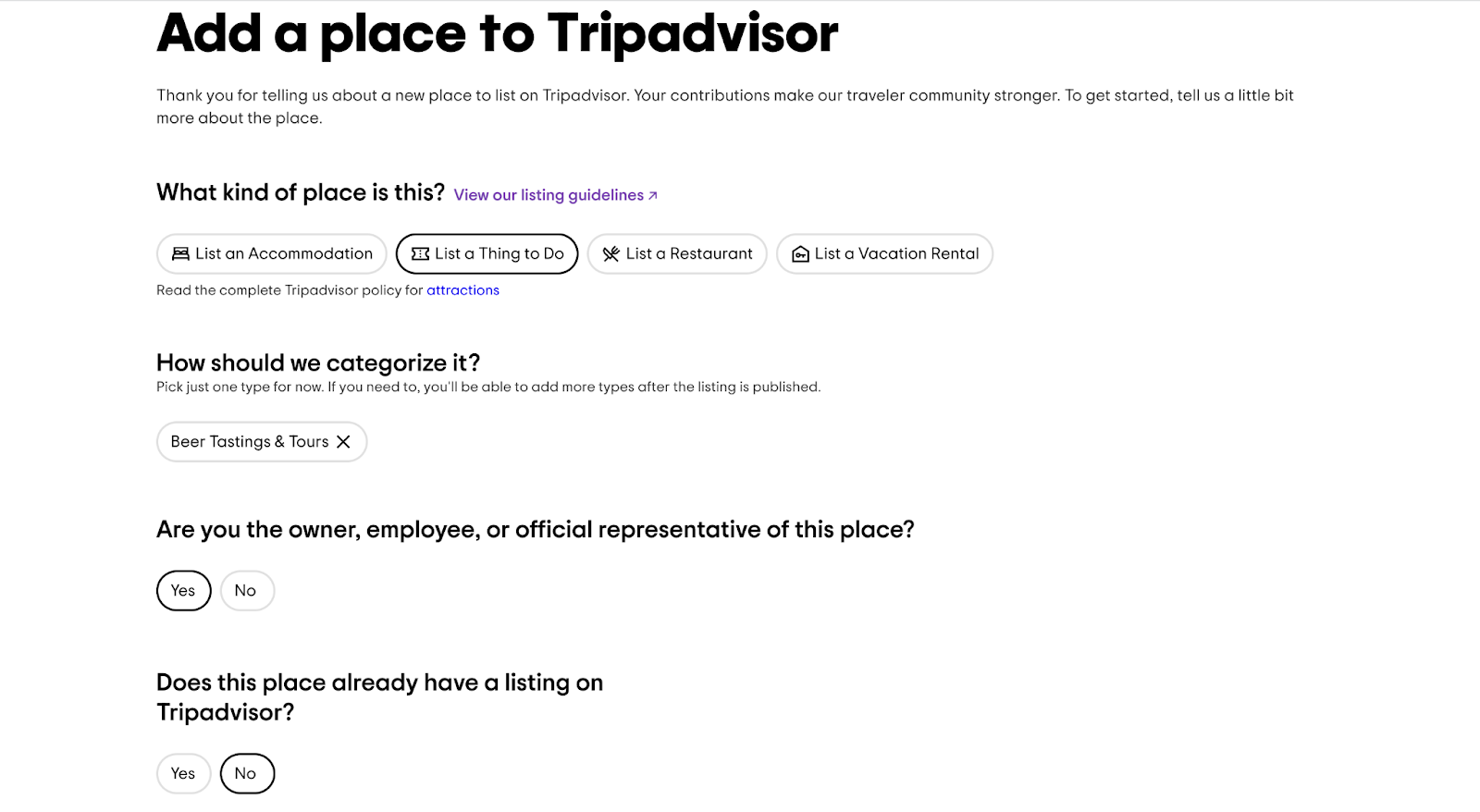 Next, you'll begin adding your company's name and information here: https://www.tripadvisor.com/CreateListing.html.
Tripadvisor will first ask you to define your business as an accommodation, activity, restaurant, or vacation rental. Then, you'll be asked to specify your business category (i.e. kayaking tour operator) and your role in the company (i.e. owner).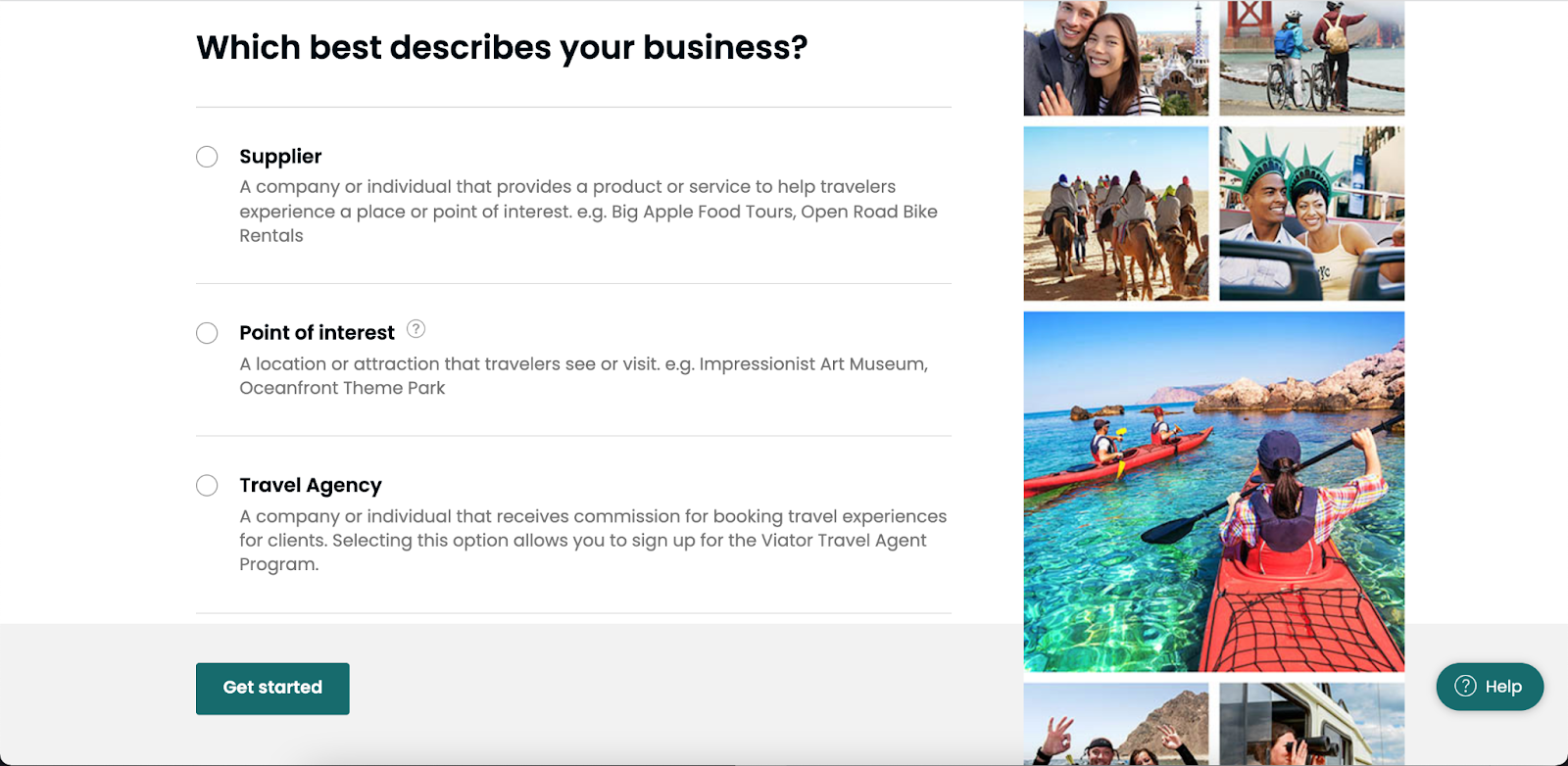 Once Tripadvisor sees that you're a tour company, it'll direct you to Viator, the platform used for tour and activity bookings.
There, you'll need to again define your business. The categories will be supplier, point of interest, or travel agency.
Tour companies fall under the "supplier" category since they provide a service to help travelers experience a place or point of interest.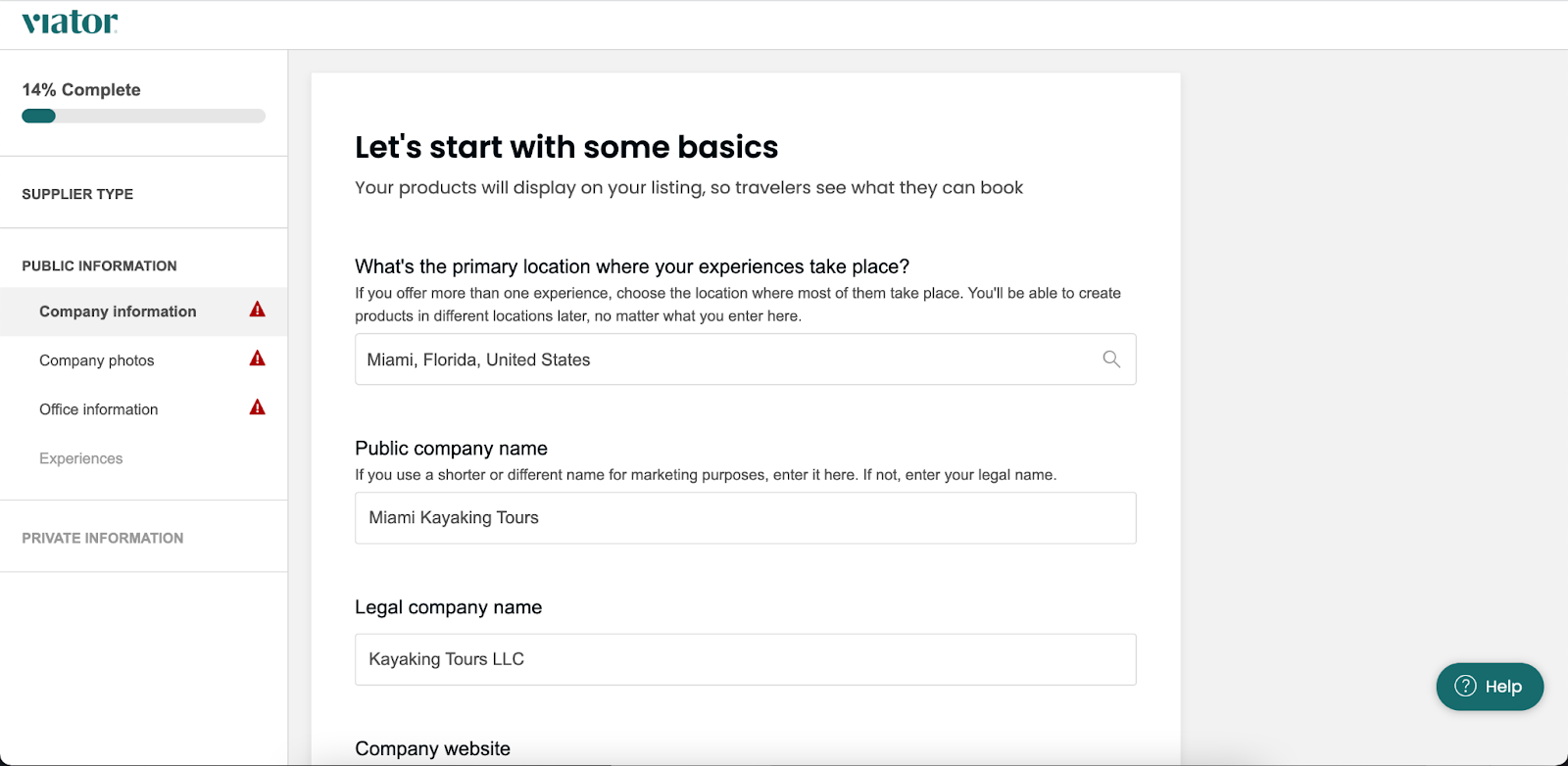 You'll then need to fill out a more detailed questionnaire about your company.
This is where you'll share important details like your company name, location, website, and a short description of your services.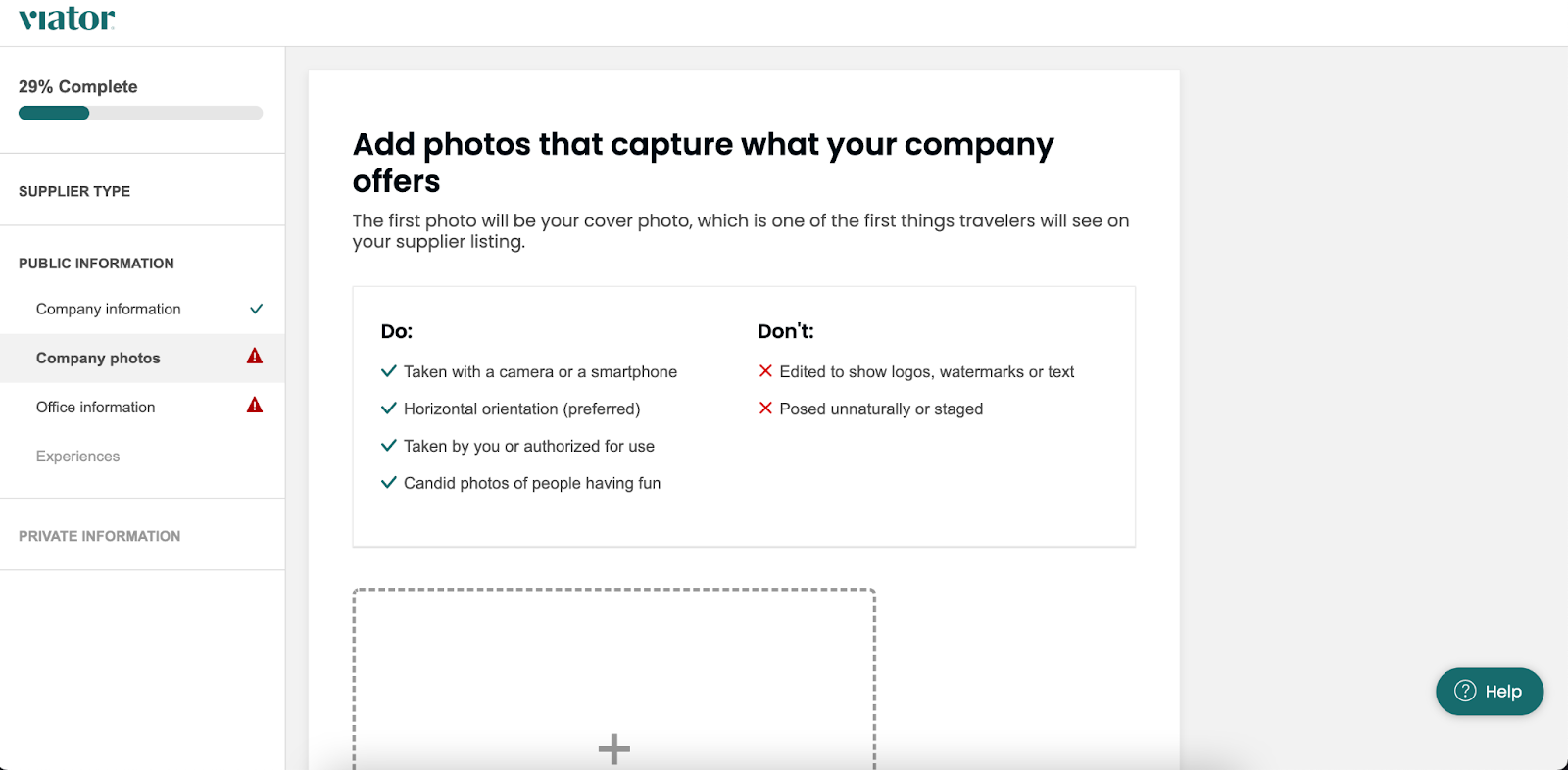 Soon, you'll be prompted to upload photos of your experiences. The first photo will be your cover photo, or the first visual guests will see on your listing.
Viator has a few recommendations for your photos:
They should be high-quality photos taken with a camera or smartphone
Horizontal orientation is preferred
You should own the rights to the photos or be authorized to use them
Candid photos of people having fun are a great idea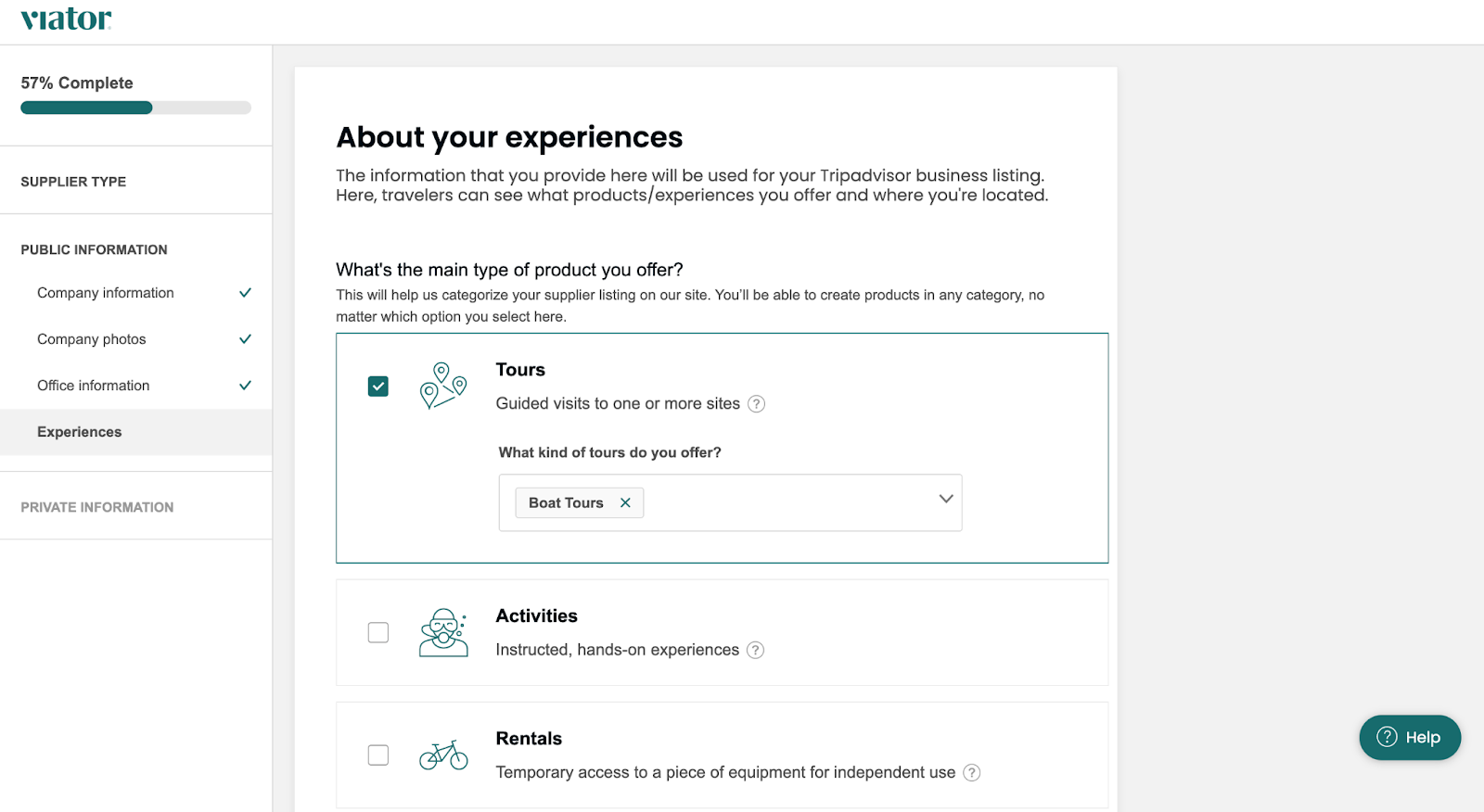 As you go through the rest of the questionnaire, you'll be asked to further catergorize your services. This is so that Tripadvisor and Viator know exactly what you're offering. This way, the platforms can attach the right keywords to your listing to make you easily discoverable for travelers looking for the kind of tours you offer.
Before you know it, you will have created your first business listing. It should be visible to users within 48 hours.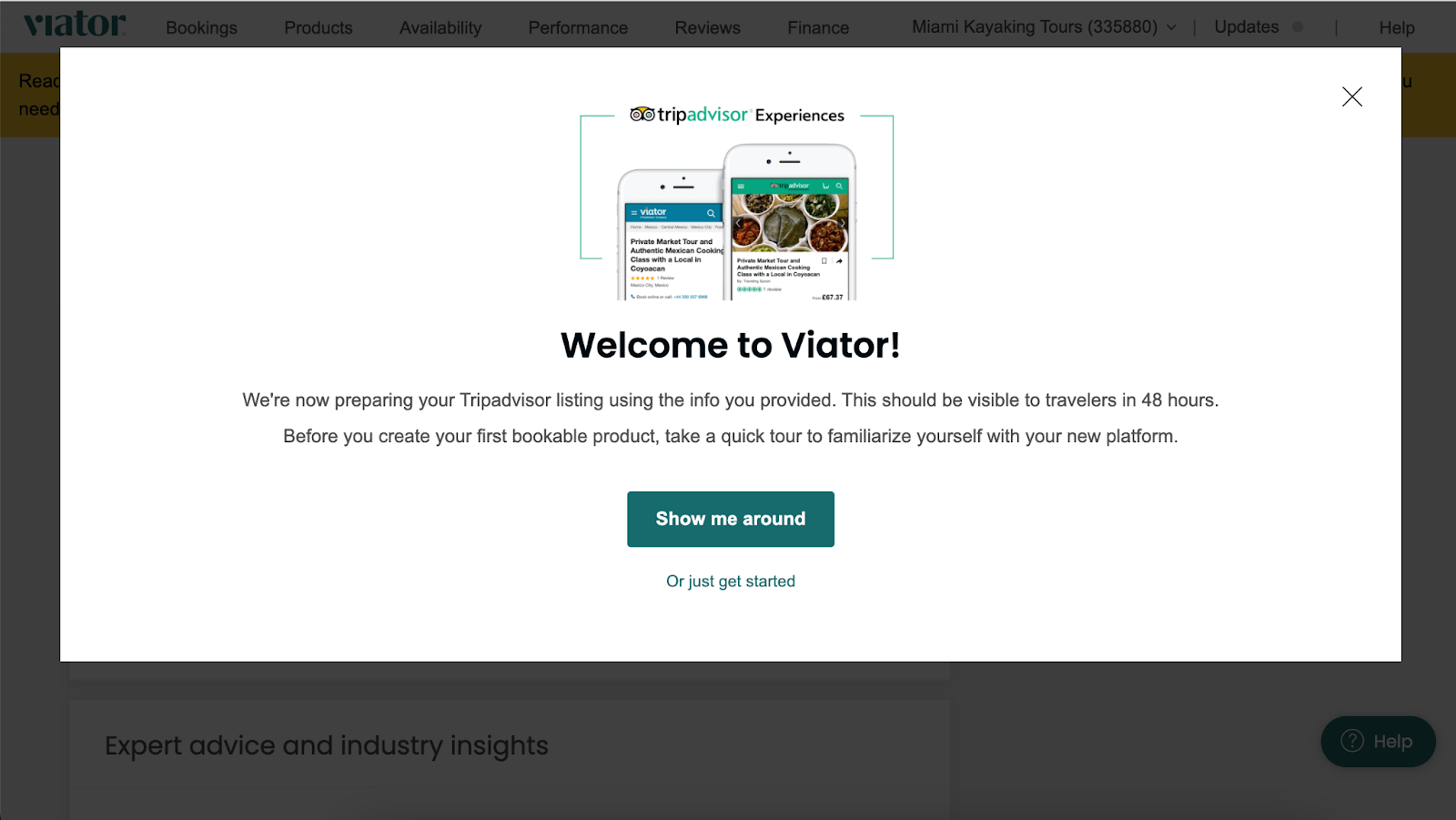 Automatically manage bookings with your booking software
If you don't want to manually list your tour company on Tripadvisor, your booking software might be able to do it for you.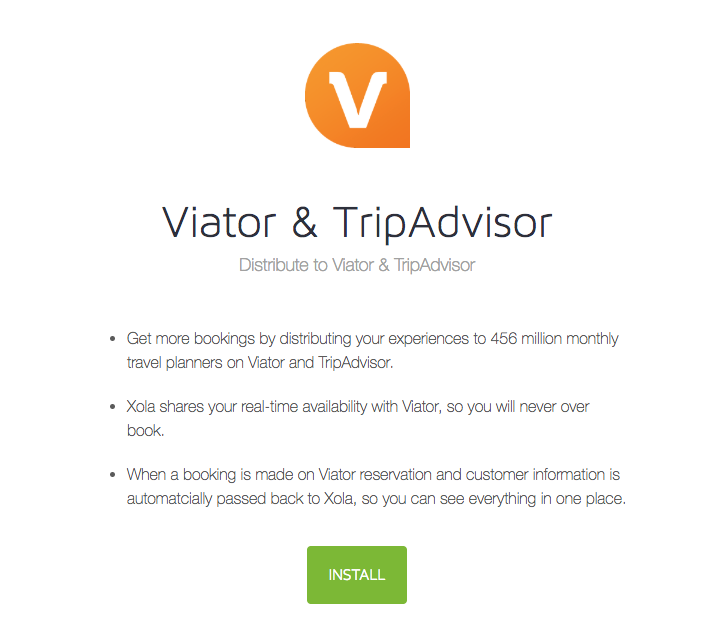 Xola, for instance, integrates with all of the most popular OTAs, including Viator. The integration is as easy as locating Viator in the Xola App Store, installing it, and configuring your settings. You'll then select the listings you want to appear on Viator.
Now, your customers will be able to book tours and activities directly through Viator. Integration with your Xola account ensures that those bookings appear on your calendar. It also ties these bookings into your capacity and equipment settings so that you don't get overbooked.
Keep in mind that each of your offerings on Viator must align with only one of your Xola listings. Also, the schedule offered in your Viator listing must match the corresponding listing in Xola.
Once everything is set up, your Viator bookings will need to be edited through Viator directly. However, your Xola account will reflect the changes made within Viator's system, including cancellations, refunds, arrival date or time changes, and guest quantity.
***
Now that you know how to list your tours and experiences on Tripadvisor, you can begin to encourage your guests to leave you reviews on the platform.