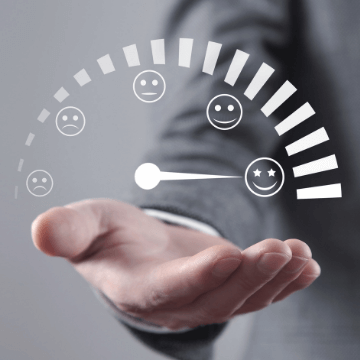 Do you know if your guests are actually happy?
Without their feedback, it's tough to know whether you're meeting their expectations.
A satisfied guest is likely to become a loyal guest and bring you repeat business. An unhappy guest will do just the opposite — which is why measuring guest satisfaction is a must.
In this post, we'll show how to measure guest satisfaction, including the best methods and tools available for an attraction like yours.
How do you measure guest satisfaction?
Why is measuring guest satisfaction important?
How to measure guest satisfaction?
What are the methods to measure guest satisfaction?
How to use tools to make this process easier
How do you measure guest satisfaction?
The most effective way to measure guest satisfaction is by collecting customer feedback.
Now, there are several ways an attraction can do this, but the most common is through a customer survey.
It all boils down to asking guests how they feel about their experience.
Guest satisfaction can be measured at several touchpoints along the customer journey. Businesses typically send customer satisfaction surveys after meaningful customer interactions, such as after a purchase or a phone call with a customer service representative.
The process of measuring guest satisfaction can be broken down into the following steps:
Define your objective. Are you trying to measure guest satisfaction with your overall guest experience or specific touchpoints along the customer journey? Define the aspects of your guest experience that you're trying to measure.
Choose a type of customer service survey. Different survey types can be used for different metrics. The one you choose will depend on your objective. We'll explain the different kinds of survey types later in this post.
Determine when to send your survey. The timing of your survey will depend on your objective and what you're trying to measure. For example, if you're measuring a specific customer service interaction, you'd send the guest a survey immediately after.
Select how you'll send your survey. You can send the survey via email or SMS. Alternatively, you might have a pop-up survey on your website to measure different aspects of your digital experience.
Analyze the data. You should have a plan in place for analyzing all data you'll receive from your surveys. Many businesses invest in customer experience software that automates the sending of surveys and collects the data for them.
Make improvements based on that feedback. Customer feedback helps an attraction identify what's causing guest frustration and unhappiness. The goal is to mitigate these issues as quickly as possible to boost guest satisfaction.
Why is measuring guest satisfaction important?
How do you keep guests coming back time and time again? You continuously meet their expectations.
A satisfied guest won't risk being disappointed by another brand. Instead, they'll stick by your company as long as you provide them with the great experience they're looking for.
Measuring guest satisfaction is the best way to ensure you're consistently meeting guest expectations. Without customer feedback, your attraction is essentially operating in the dark.
How to measure guest satisfaction?
Email
The most common way to collect customer satisfaction feedback is via email. CSAT, NPS, and CES surveys are typically sent to guests via email since it's a quick and easy way to reach them online. Guests who have already signed up for your marketing emails won't mind receiving a message from you, especially when it's asking for their opinion.
SMS
Your attraction might also consider sending surveys via SMS messaging since texts are opened more often. Research shows that open rates for SMS messages are as high as 98% compared to just 20% for emails. CSAT surveys are short and ask for a numeric response, making them perfect for a quick text message.
What are the methods to measure guest satisfaction?
Surveys, emails, and social media monitoring are all helpful in gathering guest feedback. Let's take a look at the different ways you can track customer satisfaction.
Customer Satisfaction (CSAT) Surveys
This is the most standard customer satisfaction survey because it solely asks guests to rate how they feel on a numbered scale. It's mostly used to measure short-term customer satisfaction after a meaningful interaction with your company. The average of all your CSAT survey responses is your CSAT score, a quantitative metric you can use to track changes in guest satisfaction.
Net Promoter Score (NPS)
NPS is a widely used metric that measures brand loyalty over time. An NPS survey asks guests to rate the likelihood that they'll recommend your company to others on a scale of 1 to 10. Your NPS score is the percentage of guests that answer within the 9 to 10 range minus the percentage of those in the 0 to 6 range. The higher your NPS score, the more satisfied your guests are with your company.
Customer Effort Score (CES)
CES surveys measure how easy it is to interact with your company. If a guest calls you with a complaint, a CES survey would ask them about the effort they had to exert to resolve the issue. Guests would rate their experience from 1 (very low effort) to 7 (very high effort). The goal is to decrease your CES score over time, meaning your customer service is becoming increasingly easier to deal with.

Social media sentiment
Guests often turn to social media to share both positive and negative sentiments about their experiences, especially when they're traveling. Knowing this, attractions can monitor what guests are saying after their visits on Facebook and Instagram. Observing their organic, unasked-for reactions online gives you insight into how guests really feel about your brand.
How to use tools to make this process easier
Effectively measuring guest satisfaction takes quite a bit of work. It's not as easy as asking your guests "Did you like your experience with us?"
First, you have to define what you're trying to measure in the first place. Next, you need to find the best way to measure it. Then comes the part where you need to track, store, and analyze all that data.
Booking software like Xola can often make this process easier. It can integrate with other survey and customer experience tools to help attractions collect, organize, manage and analyze all the guest feedback in a single place. They can organize survey responses in a way that's easy for your team to analyze and brainstorm ways to improve. Some tools can even predict customer retention and loyalty based on their answers.
It also stores data on every interaction guests have had with your brand, including their ticket purchases and booking history.
This allows attractions to continuously improve on their guest experience, which, in turn, boosts sales and revenue.
***
Why not strive to make every visitor that walks through your door your happiest guest?
Use this guide to continuously measure, track, and improve upon your customer satisfaction.