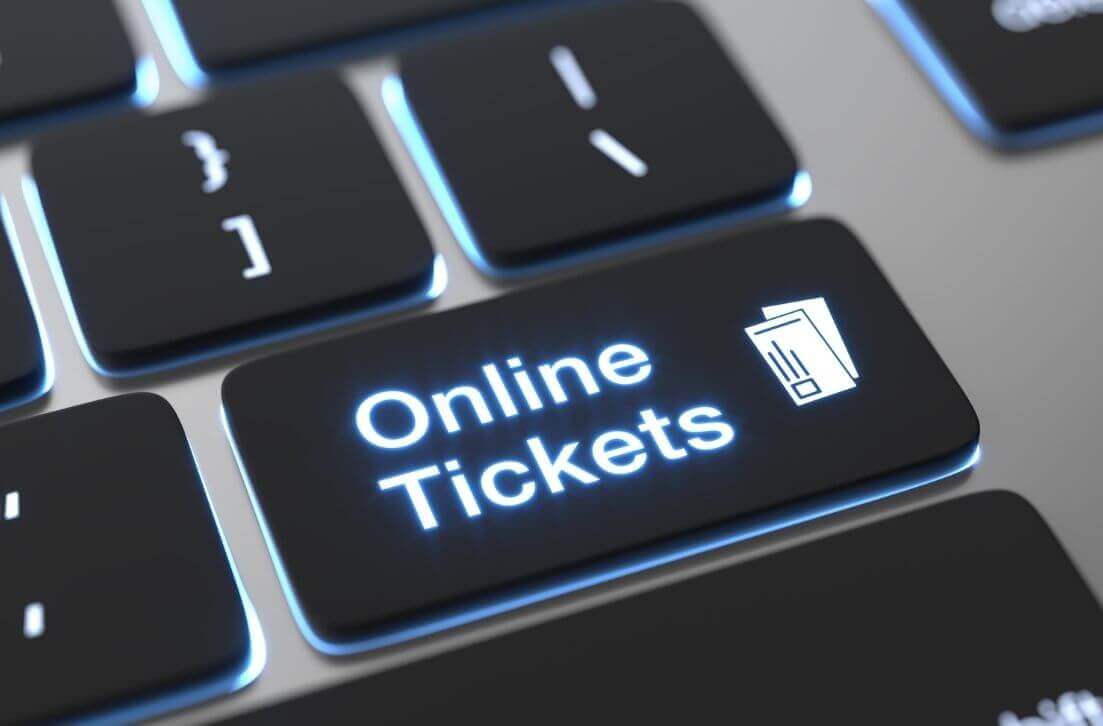 If you're wondering how to create a ticket booking form for your events and activities, you've landed in the right place.
It's time to leave the days of manual bookings behind and instead incorporate a ticket booking form to take down customer names, contact information, and event details.
In this post, you'll learn all about ticket booking form templates and how to best create one to sell your tickets.
What is a ticket booking form?
How to create a DIY ticket booking form.
Automate this process with booking software
What is a ticket booking form?
A ticket booking form is the method used to collect guest information for your tours and experiences.
If you sell tickets for your kayaking tours, for example, the best way to get your kayaks filled is to sell directly to your guests through your website. For that, you'll need a great booking platform, such as Xola.
A booking form will collect the necessary customer information like name and contact before they can complete their transaction. When guests go to purchase a ticket for an event or tour, they'll be prompted with a form that asks for their name, email address, phone number, and other relevant details.
You can easily have your ticket booking form created through your booking software. It'll automatically be integrated with your activity listings so that every time a guest purchases a ticket, a form collects their information. The information is then stored in your booking dashboard, making it easy for you to manage your ticketed events and activities.
Why do you need one?
Let's say you're selling tickets for your cooking class. A guest lands on your website and purchases a spot.
How will you know who the guest is or how many people are in their party without collecting that information first?
Booking forms do just that. They also collect guest contact information so that you can send them confirmation and reminder emails about their reservation.
That's why the booking form becomes an inherent part of the guest experience: It collects relevant information from your guests. This becomes a part of your guest roster, which you can share with the tour guides and other staff working the event or tour.
How to create a DIY ticket booking form.
There are a few ways in which you can create a booking form, including through Google Forms or your booking software. Let's find out what each of those methods would look like.
Creating a booking form in Google Forms
Google Forms is the easiest and most common ticket form creator, although you'll need a process in place to collect guest payments manually.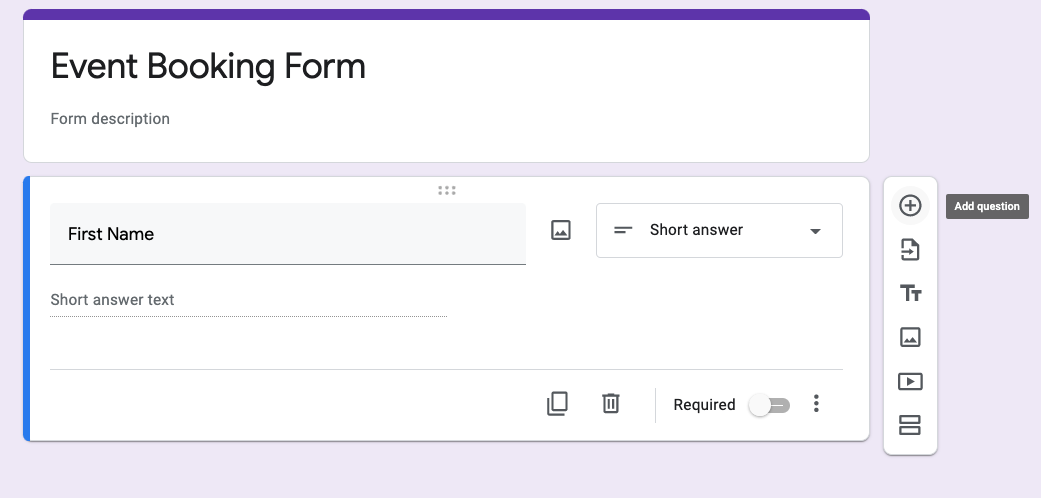 Step 1: Open Google Forms.
Step 2: Start a new form, and name it. Add a description if you'd like. Click the "+" on the right-hand side to add a question. From the pull-down menu on the right of the text box, choose "Short answer."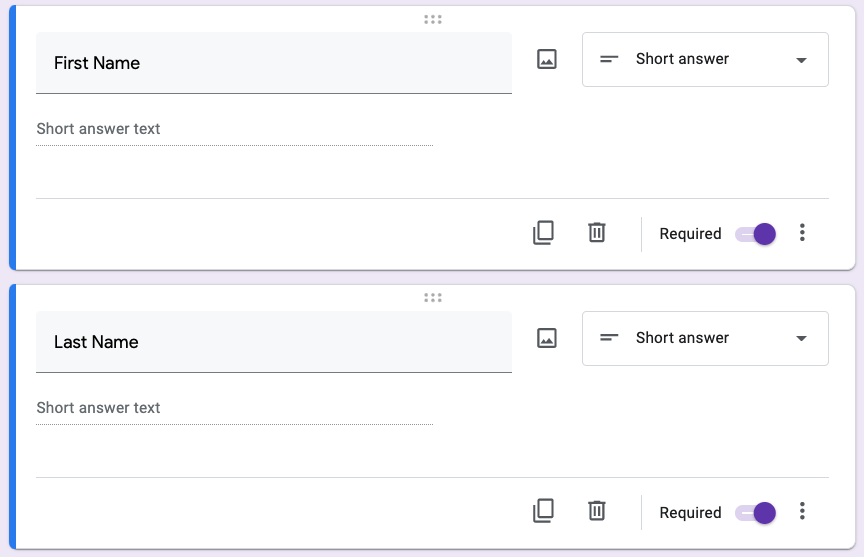 Step 3: Click Send and check off the box "Collect emails." This will add an email field to the top of your form and ensure that it's saving your guest emails. Then, begin adding each line of information you'll request from your guest.
This might include:
First Name
Last Name
Mobile Number
Activity Date
Activity Time
Number of Tickets
Comments/requests
Tip: Make sure to check off "Required" for the line items that guests shouldn't skip over.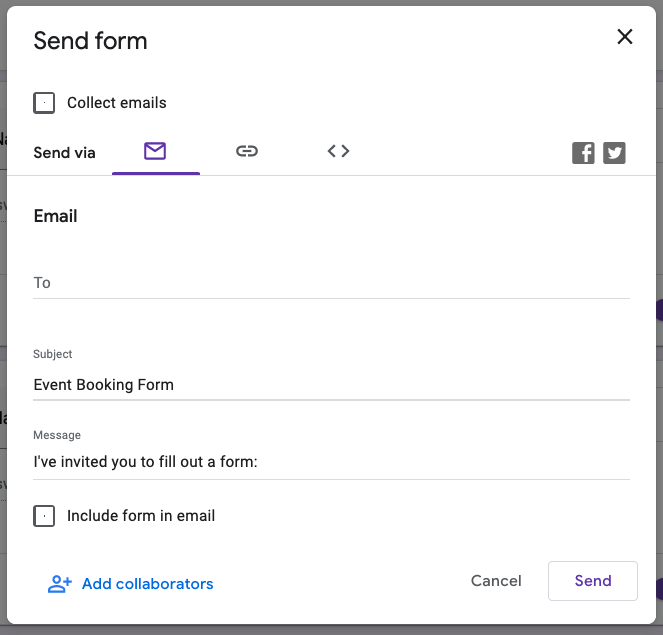 Step 4: When you've completed the form, click the "Send" button. You can then choose to send the form through email or share it as a link. You can also copy the Embed HTML code to add the form to your website.
Creating a booking form in Google Sheets
Step 1: Open Google Sheets. Go to Tools and select "Create a form."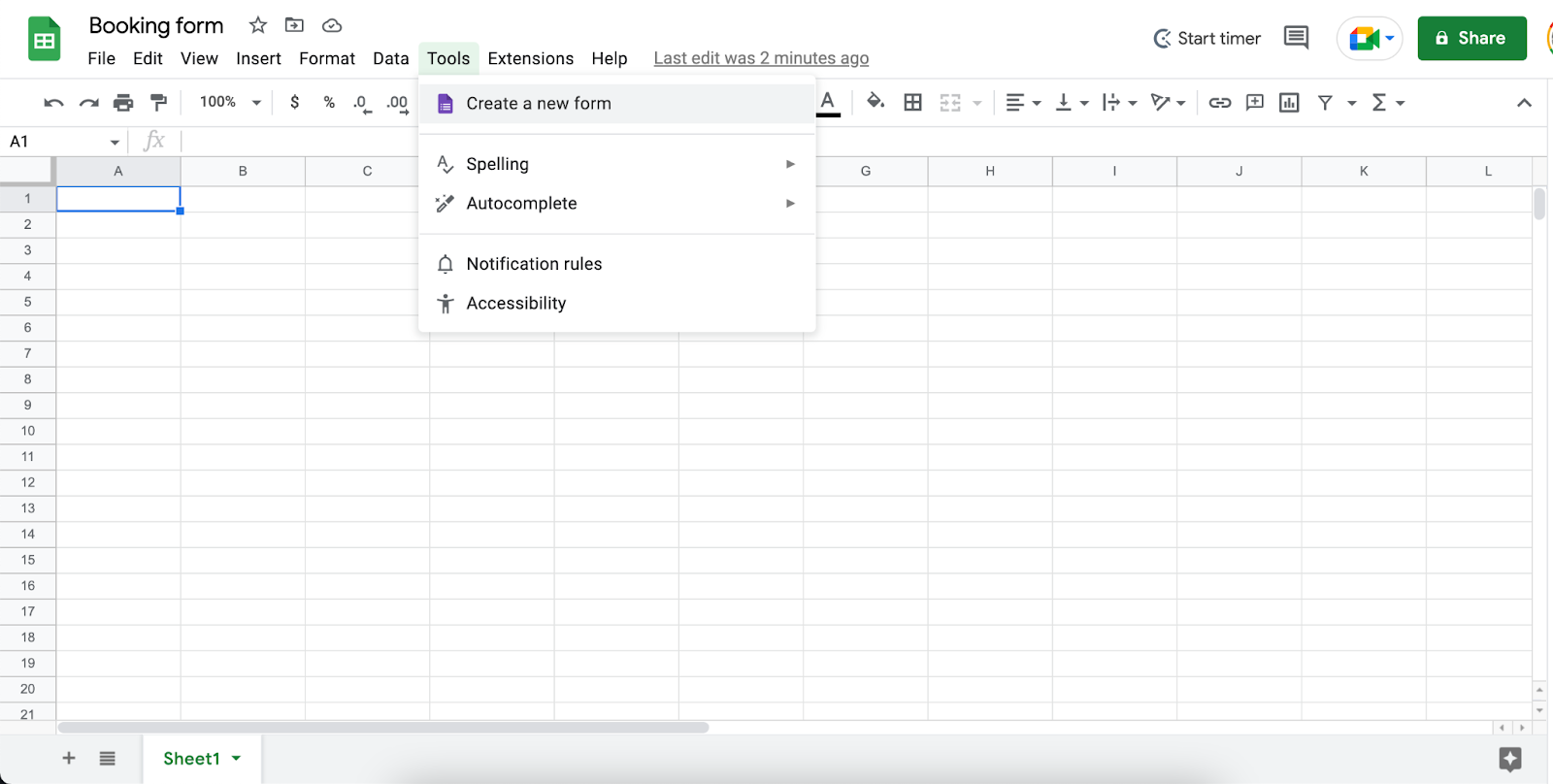 Step 2: Follow the steps above to create your booking form.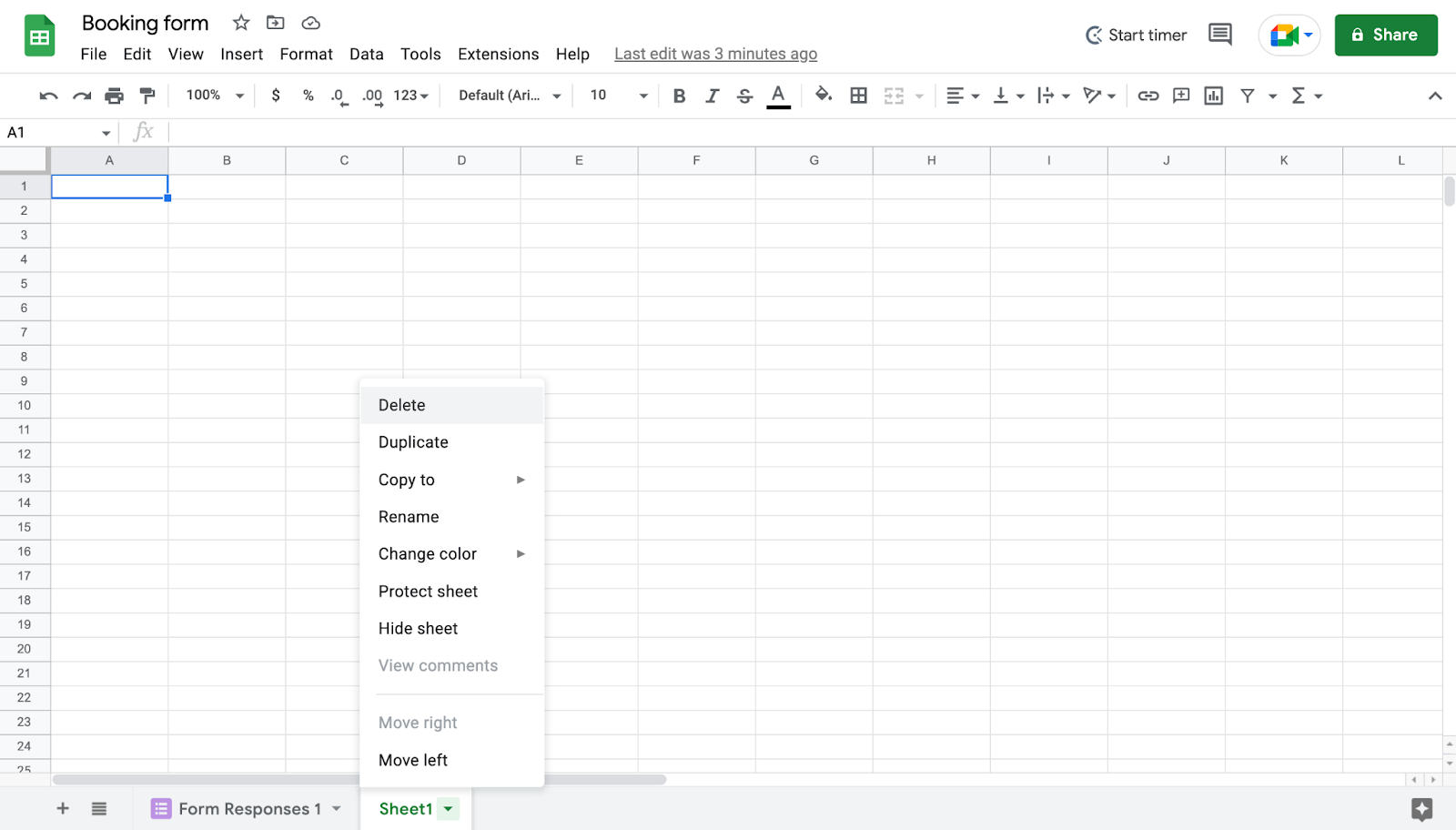 Step 3: Head back to your Google Sheets page and delete "Sheet 1." Keep the tab with the booking form, and rename it.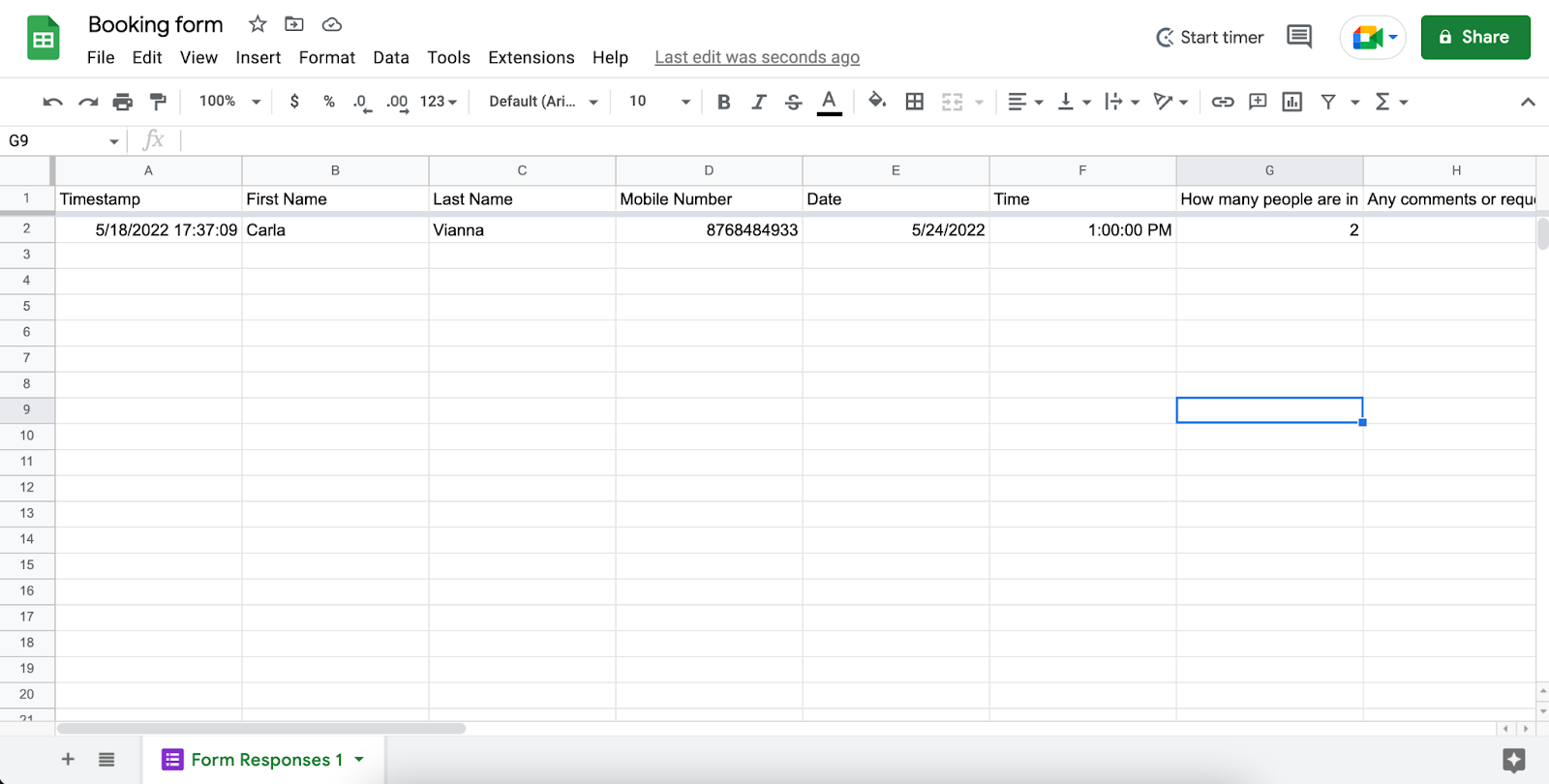 Step 4: Every time a customer fills out your booking form, the answers will be populated in the Google Sheets page automatically.
Creating a booking form in Google Calendar
Creating a booking form in Google Calendar is slightly more complicated. First, you must be a Google Workspace Individual subscriber to use Google Calendar's appointment schedules. You can then create an event schedule that can be shared with guests, but you'll likely need to integrate that with your Google Form so guests can submit their information.
Step 1: When you open Google Calendar, click "Create +" in the top left-hand corner. Then, click "Appointment schedule."
Step 2: Name your booking form. The title will be visible to anyone who has the link to your booking page.
Step 3: Choose the tour duration, and then set the time and date for the tour. You can also set a scheduling window to set how far in advance guests can book the event.
Step 4: Save your ticket booking form. Then, share your booking page link with guests.
Creating a booking form using a WordPress plugin
If you have a WordPress site, this plugin can help you set up a booking form directly on your website. However, you will need to download another plugin to set up online payments.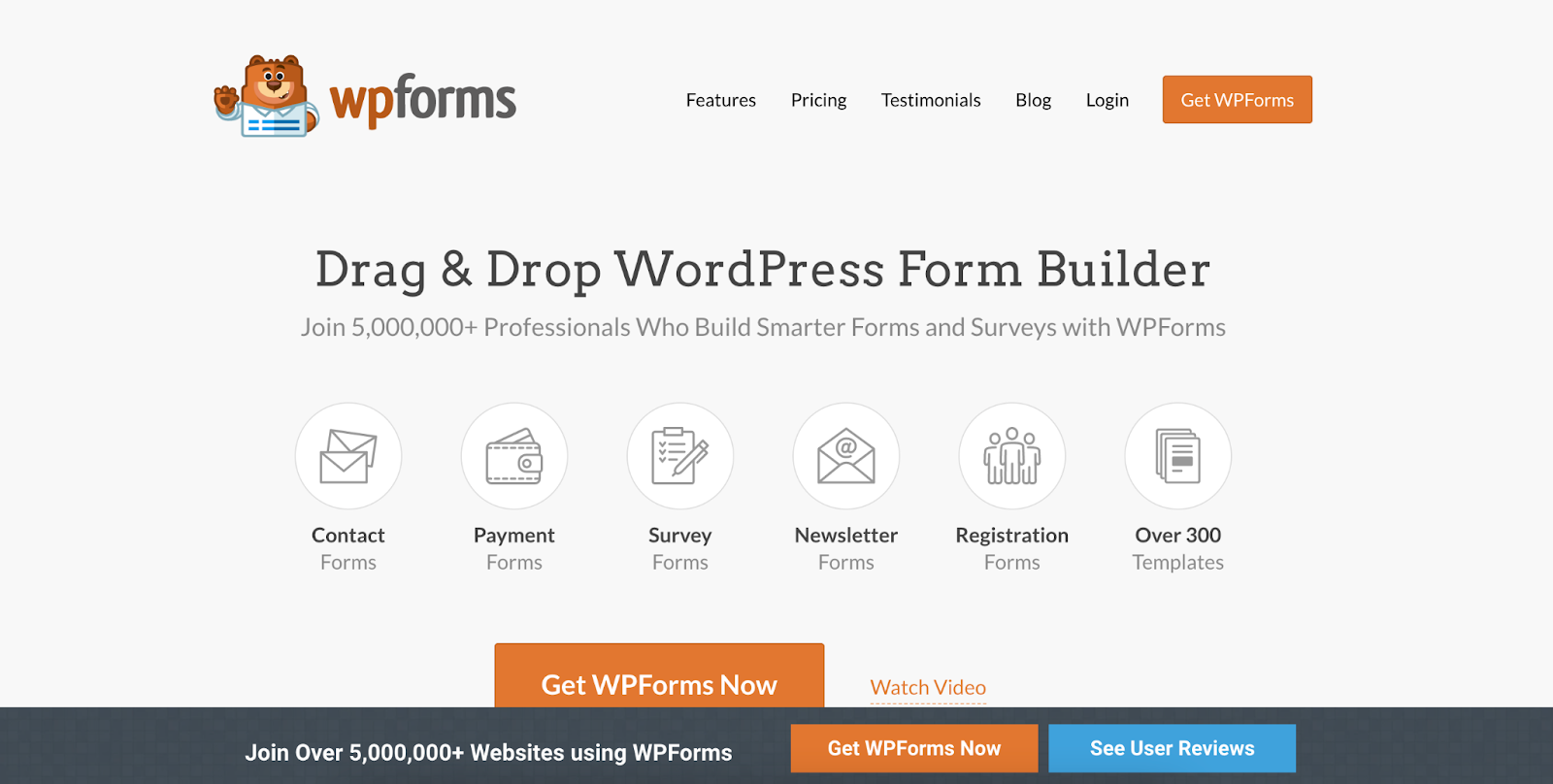 Step 1: Install and activate the WPForms plugin. Learn more about installing a plugin here.
Step 2: From your WordPress dashboard, scroll over to WPForms and click "Add New."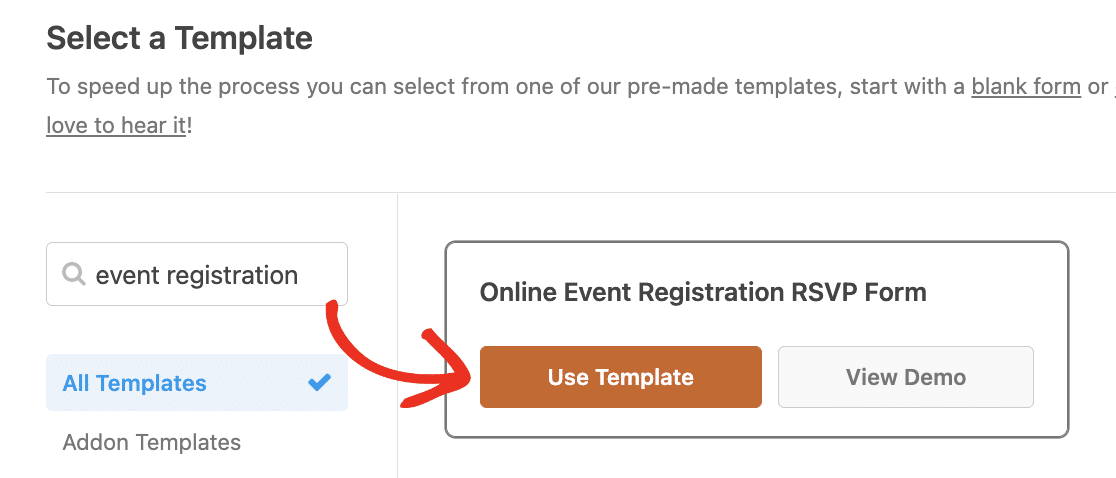 Source: WPForms
Step 3: Name your form, and scroll down to the template section. Here you'll find an online event registration template. Click "Use Template" to start building your form.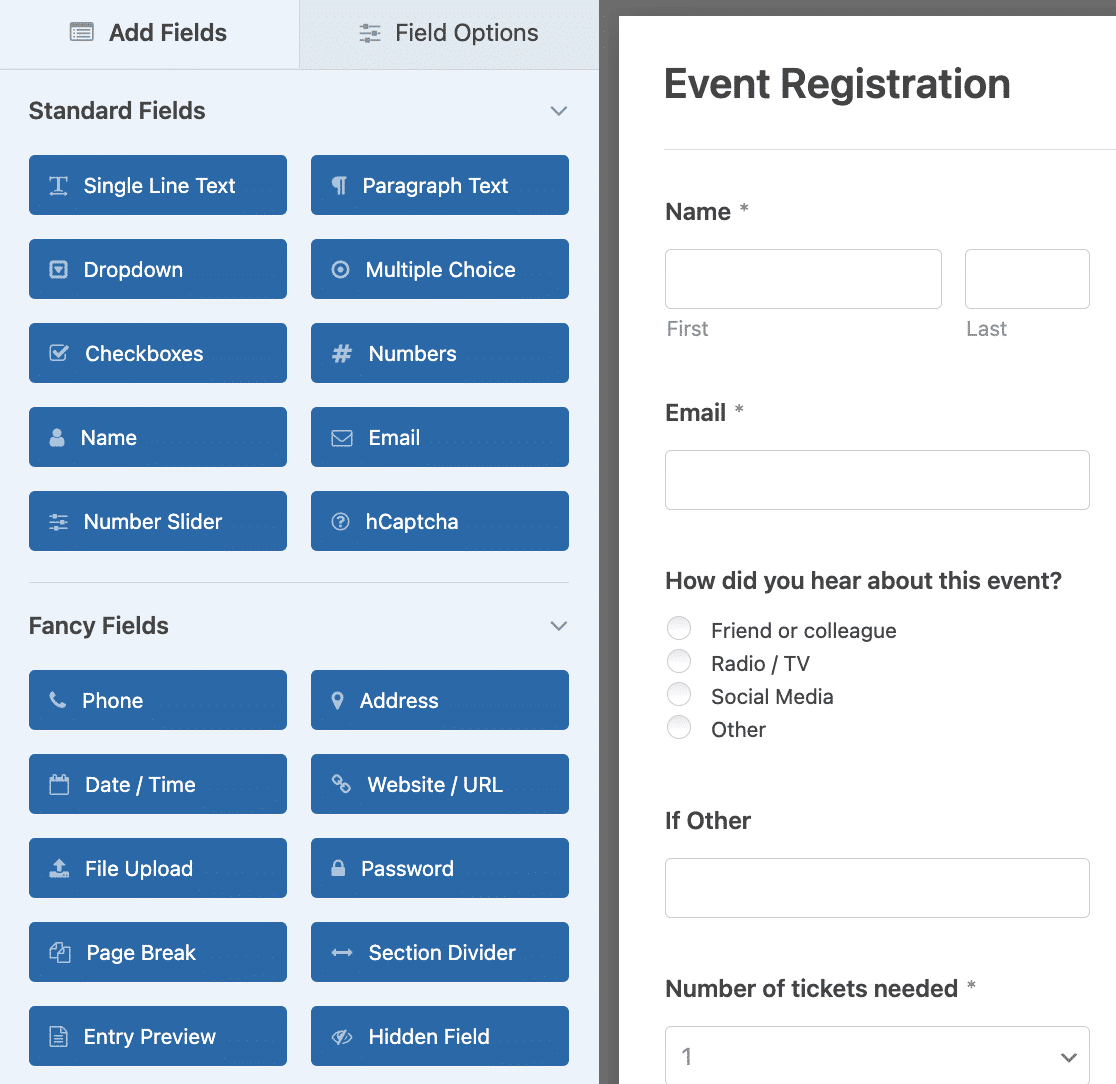 Source: WPForms
Step 4: Create your form. You can add, delete, or edit all of the template fields. To add a form field, drag the desired field from the left-hand panel to your form. The template will already come with the following line items:
Name
Email
How did you hear about this tour?
Number of tickets needed
Date/time
Step 5: Save your form and configure your notification settings. When someone submits a form, you'll receive a notification about it.
Step 6: Configure your form's payment settings so that customers can pay through your website. You'll first have to install the right payment add-on, such as PayPal or Stripe. Then, you'll click the "Payments" tab in the form editor to integrate the plugin.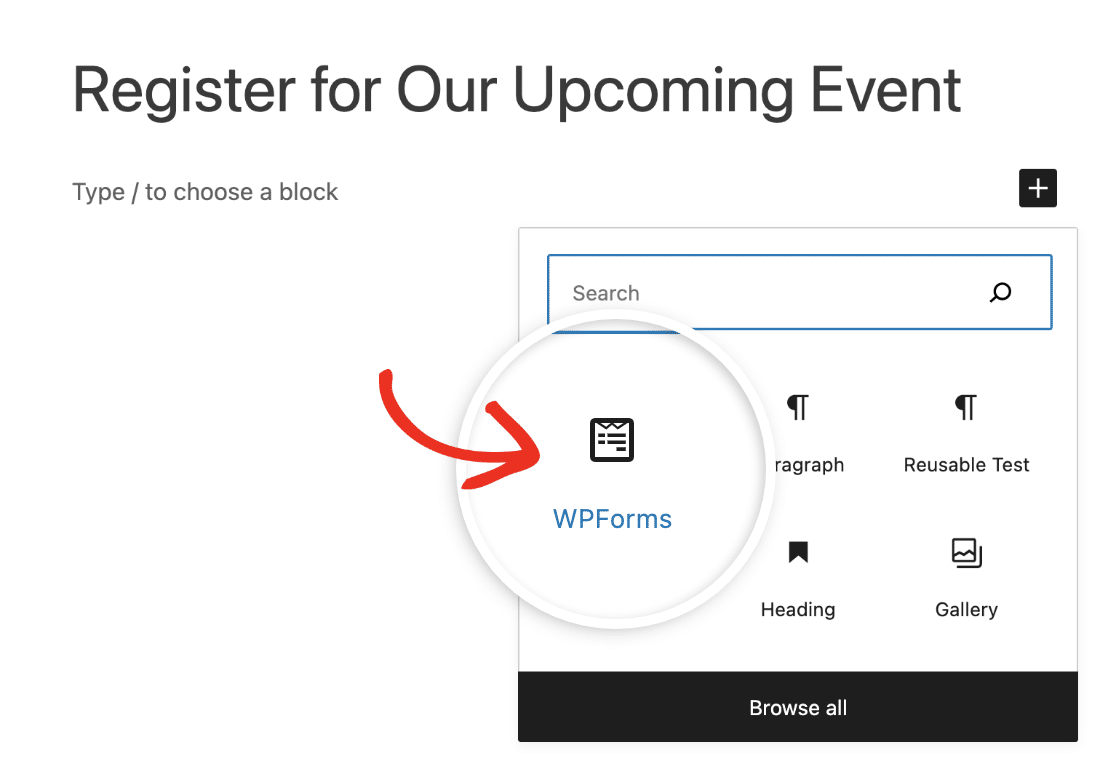 Source: WPForms
Step 7: Add the form to your site. You can add it to a blog post, new or existing page, or sidebar widget through the WordPress block editor.
Automate this process with booking software
When you are just starting out and only have a couple bookings a month, using a DIY solution like Google Forms or Google Calendar may work just fine. However, once you start processing a dozen or more bookings every week, or once you hire a team, this method becomes inefficient.
That's when it makes sense to switch to booking software.
Online booking software like Xola makes it easy for your company to sell tickets directly to your guests. When Xola is installed on your website, a ticket booking form template becomes automatically available for your tour and experience listings.
One of the major benefits of using booking software is that it allows guests to see the real-time availability of your tours. They'll be able to view how many tickets are left for your event or activity, which may pressure them to make their purchase sooner.

You can also create a catchy landing page with great tour / experience descriptions and photos.
Once your visitors land on the page, they'll be met with a quick and easy checkout. Then, your guests will automatically receive a confirmation email and text about their purchase. Guests will also receive a reminder the day before their trip, which helps reduce no-shows.
***
Booking software not only provides you with the perfect ticket booking form template, but it also makes the entire checkout experience a breeze. It's a closed-loop solution for your guest experience.