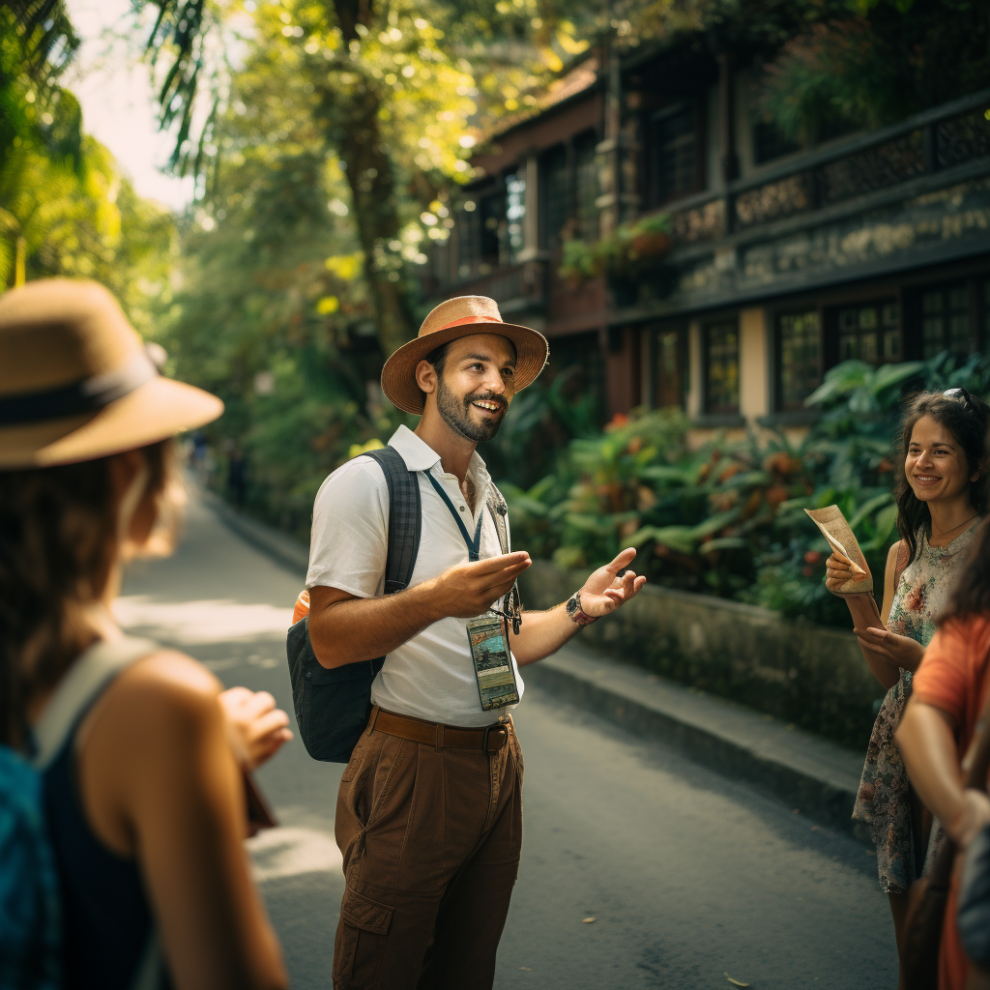 There's nothing worse than leading a tour to a group of bored guests. When your guests lose interest in the tour experience, it's hard to grab their attention back.
This is why the most successful tours are based on a bulletproof tour scripts, a blueprint for the experience that's been tested and revised over time.
In this guide, we'll dive into the art of tour script along with sharing best practices and potential pitfalls to avoid.
What is a tour script?
A tour script is the backbone of a guided experience.
On paper, it's a well-organized outline of the information, stories, facts, and interactions that a guide will deliver during a tour.
A tour script not only provides the structure for an experience, but also weaves a narrative that keeps guests engaged. It sort of serves as a guide's compass, ensuring that they cover key points, interact with their audience, and maintain a consistent flow throughout the tour.
What are the benefits of writing a tour script?
Even the most experienced tour guides can benefit from a well-written tour script — here's why:
Provides structure and clarity: A tour script acts as a roadmap, ensuring that your tour follows a clear and logical structure. It helps tour guides organize their thoughts, preventing any confusion or stumbling during the tour.
Keeps the experience consistent: With a script in hand, each tour becomes a uniform, high-quality presentation of information and anecdotes.
Engages your audience: A well-written script captivates an audience with engaging stories, facts, and insights.
Gives your guide a chance to introduce themselves: A script should feature a fun introduction, allowing guests to build a personal connection with your guides right away.
A confidence boost for guides: Armed with a ready-to-go script, tour guides feel more confident and prepared — which, in turn, translates into a more enjoyable delivery.
5 steps for writing a tour script
Let's take a look at how you might create a compelling tour script that leaves a lasting impression on your guests.
Step 1: Define your tour's theme and goals
Begin by clarifying the central theme and objectives of your tour. Are you highlighting historical sites, local cuisine, or natural landmarks?
Then, define your goals. Are you educating, entertaining, or both?
Let's say you live in Philadelphia: The city has heavy historical significance, so you design a walking tour that takes guests on a chronological journey of the signing of the Declaration of Independence.
With your tour's theme and goal in mind — "historical" and "to inform" in the example above — you can start to create a cohesive and memorable storyline.
Step 2: Research your content thoroughly
Gather detailed information about the sites, facts, and anecdotes you plan to include in your script. Double- and triple-check your facts with reputable sources, historical records, and local experts.
While you're researching, take special note of interesting tidbits and any quirky stories that come up. These can be used as "fun facts" throughout the tour.
The more knowledgeable you are, the more engaging your narrative will be. Your research will give your tour credibility and provide you with the proper ammunition to answer guests' questions.
Step 3: Write a captivating introduction
An engaging opening sets the tone and captures your guests' interest from the start.
With that in mind, write an attention-grabbing introduction for each segment of your tour.
For example, at the city's oldest building, you might start with, "Welcome to the cornerstone of our journey, the Old Town Hall. Let's unlock its secrets together."
This will hook your guests' attention and keep them interested in each stop of the tour.
Step 4: Make the script interactive
Include interactive elements that encourage guest participation, like thought-provoking questions, fun facts, or challenges.
For example, when visiting a site that used to be a market, pose the following questions to your guests: "Can you imagine the bustling market that once surrounded this square? What do you think was the most popular item sold here?"
When guests actively participate in the storytelling, the experience becomes more memorable for them.
Step 5: End with a memorable conclusion
Craft a conclusion that ties together the main themes and emotions of the tour.
Let's say your tour ends at the city square. You might say something like, "Our journey has unveiled the stories etched in these stones. As you leave, remember the resilience and spirit that continue to shape this city."
A strong conclusion leaves guests with a sense of fulfillment and a positive impression of the tour, increasing their likelihood of sharing positive feedback.
Don't forget to remind your guests to leace you a review on your preferred OTA platform and/or website. Including this quick call to action will motivate guests to provide you feedback once they leave your tour.
How to write a tour script for an in-person live tour
When writing a tour script for an in-person live tour, you need to consider all the factors that can make or break a face-to-face interaction.
The more your interact with your guests — like prompting them with trivia questions and sharing anecdotes — the more engaging the tour will be.
In a live tour, you can also use body language and facial expressions to enhance the storytelling experience. Think through how your gestures can complement key points, and where to establish eye contact to connect with different audience members.
Finally, pay close attention to your audience's reactions. Adjust the pacing and delivery of your speech based on their engagement level. Make sure to leave room for spontaneous interactions and allow time for guests to ask questions.
How to write a tour script for a self-guided audio tour
Unlike live tours, where guides lead in real-time, audio tours rely solely on your script to captivate visitors.
Begin with clear and concise descriptions of each point of interest. Since you won't be there to address questions, the script should be comprehensive and help listeners visualize their surroundings. Use navigation cues so they can progress from one point to another. Mention landmarks, specific directions, and a logical sequence to guide them.
Storytelling is just as important in a self-guided audio tour — if not more. Your script is the only thing that will keep visitors engaged; fill it with anecdotes and background information about each point of interest.
Finally, timing is key to preventing listener fatigue. Leave ample room for reflection between each audio segment.
How to write a tour script for a virtual tour
Virtual tours, like audio tours, rely solely on your script to take participants on a journey from the comfort of their screens.
Here, you're not limited by physical constraints, so you can create a fluid narrative that transitions smoothly. Your script will guide viewers through different locations, so make sure to describe the surroundings in detail to enhance the visual component of the tour.
Again, storytelling remains essential. Your narration should foster a sense of exploration — the better the narration, the more immersed the viewer will feel.
Similar to an in-person tour, interactive prompts should also be used to keep viewers engaged throughout.
3 examples of great tour scripts
Here we'll dissect three great tour scripts — from a cathedral in Dublin, a safari in Toronto, and a museum in Milwaukee.
Live tour
Here's a script written for Saint Patrick's Cathedral in Dublin. Right off the bat, the script addresses what visitors can expect from this tour:
We will start from here (presuming you are standing near Celtic Gravestone at shop); walk down into the north transept, or left arm, of the Cathedral. We will stop again at the Choir and then loop around into the south transept finally ending up back roughly where we started. The tour will last approximately 40 minutes and if you have any questions as we go please don't hesitate to ask.
Then, the script begins by sharing the story of St Patrick himself.
"You may not be familiar with the story of our patron saint," it says, ensuring that everyone in the group is on the same page. Rather than just pointing to the pictures on a window of the cathedral, the script tells the saint's story through those pictures. The ongoing narrative captures the audience's attention and keeps them engaged throughout the tour.
This script also includes several "optional extras," such as an organ containing over four thousand pipes. This is a great way to give the guide some flexibility. Tour guides have the ability to read a crowd — they can then make extra stops that align with the interests of each group.
Self-guided tour
Toronto Zoo's Scenic Safari drive-thru tour is a self-guided adventure.
The audio script starts with a message from the CEO warmly welcoming visitors to the zoo. It's followed by important safety rules that remind visitors to remain in their vehicles, keep noise to a minimum, and drive no faster than 5 km per hour. It's important to start a self-guided tour with any guidelines that apply to the visit since there is no physical guide present.
The zoo points out interesting facts to pique visitors' curiosity throughout the tour, like "Did you know that a tiger can bite down with the force of 1,000 pounds" and "A 'long call' from an orangutan can be heard up to 2 kilometers away."
It also uses trivia questions to keep them engaged: "What color do you think a yak's milk is?"
Mixing educational elements with storytelling makes the safari tour even more memorable for visitors.
Virtual tour
The Milwaukee Public Museum offers 360° virtual tours, including one of a gallery focused on the common traits shared by all civilizations.
The virtual tour starts at the entrance and moves through an interactive screen that showcases each section of the Crossroads of Civilization exhibit. The script has clear navigational cues, like "You are standing before a model of the First Courtyard of that temple while it is under construction." This gives the visitor a sense of direction within the virtual experience.
The script also keeps users engaged by offering additional features only available online — like a PDF about colors used in ancient Egyptian art. Viewers can then choose to delve into the topics they're most interested in, making the tour feel more personalized.
6 best practices for writing an engaging tour script
Breathe life into your tour script with these key strategies:
1. Use humor
Infusing humor into your script can transform a mundane description into a memorable anecdote. Don't be afraid to let your personality shine — and don't hold back on witty stories or lighthearted observations that make your visitors laugh
For example, during a historical walking tour, you might playfully mention how a renowned figure's statue seems to have witnessed centuries of gossip.
2. Tell stories
A well-told narrative can transport visitors into the past or alternate realities. Being a good storyteller is key to captivating your audience's imagination. While guiding a tour through an art gallery, you could share the fascinating backstory behind a masterpiece, revealing the artist's personal struggles and triumphs.
3. Use clear and simple language
Make your script easy to understand. Avoid jargon or technical language that non-experts on the subject wouldn't understand. Imagine leading a wine-tasting tour: Instead of delving into technical terminology, you would describe the flavors and aromas in relatable terms like "notes of ripe berries" or "subtle hints of oak."
4. Incorporate interactive elements
Engagement flourishes when your guests are actively involved. Questions, prompts, or challenges encourage them to interact with their surroundings, keeping the group interested from start to finish. For instance, while guiding a hiking trip, you could prompt hikers to look for specific bird species and share their discoveries with the group.
5. Create emotional connections
Always start your tour script by introducing yourself in a friendly manner. Then, make your passion for the said activity known. When guests see how excited you are about the tour, this excitement will translate back to them. During a walking tour, for example, you might share your history with the city, including your favorite memories there.
6. Embrace surprise and curiosity
Unexpected twists or intriguing facts spark curiosity and attract your guests' attention. On that same walking tour, for example, you might reveal a hidden alleyway with a captivating history, leaving them eager to explore further.
3 common mistakes in tour script writing
There are a few common pitfalls that can dampen a tour script's impact. Here are three mistakes to avoid:
1. Information overload
One of the most common mistakes is overwhelming participants with too many details. Bombarding them with an abundance of historical facts, dates, and figures can lead to information fatigue.
Instead, focus on delivering key highlights that are relevant to your narrative. For instance, on an architecture tour, avoid inundating participants with every structural detail and instead focus on the stories behind the most interesting buildings.
2. No interaction
Tour scripts that merely deliver a monologue can fall flat. Neglecting interactive elements can leave participants feeling disconnected from the experience.
To avoid this, leave room for your guests to ask questions, share their observations, or even participate in mini-activities.
During a food tour, for instance, you might ask guests to talk about their favorite meal, fostering a sense of participation.
3. Ignoring pace and timing
You can quickly lose a crowd by rushing through explanations or dwelling excessively on minor details. Dragging out a segment can also bored your guests to death.
Tour guides need to strike a balance between information overload and conciseness. They can do so by allocating appropriate time for each stop and topic. For example, on a museum tour, you'll allot extra time to explore a major exhibit, ensuring that visitors have ample time to absorb the information.
***
A well-written tour script possesses the power to immerse guests in your experience. By marrying your storytelling techniques with thoughtful interactions and original humor, your scripts will result in tours that leave a lasting impression on your guests.