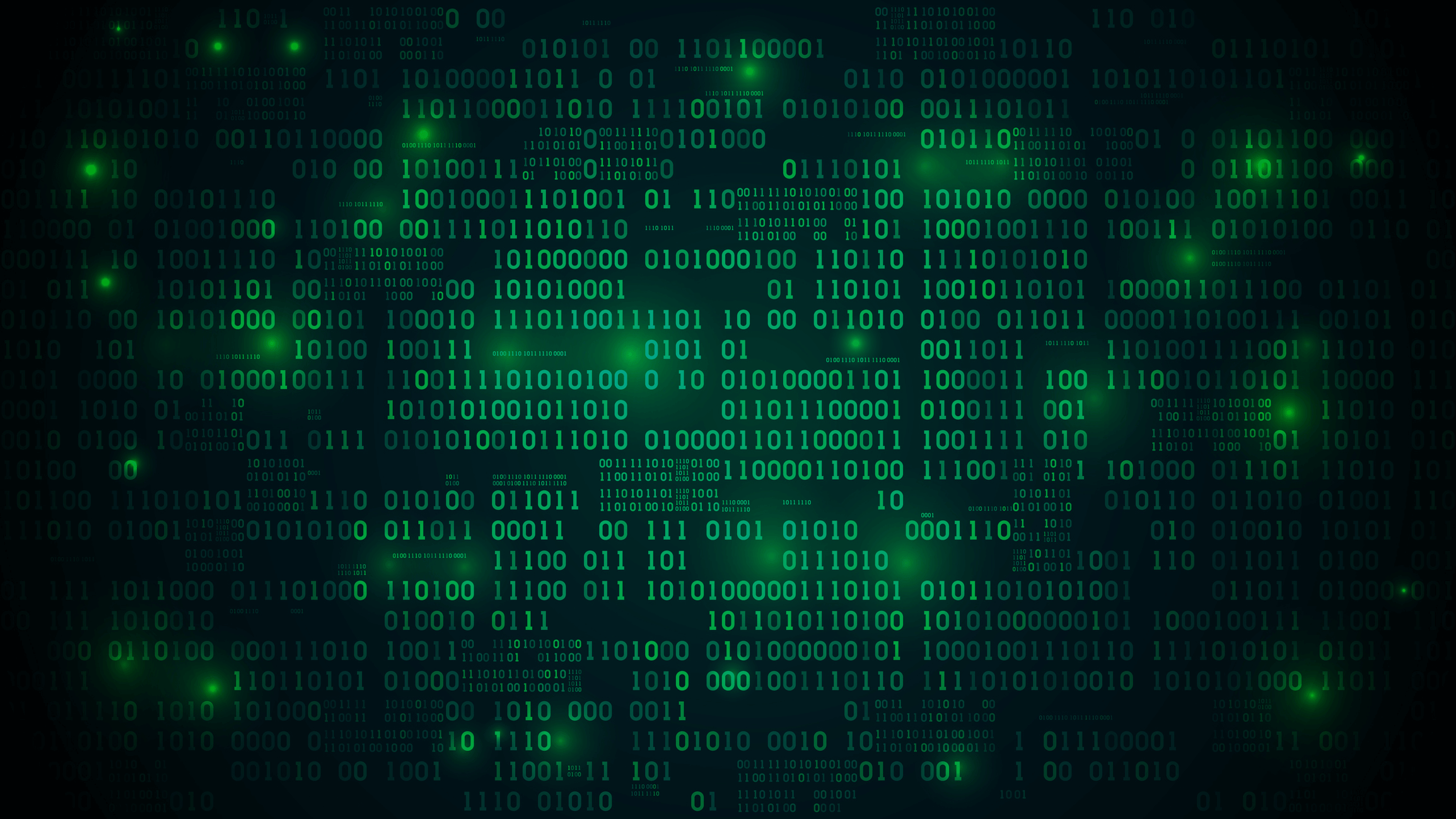 With more than 455 million unique monthly visitors, TripAdvisor is the world's largest travel review website.
With such a large audience of travelers making booking decisions on TripAdvisor, achieving a high ranking on the platform is an important element to the success of many tour and activity operators.
But ranking on TripAdvisor isn't as simple as "more reviews, higher rankings." The truth is much more nuanced. Tour and activity operators who understand TripAdvisor's Popularity Ranking Algorithm will be much more successful on the platform, achieving higher rankings and more bookings.
The 3 Factors That Affect Your TripAdvisor Ranking
In general, TripAdvisor's Popularity Ranking Algorithm considers three primary factors when deciding how to rank businesses against one another. These factors are:
Quality

Recency

Quantity
Outside of these factors, it's also important that tour and activity operators avoid any violation of TripAdvisor's review guidelines. Violations will result in fraud penalties which can have a long-term negative impact on your ranking.
Review Quality
Review quality refers to the "bubble rating" that guests provide when they rate their experience on TripAdvisor. All other things being equal, a listing with more 4- and 5-bubble rating will rank higher than listings with lower bubble ratings.

To generate more high quality reviews on TripAdvisor, tour and activity operators should focus first and foremost on the customer experience. Offering a delightful customer experience is a foolproof way to keep your ratings high.
But no matter how hard you try, a few bad reviews are inevitable. It might be the weather, an unusually testy guide, or a guest with unreasonable expectations. Whatever the reason, it's important to have a strategy in place for preventing and responding to bad reviews.
One way that Xola customers prevent bad reviews from going public is to add two separate links to their review request emails. The first link directs happy customers to leave a review on TripAdvisor. The second link directs unhappy customers to an internal feedback form where their staff can address and respond to the feedback privately.
Review Recency
Review recency refers to the age of the most recent reviews. In general, TripAdvisor gives more consideration to recent reviews over reviews that were written in the past. This means that reviews (even excellent ones) that were written a few months ago will not count as much towards your ranking as a review written last week.

For tour and activity operators with seasonal businesses, this means that they cannot necessarily rely on strong reviews from previous seasons to maintain their ranking, since TripAdvisor will give less weight to the older reviews. Seasonal businesses need to make getting new reviews a priority on day one of opening each season if they want to stay on top of the rankings.
Every tour and activity operator can benefit from automating the customer review collection process with post-trip review request emails. Xola's online booking system allows operators to automatically send an email to their customers after each trip to request a TripAdvisor review. The automated review request eliminates the manual work of organizing and uploading email lists to send requests to customers, and improves the chance that you receive new reviews daily, instead of weekly or monthly.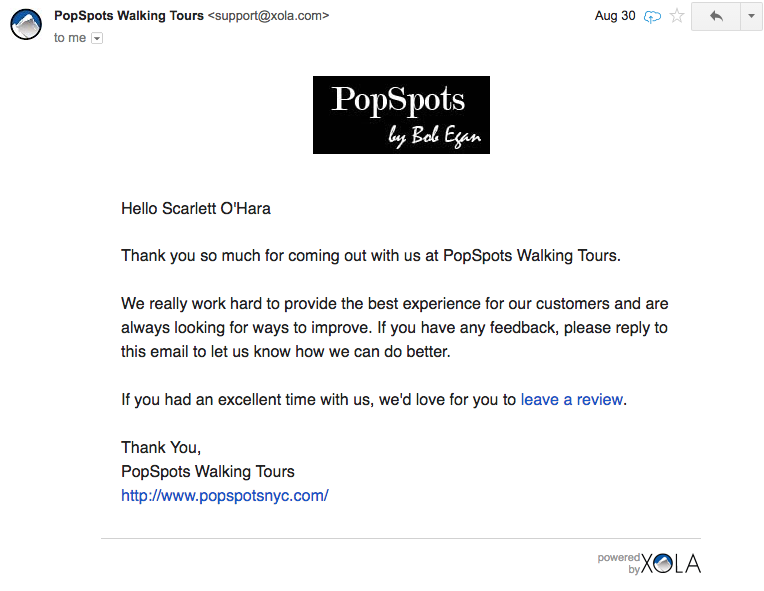 Review Quantity
Review quantity refers to the number of reviews a listing collects. However, the way TripAdvisor uses quantity is not as straightforward as, "the more reviews you collect, the better your ranking."

TripAdvisor uses quantity more as a "confidence rating" than a direct ranking measurement. In other words, as you collect more reviews, TripAdvisor's algorithm becomes more confident in what guests say about the experience you provide to your guests.
In other words, a 5-bubble listing with 250 reviews isn't necessarily going to rank higher than one with 200 reviews that were received in the same period of time. This is because both have enough reviews to make TripAdvisor confident in the experience they deliver. Instead, the ranking algorithm is likely to rely more heavily on recency and quality factors to determine which listing ranks higher than the other.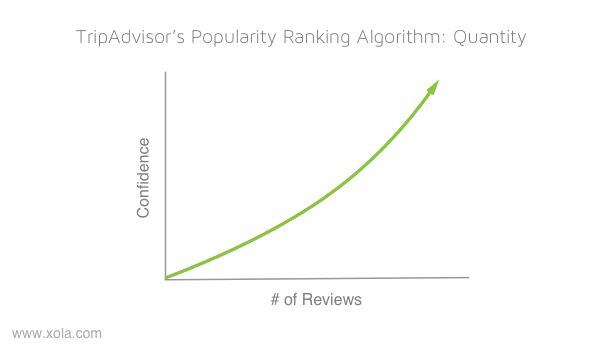 While quantity is not the defining factor, it is still a very important element of TripAdvisor's ranking algorithm. One way Xola's customers have increased their quantity of reviews is to integrate their online booking software with a digital waiver solution. Digital waivers can be used to collect the email addresses of all of the guests in a group, instead of the one person who made the booking. This extended reach can lead to customers receiving as many as 3 or 4 times as many reviews.
Rankings Aren't Everything
A high ranking on TripAdvisor can dramatically improve your bookings and revenue. But rankings aren't everything.
Many TripAdvisor users will also visit your website before making their final booking decision. They will often judge your website with the same (if not more) rigour than your TripAdvisor listing. Because of this, it's important that your website and checkout are designed to get more bookings, not less.
Improving and optimizing a website can feel daunting to some. Luckily, there's a science to it.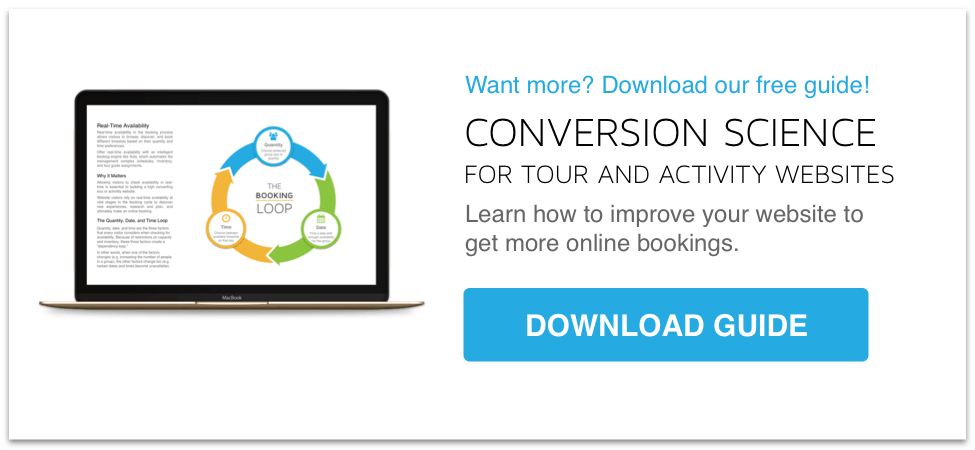 Conclusion
There is a lot of nuance to TripAdvisor's ranking algorithm. But it can be distilled into three basic points:
More reviews are better than fewer reviews;

Good reviews are better than poor reviews; and

Recent reviews are better than older reviews.
Xola's automated post-trip review request emails allow you to effectively collect more high-quality reviews on a daily basis. These automated emails, alongside a strong internal review collection and management plan, are key ingredients to ranking higher on TripAdvisor and ultimately getting more bookings.