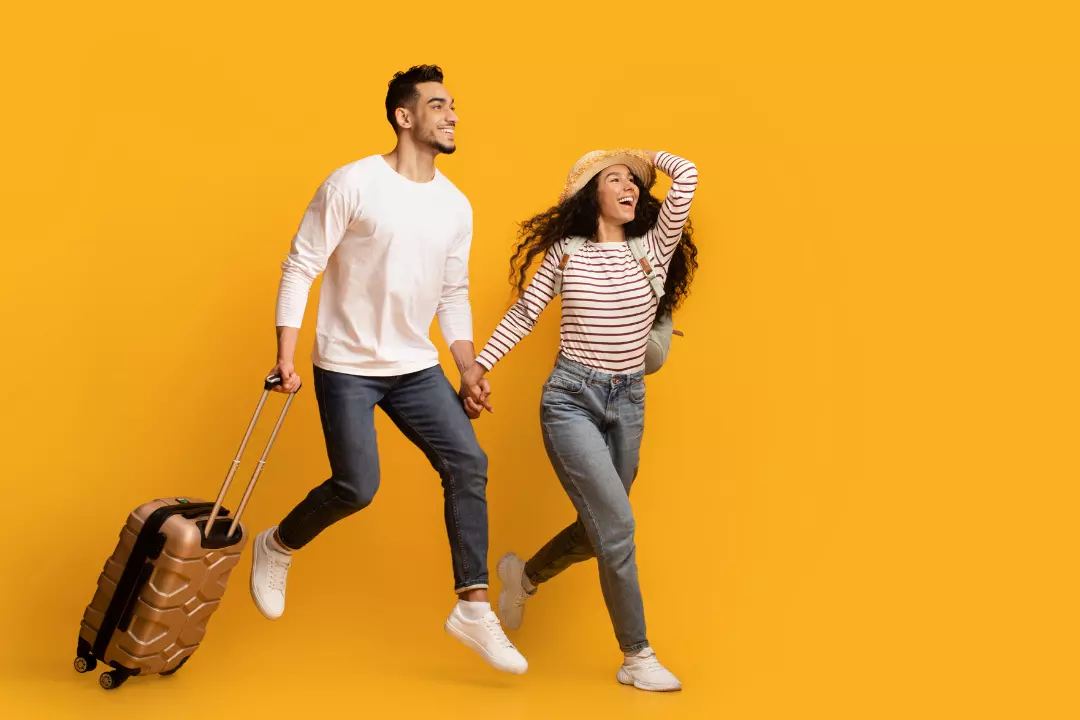 The quality of your marketing ads — and the platform you're running them on — can have a big impact on your sales.
If you're not sure where to start, Google, Facebook, and TikTok are a few of the platforms where tour and activity operators find the most success. Stat?
In this post, you'll learn how to craft compelling tour ads on Google, Facebook, and TikTok, including examples of travel brands doing their best.
5 platforms that tour operators can advertise on
7 general best practices for running tour ads
What is a tour ad?
A tourism ad is an image or video shared on specific platforms, like social media or Google, to attract customers to your brand. The ad could highlight a specific tour, activity, venue, or promotion that encourages viewers to visit.
Tour ads are typically part of a greater marketing campaign, which is strategically created to reach the right audience at the right time and drive them to take an action on your website — like make a booking.
5 platforms that tour operators can advertise on
Your ads may appear in many places, from the top of the page on Google to an Instagram feed. Let's take a look at the five most relevant advertising platforms for tour operators.
Google Ads
Many trips start with a Google search. If you're a tour operator in Philadelphia trying to attract tourists, consider the Google searches they might be making when they're planning their visit. Google Ads make your company visible in those searches. Your ads can appear on the first page of search results for keywords relevant to your tours or activities, which increases the chances that travelers will find and click on your website.
Display ads
Display advertising is the process of promoting your brand on a website, social media platform, or other digital media. These ads are typically a combination of text, images, and video that encourages users to click through to your website. There are a few different types of display ads:
Banner ads: Usually appear at the top of websites in a "banner" format
Native display ads: Naturally placed into the content of the web page, website, or email
Pop-up ads: Typically appear as a small square box while a user is browsing a website. These ads typically encourage users to learn about different offerings or sign up for a newsletter.
Facebook Ads
On Facebook, tour businesses can create targeted ads to reach travelers at the right point in their buying journey. Facebook ads allow you to zero in on an audience based on their l location, age, and gender, among other demographics. You can even target specific interests and behaviors — like "traveling." Facebook also owns Instagram and Whatsapp, which allows you to cross-promote your ads on either platform.
TikTok Ads
TikTok is one of the most popular social platforms, and there are billions of videos under the hashtag "#TikTokTravel." TikTok ads can help tour operators tap into a new market of social media-savvy travelers. The video-based ads can appear on users' news feeds and For You pages. Brands can use TikTok's self-serve ad platform to create and manage their own campaigns. It functions similarly to Facebook's Ad Manager, where you can define your budget, ad placement, and target audience.
Paid Influencer Sponsorships
Working with influencers can be a great way to introduce your brand to an engaged audience. People look up to influencers for inspiration and typically trust their recommendations. If you find an influencer in your niche, you can work with them to reach an audience that's already interested in what you're offering.
There are many ways to get creative with influencer marketing. You might invite an influencer on your tour in exchange for a post on their Instagram, or ask them to take over your account during their visit.
7 general best practices for running tour ads
You don't need to run ads on all of these platforms at once. Choose the ones that make the most sense for your audience, and then use these best practices to create an ad that reaches your audience at the right place at the right time.
1. Use engaging imagery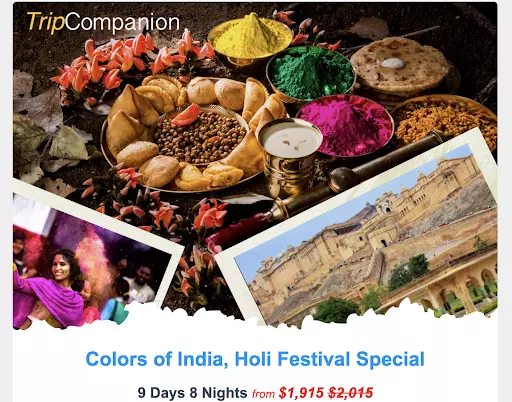 Tour ads need to have a strong visual component to capture the viewer's attention. Most ads are a combination of photos, videos, and graphics that appeal to a target audience. Within travel, videos and photos are powerful visual tools to draw customers to an ad.
For example, California-based TripCompanion Tours used several vibrant photos highlighting India's unique culture and cuisine to promote a trip to the destination. The tour uses photos to evoke an emotional response from its viewers. When its subscribers click into the email, they'll be able to imagine themselves experiencing the colorful Holi Festival in India — and hopefully book a tour.
2. Include clear and concise information about your tours, including prices, itineraries, and any relevant details

Providing relevant information upfront ensures that the right customers click on your ads. Whether it's in the caption of an Instagram post or the body of an email, strive to include the prices, itineraries, dates, and services included.
Let's say someone is looking for a walking tour in Brooklyn, New York. A quick Google search will bring up the ad above, which promotes an "in-depth exploration" of Brooklyn, including visits to the City Hall and Brooklyn Bridge. The viewer will know whether they're interested in this tour right off the bat.
When they click on the website, they'll already have a good sense of the kind of experience the operator is offering and will be better equipped to make a booking decision.
3. Offer special promotions or discounts to encourage bookings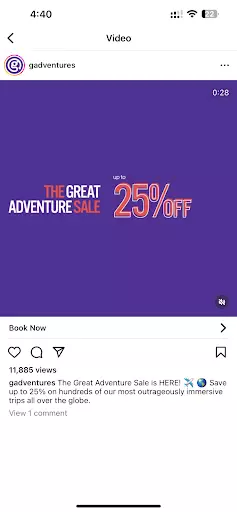 Special promotions and discounts are a great incentive to get people to book a tour during your low season. These types of ads should make the offer front and center — as you can see from the example from G Adventures above. The tour operator created a graphic that focuses on the "25% off" sale, ensuring that it's the first thing viewers see when they come across the ad on Instagram.
4. Highlight the unique and memorable experiences that your tours offer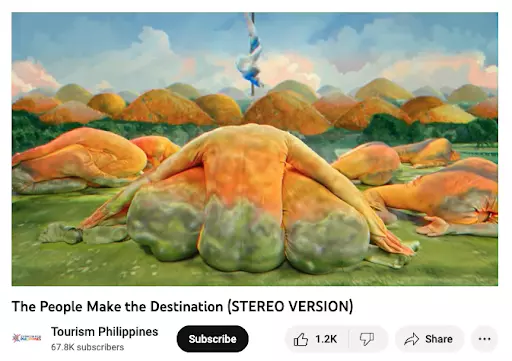 Tourism Philippines highlighted the destination's captivating landscapes and natural attractions in a unique YouTube ad. Instead of using graphics or static images, the destination's tourism board created a theatrical video in which people dressed in colorful costumes came together to recreate iconic scenes of nature. The purpose was also to shine a light on the tourism workers that make the destination worth visiting. Similarly, tour operators should strive to create ads that highlight what makes their experiences unique and memorable.
5. Add social proof in your ads

Have you ever received a glowing 5-star review and felt like sharing it with the world? You can. It can be as simple as creating a graphic with the review and posting it on your social media pages, while thanking the person for their feedback. Reviews can be powerful in persuading future guests to join your tours.
As you can see from the example above, Viator includes the star rating for a Boston tour in its Google ad. When a customer sees that the tour has 4 out of 5 stars, they'll feel more inclined to find out more.
6. Track and analyze the performance of your ads
Most operators release several marketing campaigns throughout the year. It's important to keep track of the ones that have the most impact so that you can repeat the same process in the future. Tracking the performance of your ads helps you understand what appeals most to your customers, allowing you to improve and refine your marketing strategy over time.
7. Include a call-to-action
What action do you want the viewer to do after they see your ad? Whether you want them to book right then and there or take them to a landing page to learn more about an offer, make your call to action clear. Kayak does this with a "Book now" button in the Instagram ad shown above, making it incredibly easy for interested users to start browsing for a flight on its website.
***
A well-crafted tour ad can help you drive more direct bookings, no matter what platform you choose to advertise your brand on. Every ad should feature imagery that pulls viewers in, as well as a clear call to action directing them where to go next. Use these best practices to up your advertising strategy in 2023.
ear call to action directing them where to go next. Use these best practices to up your advertising strategy in 2023.