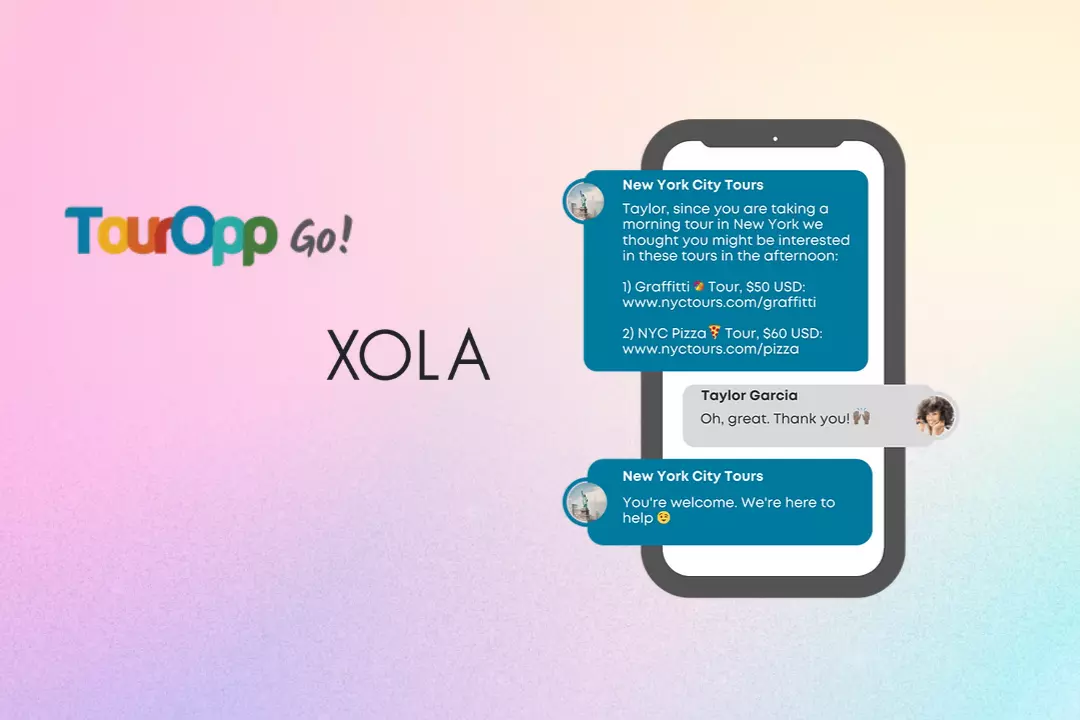 TourOpp allows tour and activity operators to improve customer communication through automated text messaging. And it is now available within Xola's App Store.
This makes it easy to communicate with guests before, during, and after the tour on the device they're using the most: their mobile phones.
In this post, we'll explore all the ways that TourOpp can help you make more sales — and build better relationships with your guests.
Give customers peace of mind with booking confirmation texts
Improve guest experience with text reminders
Get more 5-star reviews with SMS campaigns
What's TourOpp?
TourOpp leverages automated conversations and SMS messaging to improve communication between travel operators and their customers.
Did you know that 95% of text messages are opened within the first 5 minutes? On top of that, text messages have a 5x higher open rate than email. That's how the Florida-based company helps tour and activity operators get more bookings and reviews, without sacrificing hours of traditional back-and-forth with customers.
In 2019, the company launched TourOpp GO! to further close the gap in communication. With TourOpp GO!, operators can send booking confirmations, reminders, safety waivers, and more via text message. They can even upsell their customers by offering add-ons, such as photo packages, before the experience.
Give customers peace of mind with booking confirmation texts
Every time a customer makes a booking, they expect to receive some sort of confirmation message. Regularly, these booking confirmations come in the form of an email, but in this day and age, people expect more. By sending a booking confirmation through text, along with important information about their tour or activity, you can reduce customer questions and bring them peace of mind.
As soon as a booking is made, TourOpp sends a confirmation message via text, reaching customers on the one device they always have on hand. For example, if a customer books a Statue of Liberty sailing tour in New York City, they'll receive a text saying:
"Hey Taylor, thanks for booking the "Statue of Liberty tour" on February 15th at 11:30 a.m."
TourOpp will also ask the customer if they'd like to receive tips for their upcoming visit. If the customer opts in, they'll receive helpful recommendations on how to make the most out of their tour.
Customers will know that they can reach out via text if they need support, which feels less time-consuming than writing an email.
Improve guest experience with text reminders
There's always that one guest that gets lost on their way to your meet-up point. Or the group of guests that arrive late because they thought the tour began 30 minutes later than the actual start time. Quick reminder texts can help prevent this.
With TourOpp, operators can send customers a text like, "Remember that we will meet at noon in front of Harry's Pizzeria. Here's a Google Maps of the location: [link]."
Since the platform allows for two-way communication, customers can quickly reply with a question like, "Is there parking nearby?" and instantly receive an answer.
You can even send your digital waivers via text. Reminding guests to sign their waivers beforehand can speed up the check-in process and ensure they start having fun as soon as they arrive.
For example, Grupo Xcaret, which owns several hotels and parks in Mexico, adopted TourOpp to communicate directly with customers who booked through an Online Travel Agency or another third-party website. Before using the platform, Xcaret had a difficult time coordinating hotel pick-ups with customers that booked via OTAs.
Since the OTA platform handled the reservation up until the start of the activity, Xcaret didn't have any contact with guests beforehand. The operator couldn't answer any doubts the guests had about pick-up locations and times.
Once Xcaret started working with TourOpp GO!, it was able to send automatic booking confirmations to all of its customers, including the ones that booked through OTAs. Now, all customers are provided with personalized customer service, including infographics about the pickup process, parking, and contact information.
Upselling
Upselling allows you to boost your revenue with existing customers by offering additional services or add-ons, like photo packages.
Let's say you run a snorkeling tour and want to sell your customers underwater GoPro photos. With TourOpp, you don't need to wait until customers arrive to promote your photo and video services. Soon after customers make a booking, you can follow up with a text saying, "Hi Dave, if you want to keep a good memory of your "Snorkeling Tour," you can reserve a "Photo Package" for only $25 more: [link]."
Similarly, you can also encourage repeat visits or referrals by texting your customers a discount code for their next booking.
Cross-selling
The TourOpp platform can also help operators with cross-selling. When a customer books a tour, you can sell them a similar experience while you have their attention.
For example, if a group of customers purchases a food tour, the operator can also offer them a pub crawl. The cross-selling text might look something like this:
"Jenna, since you're taking a food tour this morning we thought you might be interested in this tour in the evening: Pub Crawl Tour, $50 [Link]"
You can even send these cross-sell messages to customers that have booked through an OTA, encouraging guests to book a second tour directly with your company.
Get more 5-star reviews with SMS campaigns
Customer reviews are essential for growing and improving your tour business. If you're having a hard time convincing customers to leave you a review, you're not alone. While tour guides can remind guests to leave one, many forget to do so after they leave.
With reminder texts, you can ask for a review a few hours or even a day after the tour. In fact, you can collect internal feedback as well as send customers a link to a review site. You might ask a customer to rate the experience from 1 to 5, in which case they can quickly reply with their rating.
Once you have their attention, you can follow-up asking for them to leave you a written review on your preferred review site. All customers have to do is click the link, making it a seamless transition from the text conversation to the review site.
Gray Line's Las Vegas division put this to the test. Once connected to TourOpp's messaging platform, the bus operator was able to increase its reviews by number and quality. Customers loved the company's personalized messages so much that many of them replied with cheerful "Thank you."
***
Xola's clients can now leverage TourOpp's automated messaging to improve communications with guests.
To get started, log into your Xola dashboard, go to the App Store, and install TourOpp (it takes less than a minute).
TourOpp is one of more than 40 apps in the Xola App Store, alongside Google Things To Do, TripAdvisor/Viator, Expedia, and many more.