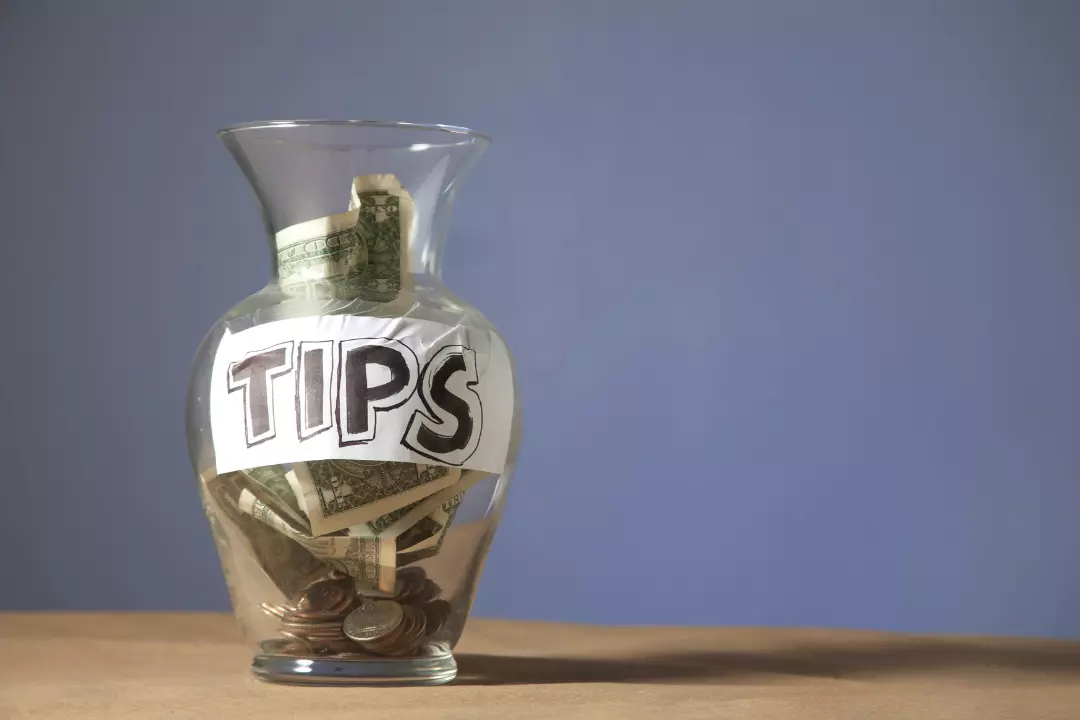 Tour operators want charismatic guides that know how to engage a group of people and keep them entertained until the very last second of the tour. And it's in the guide's best interest to provide guests with the best experience possible. The better their experience, the more generous their tips will be.
Tour guides are far from being the highest-paid professionals in the travel industry, which is why customer tips make a big difference in monthly wages. This is why in this post, we're teaching tour guides how to double your tour guide tips from day to night.
How much does the average tour guide make in tips?
How much does the average tour guide make in tips?
A tour guide's salary and tips will depend on a variety of factors, such as the type of tour, the location, and the season. In general, tour guides can expect to earn anywhere from a few dollars to several hundred dollars per day in tips.
In the U.S., guides typically get paid an hourly wage. According to Indeed, tour guides make an average base salary of $22 per hour and receive an average of $85 in tips per day. Hourly wages largely depend on the guide's level of experience. Guides with more than 10 years in the industry, for instance, make an average of $32 per hour.
Some guides may earn more or less depending on the factors mentioned above.
10 tips to make more money
The key to earning more tips as a tour guide is exceeding guest expectations. When you deliver a great experience, your guests will be more inclined to leave a tip. Here are 10 ways you can start earning more money as a tour guide.
1. Provide a memorable tour experience
This might seem obvious, but providing a memorable tour experience is the single most important factor in receiving tips. This goes beyond providing correct and interesting information about the places you're visiting, and includes:
Let your personality shine.
Be engaging and friendly.
Go above and beyond to make your guests feel welcome.
2. Continuously improve your skills
There's a wide variety of training programs and courses that can make you stand out as a tour guide. Training programs can help you polish important skills like storytelling, problem-solving, and public speaking. Many courses introduce guides to real-life scenarios and have you work your way through them, which can be especially useful for new guides.
Check out our post about the six best training programs for tour guides.
3. Offer something extra
Consider offering special add-ons that your guests won't find elsewhere, such as a behind-the-scenes experience or personalized food and beverage package. Anything that adds value to your tour will make it more memorable for your guests. They'll be sure to thank you later.
4. Increase the price of your tour
Customers often relate pricing to quality. If your tour is priced $20 more than your competitors, guests may perceive you as the better or more premium experience.
Now it's your job to deliver a wonderful experience worth the extra $20.
Also, if guests approach tipping as a matter of percentage, the higher the cost of your tour, the more you'll earn in tips.
5. Make a great first impression
The first few minutes after a guest arrives can define their perception of the rest of the tour. If the check-in process is chaotic or the guide is late, your guests will likely start to feel frustrated. Those five minutes of frustration can cloud their judgment of the rest of the tour, even if it's a great experience overall.
Instead, tour guides should strive to impress guests right off the bat — and of course, always be on time.
6. Ask for tips
It may feel awkward to ask, but it's perfectly acceptable for tour guides to let guests know they accept tips. At the end of the tour, you can politely remind your guests that tips are appreciated. Some may never think to leave a tip if you don't mention it.
You can say something like this: "I really hope you enjoyed your experience today. While I don't expect any tips, I do appreciate them!"
7. Flex your second or third language
If you speak more than one language, this is the time to flaunt your multilingual skills. Speaking more than one language means you can interact with different international tourists that only-English-speaking guides can't. This makes you a valuable tour guide in places like Miami and New York City, where there's an influx of international visitors. If a guest can take a tour in their native language, they're bound to enjoy it even more.
8. Offer a wide range of tours
Offering a wide range of experiences will attract a varied clientele. You might offer tours at different times of the day — like an early morning walking tour or a sunset experience — and for different types of people.
If you offer both a food tour and an architecture tour, you have the chance to attract double the number of guests than a similar operator that offers just one. You can also try to upsell your guests within your tour offerings. If they enjoyed the food tour, they could be convinced to book the architecture tour with you, too.
As the same guests join you for more tours, you'll quickly begin building a relationship with them. The more familiar guests become with you as their tour guide, the more inclined they'll be to leave you a good tip.
9. Create a brand for yourself on social media
Instagram specifically is a great platform to find new customers. The content you upload on Instagram can reach hundreds of potential customers outside of your profile and inspire them to learn more about your company.
As you establish a brand on Instagram, people will also begin to view you as an expert voice in that destination. If someone comes across your page and finds a gallery of beautiful photos and informative videos about your city, they'll start to feel more confident about booking with you. This can bring you additional credibility during your tours, which can make the experience appear more valuable. The more valuable an experience appears, the more inclined customers will be to tip.
10. Network with local businesses
Introduce your services to neighborhood cafes, hotel concierges, and even your local tourism board. Show them your social media pages, website, and reviews to prove that you're an established member of the local tourism community. You can even print out a few travel brochures to leave with each. Then, ask them to refer guests to your tours and help you grow your business.
Guests who are referred to you will arrive with a positive first impression. They've just heard about how great you are, from a local none-the-less. They're probably more excited than the guests who found your site on Google. If you meet (and exceed) their expectations, this excitement can often lead to a great tip at the end of the tour.
***
At the end of the day, customers will feel delighted to tip a guide that provides them with a fantastic experience. When you help your guests create amazing memories with their friends and families, they'll want to reciprocate the kindness.
Start applying these strategies to your next tour, and watch your tips double before your eyes.