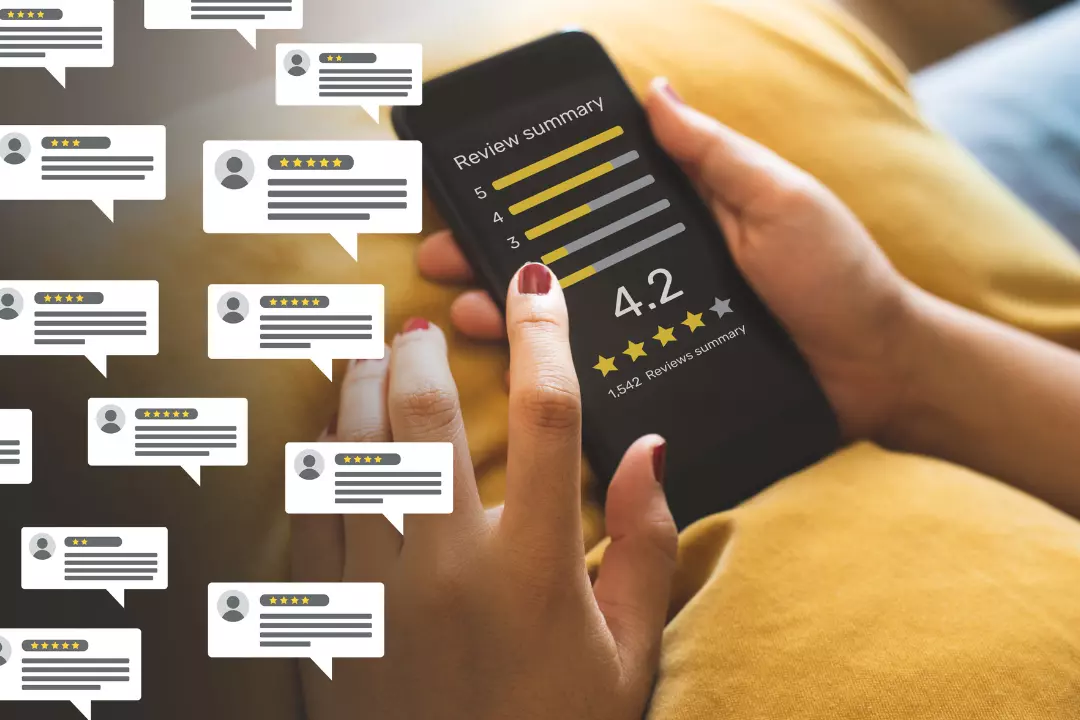 Nobody likes to receive a bad Google review — especially when it's a fake one.
As a tour operator, if you receive a scathing review from a customer, you're going to want to find out what went wrong. Unfortunately, there's a chance that the review might come from a competitor trying to hurt your reputation or an angry customer trying to get revenge on your company. In fact, research shows that between 20% to 40% of all online reviews are fake.
Dealing with bad Google reviews can be frustrating. It's not easy to have a bad review removed. And if it's bad enough, it can hurt your ability to attract new customers.
In this post, you'll learn how to take down bad Google reviews, how to spot a fake review, and tips on how to respond to them.
Can you take down a bad Google Review?
How to spot the difference between real bad reviews and fake reviews
How to flag a fake review in Google
Should you pay to remove or bury bad Google reviews?
What to do if Google won't take down a bad review
Can you take down a bad Google Review?
Google will only take down reviews that violate its content policies. In other words, tour operators and attractions can't report a review simply because they disagree with it. Google tried to get ahead of fake or spammy reviews with an automated spam detector, but sometimes, a fake review may fall through the cracks.
In that case, it's possible to flag or report a review that you feel should be taken down. Someone from the Google team will then review your request and investigate whether the review goes against the company's content policies.
How to spot the difference between real bad reviews and fake reviews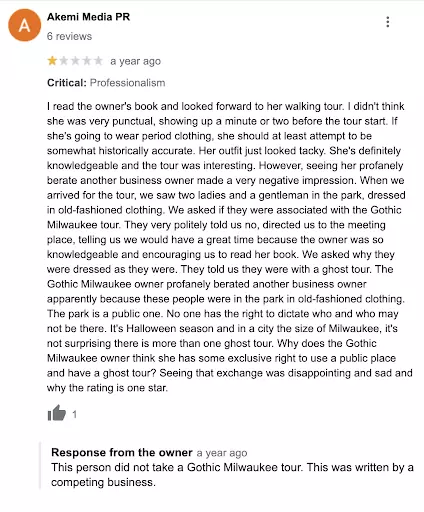 Fake reviews can easily mislead future customers and negatively impact your brand image — which is why operators should know how to spot them. Here are a few of the signs to look for:
The date: Check to see if the date of the review matches up with your records. Did the reviewer join a tour during this time period?
Customer name: Is the name unfamiliar? Check your customer roster to see if the name matches any of your recent visitors.
Extremely positive or negative reviews: Most reviews don't fully sway one way or the other. Often, people will note both pros and cons in their feedback.
Jargon: Are there industry-specific terms in the review? This could mean the review was left by someone with extensive knowledge of the industry, such as a competitor.
Exaggeration: If a review is written in all caps and contains swear words, it might indicate that 1) the person was emotionally distraught when they wrote the review or 2) the review is fake.
Look for photos: Did the customer take any photos? Photos can help improve the credibility of the review if they show that the customer actually experienced your tour.
How to flag a fake review in Google
Here's how you can flag a fake review on Google:
Go to Google and find your Business Profile.
Tap "Reviews."
Find the review you'd like to report.
Tap the "More…" button, and then click "Report review."
Google might take several days to assess a review. If the platform finds that the review violates its policies, it'll be removed.
Should you pay to remove or bury bad Google reviews?
The Federal Trade Commission (FTC) protects consumers' right to share honest opinions about a business's services or products. It's illegal for tour and activity operators to prevent customers from posting negative reviews.
Review platforms like Google pride themselves on providing customers with a safe space to share their honest opinions. It's not possible to pay to have a bad Google review removed. Here's what you can do instead:
Reach out to the customer privately and see if there's anything you can do to make the situation better. You might offer them a refund, or another appropriate solution. If you're able to fix the problem, you may kindly ask them to remove or revise their negative review.
Respond to the review in a polite and professional way. In your response, address the customer's concerns, and if appropriate, tell your side of the story. Remember that your responses are publicly visible to future customers, so this is your chance to show them that you care about customer feedback and take the time to make things right.
Bury the bad review with more positive reviews. Improve your customer experience and ask your new customers to leave you a review. Use automated email or text reminders to encourage guests to review their experience after their visit.
What to do if Google won't take down a bad review
There's a chance that Google decides not to take down a bad review. In this scenario, the best way to mitigate impact of that review is to publicly respond to the customer. Below, we share proven techniques to answer negative reviews — including how to regain the upset customer's trust.
1. Be professional and courteous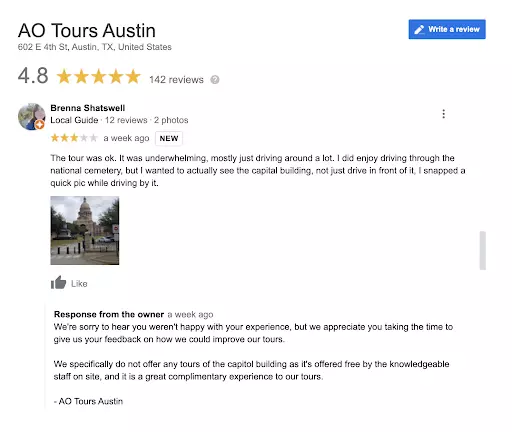 Remember that your review responses are publicly visible to future customers. Whether the reviewer is right or not, you want to answer professionally and courteously. Your response will impact how future customers perceive your brand, especially if they don't know much about your company. Be apologetic and compassionate, if it makes sense. If possible, always offer a solution.
2. Respond in a timely fashion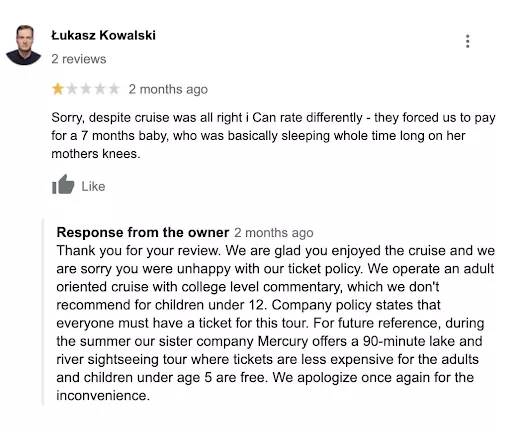 Ideally, businesses should respond to negative reviews within 24 to 48 hours. During this one- to two-day period, you may still be able to change the customer's mind by offering them a solution to their problem. If you take too long to address the complaint, you might miss your chance to make things right.
Also, keep in mind that the longer you take to respond, the more people will see just the negative review. Without your response, viewers will only get one side of the story.
As you can see from the example above, Chicago's First Lady Cruises had a chance to explain to the upset customer that this particular tour wasn't recommended for children under 12. The operator also recommends a future tour that is better suited for young children. This gives future guests an extra layer of information about what happened and helps them choose the tour that best fits their needs.
3. Apologize to the guest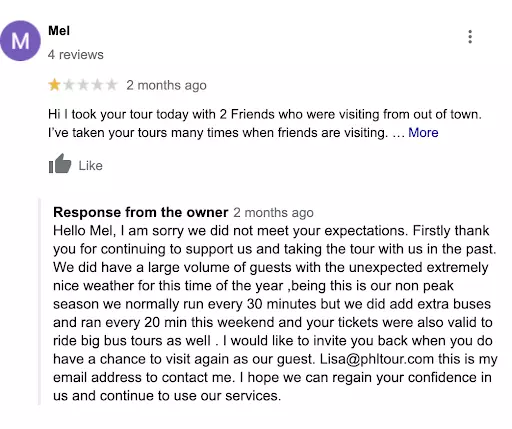 When you apologize to your guests, you're showing them that you empathize with their situation. You can still express an apology even if the situation was outside of your control, such as a tour interruption due to bad weather. This is also a great opportunity for you to explain your side of the story, as Philadelphia Sightseeing Tours did in the example above.
In this review, a customer complains that there weren't enough buses in operation for the number of people that joined the tour. The operator replies with an apology and follows up with an explanation about what happened. A solution is offered, and the conversation is continued off the review platform — which are the next two steps we'll discuss.
4. Continue the conversation off the review platform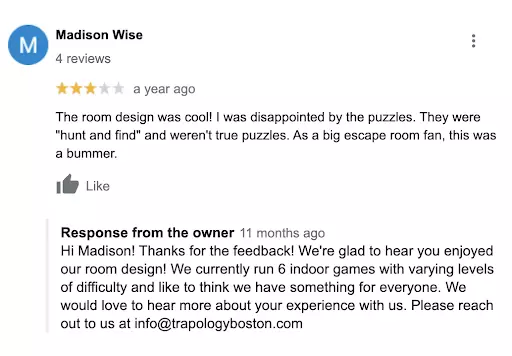 To better understand your guest's frustration or offer them a viable solution, you'll need to continue the conversation on the review platform. Even if the review is not completely negative, following up allows you to learn more about the pros and cons of the guest's experience. When Madison Wise left a three-star review for Trapology, the Boston escape room suggested she email them to tell them more about the experience. Certainly, her feedback will help the operator improve its guest experience.
5. Offer a solution
The best way to regain confidence with an upset guest is to offer them a solution. Whether it's a refund or another chance to experience your tour for free, brainstorm ways in which you can fix the problem before responding. Milwaukee Kayak Tours, for example, invites an upset guest to return the following season for a free kayaking tour since hers was canceled this time around.
***
Negative reviews are inevitable. And sometimes, those negative reviews might be fake. While it's not possible to delete a review, there are ways to flag them and mitigate the impact they may have on your brand reputation. Use this guide to help you spot and remove false reviews, and respond to the ones that require your attention.