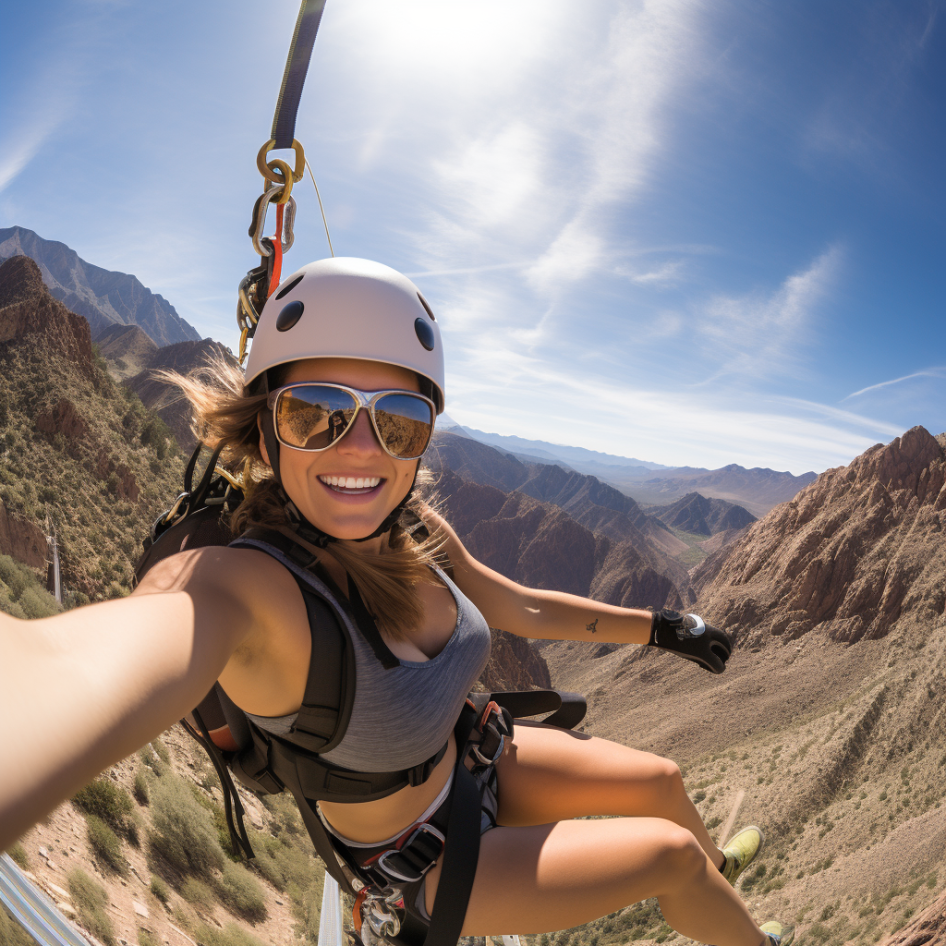 Did you know that the modern-day zipline tour first was popularized by wildlife biologists?
In the 1970s, wildlife biologists who wanted to study Costa Rica's forest canopies without disrupting the plant and animal life created a zipline to do so. That zipline was the inspiration for the canopy tours we know today. Before that, ziplines were also used as means of transportation in rural China to safely cross rivers where bridges didn't exist.
The wildlife biologists and Chinese locals probably didn't think their ideas would give way to one of the most popular outdoor activities in the U.S.
If you're considering opening or expanding a zipline business, this post will provide you with the most up-to-date zipline statistics to help you navigate the current market.
General Zipine Overview Trends
From 2001 to 2012, the number of ziplines built in the U.S. soared from 10 to more than 200.
Ziplining is now known as a pillar of ecotourism around the world, allowing travelers to visit and interact with environments they wouldn't normally be able to reach.
There were over 400 commercial ziplines in the U.S. as of 2020.
Today, there are commercial ziplines in every state in the U.S. The only states without them — Mississippi and North Dakota — have welcomed new zipline parks.
More than 70 million zipline rides happen in the U.S. every year.
With 24 commercial ziplines, North Carolina is the most active state in the market.
Commercial ziplines now operate in at least 72 countries on six continents.
Competition is high in the zipline industry, with operators constantly adding new and more exhilarating courses — like night tours — to stand out from the crowd.
The Big Island Zipline Adventure in Hawaii is listed as one of the best outdoor activities in the U.S. on Tripadvisor.
Ziplining has become one of the most popular activities in Chiang Mai, Thailand, which attracts more than 8 million tourists each year.
How many zipline companies are there in 2023?
Industry groups estimate that there are more than 400 commercial ziplines as of 2020, and they host about 70 million rides every year. That's a big jump from 2002 when there were only 10 ziplines in the U.S.
Ziplining continues to grow in popularity in the U.S., especially after the pandemic. According to the 2021 Global Adventure Tourism Market Report, the global adventure travel market is expected to grow by about $2 billion by 2030.
This trend is driving visitors to travel to places where outdoor activities are abundant, like California, Colorado, and North Carolina — states where ziplines thrive.
What do you need to do before starting a zipline business
Starting a zipline business can be one of the most exciting yet challenging endeavors in the tour and activities space. Here are a few crucial steps to take before unleashing your business.
1. Market research and location planning
Understanding the demand, identifying potential competitors, and selecting the ideal site for your zipline venture are key for laying a strong foundation for your business.
Study the market demand and competition in the area where you plan to open your business.
Identify potential locations that offer suitable terrain for ziplining. Pay attention to a location's topography. Look for natural features like forests, hills, valleys, or water to make your zipline course more exciting.
Create a business plan outlining your financial goals, target market, marketing strategies, pricing, and operational details.
2. Form a business entity
Choosing the business structure will provide your company with the necessary framework to grow and expand.
LLC: A limited liability company (LLC) is a popular choice for small businesses like yours. This is because it offers a flexible structure that combines elements of a corporation and a partnership. Yet the baseline goal is to protect yourself from liability, and that's exactly what it does. An LLC successfully separates your assets from business liabilities.
C Corp: A C Corporation is a separate legal entity from its owners, making it better suited for large-scale tour companies and attractions.
S Corp: An S Corp is a special tax designation rather than a separate legal entity and it is best suited for small to mid-sized tour businesses.
3. Define a pricing strategy
A competitive pricing strategy is virtual for your business. Strive to strike the right balance between affordability and value to attract the right customers.
Make financial projections and expected return on investment. Then, define a pricing strategy that will help you best meet those goals. There are several ways to go about this, including:

Premium pricing: Create unique experiences that differentiate your company from your competitors, allowing you to charge a premium above the average price for a zipline ride.
Competitive analysis: Price your zipline courses based on what similar operators are charging in your area.
Packages: Combine two or more of your experiences into a package deal.
4. Determine staffing requirements
You won't be able to run a zipline company alone. Assess the number of instructions and support staff you'll need to provide a safe and memorable experience for your customers.
Determine the staffing requirements based on the size and complexity of your zipline course.
Staffing positions may include zipline guides, course supervisors, equipment inspectors, first aid responders, and management roles.
The number of guides required depends on the number of customers you expect to serve each day. Meanwhile, maintenance staff will be responsible for inspecting, repairing, and maintaining the zipline cables, harnesses, platforms, and other equipment. Depending on the size of your business, you might also need administrative staff to handle paperwork, accounting, and marketing.
5. Look into the legal and regulatory requirements for your location
Now, it's time to navigate the legal and regulatory landscape to run your zipline operations as safely as possible.
Get the necessary permits, licenses, and certifications needed to comply with local, regional, and national regulations.
Learn about the specific safety standards that apply to zipline courses in your jurisdiction.
Invest in the necessary insurance coverage, such as general liability insurance, to protect your business and customers.
6. Establish safety protocols, including waivers
Safety is paramount in the zipline industry and robust protocols are a must.
Conduct thorough risk assessments of your business and implement appropriate safety measures. For zipline operators, this includes harnesses, helmets, braking
Train your staff on all safety procedures, first aid, and rescue techniques.
Develop your emergency response plans.
Find an online booking software with a built-in digital waiver solution, like Xola. For instance, with digital waivers, you can send it to them immediately after they book an experience on your website in Xola. Then, guests can get their paperwork out of the way before they arrive at your venue.
Waivers inform guests of the risks associated with ziplining and keep your company covered in the case of an injury.
7. Purchase the right insurance policy
Safeguarding your business against unforeseen risks is essential, and the right insurance coverage can provide just that.
This could include health insurance, liability insurance, risk insurance, workers' compensation, etc.
Assess your coverage needs and evaluate the risks associated with running your business. For a zipline venue, those risks may involve injuries to guests, property damage, and employee accidents.
Seek reputable insurance providers that are experienced in the needs of a recreational business like yours. Always consult with insurance professionals who can assess your specific circumstances and provide tailored advice.
8. Consider your site development
Ring in the professionals — site development isn't an easy task. When done right, your zipline course can stand out from your competitors.
Engage with professional engineers or consultants that specialize in zipline design and construction to create a safe and enjoyable course.
Research the necessary permits for the construction, including environmental considerations.
9. Purchase your equipment and gear
Running a zipline business means investing in top-of-the-line equipment, including cables, trolleys, harnesses, helmets, and other safety gear.
Ensure the cables are strong and durable enough to withhold the load of ziplining.
Prioritize comfortable harnesses that will keep your customers safely in place during the ride.
High-quality helmets are essential.
10. Build out a maintenance plan
Ensure that your equipment is set up for the long-run with a dedicated maintenance plan.
Regularly inspect and maintain all equipment to ensure it remains in excellent working condition, including cleaning, lubrification, and safety checks.
Establish procedures for equipment replacement.
Retire any items that no longer meet safety standards.
11. Develop a marketing plan
Here's a quick step-by-step guide on how to build a solid marketing plan for your zipline business:
Create a distinctive brand identity that reflects the essence of your zipline experience. Design a memorable logo, choose a cohesive color scheme, and establish a unique brand voice.
Launch your website and invest in booking software to streamline your online bookings.
Research which social media platforms your guests hang out on, such as Instagram, Facebook, or TikTok.
Create a marketing plan for each one. Tailor your content to resonate with the specific audience and characteristic of each platform.
Consider partnerships with local tourism organizations, hotels, and travel agencies to get your name out there.
Participate in events, such as adventure expos or travel fairs, to showcase your business and connect with potential customers.
How to market a zipline business
You've started a zipline business, and you can't wait to welcome your first customers. So, where do you find them? It's time to build a solid marketing plan that reaches your target audience (a.k.a. adventure-loving travelers with no fear of heights).
1. Set your zipline business goals
The first step in developing a marketing plan is to understand your business goals. Your goals should be specific, measurable, and attainable. These are three of the five pillars of S.M.A.R.T. goals, a strategy that helps you set goals that will actually propel your business forward. Here's a more detailed breakdown of what your goals should look like:
Specific: Does your goal refer to a concrete and particular area of your business?
Measurable: Can you measure your goal using quantitative or qualitative data? Can you measure your progress using a measurable target?
Attainable: Can you (or your employees) achieve this goal?
Relevant: Does the goal apply to a specific problem faced by the company?
Time-related: What is your deadline for achieving your goal?
2. Get to know your customers
To successfully communicate with your customers, you need to first understand what drives them to make a booking. Start with learning more about the demographics of your target audience. Who are they? How old are they? Where do they come from?
Then, look into how they find out about your zipline course. How did they learn about you? Where else do they go to discover tours and activities like yours?
The simplest way to go about this is to talk to them. Pair that information with demographic data from Google Analytics. Post-booking surveys and digital waivers can also be used to learn more about your guests and keep the conversation going after their visit.
3. Make a great first impression online
As a zipline operator, you want to make a thrilling first impression on your customers. And this starts with a strong online presence. 
Start with a visually engaging website with high-quality photos showing off your zipline course. These photos should capture the thrill of your course and leave website visitors craving more adrenaline. Denver Adventures, for instance, highlights its most exciting tour offerings with beautiful photos from each experience.
The idea is to give interested customers a peak of the exhilarating experience they can expect when they book with you. But your website isn't the only place to do this which brings us to our next tip.
4. Create a social media strategy
Embrace the power of social media and create a buzz around your zipline business.
Become active on platforms like Instagram, Facebook, and YouTube, where you can share exciting content that fuels FOMO or the fear of missing out. For example, a video of someone ziplining through a lush forest or across a deep canyon can inspire adventure lovers to want to do the same.
Interacting with customers on social media helps them see that there are real people behind a brand. This makes it easier for them to connect with your company, especially if your content features you and your employees.
5. Forge strategic partnerships
Join forces with local businesses and attractions to expand your reach and attract a wider audience. Collaborate with adventure travel agencies, hotels, resorts, or outdoor gear retailers to create enticing packages or cross-promotional campaigns.
For example, offer discounted zipline tickets to customers who book a stay at a partnering hotel, or provide exclusive deals for customers who purchase outdoor gear from a local retailer.
Here are a few tips to help you start forming these partnerships:
Look for travel businesses that align with your target audience and brand values.
Provide enticing incentives to your potential partners so that they feel excited to partner with you.
Create co-branded marketing materials like brochure, posters, and social media posts.
Co-host an event or adventure-themed weekend that includes accommodation and other outdoor activities along with your zipline tours.
6. Amplify your reviews and testimonials
Reviews and testimonials carry significant weight in the decision-making process of potential customers.
Encourage your satisfied customers to leave positive reviews on platforms like TripAdvisor, Yelp, or Google Reviews. Then, display glowing reviews on your website and social media channels to build trust and credibility.
7. Leverage photo marketing
Today, photos have become just as important as the experience itself. Guests love to capture their travel experiences and share them on social media. The good news is that every time a guest shares a photo of your zipline, you're receiving free word-of-mouth marketing.
When you make it even easier for people to take and share photos, you not only improve the guest experience but can also better market your company to more would-be customers. You could use a photo and video solution like Fotafloo that automatically stores, organizes, and sends photos and videos to guests after their zipline adventure.
How many injuries occur while ziplining?
Ziplining is considered a safe activity, although minor injuries do happen from time to time. There are about 3,700 injuries reported per year, yet only 12% of them require hospital visits.
What are the most common causes of ziplining accidents?
Equipment failure: Without proper maintenance, zipline courses can have issues like worn-out cables, malfunctioning harnesses, or defective braking systems.
Human error: Both participants and guides must have the right equipment training to avoid mistakes that can cause serious injuries.
Inadequate course design or construction: Improperly placed platforms, inadequate anchoring systems, or inconsistent cable tension can increase the likelihood of accidents. It's important to follow industry guidelines and work with experienced professionals who can ensure proper course design and construction.
Failure to follow safety guidelines: Ignoring weight restrictions or not having the right safety gear can also lead to accidents. Diligent enforcement is crucial to avoid mishaps.
Environmental factors: Bad weather like strong winds or lightning storms can pose serious risks during ziplining. Operators should always monitor weather forecasts and have a plan in place to suspend or postpone operations when conditions are unsafe.
How many people have died in ziplining accidents?
Between 2006 and 2016 there were 16 zipline fatalities reported in the U.S. Most of the deaths were attributed to falls, material failures, collisions, and entanglements.
Meanwhile, there were an estimated 16,850 zipline-related injuries recorded in emergency rooms between 1997 and 2012.
The most commonly reported injuries were fractures (47%).
Falls were the most common mechanism of injury, accounting for 77% of injuries.
Among cases where the location of the injury event was known, about 31% occurred in a residential setting and 69% occurred in a public place.
How to keep guests safe
The best way to keep guests safe is to ensure that your zipline course follows the safety standards set by your state and other regulatory organizations.

You can find a lot of resources with the Association for Challenge Course Technology (ACCT), a leading organization in the development of safety standards for zipline and challenge course operations. The ACCT has established voluntary guidelines for the design, construction, and operation of zipline courses.
The American National Standards Institute — which oversees standards for chairlifts at ski resorts, carabiners for climbing, and other related activities — has accredited the ACCT's zipline standards. Several states have started to incorporate these standards into law, but the ACCT doesn't inspect courses directly.
In about half of all U.S. states, primarily those in the Midwest and on the East Coast, commercial ziplines are overseen by state agencies responsible for oversight of roller coasters or elevators.
Operators need to make safety their top priority. This requires staying up to date with your state's regulations and regularly checking and maintaining your equipment.
What to do if someone gets injured in your business
Even with all of the right precautions, zipline injuries can still happen. Always have an emergency safety plan in case a guest or staff member gets hurt. Here's an idea of what that might look like:
Have your supervisor provide first aid assistance and assess the injury.
Seek immediate medical attention for the injured guest, if necessary.
Collect witness statements and create an incident report.
Contact your insurance provider.
How to avoid being sued if someone gets injured
Having strong safety guidelines in place will help avoid injuries and protect your zipline business from getting sued.
This involves making each visitor sign a mandatory waiver before participating in any zipline activity. Waivers outline the risks and rights being waived when a customer agrees to ride your zipines. While your company can still be sued, the waiver can become a key part of your defense.
Pro Tip: Xola offers a free, built-in digital waiver solution, allowing guests to complete their paperwork online before arriving at your venue.
Lastly, your business needs to invest in the right insurance coverage. An insurance provider will help you navigate any lawsuits that arise.
Consider that every state has a statute of limitations on personal injury claims. In most cases, it's two years from when the injury occurred, but the number of years that victims have to file can vary widely from state to state.
***
In conclusion, the zipline industry has become one of the most popular adventure activities in the U.S. With more and more travelers choosing outdoor activities over indoor experiences after the pandemic, zipline operators are poised to welcome a new crop of adrenaline junkies ready to take flight.