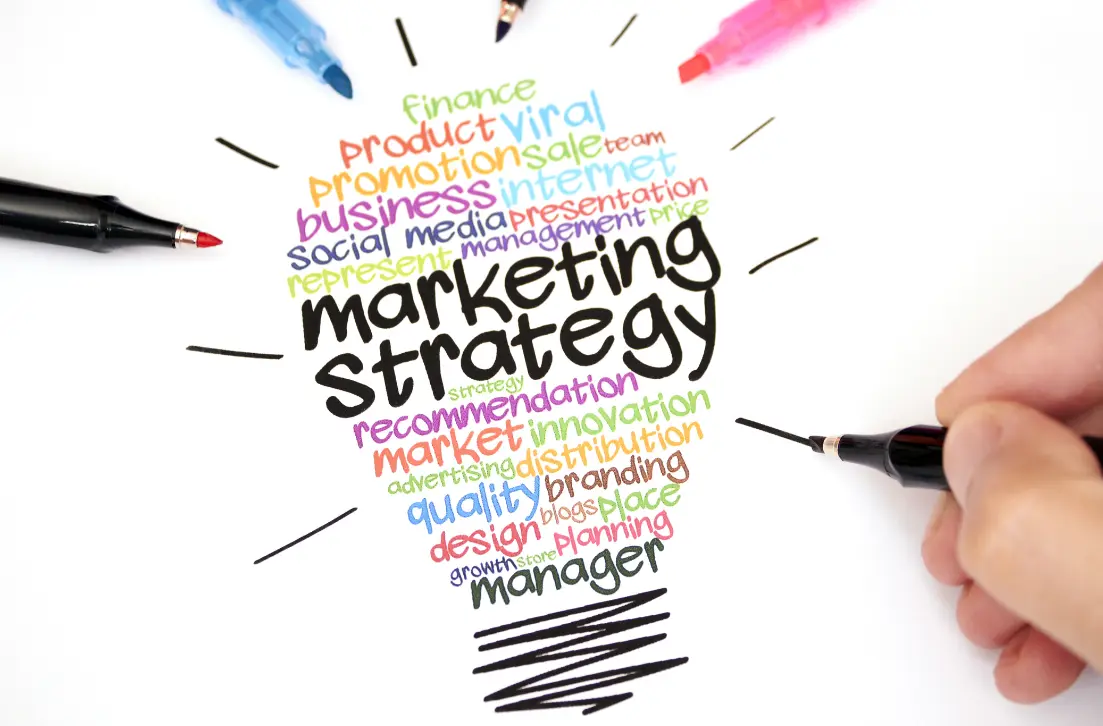 Are you a tour operator looking to stay ahead of the game in 2023?
A solid marketing strategy is essential to stand out from the crowd.
In this post, we'll share six proven tour marketing strategies that will help you drive bookings and scale your business in the coming year. From leveraging social media to partnering with influencers, these strategies are designed to help you build your brand, attract new customers, and retain existing ones.
1. Organic social media marketing
4. Partner with local businesses and influencers
1. Organic social media marketing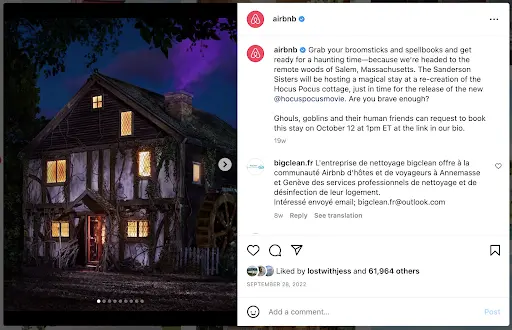 Social media marketing is a cost-effective and targeted way for tour operators to reach a desired audience. Most of your customers are on social media, and they're actively coming across inspiration for things to do on platforms like Instagram and Facebook.
Having a social media presence allows tour operators to engage with potential customers, build brand awareness, and foster a sense of community. Social media platforms such as Facebook, Instagram, and Twitter also provide detailed analytics that can help you track marketing campaigns and related content to see what resonates best with your audience.
Airbnb, for instance, has used social media to build a loyal following of people who love unique stays. The brand has a strong presence on various platforms, including Instagram, Facebook, and Twitter. The home-sharing company highlights beautiful travel destinations and unique rental properties that can help you there.
Now prioritizing video content in the form of Reels on Instagram, the brand is keeping up with the app's recent shift toward video. Airbnb further engages with its followers by reposting their photos and videos. This approach helps foster a sense of community among its fans both on and off the social media platform.

2. Paid social media ads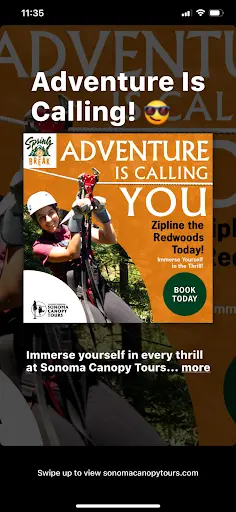 Meanwhile, paid social media ads can also pay off in 2023. With a paid ad, you can narrow down your audience based on demographics, interests, and behaviors. This helps to increase the likelihood that the ads will be seen by those who are interested in your tours.
Of all the paid marketing channels available, social media ads can be one of the most cost-effective. This is because tour operators only pay for the ads that are seen by users. This makes it possible for you to reach a large audience with a relatively small budget.
Lastly, social ads offer brands a lot more flexibility than traditional advertising. For example, you can adjust a campaign in real-time based on its performance. This allows you to optimize your ads to reach more people and drive more bookings.
Sonoma Canopy Tours uses social media ads to retarget potential customers. If a customer previously visited the California tour operator's website, they may soon see an ad for the zipline tour on Instagram. The ad in the example above was displayed on Instagram Stories. The ad has a strong call to action — "Adventure is calling you. Book today." — that encourages viewers to swipe up and learn more about the tours.
3. Email marketing
Building an email list is one of the best ways to build a lasting relationship with your customers even after they leave your tour.
This is because email marketing allows you to communicate with specific segments of your customer base, including past travelers and potential customers. Email marketing also allows you to personalize your messages, which can lead to higher engagement and conversions.
After a customer joins you for a tour, for example, you can send them updates on related experiences they might also be interested in. You can also offer a second tour for a discounted price — bringing you repeat business and further developing loyalty with past customers. Meanwhile, you can send promotional emails to potential customers to encourage them to make their first booking.
California ski station Palisades Tahoe engages with customers by keeping them up to date on snow conditions. The ski station knows that the amount of snowfall impacts its customers' decision to visit or not. The relevant updates help customers make that decision. In turn, the ski station's email subscribers look forward to receiving these emails and staying in the know about the conditions.
4. Partner with local businesses and influencers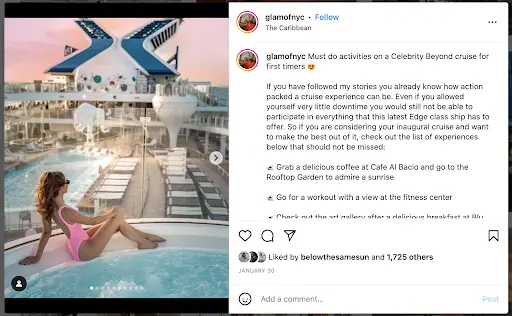 Influencers typically have a large following on social media. When you partner with them, you're tapping into a large and engaged audience outside of your current customer base. Influencers have an ideal audience because 1) they're engaged and 2) they trust the influencer's recommendations.
They're seen as trusted sources of information by their followers, making them effective at promoting tours and activities. People often view influencer marketing as more authentic than a generic ad. If someone's favorite influencer is recommending a product or service, they're more likely to follow the recommendation than if they saw an ad about it on Facebook. And if you partner with an influencer in the right niche, you can see wonderful results.
Celebrity Cruises does an excellent job partnering with travel influencers to promote its cruises. The cruise line will invite a group of travel bloggers and content creators aboard and ask them to share photos and videos of the experience with their followers. The influencers do a great job highlighting the best parts of the cruise in a way that resonates with their followers — inspiring them to book their own.