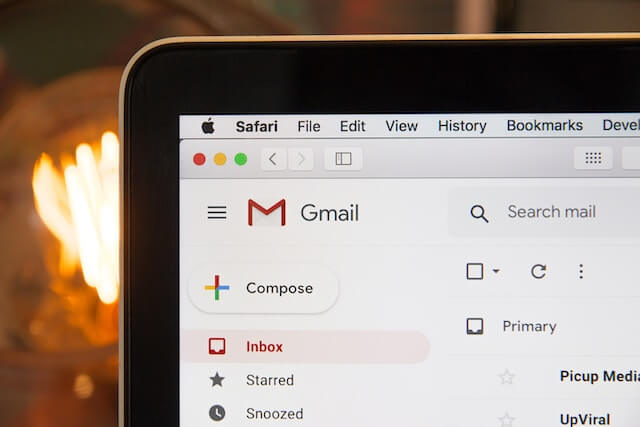 Your booking confirmation email is one of the first emails that your guests will receive from you.
What's the impression you'd like to make?
Your confirmation emails should provide guests with all of the information they need to have the best time possible. It should have a relevant subject line, the booking details, your cancellation, and refund policy, your contact information, and a call-to-action that encourages them to take the next step.
All of this information should be neatly packaged into an email that aligns with your brand identity.
In this post, you'll find different confirmation email templates that you can use to create your own.
When to send a template confirmation email
Every operator should send a confirmation email after a customer makes a booking. This email notifies customers that their payment was processed successfully. Booking confirmation emails often include relevant information about the guest's reservation, including the date and time of the experience; the customer's payment details; your cancellation policy; the suggested arrival time; and more.
Here are a few of the instances in which a confirmation email might be sent:
After a customer makes a booking: A confirmation email is sent once a booking is officially processed.
After a user has subscribed to your email list: A thank you for subscribing email helps start a conversation with new email list subscribers.
After a user creates an account: A welcome email should be sent to let the user know what to expect now that they have created an account.
After a user submits a form or application: A confirmation email will let them know that the form or application was submitted successfully.
After a customer completes a survey: A thank you email that shows that you appreciate the time and effort they've put into the survey.
8 great examples of template confirmation emails that you can steal
Let's take a look at a few confirmation emails that you can use as templates — including booking confirmations and thank you emails.
1. The Room Escape Room booking confirmation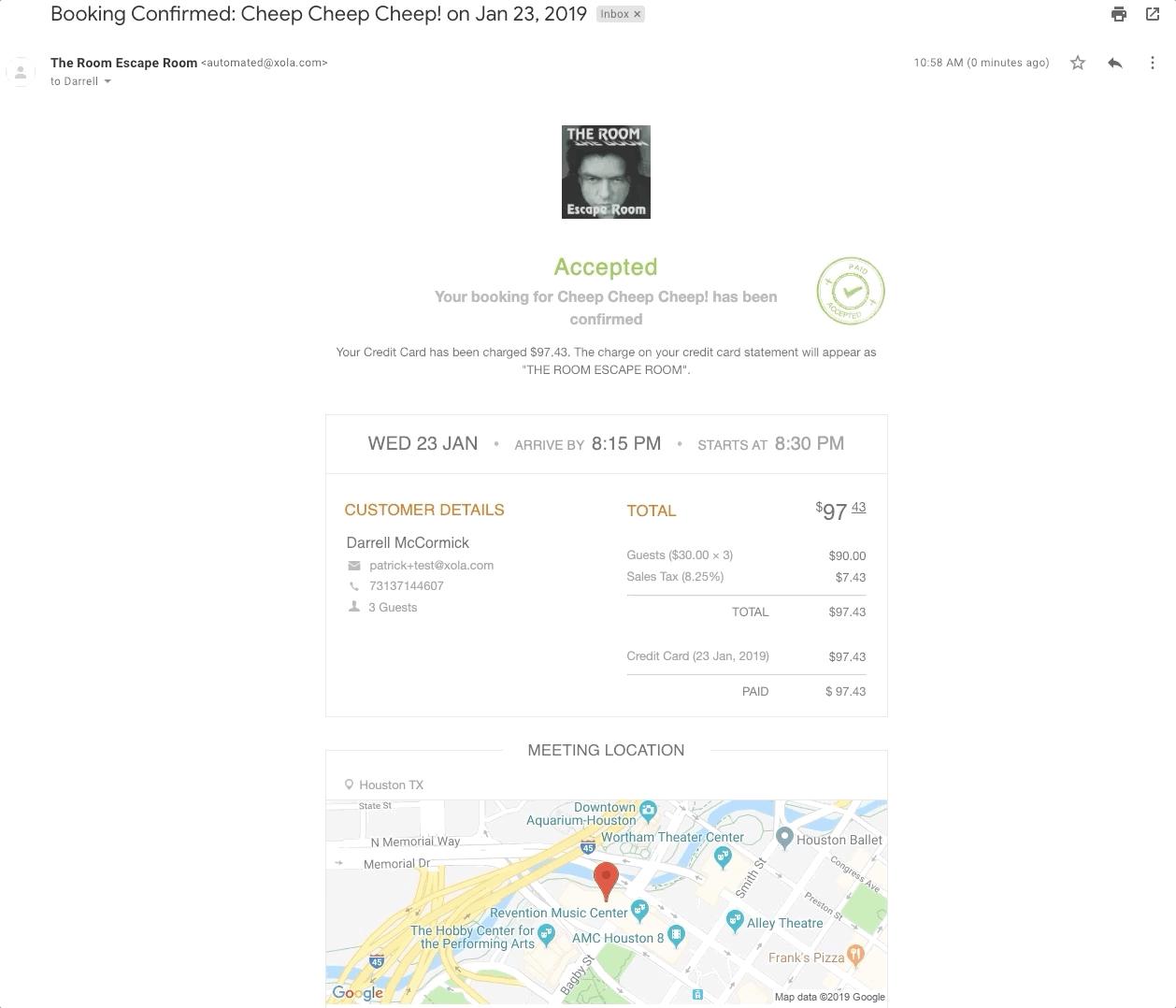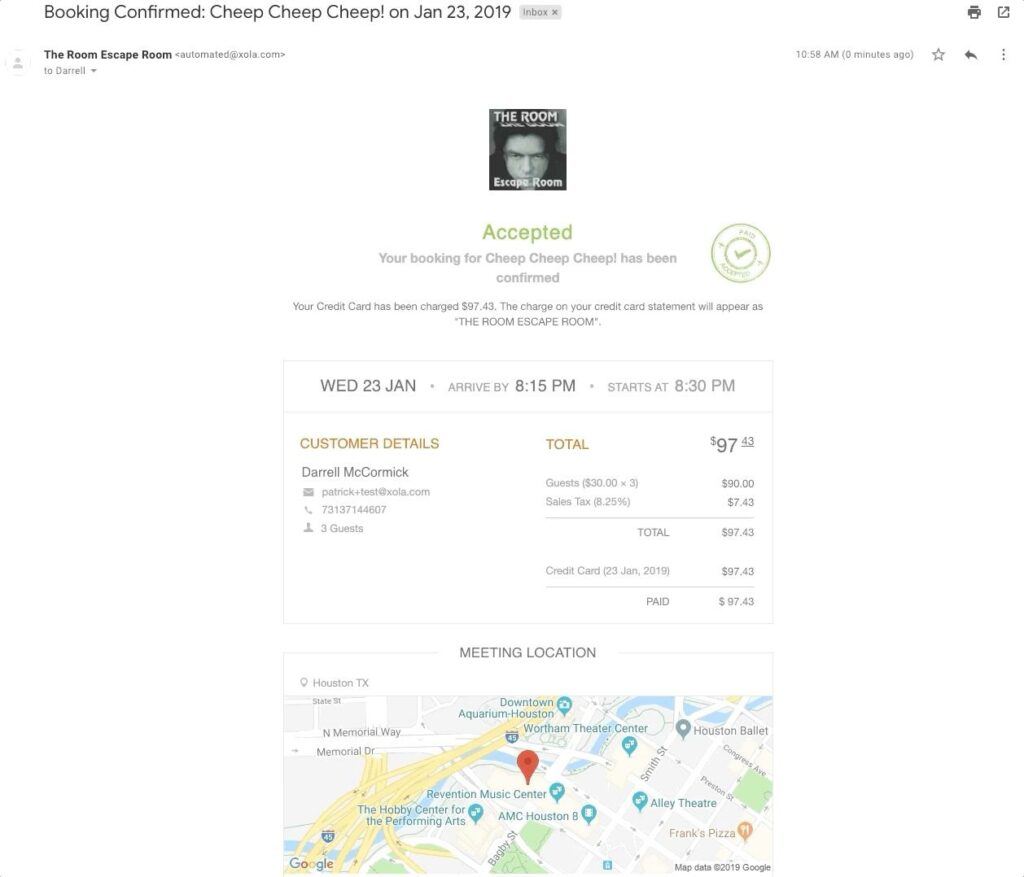 Here's a booking confirmation email that prioritizes the most relevant information about a booking. The email starts with a confirmation message letting the customer know that the payment was processed successfully. A detailed payment summary breaks down exactly how much the customer was charged, which helps avoid any questions down the line.
The escape room operator also helps guests arrive on time by suggesting they arrive 15 minutes before the start time. Then, the escape room operator uses a helpful map to pinpoint the meeting location. If guests have any doubts about where to go on the day of their escape game, they can refer back to the confirmation email.
2. LakiTours booking confirmation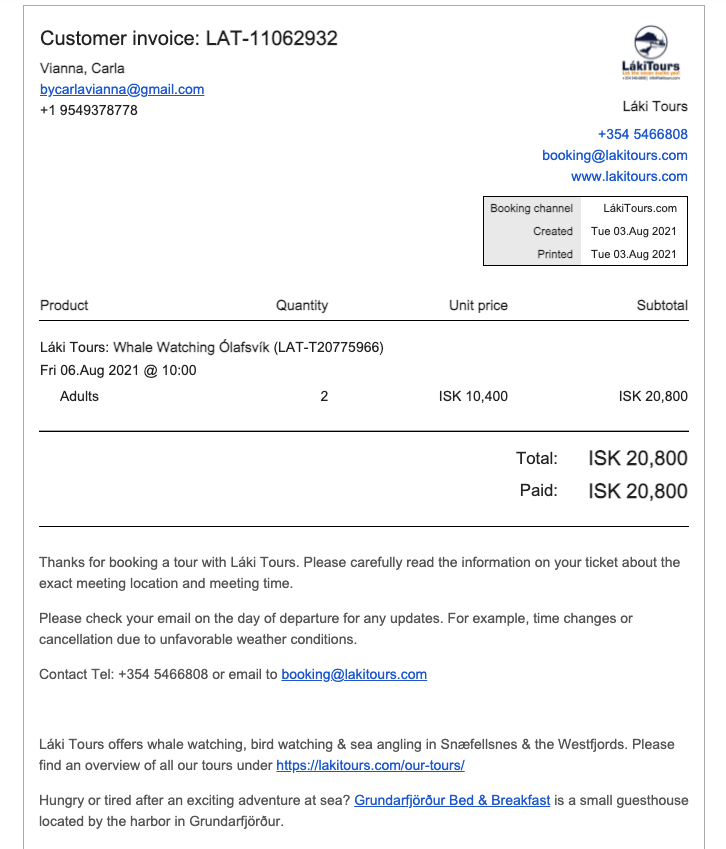 LakiTours, a whale tour operator in Iceland, uses an itemized list to show guests that their booking has been paid for and confirmed. The email lets guests know where to find information about the meeting location and time (on the ticket) and shares the operator's contact information.
Then, the tour operator thinks beyond the experience to help guests plan their next step after the tour. The operator recognizes that guests may not know where to eat once they're off the boat and gives them a restaurant idea to go to.
3. Travelzoo's thank you for subscribing email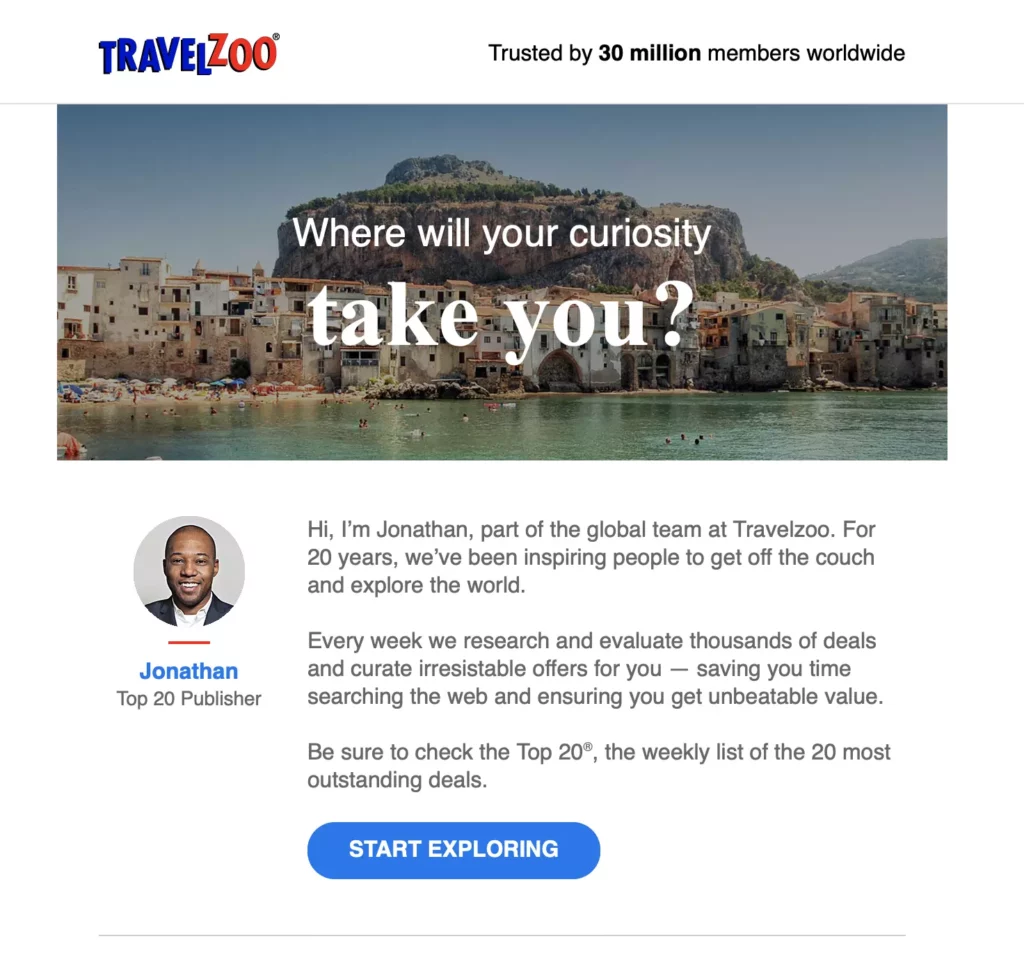 TravelZoo's "thank you for subscribing email" starts with a personalized message from one of the company's team members. Since it's written by an employee whose photo is shown in the email, the welcome message feels friendlier than a generic email written by seemingly no one. This is a great tactic to show that there are real people behind a brand and the emails it sends, helping form a deeper connection with your customers.
4. Lego's thank you for subscribing email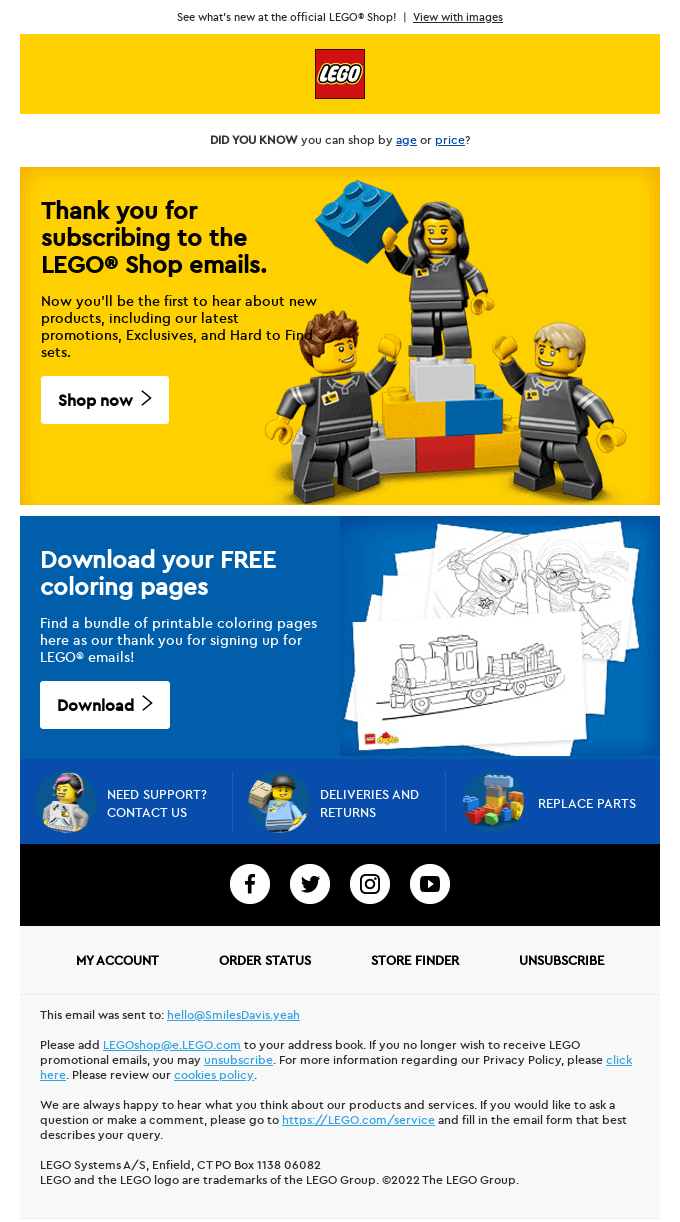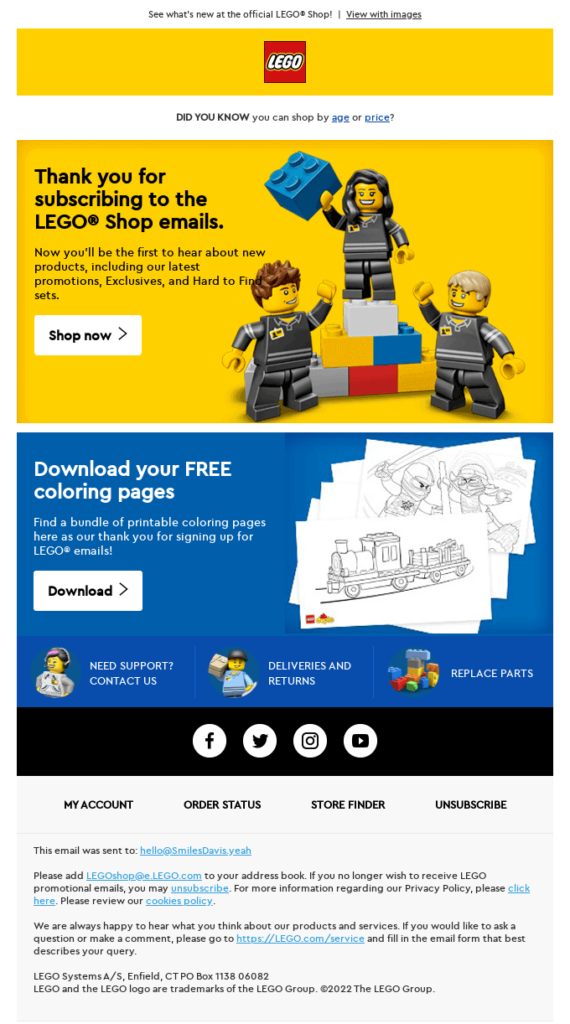 Lego sends customers a fun branded email thanking them for joining the brand's email list. The email shares what customers can expect next: "Now you'll be the first to hear about new products" and "latest promotions." It's important to set expectations right off the bat so that customers know why and how often they'll hear from you.
The email also has a strong call to action encouraging customers to "Shop Now." Similarly, tour and activity operators could include a "Book Now" button in their thank-you emails.
6. Expedia after a user creates an account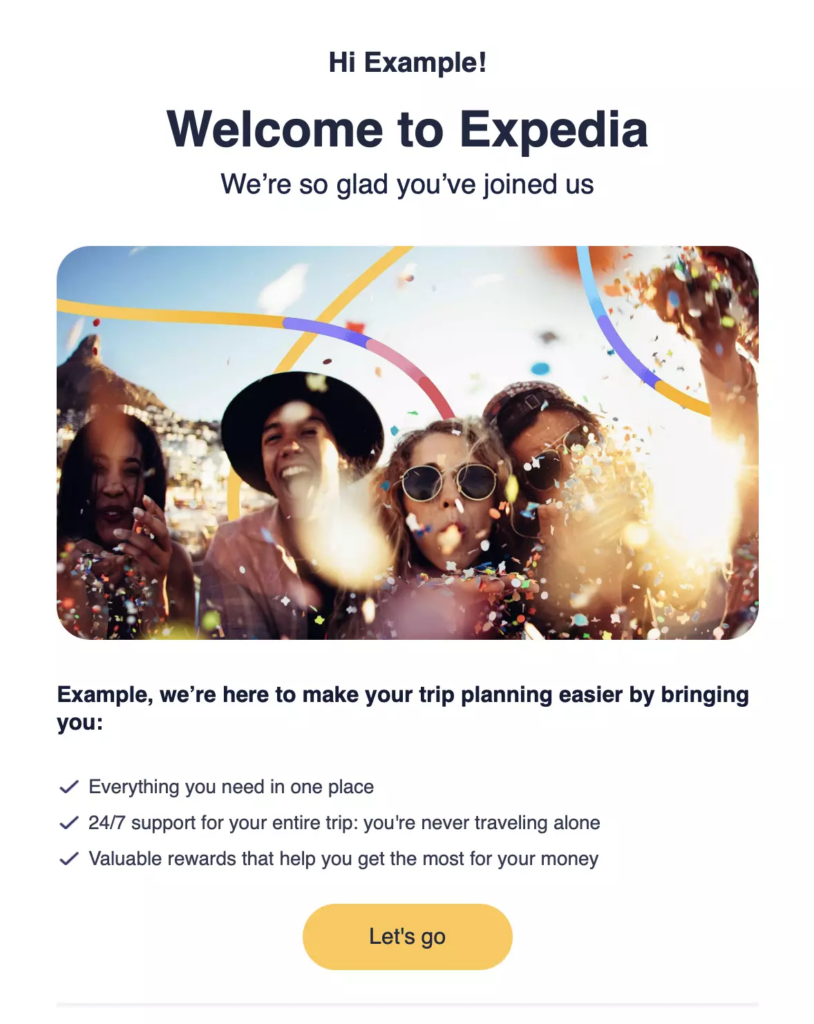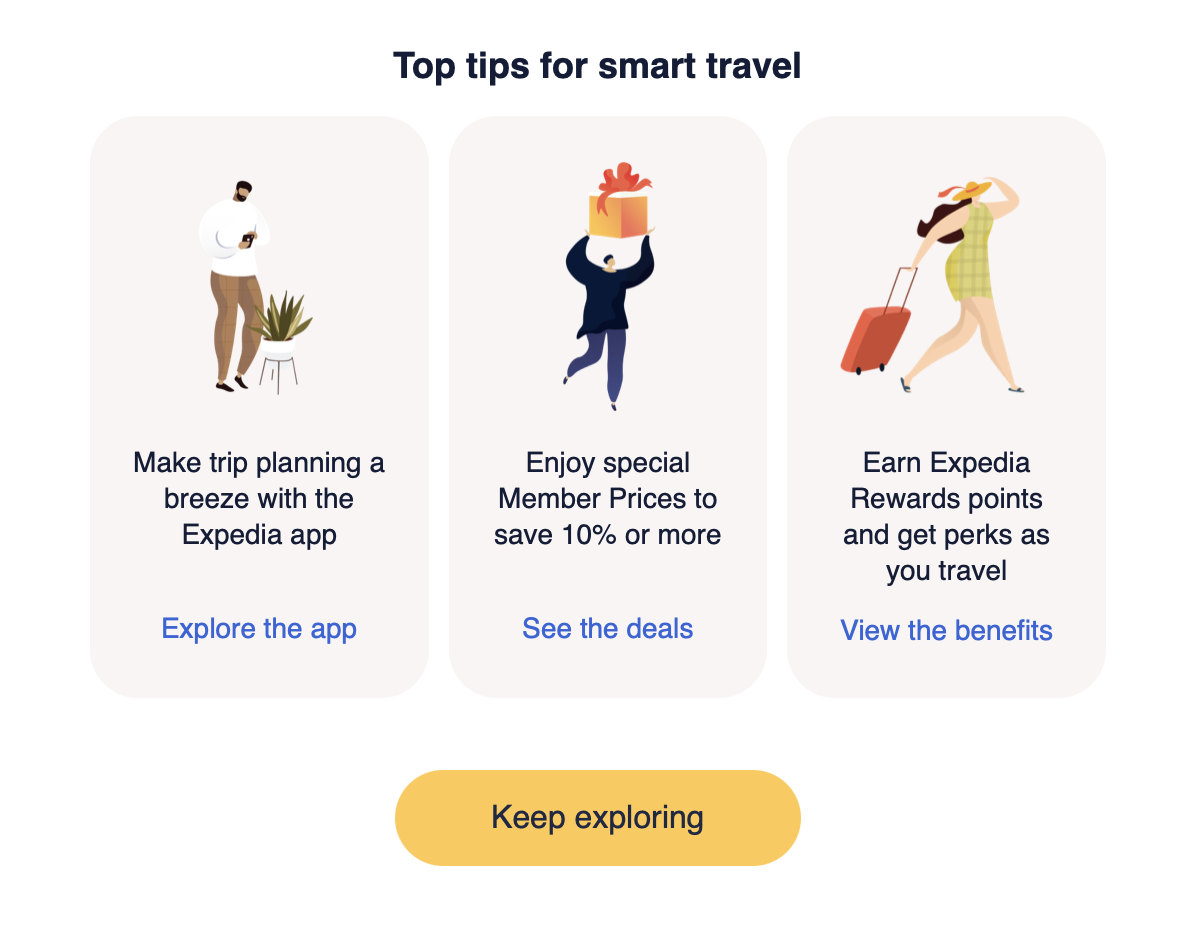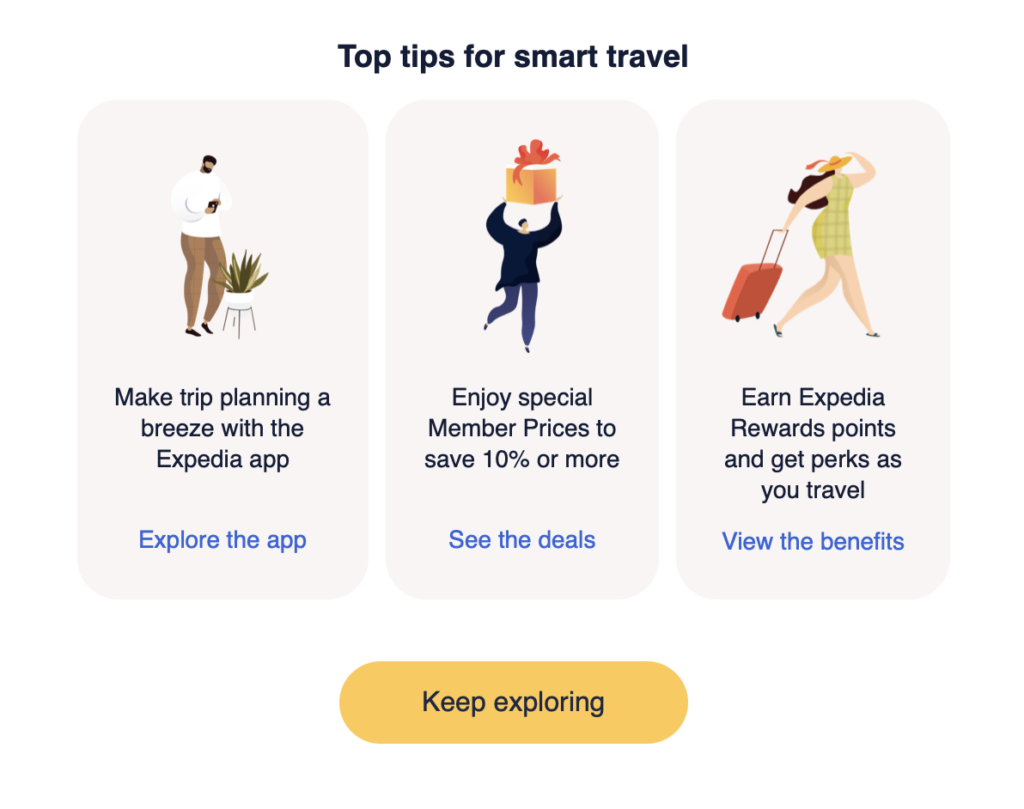 Expedia uses bright and colorful visuals to create a sense of excitement among new account holders. The Online Travel Agency makes sure to list the benefits of using the platform, followed by a CTA encouraging users to explore the site.
The welcome email also offers additional links to content that may appeal to their subscribers, including a link to the mobile app, member-only travel deals, and reward information. Expedia does a great job bringing people back to its website or app, hopefully leading to more bookings.
7. Kayak's welcome email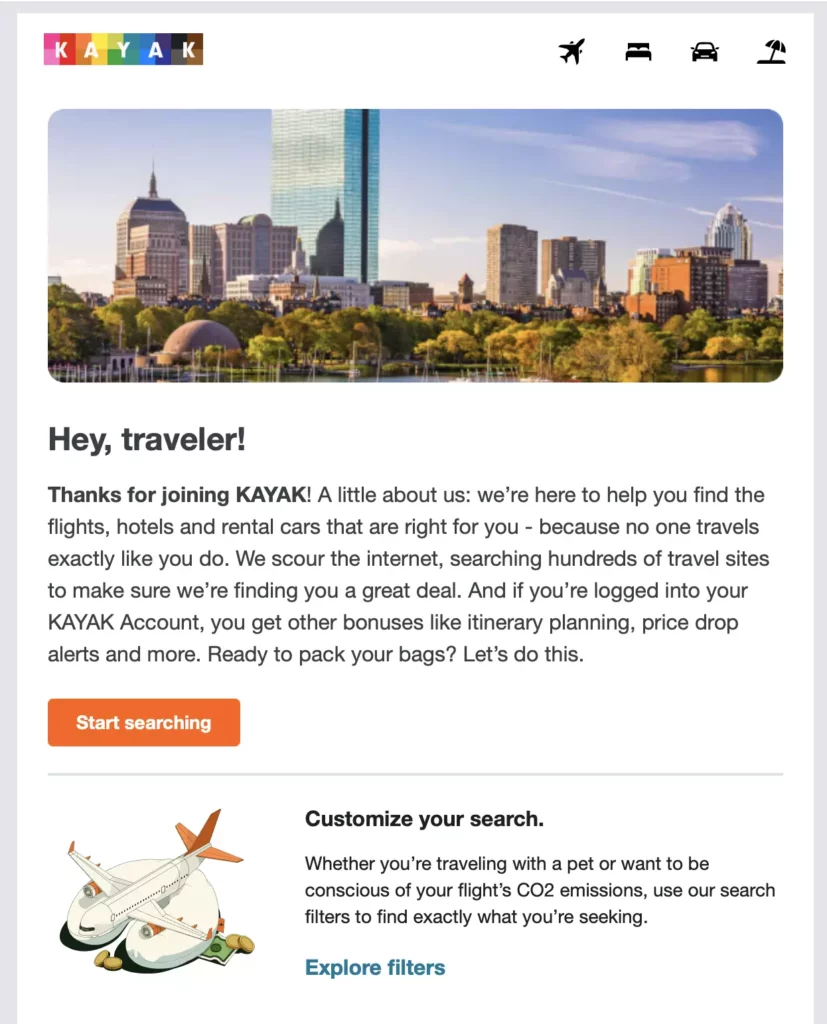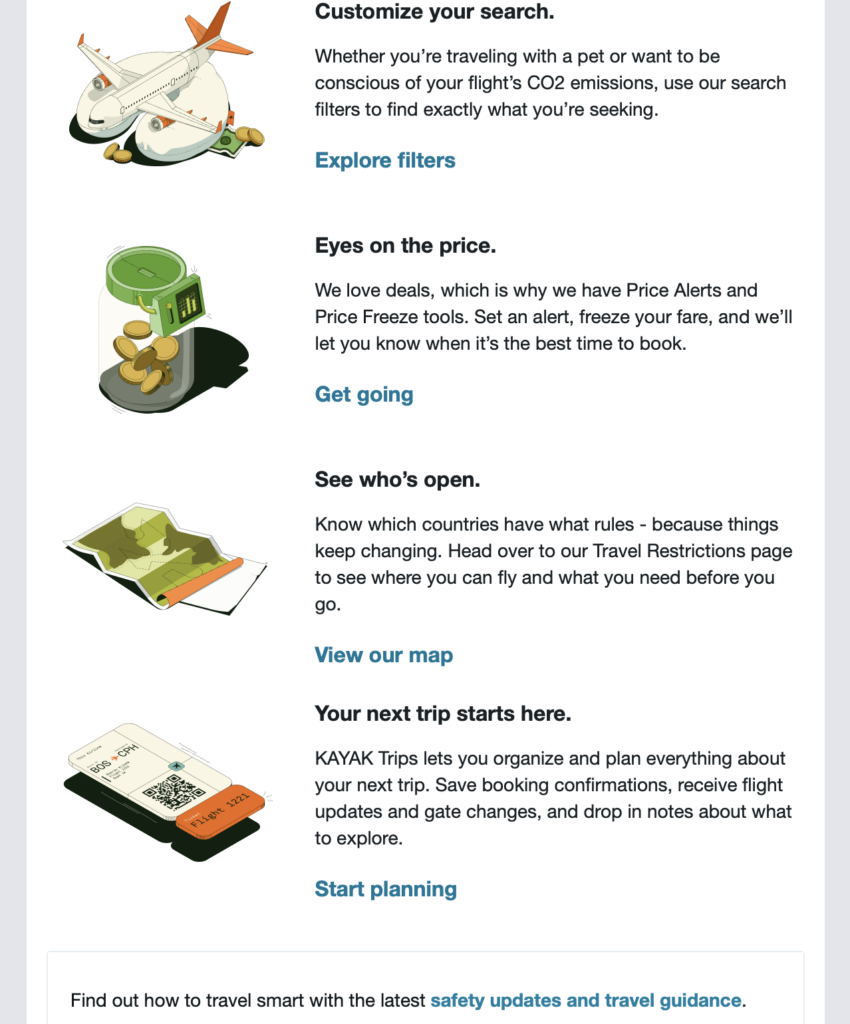 Kayak's welcome email does a great job introducing new account holders to the brand. The email clearly states how the platform can help subscribers in their travel planning, specifically by helping them find great travel deals. Similar to Expedia, the OTA uses fun visuals to further highlight its services. Now, the subscriber will have a much better understanding of all the different features available through the platform, including price alerts and the option to freeze a fare before buying.
8. After a customer completes a survey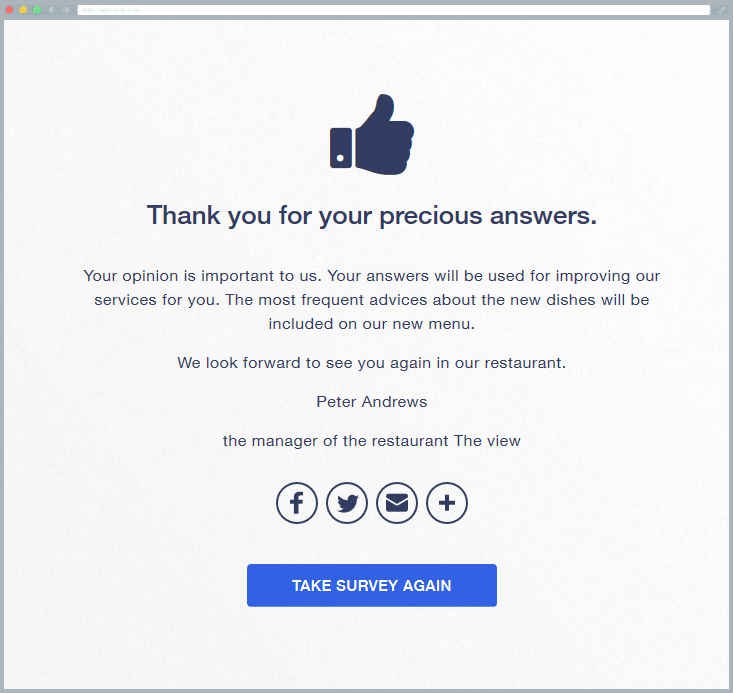 If you've sent out a customer satisfaction survey, it's a good idea to send customers an email confirming the survey's completion. These emails could be pretty simple, as their main purpose is to thank the customer for their feedback.
Here are two email templates to use after a customer completes a survey:
Hi [Customer Name], Thank you so much for your time in completing our survey. We greatly appreciated your time, and we will be using your feedback to create an even better customer experience. – [Your Name]
Hi [Customer Name], We've received your survey responses. Thank you so much for taking the time to share your feedback with us. This will help us improve our services so that we can continue making you and our future guests happy. – [Your Name]
***
In conclusion, your confirmation email should provide guests with all of the information they need to make the most out of their experience.
Whether they've made a booking or signed up for your newsletter, your confirmation emails should tell them what to expect and give them the next best action to take. If you're not sure where to start, use these confirmation email templates to craft your own.