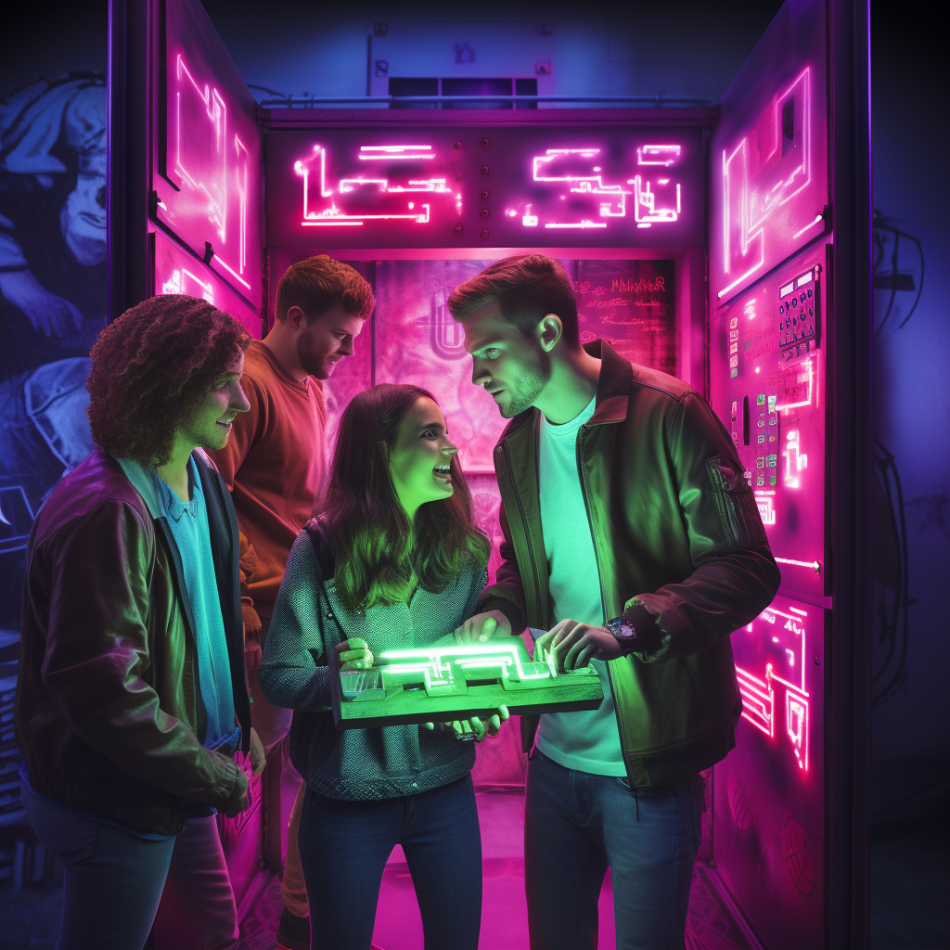 Are you considering starting or expanding your existing escape room business, but aren't sure about the current state of the industry?
Escape rooms have been a growing trend since the early 2010s — and despite the hurdles caused by the pandemic, the industry shows no signs of dying down.
In this article, you'll find the most up-to-date escape room statistics to help you decide whether it's the right endeavor. We'll address whether escape rooms are still a trend or just a fad, the size of the industry, and the marketing strategies that would help your business to prosper. Let's dive in.
General Escape Room Industry Trends
How big is the escape room industry in 2023?
In 2023, there are about 2,800 escape room businesses operating in the U.S. The industry is currently bouncing back from the pandemic years, during which hundreds of escape rooms suffered permanent or temporary closures.
Now, new companies are entering the industry again.
In the first 6 months of 2022, 90 new escape room facilities were added to the Room Escape Artist directory.
Here's a look at how the escape market has grown over the years:
Are escape rooms a growing trend, or just a fad?
The escape room trend started in Japan in 2007. Eventually, they made their way to Europe, becoming popular in Budapest by 2011. Today, there are an estimated 50,000 escape rooms worldwide.
As of July 2022, there were more than 1,900 escape room facilities in the U.S. While this represented a slight decrease in the number of escape rooms from 2021, the industry is picking up steam again in 2023. The market is expected to keep growing as owners expand their businesses and add new locations to their rosters.
Overall, these numbers signify the industry's tremendous growth in the U.S. since 2014 — when only about two dozen facilities existed — proving that escape rooms aren't just a fad. They're here to stay.
Where are escape rooms most popular?
According to Room Escape Artist, the following states have the most escape rooms:
California
Florida
Texas
New York
Pennsylvania
Meanwhile, the states with the fewest escape room facilities (5 or fewer) are:
However, in terms of popularity, New Hampshire takes the cake. The state has the most escape room facilities per capita, being a smaller state with 17 escape room facilities. It has surpassed Colorado, which previously had the most escape rooms per capita.
How much does it cost to start an escape room business?
Starting a new business always requires an upfront financial investment. An escape room business is no different. Starting an escape room facility can cost anywhere between $7,000 and $30,000.
Opening an escape room has certain upfront costs like hiring room guides and location rent.
The costs of starting an escape room facility will depend on unique factors like location, cost of rent, and the number of rooms you plan to create. You'll also want to consider the complexity of each room design, which will involve a series of furniture pieces, props, and puzzles.
Additional startup costs may include:
What do you need to do before starting an escape room business?
An escape room facility is a hands-on endeavor that will require a lot of time and effort before it can become successful.
Here are a few things to do before taking the leap:
1. Play a lot of escape games.
Before you decide to open an escape room business, you should learn the ins and outs of the games themselves. Try the escape room facilities in your city to understand what makes a great escape room experience. Seek escape rooms in other cities, too. Research the top escape rooms in the country. There may be a few nearby that you can travel to with a group of friends or business partners.
Try to vary the types of rooms you play. Try rooms with different themes, high-tech games, complex puzzles, etc. Playing other games will also help you strategize how to design and run your own. You'll find out what works and what doesn't work in an escape room facility. This will give you a better idea about how you can stand out from a crowded market.
2. Talk to other business owners, attend conferences, and join industry groups.
You might be surprised at how helpful the escape room community can be. You can meet many owners on Facebook, where specific groups are dedicated to talking about all-things escape rooms. Don't hesitate to ask fellow escape room owners about what it's like to run the business in your city, as well as the challenges they faced when they were first starting.
Another way to integrate yourself within the community is to attend escape game conferences and events. These events allow you to network with other business owners and keep you up to date on the latest trends and technology.
Here's a list of escape room blogs, Facebook groups, and conferences to get you started:
3. Conduct market research.
Visiting local escape room facilities will help you understand the competition in your area. But starting an escape room is no easy endeavor. You'll need to do extensive market research to fully understand the local business landscape. The more research you conduct beforehand, the smoother the startup process will be.
Here are a few ways to conduct your market research:
Your escape room will rely heavily on residents and visitors. Use reliable information sources like Census.gov to get a snapshot of the local population, demographics, housing, and economic data.
Find visitor numbers and demographics with your local tourism board. Learn about the types of activities these visitors like to participate in.
Look into general escape room research, such as articles like this one that evaluates the industry as a whole. Here you can find a list of relevant blogs tackling several topics related to running an escape room business.
Reach out to your local Chamber of Commerce or Business Development agency for more data.
Join industry groups and stay up to date with the issues business owners are discussing and gain insight into what they're implementing in their escape rooms.
4. Come up with a pricing strategy.
Your pricing strategy will have a big impact on your company's profitability. Pricing can both attract and deter travelers from your escape room. It can also impact your escape room's perception of value. For example, if your games are priced well below the market average, guests may perceive the low price as low quality pricing.
You can approach pricing in several different ways:
The markup approach involves setting your escape game prices so that each booking generates a profit. First need to calculate how much it costs to run your business. Then, you'll markup that number so that every escape game not only covers those costs but also brings in a profit.
The markdown approach requires lowering prices to attract price-sensitive customers and increase your booking volume. This might make sense when you're first starting your business.
Dynamic pricing, or surge pricing, is a strategy in which prices continuously fluctuate based on real-time supply and demand.
Most common marketing strategies to grow your escape room business
From paid search ads to referral programs, these are the top marketing strategies to consider when spreading the word about your escape room business.
1. Google My Business
As soon as you set up your business, look into creating a Google My Business listing. You can quickly set up a business profile for free in just about 10 minutes. This profile allows you to manage how your company shows up in Google searches, Google Maps, and Google Reviews. There you'll include relevant business information like location, hours of operation, a link to your website, etc. When someone searches for an escape room in your city, your business profile and website might show up — which helps you gain extra visibility with potential customers.
You can see an example of this above. When someone searches for Trapped RGV Escape Rooms in McAllen, Texas, the following Google listing comes up. Customers can quickly access the escape room's website, get directions, or contact the business from the information included in the listing.
2. Partner with local businesses
Local businesses can help spread the word about your business to their customers. Think of the places your customers might visit, such as nearby cafes, restaurants, or attractions. Approach them asking if they're interested in a partnership. If they're open to recommending your escape room to their customers, you can recommend their establishment to your customers, too.
A referral program is another smart, cost-effective way to spread the word about your business. To start one, you'll need to offer incentives to customers who refer their friends and family to your escape rooms. For example, you may offer a 5% discount for customers who refer someone to your venue.
You can do the same with local businesses by offering them a small commission fee for every customer they refer to you.
3. Google Ads
Google Ads can boost your company's visibility to potential customers searching for things to do in your city. It can take a lot of time and effort to perfect your Search Engine Optimization strategy or the process of creating content that organically ranks on Google. Paid search ads, on the other hand, allow you to grab the top spot for relevant search queries, such as "best escape room in [your city]."
As you can see from the example above, The Great Escape Room has targeted the keywords "escape game." When anyone in Florida searches for those keywords, the Tampa escape room's website appears at the top of the page.
4. Tripadvisor
TripAdvisor is the world's largest travel review website. The platform hosts millions of reviews for all things travel, making it the ideal place for travelers to research tours and activities. Odds are, your customers use or have used the platform to plan and book activities. This is why companies that manage their presence on Tripadvisor — you can find out how to do that here — earn more revenue than those that don't.
Once you've claimed your profile, Tripadvisor acts as an online booking engine that allows guests to book your escape games directly through the platform. The Escape Game Orlando is an excellent example. Its Tripadvisor page boasts beautiful imagery from the games, over 6,000 reviews, and an engaging description of what guests can expect.
5. Grow your review base
It's no surprise that positive reviews boost your brand's reputation online. If a customer is on the fence about booking your escape games, a glowing review can provide them with the confidence needed to hit the "Book now" button. Every escape room operator should encourage their customers to leave reviews on their websites, social media pages, or preferred review platforms. You can even automate your review request emails, which might look something like this:
Hi (Guest name),
Thank you for visiting (Escape room business). We hope your experience was a memorable one. Your feedback means a lot to us, and it can help us continually improve our escape rooms. Would you be willing to take a few minutes to leave us a review? You can quickly do so by clicking here: (include a link to your website or review profile).
We appreciate your time and look forward to welcoming you to (Business name) again!
For example, Eludesions Escape Rooms in Pheonix, Arizona, has successfully amassed 260+ reviews on Google. As you can see above, the average rating of the reviews (4.9 stars) is prominently displayed on the business' Google listing, giving guests the confidence to make a booking.
6. Social media marketing
Use social media platforms like Facebook, Instagram, TikTok, and/or YouTube to promote your business, build brand awareness, and engage with potential customers. Share photos and videos of your escape rooms to give future customers an idea of what to expect. You can also share special promotions on social media to build excitement and interest with your followers.
The Escape Game has built up quite a following on Instagram by sharing humorous and relatable posts. The business also uses Instagram to generate excitement about new games, experiences and facility locations. By posting consistently and taking note of what resonates most with its audience, The Escape Game has attracted over 28,000 followers on the platform.
7. Email marketing
Build an email list of interested customers and use email marketing campaigns to keep them informed about upcoming escape room experiences, special deals, and events. You can send out a monthly newsletter to re-engage past customers and encourage them to visit you again to see what's new. Meanwhile, sharing limited-time deals and seasonal promotions via email are also great ways to lure new customers in.
Escape This Live Boise in Idaho also uses email marketing to rescue abandoned bookings. Through Xola's Abandoned Booking Recovery feature, the escape room automatically re-engages consumers that initiated checkout but did not complete it. This way, the business increases the number of people that return and book directly on its website.
8. Host holiday-themed events
Imagine hosting a holiday-themed escape game, such as a horror-themed room for Halloween. Seasonal events can generate excitement around your brand, especially if you plan your marketing strategy ahead of time. Make a list of relevant holidays and/or local events that can be used to promote your escape room. Then, get creative. Brainstorm ways you can incorporate them into your marketing plan, such as the Halloween example mentioned previously.
Escape Rooms Mesa, for example, ran a holiday-themed promotion during the Easter holiday. The escape room facility, which uses Xola its booking partner, was able to generate a coupon code for the Easter holiday in just a matter of minutes. The owner then created a Facebook post promoting the campaign, and voila, the bookings began rolling.
***
The escape game industry is an exciting community to become a part of. Whether you already operate an escape room facility or are curious about starting a new business, let this article guide you in the right direction.